The third edition of Singapore Design Week (SDW), held from March 8 to 20, allowed everyone to experience Singapore's rich design scene.
The third edition of Singapore Design Week (SDW), held from March 8 to 20, allowed everyone to experience Singapore's rich design scene.
01 THE FISH TANK
This imaginative piece by doll-maker Yeo Mei Ying, also known as Evangelione, lets you see things from a different perspective. Enter the life-size "fish tank", stand still, and let the 3-D textile-finished goldfish that are suspended by wire "swim" around you. "It is a rather poetic reminder for us to have a quiet moment and appreciate even the little things in life," says Mei Ying.
See more of Mei Ying's works at www.evangelione.com
02 JUNCTION
The design of the Junction desk organiser by Taiwanese designer Ray Teng Pai is based on the idea of pumping valves and drainage pipes that are hidden in the corners of train terminals and factories. The various components can act as stand-alone vases for cut flowers, or form a mix-and-match set of stationary holders – a stylish industrial-chic way to sort out your work space! 
See more at www.raytengpai.com 
03 BIPOD
The Bipod table by Japanese designer Dai Sugasawa features a base composed of mechanical-looking parts that can be disassembled. Great for portable usage – it comes in its own sturdy carrying case – the lightweight and compact table is made mostly of aluminium, and is fully recyclable. Sporting a utilitarian aesthetic, Bipod comes in four colours.
See more at www.industryplus.com.sg
04 THEEN DANGERED
Evoke your sense of sight, smell, touch, and hearing with these jewellery boxes by Trigger Design. An ode to four endangered or threatened animals – the tiger, rhino, deer and elephant – each box is designed to incorporate a scent (created by All Sense) and melody which best represents the animal's personality. The deer, specifically, features a textured quilted surface that is soft to the touch, which symbolises the animal's approachable and communityliving spirit.
See more at www.triggerdesignstudio.com
05 THE FEATHER LAMP
Who would have thought of putting ostrich feathers on a lamp? Made in the UK, the Feather Lamp by A Modern Grand Tour combines fine art with contemporary design. Perfect for those who love some flamboyance at home, the collection consists of feathers in five colours – natural, coral, dusk, ochre and black – and three base finishes – gold leaf, bronze-dipped and brass-dipped.
See more at  www.amoderngrandtour.com  
NAME TO WATCH: ANTOINE LESUR

Up-and-coming French designer Antoine Lesur designed the Huggy furniture range, comprising stools, tables, an armchair and clothes rack, for Maiori Design. It launched at Maison & Objet Paris in September 2015, and has now made its debut at M&O Asia with resounding success. The 36-year old started his own studio just four years ago, and has already won the prestigious Prix Emile Hermes award given by the French luxury brand in 2014.
What inspired Huggy?
I wanted this collection to be of a very high quality, with an iconic look while being functional. The name represents a hug that wraps around the body; there are no sharp edges in the design.
Why did you specialise in furniture design?
Designing furniture is very interesting, since furniture comes into direct contact with the body. As a designer, it is important to make furniture – in particular, because it enables you to gain recognition in the industry. I also like industrial design and doing up interior spaces!
What do you consider before starting a project?
Aside from the technical feasibilities of the design, being able to work well with the manufacturer or client is important. If our ideas or design techniques clash, many compromises have to be made, which will affect the final product.
What is good design?
Something that is easy to produce, understand and sell. But it has to be relevant – it has to work, conceptually and functionally.
06 TEO
German brand Timeless Everyday Objects, or Teo, makes quality lighting, furniture and home accessories that emphasise function, making its pieces highly suitable for daily use. One of the highlights of its latest range is the Figure glass side table. It has a base made of mouth-blown glass in various colour options, paired unexpectedly with a tabletop finished in copper, brass or polished stainless steel.
See more at /www.timeless-everyday-objects.de
07 EMBRACE
Award-winning British designer John Green showcased, among other designs, the Embrace table and storage unit. It has a simple contemporary look and versatile, functional design, comprising two low tables. The pieces can be interlocked to form a storage unit, magazine rack and occasional table, and when apart, function as a laptop table, serving tray, or a bench and desk for kids. 
See more at www.johngreendesigns.co.uk
08 PRETA PORTER
Pret A Porter by Charles O. Job is a flat-pack chair inspired by the notion of "takeaway" furniture that you can buy as a kit of parts and assemble at home. Comprising four parts that slot together like a puzzle, and a fastening cord, it is compact, lightweight and stable.
See more at www.charlesjob.com
09 TILE IT UP
In this exhibit created by Hafary and Wy-To Architects, tiles in unique cuts, colours and textures are laid to form a structure which visitors can interact with. They had fun climbing through the "tunnel" or sliding down the sloped sides. 
See more at www.wy-to.com
10 ENGULF
Designer Celine Ng used Swedish brand Bolon's Flow range of vinyl flooring material, to form an immersive watery world beneath swells of waves. Its design includes elements that emulate the darkness and deep growl of the ocean.
See more at www.fraction.sg  
11 STUDIOART
The Leatherwall collection by Studioart lets you create luxurious environments with real leather wallcoverings. The range features embossed geometric shapes laid in various patterns, and available in a variety of colours, for a truly plush finish.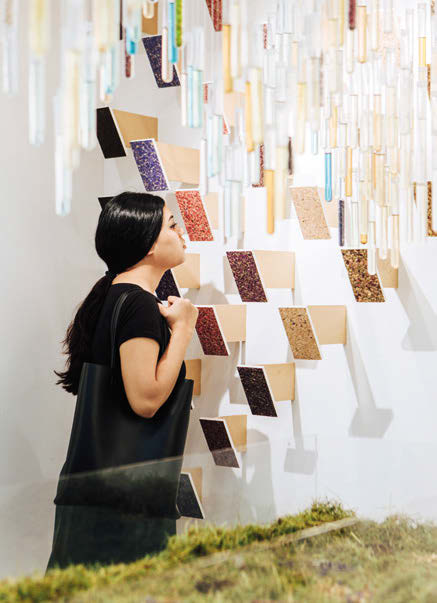 12 A BREA THE RESPITE
Imagine your walls smelling like roses. Using Panelogue's new laminate material called Organoid — created with pressed rose petals, coffee beans vanilla pods and more — this installation designed by Poiesis Architects allows visitors to re-experience ordinary environments with their sense of smell. The faint aromas within the space make it calming and refreshing.
See more at www.panelogue.com
13 TAKAOKAYA
Designed in Kyoto, Takaokaya specialises in handmade zabuton cushions and futon bedding. Cushions in its latest range, named Ojami, feature a unique shape inspired by the ancient Japanese beanbag toy called "tedama", or "ojami" in Kyoto dialect. They come in a wide variety of colours, fabrics, fillings, sizes and shapes, and is designed for posture support. Great as decorative home accessories!
See more at www.takaoka-kyoto.jp/en  
NAME TO WATCH: KATARZYNA KEMPA
Hailing from Poland, Katarzyna Kempa is a fresh product design Master's graduate from ECAL Switzerland, and the grand winner of the Furniture Design Award 2016. The aspiring designer was among the 11 finalists, selected from over 300 international entries, of the annual competition organised by the Singapore Furniture Industries Council. Katarzyna's winning entry is the simple, yet refined-looking, Sit "bodyminded" workspace. It comprises a wooden stool and high working table that addresses the health issues often arising from working long hours at a typical office workstation. The wooden stool is designed with elastomer bushing and ball components under its seat to promote constant subtle spinal movement, which helps naturally lubricate the intervertebral disc along the spine. Its seat height of 65cm also helps realign the human seating posture by spreading bodyweight across the feet and back while in use. A roller bar is incorporated into the design of the accompanying table as a foot rest, which stimulates pressure points in the feet and improves circulation. For this innovative design, Katarzyna bagged the cash prize of $20,000 and the bragging rights of beating 10 other finalists of all ages and backgrounds! Sit will also be showcased at next year's IFFS.
14 RESOURCE DECOR
Resource Decor is a furniture distributor that carries various trendy international brands, including pieces with designs that range from modern to heritageinspired. Its booth featured various styled settings of a home, and we like the new ranges from Thomas Bina and Tracey Boyd that were showcased!
See more at www.resourcedecor.com  
15 GRAVITY
Conceptualised by young industrial designer Sim Chia Yi, the Gravity coffee table has a simple form with a design that uses gravity to connect furniture parts without the use of screws. A gold-tone metal ball anchors a super-thin tabletop to a recycled paper pulp base, using science to create this work of art!
See more at missimdesign.com