A LUXURY HOME ACCESSORIES SHOWROOM.
A LUXURY HOME ACCESSORIES SHOWROOM.
The "jewel box" (the space within the arched walls)
is where shoppers can browse catalogues and discuss ideas with Stefanie
and her team.
Luxury home accessories store Vanilla Home has returned to Club Street, where its first showroom opened 14 years ago, with new brands. The shop took a hiatus of two years.
The new store is painted in earthy hues and a refreshing shade of pistachio – the brand's signature colours – and in its centre sits the "jewel box", which showcases lamps from Porta Romana, the shop's anchor brand.
The modular shelves in the store are designed by founder Stefanie Hauger herself, to bring out the personality of each object they display, be it lamps or accessories. They can be ordered, too. Artworks by Stefanie, an interior architect and award-winning artist, are also displayed throughout the space.
Vanilla Home prides itself on being an emporium for well-curated furnishing collections. "We are looking for the best brands in each home accessories category, from bathware to lighting. For instance, Redecker makes the most exquisite brushes and sponges for cleaning, so we will not be bringing in another brush brand," says Stefanie.
New items that shoppers can look forward to – most of which are exclusive to the store – include chic contemporary bowls by Danish label By Lassen, and ceramic vases (in trendy pastel hues, no less!) from Italian brand Bosa.
Customer favourite Riviere Milano is back with new weaves for its handcrafted leather trays, and you'll also find Dr. Vranjes' tobacco-scented diffusers for men and an updated range of coffee-table books.
All Bosa vases are handmade. The Italian
brand, which has been producing ceramics for over 30 years, also mixes
its own paint colours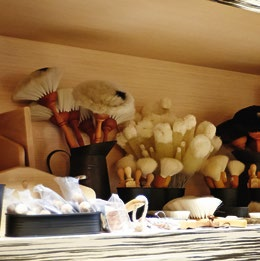 Find a wide range of Redecker brushes here, including bath and face brushes, feather dusters and keyboard cleaners.
In Vanilla Home, you'll find statement pieces as well as classic styles.
VANILLA HOME IS A T 63 CLUB STREET, TEL: 6324-6202. VISIT WWW.VANILLA-HOME.COM.