Driven by their love of the classic Hamptons style, the homeowners took on the challenge of designing their dream home themselves.
Driven by their love of the classic Hamptons style, the homeowners took on the challenge of designing their dream home themselves.
WHO A couple in their 30s
HOME Three-bedroom apartment in Bishan
SIZE 1,163sqf
Captivated by the charming English countryside she saw on her road trips throughout the UK, homeowner Alice Siah decided to recreate the airy and restful atmosphere in her Bishan apartment when it came to planning the look of her new home.
This proved to be a tough yet fulfilling task, as Alice and her husband Wayne managed the renovation without an interior designer – a feat possible thanks to the couple's good taste in design and the thorough research they put in. Wayne shares what went into the $100,000 renovation, which resulted in a modern, grey-hued home with natural elements.
Why did you handle the renovation yourself?
Alice and I had a specific look we wanted, and many contractors we spoke to couldn't fulfil it. Luckily, my background in project management made juggling the schedules between our main contractor and Country Concept, who did all our carpentry, easier; they could not work concurrently as that would mean many re-measurements on both sides. It was stressful, but worth it.
You spent a hefty $40,000 just on carpentry, mainly for the kitchen. Why?
Alice loves to cook, bake and craft. She has amassed so much equipment and material for these that having storage, as well as adequate workspace to get creative, became the centre of our design concept.
We were also inspired by the elegance of a classic Hamptons kitchen, and wanted spray-painted cabinetry that would stand the test of time. Country Concept was able to bring these together into the space-maximising, full-height kitchen you see now; there's a made-to-measure section for everything from baking trays to art paper. The $40,000 price tag also includes our wardrobe, bed frame and bathroom cabinetry.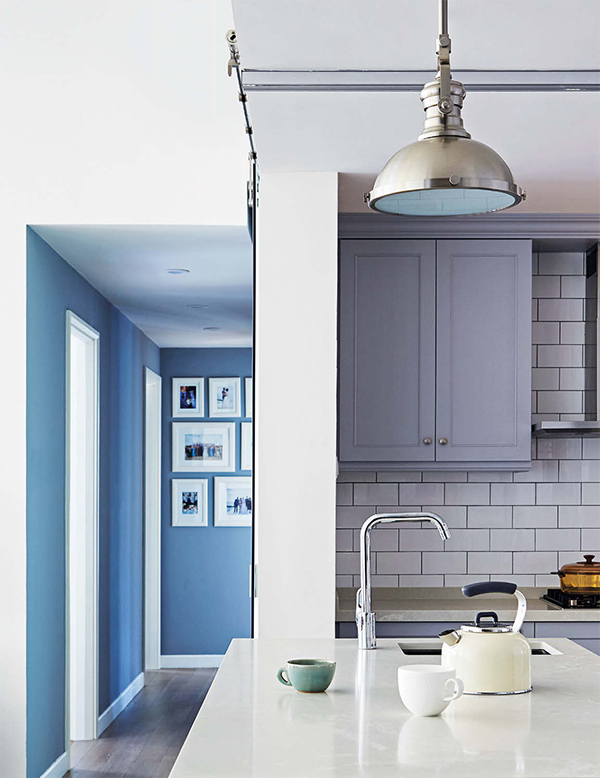 What work went into the kitchen?
We chose a lovely shade of grey which, due to the sunlight-absorbent nature of spray-painted wood, changes throughout the day, giving it different "moods".
Minimal, yet classic, trimmings give the kitchen some depth, and were paired with the antique-look handles we hand-picked from Lavavella. And to contain cooking fumes, we installed glass sliding doors that close off the wet and dry kitchens.
How else did you plan your interiors?
While the kitchen is a largely grey-hued space, we inverted the colours for the bedroom; the wardrobes are white and walls are grey. Hamptons-style features, such as modern barn doors and homeware in natural materials were also used, like the bar stools from Crate & Barrel, wooden TV console from Mountain Teak, and rattan laundry baskets from Bali. Lastly, we personalised our space by displaying our rustic wedding decor in the kitchen.
WHERE TO GO
Country Concept, TEL: 6741-0079