The city is filled with plenty of hot spots for design lovers to discover, but these 10 Insta-worthy boutique hotels will make you opt to stay in, instead.
The city is filled with plenty of hot spots for design lovers to discover, but these 10 Insta-worthy boutique hotels will make you opt to stay in, instead.
1. 11 HOWARD
Looking like it came straight out of a magazine spread, 11 Howard combines minimalist Scandinavian interiors with the elegance of the Soho district in which it is located. Designed by the famed Space Copenhagen and Anda Andrei Design, the 221-room boutique hotel boasts natural materials – so that it'll look better as the hotel ages – 12-foot ceilings, oversized windows and panoramic views of the Big Apple. The communal spaces are furnished with vintage and iconic furniture, while the bedrooms don a soft colour palette with hints of brass and marble.
11 Howard has selfcheck-ins and smart room service deliveries. It also donates a portion of its bookings to charity.
Check it out at 11 Howard Street, and on www.designhotels.com.
2. THE WHITBY HOTEL
Though the rooms are spectacularly decorated with oversized headboards and vibrant printed fabric – a signature of designer Kit Temp – The Whitby Hotel is more than just a pretty place to lay your head. Its array of statement pieces and artwork has almost turned it into a gallery. The walls are lined with fabric designed by Kit herself, the reception features an oversized rainbow-hued loom, and hanging above the long bar are woven baskets collected from all over the UK. It reflects the vivacity and attention to detail, especially in handicrafts and curios, in this quaint 86-room hotel.
Somewhere in the Orangery dining room are porcelain vessels hand-etched by Martha Freud, the granddaughter of Sigmund Freud. The hotel features a 130-seat cinema, too.
3. GRAMERCY PARK HOTEL
The 190-room Gramercy Park Hotel opened in 1924 and has seen everyone who's anyone, including actor Humphrey Bogart, the Kennedy family, and musicians like David Bowie. Its facelift in 2003, by film-maker and artist Julian Schnabel (of 2007's The Diving Bell and the Butterfly) is dark and lavish, with a bohemian twist. The rooms are painted cerulean and feature Renaissance-style furniture upholstered in rich velvets – it's not so much a hotel room as it is a lavish boudoir that transports you to another era. Guests will love the Mario Badescu body lotion and Hamadi organic shampoo, too. The hotel even has its own spicy scent, created by NYC perfume label Le Labo. 
The Rose Bar is a popular hangout and features art by Andy Warhol and Damien Hirst. New York City's only private park is just minutes away.
4. HOTEL TIVOLI
This 100-year-old building replaced its dated Victorian looks with bright and modern interiors, thanks to artists-turned-hoteliers Brice and Helen Marden. The 10room Hotel Trivoli features pops of neon and pastel hues against a white backdrop – purple-stained floors and baby pink sofas create a cheerful atmosphere, and each room features a fun statement lamp. Of course, artworks by the Mardens and fellow artists like Rene Richard decorate the space. There is also a 100-seat restaurant, The Corner, which serves farm-totable fare and local brews.
Your daily workout is assured here, as there is no lift access to guest rooms. The upside is that it's dog-friendly – provided your pet is under 11kg.
Check it out at 53 Broadway, and on www.mrandmrssmith.com.
"This 100-year-old building belongs to artists-turned-hoteliers Brice and Helen Marden."
5. THE STANDARD HIGH LINE
It's all about the views here at The Standard. Standing on stilts above a public park, the futuristic building accommodates 338 rooms, and overlooks the Hudson River. With more windows than walls, the minimalist and modern rooms are dressed in neutral hues, with deep orange and tambour wood accents. Worth checking out is the in-house ice-skating rink, the Gansevoort Market – the hotel is in the meatpacking district, after all – and The Whitney Museum.
According to travel site Mr & Mrs Smith, the views get better the higher you go, so be strategic. The Standard Rooms give you views of the Statue of Liberty, while rooms ending in .25 will wow you with the Manhattan skyline.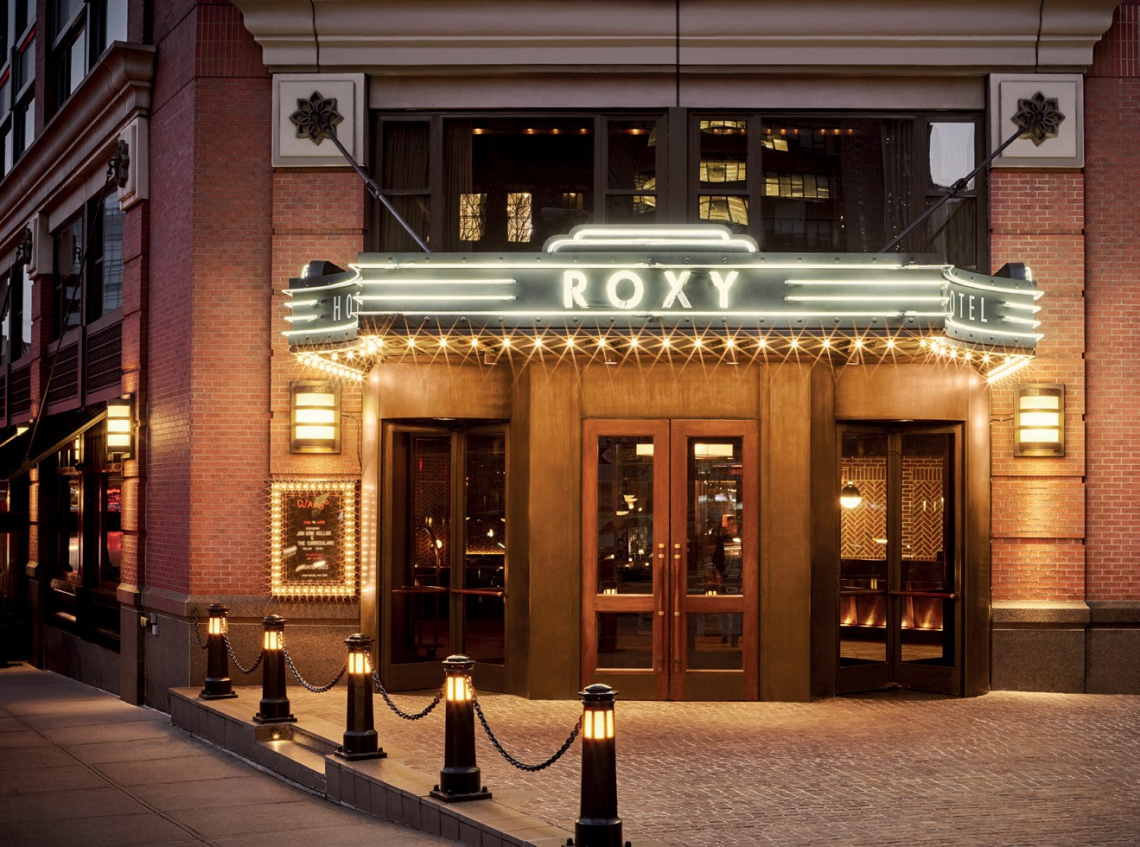 6. ROXY HOTEL
Roxy Hotel is where the Roaring Twenties is always in full swing. The 201-room hotel features a retro cinema-esque facade, vinyl record players in selected rooms, the quintessential underground jazz club, and staff in period clothing. Complementing its Art Deco interiors is a theatre, which seats 118 and runs independent films and 35mm cult classics. To complete this quirky concept is the option of having a pet goldfish during your stay. You can bring your own pets, too; bedding, food and organic treats are provided.
The uniforms of the well-dressed waiters at Paul's Cocktail Lounge were designed by actress Chloe Sevigny, who is the sister of lounge owner Paul. Located in Tribeca, Roxy Hotel is a block away from Broadway.
"The waiters' uniforms at Paul's Cocktail Lounge were designed by actress Chloe Sevigny."
7. THE WILLIAMSBURG HOTEL
Standing tall in the Williamsburg neighbourhood, this brick-clad hotel is home to 147 rooms and – soon to be opened this year – a rooftop pool and cafe, a water-tower bar, and a ballroom. It was designed by London-based architect Michaelis Boyd, who worked with many other notable creatives to create industrial-style interiors and bespoke leather furniture, with yellow bed throws and turquoise wall tiles for pops of colour. On the ground floor, the bar steals the spotlight with a colourful threaded art installation by street artist Eric Reiger.
Hop into the hotel's tuk tuk (a three-wheeled vehicle popularised in Thailand), which will get you to the hippest Brooklyn bars and boutiques in minutes.
8. PUBLIC NEW YORK
As the winner of Mr & Mrs Smith's 2018 Coolest Creative Hub award, Public is a must-visit when you're in New York. Even if you're not staying in one of its 367 rooms. you'll find that hotelier Ian Schrager reinvents luxury by giving you only what you truly need for a memorable trip:  Great views from the floor-to-ceiling windows, a lobby boutique selling hard-to-find objects, an in-house florist, a nightclub and a screening room. Do you even need to leave the hotel? Wind down at the candle-lit garden dining area or order from organic cafe Louis – you can pick up your food from the dining shelf located on each floor. No tray charges or disruptive room service.
There's no concierge here; Public staff will check you in on their iPads and show you around. Check out the hotel's website calendar for upcoming performances or open-mic nights.
9. THE BOWERY HOTEL
Once known as a skid row, the Bowery neighbourhood in Manhattan is now very much a hipster hangout, thanks to the arrival of The Bowery Hotel. Its tassels, printed tapestries and colourful fabric could easily pass off as gaudy, if it were not for the fact that it's another property by hotelier Sean MacPherson, who skilfully created a charming old-school atmosphere. The dimly lit lobby features oversized palm trees and rattan seats, while the 135 rooms are brightly lit with antique carpets and fur throws. Room number 705, in particular, has a marble tub.
Choose north-facing rooms for a peek of the Empire State Building. Speaking of views, Zayn Malik, the Olsen twins and David Beckham have been spotted here. We expect you'll see some other familiar faces, too.
"The dimly lit lobby of The Bowery Hotel features oversized palm trees and rattan seats."
10. THE LUDLOW HOTEL
When designer-hotelier Sean MacPherson and his friends chanced upon this derelict building in the Lower East Side, he knew it was his chance to transform it into the wild, 80s' New York he knew and loved. To turn this 175-room hotel into "the living room of the neighbourhood" where the cool and creative would hang out, he furnished it with cushy leather sofas, raw brick walls, and a fireplace. Its rooms boast large casement windows, bathrooms with Hollywood mirrors, and an eclectic range of accessories like artisanal Moroccan pendant lamps and handmade silk rugs. The view is impressive, but if you're bored of the concrete jungle, head to the lobby garden where there's plenty of natural light and greenery.
Guests are treated to Maison Martin Margiela robes and the minibar offers gluten-free and vegan nosh.
SIT PRETTY
Designer Daniele Della Porta created the Duca, a timeless piece of furniture with double cushion backs and clean-cut lines. It comes in four seat sizes – 100, 90, 80, and 70cm – that can be paired to make a chaise longue. Made with pinewood and beechwood frames, the sofa is available in removable fabric covers or leather.
Calia Italia's Duca sofa is available at XZQT, price upon request. Visit www.xzqt.com.sg.
ABSOLUTE CLEAN
Pyrolytic ovens are essential in a modern kitchen, as they help to reduce the amount of time and work that goes into keeping your oven clean. The latest range from Brandt self-cleans by heating the chamber, causing grease and food residue to turn into ash for easy cleaning. What's more, Brandt's madein-France pyrolytic ovens are classed A+ for minimal energy consumption.
Brandt's Built-in pyrolytic oven BXP6555X/B is available in stainless steel and black for $1,899 at major electrical stores. Visit www.brandt.sg.
COLOUR MY LIFE
A bean bag is the ultimate casual chair for relaxing in, and it's no wonder Muji's Beads Cushion bean bag is so popular. Now, there are more colour options to personalise your own or match to suit the theme of your room, with Muji's new nylon quilt covers in red and charcoal grey. The knitted nylon fabric has also been improved for better comfort and durability.
Muji's Beads Cushion cover is available from $49.90 at all Muji retail stores. Visit www.muji.com/sg.
text ISABELLE TOW