LUXURY ITALIAN HAIR SALON IN FULLERTON HOTEL.
LUXURY ITALIAN HAIR SALON IN FULLERTON HOTEL.
Google "Rossano Ferretti" and headlines in the search results are replete with superlatives – "best haircut of your life", "man behind the $2,000 haircut", or "ritziest hair spa in town". The well-heeled looking for the perfect coif in town will be glad to know that a branch of the eponymous salon recently opened in Singapore at the monumental Fullerton Hotel – the first Rossano Ferretti salon in South-east Asia.
While the hype surrounding this luxury hair salon is bound to raise a few eyebrows, the brand has many distinctive selling points.
The most crucial is its signature technique of cutting called Il Metodo, or The Method. Developed by Rossano with his sister Lorenza, The Method is an "invisible haircut", meaning that one cannot discern where the shears of the scissors has passed through. The technique involves cutting hair according to its natural fall, so the look is less choppy, but softer and more intuitive.
Rossano conceived the concept of the hairspa to be an exclusive experience for customers. The Fullerton hairspa is 635sqf, with just four hairstyling stations in the sleek minimalist space. Rossano himself won't be posted here; Christian Serafini and Diego Fiorucci, formerly art directors at the hairspas in Beverly Hills and Rome, will tend to local locks. Haircuts with them range between $375 and $510. You can also purchase products from Rossano's haircare line, Rossano Ferretti Parma, in the salon. The range consists of 18 products that range from the Splendido shampoo to the Vita serum and hair mask.
Asked why he chose to open a hairspa here, Rossano says: "With the high populace of high-net-worth individuals in Singapore, it is a strategic first step for Rossano Ferretti Hairspa into South-east Asia."
For busy executives with uncompromising taste, this ritzy hair spa offers the perfect opportunity for a stylish and well-deserved treat for the senses and soul.
ABOVE
The foyer sets a serene mood for guests entering the salon.
LEFT
With just four hairstyling stations, customers at Rossano Ferretti Hairspa get to experience their haircut in privacy.
BOT TOM LEFT
Celebrity hairstylist Rossano Ferretti has tended to the tresses of Duchess of Cambridge Kate Middleton and actress Angelina Jolie.
BOT TOM RIGHT
Rossano's haircare line includes experience kits, which are four-piece sets specially curated to keep hair vibrant, voluminous or nourished.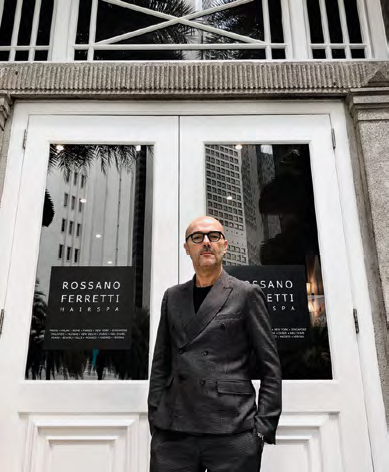 ROSSANO FERRETTI HAIRSPA IS AT #01-04 THE FULLERTON HOTEL, 1 FULLERTON SQUARE.