Keen to style up your work area in the house? Here are ways to set up a home office for every budget.
So, most of us are working from home now. For most, WFH might be a temporary situation, but for others, it might turn into a permanent or semi-permanent arrangement. Experts have predicted that, moving forward, as we learn how to live with and mitigate the worst of the pandemic, employers are considering more flexible working hours and locations for their employees. Many business owners have also discovered the benefits of WFH, and would likely retain the arrangement even after the circuit breaker measures are lifted. So it's high time you create a more permanent, conducive home office.
And it's simpler than you'd think. Fundamentally, outside of the electronics and wi-fi connection, a home office needs just three elements: a working surface, a comfy chair, and good lighting - other elements are optional. Needless to say, these three essential elements must be designed ergonomically to promote a healthy working condition. We've curated some great finds to fit every budget.
$50
THE BUDGET WARRIOR
Yes, it is possible to build a home office with a $50 budget - we need only look back to our school days, when space and cash flow were modest. And get creative, your budget home office can borrow its elements from other rooms too! Then you can decide which element to prioritise.
CHAIR
Portable chairs and legless chairs go well with these working surfaces - just make sure to get up every few hours to stretch your muscle. You can also consider getting a comfortable gaming chair, most of which are legless chairs with an adequate cushion that can be paired with a low or a folding table.
ZAISU CHAIR
$28, ShopOnlineLah via www.lazada.sg 
LAZY SOFA
$20.60, First-Sen Furniture via www.ezbuy.sg
WORK SURFACE
Consider getting a portable working surface like folding table, lap desk, or get creative by repurposing a breakfast tray, for example.
DORMITORY LAPTOP TABLE
Starts from $6.20, various sellers, www.ezbuy.sg
BYLLAN LAPTOP SUPPORT
$29.90, Ikea, www.ikea.com
LIGHTING
Find a spot with good natural light in your home to work during the day. The average artificial lighting in homes is about half the intensity needed for a workplace, so you do need a desk lamp to complete your budget home office. Choose one with an adjustable arm. Or, in the case of a lap desk, get a USB LED light that you can plug into your laptop. Ikea has excellent choices with the slimmest price tags.
NAEVLINGE LED WORK LAMP
$15.90, Ikea, www.ikea.sg 
WORKSTATION
Once in a while, we've got an innovative product that hits all the marks. Poppidesk is a desk made of cardboard by local brand Paper Carpenter. The desk is sold flat packed, retails for $25 and is entirely recyclable. Complete the workstation with the Hexa cardboard stool, which retails for $20. Available from www. papercarpenter.com.
JANSJO LED USB LAMP
$4.90, Ikea, www.ikea.sg 
PHILIPS LEVER LIGHT ESSENTIAL DESKLIGHT
$39.00, Courts, www.courts.com.sg
$500
THE CAUTIOUS SPENDER
A larger budget offers plenty of possibilities. With $500, you can get all the three essentials (a desk, a task chair and a desk lamp) and additional supporting elements like storage units. Don't be afraid to mix lifestyle brands with office furniture brands.
WORK SURFACE
You have some options to choose from depending on how big the space you have for your home office is. A dedicated desk with wheels is a smart choice if the home office doubles as a living space as it facilitates quick room reconfiguration. A wall-embedded shelf is a sound space-saving alternative while a folding desk is always handy.
FJAELLBO LAPTOP DESK
$79, Ikea, www.ikea.com
OAK FOLDING LOW TABLE
$289, Muji, www.muji.com/sg
"TO MINIMISE DISRUPTIONS, WORK AREAS SHOULD HAVE SOME FLEXIBILITY OF BEING SEPARATED, AT LEAST ACOUSTICALLY, FROM OTHER AREAS OF THE HOUSE WHEN REQUIRED."
SI JIAN XIN, WYNK COLLABORATIVE 
MONTANA SKYLINE SHELF
Starts from $210, Danish Design Co www.danishdesignco.com.sg and Pomelo Home 
MONTANA GUEST STOOL
$410, Danish Design Co www.danishdesignco.com.sg and Pomelo Home
TYPE 75 PAUL SMITH EDITION DESK LAMP
£175.00 (S$301), Anglepoise, www.anglepoise.com 
LIGHTING
A decent budget can get you classic pieces you've seen in pop culture, and even some of the limited edition. Opt for one with a moveable arm to direct the light to where you need it the most.
FORSA WORK LAMP
$39.90, Ikea, www.ikea.com
ARTEMIDE TOLOMEO MICRO BI-COLOUR
Start from S$392, Million Lighting, millionlighting.com
CHAIR
There usually is a staggering price gap between dining chairs and office chairs, even from the same brand. The good news is, as our home life and work life are getting increasingly intertwined, plenty of brands have begun to produce chairs that can traverse both living-dining and workspace with ease, with equally comfortable price tags.
DUKE ARMLESS CHAIR
$149, Castlery, www.castlery.com
HAY ELEMENTAIRE CHAIR
$270, Grafunkt, www.gxafunkt.com 
STORAGE
Leave room in your budget for a handy storage element that would look at home anywhere in your home. The Montana Mini storage unit, for instance, is available in a myriad of colour options and it will add a splash of colour to your home office setting. Starts from $250, available from Pomelo Home.
$5000
THE SAVVY INVESTOR
Now is the time to get that investment piece you've been dreaming of! But take your time to research each piece. A serious home office must have serious technology to promote a healthful working posture as well as durable and sustainable materials. Needless to say, they also look fantastic.
SURFACE
A proper home office desk should be functional, yet handsome enough to pair well with the rest of your home. Opt for a slim timber desk to save space and express lightness, and choose ones with a built-in drawer. If you're a restless worker, a portable laptop stand would do the job and add a pop of colour to brighten the space.
HERMAN MILLER NELSON DESK US $2,375.75
(S$3,383), store.hermanmiller.com
VITRA NES LAPTOP TABLE
$1,258, Vitra Store Singapore
HAY CPH190 DESK
$2,260, Grafunkt, www.grafunkt.com 
ARIAKE SAGYO DESK WITH SUMI INK FINISH
$2,533, P5 Studio, www.p5studio.com.sg 
ACOUSTIC
Spending more time working from home, have you noticed the noises around you more? Acoustic panels and partitions work wonders in blocking them off in the office, and they can work their magic in your home office too! Woven Image's hanging acoustic solutions create a cocoon of calm and can be slid away when not needed. Pendent Splay retails for $603.5 per kit, which includes panels, wires and ceiling mount components. www.wovenimage.com
CHAIR
If you can afford to splurge on one thing for your home office, let it be an amazing task chair. Take your pick from the many legacy office furniture brands. Some of their designs have been around for a while, featured prominently in pop culture, and have been continuously tweaked to better fit the human body and our evolving working habits.
THONET S64 VDR CHAIR
€1,495.00 (S$2,305), Xtra, www.xtra.com.sg
HERMAN MILLER AERON CHAIR
From $2,199, Xtra, www.xtra.com.sg 
OKAMURA LUCE CHAIR
$769, Okamura, okamura.com.sg 
OCCHIO SENTO LETTURA
€1,222.86 (S$ 1,885), Occhio, www.occhio.de 
HAY CLOCHE LIGHTS
$550, Grafunkt, www.grafunkt.com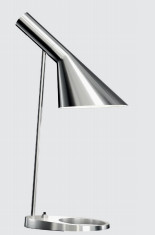 LOUIS POULSEN AJ TABLE LAMP,
From $1,528, Louis Poulsen, www.louispoulsen.com 
LIGHTING
The adequate light you need for an optimum workspace is 500 lux, while the average home lighting hovers around 250-300 lux. So get that luminaire boost - do your research and ask your favourite lighting dealer on the best light to mimic natural daylight.
TEXT ASIH JENIE