BEEN TELLING YOUR MATES YOU'RE A SNEAKER HEAD? WE GIVE YOU THE 101 THAT WON'T BLOW YOUR COVER.
BEEN TELLING YOUR MATES YOU'RE A SNEAKER HEAD? WE GIVE YOU THE 101 THAT WON'T BLOW YOUR COVER.
To cop or drop? Are yours beaters or on ice? If all that sounds gibberish to you, then you might want to read on to attain sneaker enlightenment.
Face it, buying a general release pair of sneakers off the shelves on your weekend shopping spree downtown is no longer enough to keep you in the game.
The sneaker game has gone up several notches, and people are using every possible means, be it from stores, ballots, online and on-site camp outs to even "backdoor" methods.
So, no, this is no longer a game on the streets; this is a community that has its own unique lingo, culture and even rules.
Let's start.
WHERE DO WE BEGIN?
Sneaker history goes way back to the 18th century when plimsolls were introduced before Marquis Converse revolutionized it with the Converse All Star in 1917.
Fast forward to 1924 and you have Adi Dassler, who created a brand named after himself: Adidas. His brother, Rudi, went on to start another brand: Puma.
In 1950, teens began taking sneakers seriously – the term came about because they produced little sound when walking and you could sneak up on anyone unnoticed.
Then came a certain "His Airness" called Michael Jordan, who made the professional basketball game look like his backyard playground. He inked a contract with Nike in 1984 and was presented with his own shoe called Air Jordans.
The National Basketball Association was unimpressed with Jordan's new kicks and fined him US$5,000 every time he wore them on court due to a lack of white on the shoe colour. And, as they say, the rest is history and the first sneaker royalty was born.
WE TAKE IT BACK LOCAL
Moving back to our sunny island, sneaker culture has been abound for decades, but went up a notch in 2003 when sneaker-centric stores like Limited Edt and Leftfoot began popping up.
While shops like Seek, The Social Foot and Hoops Factory continue the legacy, the arrival of Dover Street Market in July 2017 was the telltale sign that Singapore was becoming a big player in the market.
"The popularity of sneakers has definitely increased tremendously in recent years." said Petr Stastny, Commercial Director of Adidas Singapore.
"Proof of this burgeoning trend can be seen from sneaker-centric events increasing in scale year-on-year, larger fan bases and enthusiasts sporting their favourite kicks on the streets, the opening of stores online and offline catering to this niche, as well as the sheer number of models, silhouettes and expressions available to date."
PUTTING THE RED DOT ON THE MAP
With a growing sneaker community here in Singapore, it was only a matter of time before the first sneaker convention took place. And that happened in 2013, when Dexter Tan and Jonathan Fong decided to emulate big-name events like Sneaker Con and Sneakerness with Singapore's very own showpiece event, Sole Superior, held at marquee club spot Zouk.
Since its inception, Sole Superior has evolved from a small-scale Sunday flea market-style sneaker convention to a full-blown showcase that saw more than 4,900 people at the 2017 edition.
"The idea started when [Sole Superior organisers] wanted Singapore to have its own sneaker convention after seeing what other countries were doing, especially in Europe and the US," Tan explained.
"We personally enjoy attending sneaker events but were peeved when no one wanted to make a local sneaker-con happen. So we put in our own money and made one happen on our own.
"The first year, we had about 1,900 people and it grew steadily to about 4,000 in 2016.
"The year 2017 saw our biggest turnout yet – with more than 4,900 showing up."
SINCE ITS INCEPTION, SOLE SUPERIOR HAS EVOLVED FROM A SMALL-SCALE FLEA MARKET TO A FULL-BLOWN SNEAKER CONVENTION.
BASIC SNEAKER LEXICON
DON'T EVER WALK INTO THE TRAP OF PRETENDING TO KNOW THE SCENE WHEN YOU'RE OUT WITH A CREW OF SNEAKER HEADS.
DROP OR COP
Cop means getting your hands on a pair; drop means you aren't interested
COLOUR WAY
The combination of colours on a sneaker
BEATERS
The pairs that you wear often and "thrash them good"
ON ICE
An unworn pair in your collection, perhaps to resell in the future
CAMP OUT
Not in the jungle but outside a store for a sneaker release
OG
Refers to the first release of a shoe
GENERAL RELEASE (GR)
A particular model that is available at most retailers
GRAILS
Think bucket lists. The sneakers that you must have before you die, although every sneaker head has his/her own "grail"
DEAD STOCK (DS)
Simply means brand new condition or those no longer produced
NEAR DEAD STOCK (NDS)
Shoes that have been worn or show slight wear and tear
SIZE RUN
Refers to the amount of stock a retailer or reseller has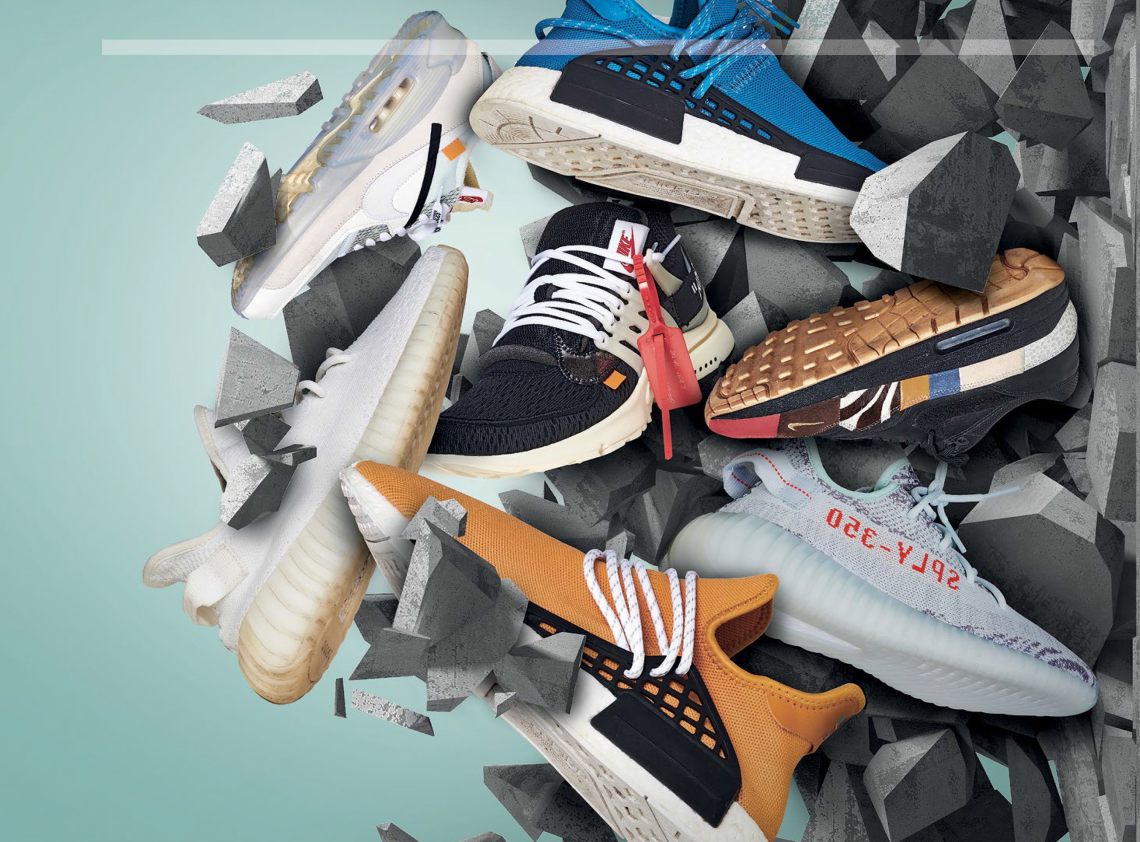 THE THRILL OF THE CHASE WHEN YOU COP A PAIR AFTER WAITING AND CAMPING FOR HOURS ONLINE IS AWESOME!
THE ONES WHO WERE THERE FIRST
Things like culture and conventions don't happen overnight, and it's all a culmination of collectors from all walks of life coming together.
Just like Daniel Wong, 29, who has been collecting sneakers since he was a 14-year-old St Andrews Secondary School student, when he was influenced by the coach of his school basketball team.
"My basketball teacher showed me his pair of gold Nike SBs in training one day, and that very weekend, I brought my parents to Limited Edt at Queensway and bought the last pair of Size 12. That was how I got started. And that same pair is still in my cupboard, even though it's not a hype shoe," he said.
Having resided in China and New York City in the past decade, Wong has seen how the sneaker communities in those cities come together, and is stoked to see the local scene becoming increasingly popular.
"Every country has its own sneaker culture, and I was lucky enough to experience it in China and New York," he said.
"In China, sneakers were rare, so I got friends in Singapore to buy them and I'll collect when I'm back on holiday. But when I was in New York, that was when it got serious. I had more excess to hype stores and met tons of fellow sneaker heads who pointed me in the right direction.
"All in all, I have laced up more than 300 pairs of sneakers – and there is no sign of my stopping!It has become even more interesting now that we have so many sneaker heads and groups coming onto the scene."
Another sneaker fanatic, Marc Aw, has been at it since his Shatec days, and was one of the biggest collectors featured at last year's Sole Superior event.
Not only does he have enough sneakers to fill up every inch of his HDB bedroom, the 39-year-old has even rented storage space in a Tampines warehouse (no we're not revealing the location) to keep his precious loot intact.
"This is more than just a hobby to me. The thrill of the chase when you cop a pair that you've seen on social media and camped out for hours online is just awesome," exclaimed Aw.
"But I've switched it up in the last two years. From buying almost every pair that I can get my hands on, I now only go in for the ones that shout out to me.
"Everyone has his own [sneaker] grail, and one man's poison may be another man's meat. Like how I like my Airmax Moon Landing but a couple of my mates don't dig it at all.
"So just go with what you really want to rock on your feet instead of what social media tells you is the current hype."
WITH THE GOOD COMES THE BAD
While most sneaker heads are purists who have been in the game for years, the emergence of sneakers as a form of showboating has corrupted what was a very niche market space.
Anyone who went down to the Yeezy 350 v2 ballots at Pacific Plaza in November and December last year would have seen two very distinct types of folks in the snaking queue.
There are the genuine sneaker heads who are excited by the thought of owning a pair, and then there are the even more excited crew of youngsters who have the innate skills of doubling up their wait time by posting their catch on Carousell for double the money.
That is a problem plaguing the sneaker community not just here but all over the world.
Because of the insane demand for the product, scalpers have emerged in troves. They queue and cop a pair to resell for a high price online.
And that irks sneaker purists like Wong, who sees it as a bane of the entire system.
He said: "You cannot deny that this sick culture came about because sneakers have gained a strong popularity, but that also makes it frustrating for [the genuine collectors].
"I've heard so many of them in queues or on social media platforms flaunting their high prices, and that just turns me off.
"And some even resort to borrowing money to cop sneakers for resale value – and that is just wrong. This is ultimately still a hobby and not a means to profit, in my opinion."
But brands like Adidas and popular stores like Limited Edt are now wiser to these scalpers, as a throng of new measures have been taken to ensure ballots are fair.
From giving out ballot tags a day before the draw to measuring feet size on the spot, more and more ways are being brought in to cope with this sickening disease that plagues the community.
Having said that, ask the thousands of sneaker heads across Singapore and they will tell you every minute of their chase has been worth it.
And we've included some tips in these spreads – a little show-and-tell to help you understand the sneaker culture and trends to keep your feet dancing in 2018.
BECAUSE OF INSANE DEMAND, SCALPERS HAVE EMERGED IN DROVES TO COP AND RESELL.
10 LINES TO LOOK LEGIT WITHOUT BREAKING THE BANK
YOU WANT TO BE GENUINE IN A ROOMFUL OF SNEAKER HEADS BUT DON'T HAVE THE DOUGH TO KEEP UP WITH EVERY RELEASE? FRET NOT! HERE ARE 10 LINES THAT WILL KEEP YOU RELEVANT AND TIMELESS UNLESS YOU READ THIS IN 2020.
ADIDAS ULTRABOOST
Touted as the line that brought Adidas back to the top, the Ultra Boost is not letting up, with 4.0 adding a splash of mult-colour releases to continue its dominance.
NIKE FLYKNIT TRAINER/VAPORMAX
Anyone who has worn a pair of Flyknit Trainers or Vapormax will tell you how it is one of the most comfortable sneakers in the market. The Vapormax has transcended boundaries with newer colour ways.
ADIDAS NMD/XR2
One of Adidas' most successful sneaker lines, the NMD/XR2 makes it easy to stand out among the crowd.
CONVERSE 1970 SERIES (JACK PURCELL/CHUCK TAYLOR)
Any sneaker head would have owned and probably still has a pair of these in his locker. One of those makes that never goes out of style.
ASICS GEL LYTE 3/5
The Gel Lyte looks and feels like a pair of series cross trainers and it probably is. Good for a weekend of chilling downtown.
REEBOK INSTAPUMP FURY
Not everyone's cup of tea but the Instapump Fury has a place in everyone's memory as the go-to shoe back in its heydays. Has made a comeback to keep its market presence going strong.
NEW BALANCE 998/997
Take it back old school with this vintage series. The 998/997 has been there since the start and will always stay true. If it's good enough for the late Prime Minister Lee Kuan Yew, then its good enough for anyone.
VANS NEW ERA/SLIP ONS/SK8-HI
The Vans cult following never ceases to amaze. This trailblazer among the skateboarding scene will ooze appeal anywhere you go.
NIKE AIR JORDAN
You can never go wrong with the shoe called Jordan. Rocking a pair of Air Jordans will always keep you at the top of your game.
PUMA SUEDE/DISC
Sleek and true to style, the Puma Suede/Disc makes a perfect walkabout and brings out that playful lifestyle of yours.
5 RELEASES TO LOOK OUT FOR IN 2018
1. Nike x Off-white "The Ten" Collection 2018
If you haven't heard of the Virgil Abloh's collaboration with Nike that took the sneaker world by storm late last year, you were probably living under a rock.
Rumour has it that there will be the Vapormax style that will be released in two new colourways (black/total orange and white/total orange). Release date is said to be in the latter months of 2018.
2. Pharrell x Adidas NMD Human Race Trails 2018
There were only 500 pairs of the Chanel X Pharrell Adidas Originals Hu NMD in November 2017, which are reselling for five figures.
Disappointed fans will have something to smile about when the Hu Trails go on sale in brand new colourways, most notably the "Blank Canvas" and "Holi." Release date is scheduled for February and March.
3. Nike AF100 Air Force 1 Collection
To continue the 35th anniversary celebrations of the Air Force 1, Nike has confirmed the release of a new pack titled "AF100," which will include collaborations with Acronym's Errolson Hugh, Travis Scott, Roc-a-Fella's Kareem "Biggs" Burke, Don C and Off-white founder Virgil Abloh.
4. Air Jordan 3 OG "Black Cement"
One of the most popular sneakers in the Nike stable is back with a bang. The "Black Cement" is slated for a 2018 release.
This pair needs no introduction, and here's the tip for you: The release date for 2018 is on Michael Jordan's birthday.
5. Sean Wotherspoon Air
Max 97 x Air Max 1 Hybrid Probably one of the most colourful sneakers you'll ever see in 2018. Having won Nike's Air Max "Vote Forward" contest, Wotherspoon's design has finally launched to much aplomb.
Scheduled for an Air Max Day release in March 2018, a limited release took place late last year. But make sure you stay tuned to get your hands on the most-hyped kueh lapis ever.
PHOTOGRAPHY PHYCILLIA & (EVENT) SOLE SUPERIOR SG
ARTDIRECTION & DIGITAL IMAGING ASHRUDIN SANI