That Gives You The Edge.
That Gives You The Edge.
TEXT JAMIE MILLAR PHOTOS 123 RF
1
MUSIC TO YOUR EARS
Get This: KEF LS50 Black Edition Hi-Fi Speakers
Ready For: Listening to your music collection in style. The KEF LS50 Black Edition features improved aesthetics over the original that came out five years ago. Featuring the highly acclaimed Uni-Q driver array in black set in a matt black cabinet coated with metallic powder, the LS50 Black Edition also has a special plaque featuring a unique serial number for each pair of speakers. The finished product in all black renews the celebratory context of the original LS50 – with added authority and sleek sophistication.
The Best Part: Don't let it fool you, the LS50 Black Edition packs a punch. Not only does it feature beautiful black chrome terminals, it comes with KEF's state-of-the-art acoustic end engineering innovations found in the standard finish LS50, guaranteeing a top-class musical performance to complement the visual appeal. The bookshelf form factor also means that you'll get top quality sound in a small package.
2
WATCH YOUR FITNESS
Get This: Fitbit Versa
Ready For: Fitness enthusiasts who want style and substance. The Fitbit Versa is their latest and lightest smartwatch and features an updated dashboard, all-new design, and even the ability to store on-device music so you can really cut the cords when you're working out.
The Best Part: Not only does it boast over 4 days of battery life and water resistance of up to 50m, it also has 24/7 heart monitoring and even a health tracker for women to track their menstrual cycle and overall health (if you're thinking of a gift for the women in your life, take note).
3 
A NEW WAY TO COMMUNICATE
Get This: Samsung Galaxy S9 and S9+
Ready For: Anyone who wants the latest and greatest in smartphones. Samsung has pulled out all the stops and has created the first phones with Dual Aperture cameras along with premium stereo speakers to give you the best visual and audio experience you can get out of a device you can fit in your pocket.
The Best Part: The camera on these devices provides some of the best quality pictures you'll get from a smartphone camera. Low light performance is remarkable thanks to the ability to change apertures and the Super Slow-mo function that takes videos at 960FPS will help make those moments you've captured even more special. With a score of 99 on DxOMark (www.dxomark.com), the Galaxy S9+ beats last year's Google Pixel 2 by one point, and unofficially becomes the best smartphone camera you'll lay your hands on.
Cost:
Starts from $1198 for the S9 and $1348 for the S9+. For more info visit
www.samsung.com/sg
4
BUSINESS AND PLEASURE
Get This: Microsoft Surface Book 2
Ready For: Students and professionals who want the ultimate mobile computing experience. The Microsoft Surface Book 2 is one of the most powerful 2-in-1 laptops you can find on the market now. Available in 13.5" or 15" form factors, they're packed with the latest 8th gen Intel ® Quad-Core™ processors, guaranteeing maximum portable performance on-the-go.
The Best Part: If you've got the cash to splash, getting the highest end options will net you with not only the most powerful processors but also discrete NVIDIA graphics cards for all your video editing or gaming needs. The Surface Books also have a pretty decent amount of memory, starting from 8GB of RAM so you won't ever need to worry about multi-tasking on these devices if you're doing some serious business.
5
RUN WILD AND FREE
Get This: Jaybird Freedom 2
Ready For: Working out tangle-free. The redesigned Freedom 2 features improved and flexible combined tips and fins. Paired with their SpeedFit cord management system, you won't have to worry about long, messy cables. The added charging clip means you can also double your battery life from 4 to 8 hours, effectively allowing you to worry about your workout more than if you're running out of juice.
The Best Part:The tiny form factor of the Jaybird Freedom 2 means that you may even forget that they're even in your ears. Compared to the Jaybird X3, these feel lighter, and the sound is pretty similar although they do sound a tad bassier. Finding the right fit will take some time, but thankfully they do have a wide range of ear tips sizes for you to choose from. And despite boasting increased battery life, you'll definitely feel the extra weight if you leave the charging clip on while you're working out, especially if you're running.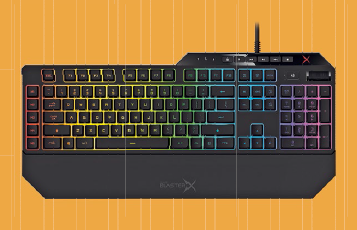 6
DOMINATE YOUR COMPETITION
Get This: Creative Sound BlasterX Vanguard K08
Ready For: hardcore gamers where every millisecond and frame counts towards victory. While Creative is known more for their audio products, this keyboard is a surprisingly solid addition for your gaming needs. The keyboard is designed with custom OMRON mechanical switches which are able to withstand over 70 million keystrokes and feature double cross-point technology for fail-safe contacts.
The Best Part: The travel distance is only 1.5mm, shorter than the standard 2.0mm found on most other gaming keyboards. The keyboard also features 26-Key Rollover Anti-Ghosting Technology so you won't ever have an issue with keyboard lag or input jams, plus, the LED backlight is fully-customisable with 16.8 million colours. Ready to upgrade your battle station?