In last month's issue of HWM, we looked at all the winners of the prestigous Editor's Choice at this year's HWM+Hard-wareZone.com Tech Awards. This issue, we explore instead the Readers' Choice results with detailed analysis of the best technology brands in Singapore, as voted by you. As one of the most comprehensive brand recognition surveys in the industry, The HWM+HardwareZone.com Tech Awards 2016 saw 40 categories and nearly 200 brands nominated for Readers' Choice polling.
In last month's issue of HWM, we looked at all the winners of the prestigous Editor's Choice at this year's HWM+Hard-wareZone.com Tech Awards. This issue, we explore instead the Readers' Choice results with detailed analysis of the best technology brands in Singapore, as voted by you. As one of the most comprehensive brand recognition surveys in the industry, The HWM+HardwareZone.com Tech Awards 2016 saw 40 categories and nearly 200 brands nominated for Readers' Choice polling.
BEST HEADPHONES BRAND
Featuring more 30 brands, the headphones category is a hotly contested Readers' Choice category. After tallying the votes, German audio specialist Sennheiser has retained the award for the fifth time in a row with 18% of the votes. The company refreshed their popular Momentum wired headphones in early 2015 and added new wireless Momentum models towards the middle of the year. Then late last year, a new generation of Orpheus, the HE1060/HEV1060, was unveiled. And just last month, Sennheiser had us drooling once again with the HD 800 S.
BEST GAME KEYBOARD & MOUSE BRAND
The contest for our Best Gaming Keyboard and Mouse Brand award involves more than 20 brands, but the top three already garnered 70% of the votes. At the end of the day, the trophy goes to Razer, which received 41% of all votes cast. Late last year, Razer upgraded its Naga Chroma gaming mouse with a true 16,000 DPI 5G sensor without interpolation, and a Chroma lighting with an iconic 12-button mechanical thumb grid. Alongside the new Orochi, the long-time crowd favorite Diamondback mouse also received an overhaul in 2015. And of course, the Blackwidow Ultimate mechanical keyboard got another upgrade, with the latest 2016 version now sporting individually backlit green LEDs that can each be customized through the Razer Synapse software.
BEST GAMING NOTEBOOK BRAND
For those still unaware, Alienware is a wholly owned subsidiary of Dell, Inc. In early 2015, we saw thinner and lighter Alienware 15s and 17s that came powered by the Intel Haswell processors and the latest NVIDIA and AMD graphics; though later in the year, all models (including the Alienware 13) been upgraded with new hardware, such as USB 3.1 and Thunderbolt 3 support, and of course, Skylake chips. In a close second place behind Alienware (28%) is local outfit Aftershock (21%), maker of well-spec'd and well-priced gaming notebooks, such as the Aftershock Titan v2.1, S-15, and M-15 v2.
BEST TV BRAND
Having dominated the market for the past 10 years, we aren't at all surprised that our readers have chosen Samsung (46%) as their favorite TV maker. If you think the Korean company has already made the best 4K LCD TVs in the JS9500 and JS9000, wait till you lay your eyes on the KS9500 recently announced at CES. Featuring a cadmium-free, 10-bit quantum dot display, this beauty is also Ultra HD Premium-certified, which means it has more than 1,000 nits of peak brightness for proper HDR rendering. LG, which introduced new WebOS 3.0-based LCD and OLED models recently, too, is second with 21% of the votes
BEST NAS BRAND
Our NAS (network-attached storage) category has always been hotly contested, and this edition saw more than 14 brands competing. With 19% of the votes, Synology barely pip Seagate and D-Link (both with 18% each) to retain the award it won last year. In late 2015, we were introduced to some of the new NAS products that Synology will be selling through 2016, including the 2-bay DS216play that supports 4K video transcoding, and the powerful DS716+ that comes equipped with a quad-core processor and an AES-NI hardware encryption engine.
BEST PREMIUM SMARTPHONE BRAND
The second biggest smartphone vendor in the world is Apple, which according to IDC, moved 231.5 million units in the whole of 2015. Which is remarkable really, when you consider the bulk of them were the iPhone 6 and iPhone 6 Plus (the 6S and 6S Plus only came in September). Interestingly, this year's Readers' Choice results see Apple increasing its share of votes to 60% from last year's 54%, three times of Samsung's share. Does this mean people really like the iPhone 6S/6S Plus (3D Touch, Live Photos, and all), or are consumers just dissatisfied with what they saw on the Galaxy S6 and Note 5 models?
Best Business Notebook Brand
With 24% of the votes, the Best Business Notebook Brand trophy remains in the hands of Lenovo, currently the world's largest PC maker according to IDC. Apple is getting very close with 23% of the votes.
Best Pay TV Service (Singapore)
Mostly known for its cable TV services, StarHub also has StarHub TV on Fiber, which is its Internet TV service. Just last month, StarHub announced that it'll be bringing Netflix to its fiber TV customers through their set-top boxes in 2Q 2016.
Best Interchangeable Lens Camera Brand
A category that comprises DSLRs and mirrorless cameras, Canon continues to dominate mindshare. The company had a great year with solid products from entry-level (EOS 750D and 760D), professional (EOS 5DS and 5DSR) and flagship (EOS-1D X Mark II) series.
BEST INKJET PRINTER BRAND
With 39% of the votes, Canon is once again our readers' favorite inkjet printer brand. Last year, the maker of EOS cameras introduced a brand new Maxify inkjet printer series designed for businesses. When we reviewed the flagship MB5370, we were duly impressed by its good speeds and good mix of business features, like the single-pass duplex ADF and operation restrictions settings. Late last year, the company launched the Pixma G series, its first ink tank system printers to go head-on with Epson's. HP, which launched several budget printers last year, such as the DeskJet 3630, Envy 4520, 5540, and OfficeJet 4650 comes in second with 20%. Epson, which released several new ink tank system printers throughout the year, too, such as the L850 and L655, and new WorkForce series inkjet models, is third.
BEST FIBER BROADBAND SERVICE (SINGAPORE)
Compared to fixed line and mobile telephone services, the fiber broadband market in Singapore is a lot more competitive due to the presence of more providers. Still, Singtel has retained the award that it has won for the past two years with 32% of the votes. In fact, just two weeks ago, Singtel announced a crazy-fast, $189/month 10Gbps fiber broadband plan for hardcore users ready to make the jump. Along with ViewQwest's Black 10Gbps Fiber and SuperInternet's Optical Ethernet-based 10Gbps plans, these are the fastest home broadband plans currently available in Singapore.
BEST HOME THEATER PROJECTOR BRAND
While Epson has released several good home theater projectors in 2015, our readers have once again chosen Sony (30%) as their favorite home theater projector brand. The awesome Sony VPL-VW5000ES, a 4K HDR home cinema projector using SXRD tech and a laser light source, is slated to arrive in Singapore soon, and can be yours if you can spare $85,000. Of course, that's not your only choice; the VPL-VW1100ES, and VPL-VW520ES/500ES are top notch, too.
BEST 2-IN-1 NOTEBOOK BRAND
Some call it notebook-tablet hybrids, some call it 2-in-1 notebooks. Whichever the case, this form factor was made possible through the multifaceted nature of Windows 8 and now Windows 10. A new category created last year to reflect this trend, the inaugural winner was ASUS. This year, our readers have once again voted for ASUS (30%), maker of fine machines like the Transformer Book T300 Chi, Transformer Book Flip TP200, and T100HA. Microsoft's own Surface series of devices, especially the recent the Skylake-based Surface Pro 4, helped it garners second with 26% of the votes. Lenovo, which launched the Ideapad Miix 700 and 300 last year, and new ThinkPad and Yoga models at this year's CES, is third with 17%.
BEST COMPACT CAMERA BRAND
For this Readers' Choice category, our winner is once again Canon, which amassed 40% of votes. In mid-2015, we saw the PowerShot G3 X and the limited edition SG50 PowerShot G7 X; and then later in the year, the PowerShot G5 X and G9 X, both sporting a 1-inch-type 20.2MP CMOS sensor. And just last month, the company took the wraps off the PowerShot SX420 IS, SX540 HS, and IXUS 285 HS, 180, and 175. Still, according to the Camera & Imaging Products Association (CIPA), digital camera shipments in the whole of 2015 declined 18.5% year on year to 35.4 million units. Of these, shipments of digital cameras with a built-in lens (i.e., compact digital cameras) continued to fall "dramatically", down 24.5%. In short, this is a market that's really tough to be in right now.
Best Mainstream Smartphone Brand
Samsung's smartphone sales may be slowing, but the Korean company is still the biggest smartphone vendor, with a market share of 22.7% in 2015 according to IDC. The Galaxy E7, Galaxy J1, Galaxy A3, A5, and A7 were all entry and midrange smartphones launched in early 2015. The Galaxy A8 arrived in the middle of the 2015; and just a month into 2016, we're already expecting three new Galaxy A series phones. Their consistent pressence in the market bagged them the win again with 45% of the votes. Coming in a distant second is Xiaomi with 12%.
BEST TELCO(SINGAPORE)
Singtel is still our readers' favorite telco, garnering half of all votes. A few announcements made headlines last year, such as Singtel's contract-free and data-centric SIM-only plan (September 2015) and Singtel Circle, which is a plan to reward loyal customers with free mobile data and other perks. Wireless coverage mapping company OpenSignal also recently rated Singtel as the fastest LTE operator in the world. Besides working on speed and coverage, Singtel is also working on the content front. Like StarHub, it has announced a partnership with Netflix, bundling up to nine months of standard Netflix subscription when they recontract or sign up for its mobile, fiber Internet, and/or television services.
Best SSD Brand
With great speeds and dopping prices, there is no denying the SSD proposition. Samsung, which won our Readers' Choice award for Best SSD Brand last year, managed to fend off SanDisk and retain its trophy with 35% of the votes this time round. Regular readers will know about the great performances of the 3D V-NAND-based SSD 850 Pro and SSD 850 Evo, which are now available in even larger 2TB capacities. But for high-end Skylake system builders, the new SSD 950 Pro, which is Samsung's first M.2 SSD to use the PCIe interface and supports the new NVMe protocol, is arguably the king of consumer SSDs at the moment.
BEST CPU BRAND
Mobile SoCs are getting faster every single day; but for desktops, Intel's chips still rule the roost. In June 2015, we saw the launch of chipzilla's 5th-gen Core processors (Broadwell) based on a 14nm process, as well as the very power-efficient Core M line that has a thermal power envelope as low as 4.5W. But it wasn't long (in August, actually) before we saw the arrival of the company's 6th-gen Core processor family (Skylake).
BEST WIRELESS SPEAKERS BRAND
The advent of mobile devices greatly contributes to the exploding growth of wireless speakers in recent years. Not only can you enjoy higher-quality sound than the device's tiny built-in speaker, being able to not tether to another hardware means that you can keep hold of your device, move about, and still control music playback. For the fourth year running, our readers have voted Bose (26%) their favorite wireless speakers brand. We took a look at the company's expanded SoundTouch Wi-Fi system early last year; and later, a new generation of Bluetooth-capable SoundTouch speakers, including the SoundTouch 10, 20, and 30 series, was announced. Sonos, which unveiled the new Play:5 speaker recently, is second with 16%. Creative, maker of the new iRoar and Sound Blaster Roar Pro, is a close third with 15%.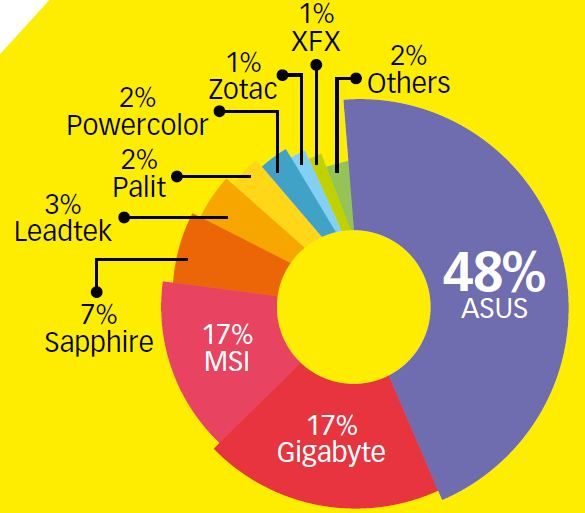 Best Graphics Card Brand
With 48% of the votes, this is the 7th straight year ASUS has walked home with the award for Best Graphics Card Brand. Once again, we think ASUS' popularity boils down to its ability to churn out a wide range of graphics cards for both NVIDIA and AMD fans.
Best Motherboard Brand
What most of our readers like about ASUS' graphics cards (variety, performance, reliability) also apply to the company's motherboards, so it is no surprise that the brand also takes home the Readers' Choice for Best Motherboard Brand.
Best PC Memory Brand
Another brand that has made an award its own is Kingston, who has won the Best PC Memory Brand award for the sixth consecutive year. In fact, its share of votes (42%) is the same as last year, and twice that of second-place Corsair (20%).
BEST TABLET BRAND
Apple's iPad remains our readers' most beloved tablet with 58% of the votes. In fact, it was only in September 2015 that we had new iPads, namely the iPad Mini 4 and iPad Pro. The iPad Pro, in particular, is a big 12.9-inch tablet with nearly double the CPU performance of the iPad Air 2 and a refined multi-touch technology; it also supports the Apple Pencil that lets you write and draw fluidly like a real pencil, thanks to its full pressure sensitivity and tilt control. Sure, iPad sales have fallen, but apparently, it still outsold Microsoft's Surface tablets in the last quarter. For those who prefer the 10-inch iPad, Apple has just announced a new version of the iPad Pro in the 9.7-inch form too. Samsung, which announced the Windows 10-running TabPro S just last month, is second with 15%.
BEST PC COMPONENTS RETAILER (SINGAPORE)
Sim Lim Square has always been the go-to place for DIY enthusiasts building their own systems, as this is the mall that gathers numerous PC components retailers under the same roof. For the seventh time in a row, our readers have voted Fuwell their favorite PC components retailer. PC Themes, Best Bargain, and Bizgram followed behind, all very evenly matched in the polls.
BEST WIRELESS NETWORKING BRAND
With 34% of the votes, this is the third straight year ASUS has won our Best Wireless Networking Brand award. Whether it's a modest AC1900 router or an AC2400 or AC3200 router for households with many connected devices, you can bet that the Taiwanese manufacturer has one ready in stores. And if you need a powerful tri-band router and lots of bandwidth for each stream, the new RT-AC5300 that uses Broadcom's latest 4x4 5G Xstream platform is top drawer. D-Link is now second (19%) and Linksys third (18%).
BEST SMARTWATCH BRAND
Last year, Samsung was our readers' favorite smartwatch maker. But that was pre-Apple Watch days. This year, the award landed in the hands of Apple, and with 54% of the votes, it's a comfortable win. We can only posit that the Apple Watch's tight integration with the iPhone, nice selection of apps, and of course, Apple's strategy to have different collections and watch bands to satisfy as many types of customers (you know there's even an edition just for Chinese New Year, right?), as reasons for its success. For Samsung and Android smartphone users, we rate the Gear S2 very highly (now in 18k rose gold for the Classic version, too), and are happy to see that Samsung is going to make it work on iOS.
Best GPU Brand
For NVIDIA, 2015 was about continuing the good work of its Maxwell architecture. Enthusiasts will remember the crazy-fast GeForce GTX Titan X and GeForce GTX 980 Ti. With Pascal looming, 2016 also looks to be another exciting year for NVIDIA fans.
Best External HDD Brand
When it comes to HDDs, there's no bigger brand than Seagate and Western Digital. With 33% of the votes, WD is once again the winner of this Best External HDD Brand category, with Seagate remaining in second place with 26%.
Best Gaming Console Brand
Sony PlayStation 4 vs. Microsoft Xbox One. This is a battle that started before both consoles came to market, is still on-going at the moment. For our readers though, Sony seems to be the firm favorite.
BEST REMOVABLE FLASH STORAGE BRAND
Flash memory storage specialist SanDisk has once again strolled home with our Best Removable Flash Storage Brand award with 58% of the votes. Recently, the company announced a 200GB version of its Connect Wireless Stick, expanded its portable SSD lineup with an all-terrain model, and unveiled the world's thinnest 1TB M.2 SSD. And in case you missed it, WD's proposed acquisition of SanDisk has already been cleared by the Competition Commission of Singapore (CCS).
BEST GAMINGMONITOR BRAND
With 26% of the votes, ASUS is our readers' favorite gaming monitor brand. The 2014 Swift ROG PG278Q, the world's first 27-inch WQHD G-Sync monitor with rapid 144Hz refresh rate and 1ms response time, was highly regarded. This was updated in 2015 with an IPS panel in the form of the the PG279Q. If curved monitors are your thing, the ROG Curved is a large 34-inch curved gaming monitor with a 3,440 x 1,440-pixel resolution that also supports G-Sync. For owners of AMD cards, ASUS didn't forget you either. The TN-based MG278Q and IPS-based MG279Q are two 27-inch gaming monitors that support AMD's FreeSync tech.
BEST BUSINESS PROJECTOR BRAND
The world's number one selling projector brand for the last 14 years (according to Futuresource Consulting), this is the third year in a row that our readers have voted Epson (24%) as their favorite business projector brand. In August last year, the company launched several affordable business-oriented models, including the EB-U04, which is a WUXGA 3LCD projector that costs just S$1,299. On the home theater front, we were impressed by the EH-LS10000 dual laser 3LCD-R projector; if that's too high-end for you, the EH-TW5350 is a value-for-money option. Canon is second with 14%, and NEC third with 10%.
BEST IN-EAR EARPHONES BRAND
This is the third straight year Klipsch has won our Best In-ear Earphones Brand award, this time with 19% of the votes. In August last year, the company released the Pro-Sport series for fitness enthusiasts, and in November, a new X series that includes the flagship X20i and XR8i. If you prefer to go wireless, Klipsch has just announced the R6 in-ear Bluetooth monitors last month. Bose comes in second with 12% of the votes, and Sennheiser completes the top three with 11%.
Best CE Chain Store (Singapore)
With 36% of the votes, IT and CE chainstore Challenger has now won the Best CE Chain Store award for the fourth straight year. Best Denki is second with 15%, and Harvey Norman, which just opened a giant flagship outlet at Millenia Walk, is third with 13%.
Best Home Theater System Brand
For the sixth consecutive year, our readers have chosen Bose as their favorite home theater system brand. It's the only brand to attain a double-digit share of votes (32%), which is impressive considering more than 20 brands were recorded in the polls.
Best Activity Tracker Brand
You know what? The Apple Watch wasn't the death knell of fitness trackers. According to the NDP Group, annual 2015 dollar and unit sales of connected activity trackers experienced respective growth of 110% and 85% compared to 2014.
BEST LASER/LED PRINTER BRAND
Last year, Fuji Xerox launched a lot of printers. It had mono single-function and multi-function models using laser printing technology, as well as a range focusing on the company's very own S-LED tech. With so many choices, perhaps it's no surprise that Fuji Xerox managed to retain the award it also won last year; this time with 24% of the votes. But watch out, Canon, which has also launched several new laser models recently, is very close behind with 23%.
Best Gaming Desktop PC Brand
With 31% of the votes, Aftershock is our readers' favorite gaming desktop PC brand. A surprise really considering that Aftershock is arguably more well known for its gaming notebooks, such as the Titan v2.1 for enthusiasts, and the S-15 and M-15 v2 for gamers on a budget. That said, riding on brand loyalty, Aftershock's custom desktops in the Tremor (small form factor) and the SLI-capable Hypergate (mid-tower) series are packed with the latest PC tech too, such as 6th-gen Intel Core processors, NVIDIA GeForce GTX 980 Ti or Titan X graphics, and tons of storage options, just to name a few.
BEST GAMING PUBLISHER
Owner of multi-million dollar video game franchises like Call of Duty, StarCraft and Warcraft, Activision Blizzard is our readers' favorite game publisher with 24% of all votes. In 2015, the company published the next iteration of the Skylanders franchise, Skylanders: SuperChargers; Bungie's Destiny: The Taken King; as well as announced its intention to buy Candy Crush Saga maker, King Digital, in a US$5.9 billion deal. In second place is Electronic Arts, which is well known for its EA Sports titles like FIFA and NBA Live, with a close 22%.
Best Electronics Shopping Portal (Singapore)
Do you know that Qoo10 is by Giosis, a joint venture company formed with eBay? The Giosis Group now operates seven localized online marketplaces in five countries, including Japan and Singapore, and has plans to expand into more Asian countries in the near future. With 36% of the votes, Qoo10 is the inaugural winner of our new Best Electronics Shopping Portal (Singapore) award. Not far behind is Lazada, with 23%. With several overseas e-commerce sites now shipping to Singapore and the thriving business of goods forwarders, it'll be interesting to see how both rise to the challenge in 2016.