ELISA CHIA'S first visit to Okinawa in Japan was made all the more memorable, thanks to a four-day stay at this family-friendly resort.
ELISA CHIA'S first visit to Okinawa in Japan was made all the more memorable, thanks to a four-day stay at this family-friendly resort.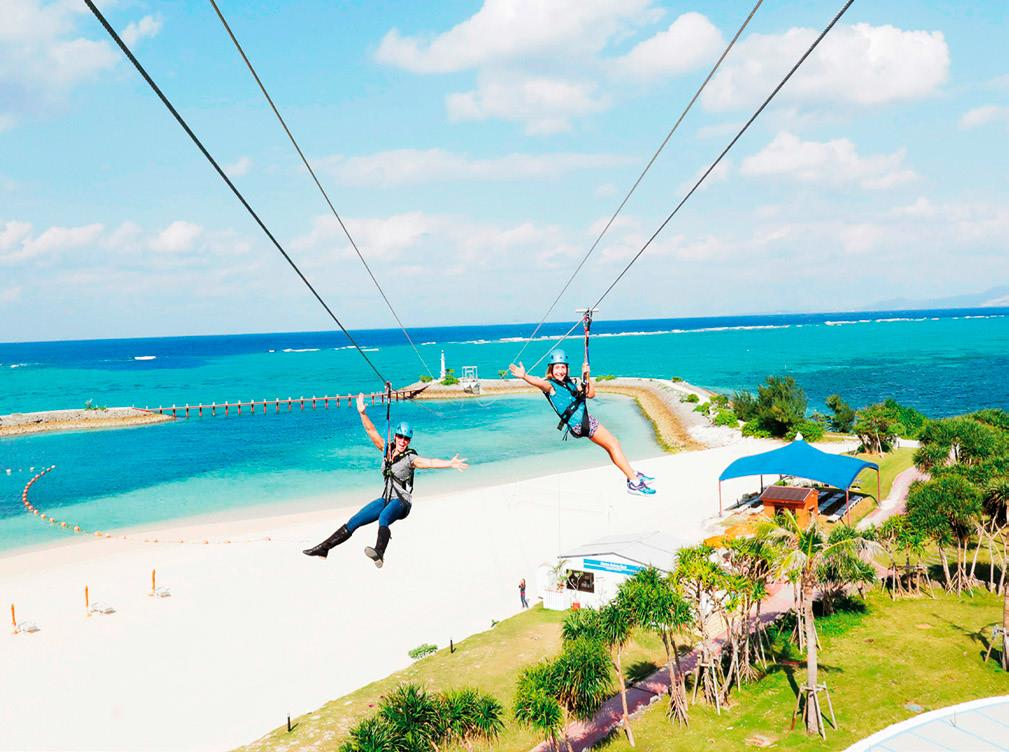 After three days of non-stop shopping in Naha city, our luggage was full and our legs were starting to ache. But we were definitely not done with Okinawa yet – there's so much more to this sub-tropical Japanese island than great malls and restaurants. It's a beach paradise, as well. 
My husband and I knew we had to complete our vacation with a resort stay. We went on a Google frenzy before our trip to suss out the most family- friendly beach hotel. Then a friend told us: "You won't go wrong at Sheraton Okinawa Sunmarina Resort." 
She was absolutely right. Our kids' hearts were won over the minute they stepped into its lobby and took one look at the marine life in the big pond, across from the check-in counters. 
You can easily spot over 20 species – including starfish, sea cucumber and stingray – in the clear, shallow water (pictured above). 
Our children, aged 10 and five, usually can't wait to get to the room whenever we check into a new hotel, but not this time. They were too distracted by the myriad of facilities – and we were only at the lobby. 
It was easy to spot the Cove Kids Play Area (pictured top right), a colourful playground with ball pit for babies, toddlers and preschoolers. 
There was also the Ashibina Fun Place, where guests could play billiard, table-tennis and foosball. And which kid wouldn't want to lay his hands on Sony Playstation 4 game consoles? 
All these facilities are free and open around the clock.
PLAY ALL DAY 
The next day, after a restful night's sleep, we were ready for the resort's beach activities. Our first stop: The Megazip (pictured opposite). In fact, it's the only place in Okinawa where this thrilling overwater activity is available. Hotel guests pay 1,200 yen++ (S$14.60) each, while visitors are charged 1,500 yen++. 
Our five-year-old had to sit out of the action because of the weight guideline – one has to be at least 25kg to go on the 250m long zipline here. The operator here doesn't allow for tandem riding, unlike in Singapore. 
The Megazip shares the same platform as the resort's 83m-long Tornado waterslide, which sends one through loops and turns before landing with a splash in the pool that's up to 1.4m deep. Kids must be at least 1.2m tall to go on the slide. 
Toddlers can have fun in the 0.3m-deep pool next to it. The outdoor waterplay is free, but take note that it's closed from November through the winter months. 
When the weather is chilly or rainy, head to the indoor pools. The water temperature is kept at about 30 deg C and we loved frolicking here in the evening – it opens till 10pm daily. The main pool is 1.2m deep and there's also a waddling area and a whirlpool. 
To enjoy this cosy indoor facility, guests must buy a resort pass. It costs 3,500 yen++ per adult and 1,000 yen++ per child aged six to 11 for the duration of your hotel stay. 
The pass also entitled us to a Japanese bath, sauna, tennis, basketball and mini golf, as well as kayaking and pedal boat sessions. The latter two are just some of the sea sports available at this resort. 
Those who want an adrenaline rush should sign up for wakeboarding or windsurfing lessons, or go parasailing or snorkeling (extra charges apply). 
My family was looking forward to go on a glassbottom boat cruise (pictured right) – we could get up-close with marine life without snorkeling. Unfortunately, the activity was cancelled due to choppy waves and strong winds. 
The kids were disappointed, but there was plenty more that we could do – and eat at – the resort. 
We loved Senses, its all-day dining restaurant, which serves buffets and a la carte dishes, ranging from from traditional Okinawan to Japanese and Western meals. 
If you have young children, request to sit at the kids' corner. The tables are low and there's a play area with learning toys and a Lego Duplo wall. 
Did I mention that there's a wonderful retail store in the resort? If you've not shopped enough at the malls, you could buy almost all that you want here, from tourist souvenirs and confectinery to toiletries and clothing. We were pleasantly surprised to find that they were reasonably priced, and not marked like in most other hotels. 
A must-buy: Fireworks. We bought two big packs and set them off at a permitted area on the beach. It's a first for us, making this holiday an even more memorable one.
FIND OUT MORE