Whether you're looking for Mandarin class or right-brain training, these courses will give your little one a boost in learning.
Whether you're looking for Mandarin class or right-brain training, these courses will give your little one a boost in learning.
APPLE PIE LANGUAGE
Founded in 2003, this centre (pictured above) aims to cultivate an appreciation for the Chinese language from an early age. The centre offers a range of daily, weekly and specially customised classes throughout the year, for children aged three to eight years old. Class sizes cater to kids who learn at different speeds.
Its speech and drama-based programme improves your kid's social and communication skills and boosts confidence in public speaking. Apple Pie Language also offers holiday camps during the school holidays.
VISIT http://www.applepie.com.sg 
BABY SENSORY 
This early childhood programme was founded in the UK by Dr Lin Day, one of the UK's leading parenting experts and a renowned author in the fields of sensory and early childhood development. It was brought to Singapore in 2015. 
Baby Sensory adopts only proven methodologies – Maria Montessori for sensory development, Jean Piaget for early learning, John Bowlby for comfort techniques, Mary Sheridan for visual and general child development, and Keller Pringle for play as a prerequisite for mental growth. 
Ideal for children up to 3½ years old, the programme is designed to benefit not just babies, but parents, too. Classes are set in spacious open spaces and conducted by highly qualified teachers. Mums and dads can join the classes any time during the term, and parenting tips are given at the end of each session.
VISIT http://www.babysensory.sg 
BERRIES
The Berries network of enrichment centres provides fun and effective, experiential learning for children who want to master the Chinese language. Its classes are structured to meet the learning needs of different age groups and abilities, with lessons taking the form of role-playing, games, props, and other creative activities. 
Kids also get to use a range of learning tools and educational products, including Reading Pen, Talking Sticker and Handwriting practice books. Learning at home is encouraged, to promote parent-child bonding. 
At Berries, the teachers are seen as "gardeners" who nurture the growth of the children. It is committed to working hand-in-hand with parents to guide students, ensuring that the little ones thrive in their educational environment and grow up with a strong foundation in the Chinese language. Established in 1993, it has 24 outlets across Singapore. 
VISIT http://www.berriesworld.com 
CHENGZHU MANDARIN CENTRE
Established in 2012, this brand emerged from the Mandarin programmes run by Julia Gabriel Centre for over 12 years. Offering a dramatically different learning experience, Chengzhu puts little ones on the path to mastery of the language while empowering them with valuable learning and life skills. 
Its educators are highly qualified and talented, and are passionate about children, education and the arts. In addition to being teachers, they are also musicians, performers and dancers, and are inspiring language role models. 
Based in Rochester Mall, the centre is bright and spacious, and boasts a unique and cosy children's library called the Storyhouse, which is stocked with hundreds of quality Chinese books for all levels.
VISIT http://www.chengzhu.edu.sg 
KUNO METHOD
New to Singapore, this Japanese enrichment centre started more than 30 years ago and its founder is an advisor for the preschool curriculum in Osaka. Here, it offers holistic preschool enrichment for children in a programme that encompasses maths and other foundational concepts.
Unlike some centres that may teach the Primary 1 curriculum in advance, Kuno method believes in helping little ones learn number sense and concepts that may not be taught in local schools, such as spatial recognition.
It does this using a three-stage learning approach. During each lesson, kids aged three to six are first introduced to new concepts in a group setting. They learn from observation, pick up soft skills, such as not interrupting others, and learn to articulate their thoughts.
This is followed by hands-on activities using manipulatives, where they see things from different points of view and reinforce what they learnt during the group play session.
Finally, they complete worksheets and teachers may hold short question-and-answer sessions with them. This stage helps them integrate what they've learnt and develops self-confidence.
VISIT http://www.kunomethod.com.sg
JULIA GABRIEL CENTRE
This well-known brand (pictured above) began in the early 1980s in the home of founder and director, Julia Gabriel, who started teaching speech and drama to her own children and two of their friends. 
From just four students, the classes quickly grew to become the organisation it is today. In 1990, Julia Gabriel Centre was officially recognised by the Ministry of Education as the first speech and drama centre in Singapore. 
Edudrama is at the core of everything that is done at Julia Gabriel Centre. It empowers students to communicate confidently using drama, whether through role-play, improvisation, mime, puppetry, performance, reading aloud, voice work, or the visual arts. 
This leads to the positive development of cognitive, emotional and social skills, as well as positive physical development. 
Julia Gabriel Centre has an international team of educators; in addition to their qualifications, the educators are all uniquely talented individuals with a passion for children and education.
VISIT http://www.juliagabriel.com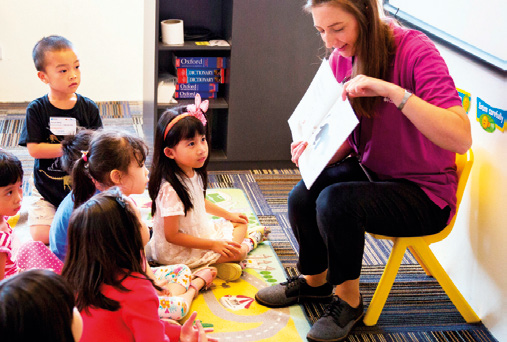 LEARNING HORIZON 
This enrichment brand started in 2000 with speech and drama, as well as camps primarily for preschoolers. Its mission: To make children's learning journeys fun. 
The Learning Horizon curriculum goes beyond academics, focusing on other programmes like sports, aesthetics, information (science and technology), and linguistic and life skills, with the purpose of enhancing children's physical, intellectual, social, and emotional development. 
To ensure that they get the best team and experience, the trainers go through extensive in-house training and receive regular assessments by the curriculum team. Parents are also constantly updated on their child's progress via monthly or termly e-bulletins, and regular engagements like parent-child sessions, progress assessment cards and more.
VISIT http://www.learninghorizon.com.sg 
THE BRITISH COUNCIL
Since 1957, the British Council (pictured above) has run programmes that teach English to young learners from nursery-age and up. It also has a bilingual preschool, which offers a bilingual English-Mandarin curriculum and where both the English and Mandarin teachers are present in the class the entire time. 
One of the British Council's strengths is the quality of its teachers, who are all highly qualified, trained and experienced, and who come from a range of countries and backg rounds. 
The organisation also has a strong child protection policy, which recognises that it has a fundamental duty of care towards all children where its programmes and operations facilitate contact with kids, or have an impact on kids. The British Council has introduced a new Nursery programme, as well as Nursery 1 for the first time this year.