If you have news, views or issues you'd like to see.
If you have news, views or issues you'd like to see.
POST of the month
Huda Khye shares her Mother's Day plans with us on The Weekly's Facebook page:
"As much as my mum loves to be pampered with spas and shopping, she likes excitement as well. Luge and Megazip at Sentosa will be our go-to places come Mother's Day!"
E-MAIL of the month
From Lena Soh
"Your magazine never fails to amaze me with its trove of useful reads that help readers navigate through the many 'moments' and 'demands' in a modern working woman's life. The May issue's Inspire section provided for delightful reading as I learnt parenting, stressreducing and money management tips, and relationship boosters all in one go!"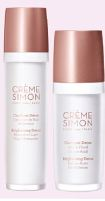 E-MAIL + POST OF THE MONTH SENDERS BOTH WIN A SET OF CRÈME SIMON RESTORATIVE LIGHT NIGHT MOISTURISER AND DERMO-ACTIV FLORAL SERUM, WORTH $207
Wake up to visibly brighter and well-rested complexion thanks to Crème Simon. Its Restorative Light Night Moisturiser works through the night to refine and nourish your skin with concentrated potent active ingredients. To get skin glowing, feed it with the Dermo-Activ Floral Serum, a powerful elixir made with high concentrations of clarifying and regenerating plant extracts that intensely boost skin radiance with deeper moisturisation for more luminosity in your complexion.
This set includes Restorative Light Night Moisturiser (50 ml) and Dermo-Activ Floral Serum (30 ml).
The Weekly 's Hot Husband of the Month
Chloe Leong nominates his loving husband Timothy: 
"Tim has always been putting his family ahead of himself. I've recently been out of a job, but he's never pressurised me to look for another job and constantly tells me to do what I please, and he will take care of the family. I will always feel safe and secure with him at the helm of things."
Our Hot Husband of the Month wins a Royal Meridian Foot and Back Therapy for two (100 mins) from The Luxe House, worth $416. For more information, visit theluxehouse.com.