What we're all talking about this month.
Singapore's Got Talent
The NDP 2019 video, Our Singapore, features music veterans like Kit Chan and Dick Lee to up-and-coming singers who are all doing our country proud. Let's sing along with them this August 9.
Joi Chua
Local songstress Joi has been pretty quiet on the career-front lately but she's poised for a comeback after making an appearance in this year's NDP song. 
Jordin Tan
One of the youngest performers in this year's NDP video, 11-year-old Jordin gained fame through her YouTube channel where she sings and plays the ukulele. 
Shabir
Winner of Vasantham Star in 2005, he also wrote and composed Singai Naadu, the National Day Parade 2012 Tamil song.
Charlie Lim
An alumnus of the Music and Drama Company, Charlie rose to prominence in the local music scene in 2011. He also performed the theme song for last year's NDP.
Louis Soliano
This jazz musician was awarded the Cultural Medallion in 2018. His storied career since the 1960s has seen him perform with many world renowned artistes, including legendary jazz trumpeter Louis Armstrong. 
Aisyah Aziz
After competing in reality TV competition Akademi Fantasia, Aisyah has been a regular fixture in the Malay music industry in Singapore.
Jacintha Abisheganad
A familiar face on Singapore TV, Jacintha made waves in 1976 when she won a local television talent contest, Talentime. She was also a judge on the popular TV series, Singapore Idol. 
Out Of This World
These celebs are winning the space race with their intergalactic looks!
From left:
Eva Green is a sci-fi fantasy in her Iris Van Herpen gown. 
Sophie Turner gamely takes on the astronaut suit in a Louis Vuitton jumpsuit. 
Tessa Thompson's Ronald van der Kamp outfit incorporates quirky galactic art. 
Gwendoline Christie's Iris Van Herpen dress reminds us of a faraway nebula. 
Gigi Hadid looks like an alien queen from a frosty foreign galaxy. 
Confidential Ceremonies 
Not every celebrity wants their wedding splashed out on the front page of the tabloids. These couple kept their nuptials so private, we didn't even know they were married.
Hilary Swank and Philip Schneider: The Oscar winner had a sweet woodland wedding at Saint Lucia Preserve in California when she exchanged vows last year. 
Won Bin and Lee Nayoung: Korean actors Won Bin and Nayoung skipped all the drama that comes with a celebrity wedding and went back to nature by holding a super private ceremony in the countryside. 
Miley Cyrus and Liam Hemsworth: Miley and Liam famously met on the set of The Last Song, and had their happy ending late last year when they tied the knot in a small, low-key ceremony in Tennessee. 
Zoë Kravitz and Karl Glusman: The Big Little Lies star reportedly wed fellow actor, Karl, in a civil ceremony in May. The notoriously private pair have been dating for three years and got engaged in February 2019. 
Karlie Kloss and Joshua Kushner: Supermodel Karlie and her tech beau got engaged in 2018, then surprised everyone by secretly getting married in New York just three months later. 
Book Worms
August 9 is also Book Lover's Day so grab one of these terrific tomes and find a cosy spot to read to your heart's content.
FOR YOU
Wet Market to Table by Pamelia Chia
Formerly a chef at Candlenut, Pamelia has cobbled together this lovely collection of recipes that champions produce commonly found at wet markets. The result? Great-tasting dishes using the freshest ingredients possible. Yum! 
FOR HUBS
Beng Beng Revolution by Lu Huiyi
Set in a future Singapore that is scarce in natural resources, this dystopian novel follows the adventures of a protagonist named Beng Hock, who has the power to reverse his city-state's dwindling fortunes.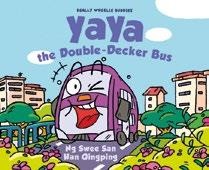 FOR BUBS
Yaya the Double-decker Bus by Ng Swee San
Yaya the double-decker bus thinks he's the best bus in the whole of Singapore. He's tall, handsome and fast. Surely no other bus compares! So when his friend Shorty challenges him, Yaya is in for a surprise. 
Red Hot Hues
It's traditional to wear red for National Day on August 9 but with countless shades to choose from – maroon, cerise, vermillion, crimson – how do you know which looks best? Follow our red hot colour guide to find out: 
1 Identify skin tone Look at the veins on your wrist under a bright white light. If they look blue, you've got a cool skin tone, while if they're green, you've got a warm skin tone. A mix of the two? You're probably neutral.
2 Select right colour For cooler skin tones, you'll look best in a ruby-red or rosy-red colour. Warmer skin tones should go from a violet-red or orange-red and neutral skin tones can opt for any shade of red.
3 Dress it up Take your style up a notch by pairing your red hot look with contrasting white accessories like a necklace or jacket. Want a bolder look that stands out in a crowd? Wear a matching red lipstick!
Let's Play Match
Fast & Furious 9 is revving up for release in August 2019 so let's match up the actors in this spin-off film with the cars they own in real life. Can you guess who drives what? 
ANSWERS: Dwayne Johnson = Pagani Huayra; Jason Statham = Ferrari F12 Berlinetta; Idris Elba = Rolls Royce Phantom; Eiza Gonzalez = Mercedes AMG GLC.
From Home To Hollywood
Meet the Singaporean brands who are gaining plenty of buzz in Tinseltown.
We feel a certain sense of pride when we see homegrown labels making waves overseas, so imagine our excitement when Michelle Obama wore a pair of earrings from Singaporean jewellers State Property. The ex-FLOTUS is just one of the growing band of celebs who are taking notice of Singaporean fashion brands. Here are some other labels who are proudly flying the "Made in Singapore" flag. 
STATE PROPERTY
Barely five years into the business, State Property is already proving that they are a national treasure. This buzzy homegrown jewellery brand is the brainchild of Lim Ruiyun and Afzal Imran, and they are known for their thoroughly modern designs. This has attracted plenty of high-profile fans that include Olivia Munn, Rita Ora, Michelle Obama and Lady Gaga. 
Olivia Munn wearing State Property earrings. 
Earrings from State Property. 
AIJEK
Known for their feminine designs, Aijek has plenty of fans with local women who want pieces that are statement enough to stand out without overdoing the drama. Ranging from daywear separates to one-of-a-kind evening dresses, they're stocked in several big-name stores such as Neiman Marcus, TANGS and ASOS, thereby bringing their gorgeous designs to a worldwide audience. Case in point: A signature lace dress in yellow worn by Vanessa Hudgens. 
A model wearing Aijek.
Vanessa Hudgens wearing Aijek.
CHARLES & KEITH
Charles & Keith needs no introduction – after all, they're one of the most enduring footwear brands in the local market – but it seems like Singaporeans aren't the only ones who are in love with the label's trendy and affordable shoes. Celebs like Priyanka Chopra and Gigi Hadid have all worn Charles & Keith shoes, making it one of the more affordable celebrity-endorsed fashion buys you could possibly find. 
Priyanka Chopra, with her husband Nick Jonas, wearing Charles & Keith shoes. 
Shoes, $53.90, from Charles & Keith. 
DZOJCHEN
Pronounced "doe-jhen", this fashion brand is a hot favourite amongst dapper male celebs, thanks to their effortlessly cool approach to menswear. Recently, founder Chelsea Scott-Blackhall has also expanded her womenswear offerings, and it's proving to be a huge hit. Don't believe us? Just look at the likes of Anne Hathaway, Ciara and Blake Lively wearing her razor-sharp tailoring on the red carpet. 
Anne Hathaway wearing Dzojchen.
COMPILED BY: AARON KOK, CAMILLIA DASS & NATALYA MOLOK / PHOTOS: TPG NEWS / INSTAGRAM: @DZOJCHEN/@WON__BIN/@HILARYSWANK/@KARLIEKLOSS / THE STRAITS TIMES / CHARLES & KEITH