Eating clean can seem hard to do in Singapore, with the lure of cheap but unhealthy hawker food at every corner.
Eating clean can seem hard to do in Singapore, with the lure of cheap but unhealthy hawker food at every corner.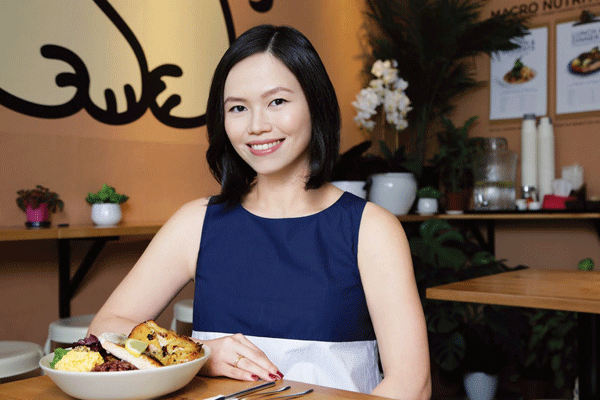 With this in mind, Dionis left the electronics industry to start Lean Bento with her best friend, Charles Ng, in 2014. Their diner-style restaurant serves up hearty fare like their Honey Chicken & Sea Salt Salmon Premium Bento, along with desserts like Protein Waffles made with wholegrain wheat flour, plant protein powder and coconut nectar. Now pregnant with her first child, Dionis wants to help other women realise how food affects not just their appearance, but how they feel on the inside.
How does your business make others healthier?
"We cook tasty and nutritious meals, using whole foods. Healthy eating isn't just about counting calories, or eating a lot of salad.
Lean Bento serves meals that are guilt-free, tasty, nutritious, wholesome and honest.
They're all designed with the right mix of protein, good carbohydrates and fibre, so you eat healthily without feeling deprived." What motivated you to leave your old day job?
"As a business development manager, I was in an office-bound job. It was awfully sedentary, and I used to be very lazy: Instead of exercising, I spent my after-work hours and weekends mostly looking for the latest food spots. I was overweight since I was in primary school, and at my heaviest, I weighed 88 kg for my 1.6 m frame.
In 2012, I had an epiphany and felt I wanted to change my life before I reached the big 3-0. I hired a nutritionist to help me eat better and embarked on my fitness journey, working out five to six days a week and losing 20 kg along the way. Soon afterwards, Charles and I saw a gap in the market and decided to start a food kiosk with healthy, wholesome meals made from scratch, which grew into Lean Bento. We wanted to prove that eating healthily doesn't mean only having salads and wraps." Why do you love your job?
"It is definitely empowering, knowing we're impacting lives directly through the food we serve. A lot of ladies have poor relationships with food – when I was very overweight, I felt very self-conscious when I was eating out with friends. I ended up starving myself and never enjoying my meals, because I felt people were judging me for eating. We've had a lot of positive feedback that our female customers are finishing their entire meals and feeling good about themselves, both emotionally and physically. Many have also changed their perspectives, and understand that they can actually eat carbs like rice and potatoes in a proper balanced meal, and become healthier in the process." How can women adopt a healthier diet?
"Make small, positive lifestyle changes, and turn them into habits. It could be as simple as having more water every day (a lot of times, we overeat because we're thirsty), or slowing down your pace of eating so you don't consume less during meals. You could also aim to try a new vegetable every week.
These changes may feel odd at first, but by building good habits, you'll have a much healthier diet in time to come."