What we're all talking about this month.
What we're all talking about this month.
Fright Night
Halloween cometh this October 31 but these stars don't need an excuse to look like the scariest horror-flick characters.
Robin Thicke is… BEETLEJUICE
Musician Robin and his stripey suit belong in the past, just like Tim Burton's kooky 1988 film, Beetlejuice. Both are horrifying!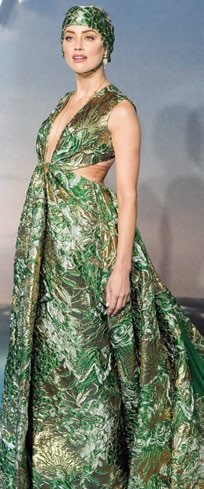 Amber Heard is… SWAMP THING
While the American beauty usually looks immaculate on the red carpet, this putrid shade of green makes her seem a little more swampy than vampy.
Lady Gaga is… CRUELLA DE VIL
What's black, white and furry all over? It's Lady Gaga, who bears a strong resemblance to Cruella de Vil, the villainess in Disney's 101 Dalmatians.
Hayley & Jayley Woo are… THE SHINING TWINS
Hayley and her twin couldn't be any cuter but we're a little terrified that they may want to just play for ever and ever and ever.…
Britney Spears is… THE EXORCIST
The pop princess loves to show off how flexible she is on Instagram but is she just keeping herself fit and fabulous or is she gunning for a role in the next Exorcist reboot?
Karlie Kloss is… JASON
The supermodel's beauty routine kind of makes us want to run for the hills because her face mask leaves her looking too much like Jason from the Friday the 13th movies. 
Helena Bonhan Carter is… BELLATRIX LESTRANGE
The British actress doesn't need a costume change to channel her inner witch. Her every day wardrobe looks like it was taken from the set of the Harry Potter films in which she starred as death eater, Bellatrix. 
ArtAttack
No sketchy business here! Just a growing posse
From left to right: 
Never one to shy from colour, Issa Rae brings graffiti to the red carpet in Peter Pilotto.
Coco Rocha's illustrated Dior skirt features lush foliage and wildlife.
Rita Ora gets penciled up in a Barbie-esque Moschino outfit.
Gabrielle Union's SemSem gown shines a spotlight on the art of shibori dyeing.
Janelle Monáe is eye-catching (literally!) in her surreal Christian Siriano ensemble.
Cuties to Beauties
They were cute when they were younger, sure, but these celebs got a major glow-up when they became famous superstars.
Blake Lively
You can't see them but Blake is wearing sky-high platforms on her feet, so it's safe to say she had a good view at the Spice Girls concert she attended in 1997.
Meghan Markle
She got her start in musical theatre and now she's the royal patron of London's National Theatre.
Kourtney Kardashian
Kourtney's love for a good pout started when she was pretty young. Check her out serving face at her second birthday party.
Katy Perry
This sweet little girl grew up to be a force in the music industry with amazing hits like Roar, I Kissed A Girl, California Girls and Last Friday Night.
Katharine McPhee
The American Idol alum has come a long way from her singing days. She's got a movie coming out soon and is married to music producer David Foster.
Shotgun Love
First comes love, then comes marriage then comes the baby in a carriage… but for some celebs, this all happens sooner rather than later, and they have walked down the aisle with a bun in the oven to make sure everything's signed and sealed before baby is born.
From top left:
Ben Affleck & Jennifer Garner
They met on the set of Daredevil but were with other people at the time. They finally got together several years later and Jen was four months pregnant when she and Ben tied the knot in 2005.
Jessica Alba & Cash Warren
When Jessica and Cash exchanged vows way back in 2008, the Sin City actress was heavily pregnant and welcomed their baby girl just one month after the pair said "I do". 
Ruby Lin & Wallace Huo
Actress Jolin Tsai may have let the cat out the bag and alluded to Ruby and Wallace's shotgun wedding when she wished their baby good health during her wedding speech for them in 2016.
Let's Get Real
To mark World Mental Health Day on October 10, we look at some famous faces who have come clean about their struggles with mental health and are breaking down the stigma associated with it.
1. Kerry Washington
"My brain and my heart are really important to me. I don't know why I wouldn't seek help to have those things be as healthy as my teeth. I go to the dentist. So why wouldn't I go to a shrink?"
2. Chrissy Teigen
"I have a great life. I have all the help I could need: John, my mother, a nanny. But postpartum does not discriminate. I couldn't control it. And that's part of the reason it took me so long to speak up: I felt selfish, icky, and weird saying aloud that I'm struggling. Sometimes I still do." 
3. Prince Harry
"It is okay to have depression, it is okay to have anxiety and it is okay to have an adjustment disorder. We need to improve the conversation. We all have mental health in the same way we all have physical health."
4. Demi Lovato
"I think it's important that people no longer look at mental illness as something taboo to talk about. It's something that's extremely common, one in five adults has a mental illness, so everyone is essentially connected to this problem and this epidemic."
The Best and Baddest On-Screen Villains
From zombies and creepy clowns to demonic dames and monsters, this month's movies feature truly depraved and menacing villains.
Joker
This standalone Joker origin story is set in 1980s Gotham City and will see Joaquin Phoenix step into the role of Batman's arch enemy. The Oscar winner says the movie will explore the time before the Joker becomes one of DC Comics' most terrifying villains.
Maleficent: Mistress Of Evil 
Angelina Jolie is back to reprise her role as evil fairy Maleficent in Disney's dark fantasy adventure. The first instalment gave viewers the backstory to her villainous ways but this epic sequel will continue to explore the complex relationship between the horned fairy and Elle Fanning's cursed Princess Aurora. 
Zombieland Double Tap 
A group of post-apocalyptic survivors that includes Emma Stone and Jesse Eisenberg face off against a hoard of the undead in this action-packed horror-comedy. Expect lots of gore in this sequel, which was a sleeper hit when it first came out 10 years ago.
Project Runway
As 2019 continues to bring an influx of Hollywood stars making the leap into fashion, we take a look at the history of celeb fashion forays.
These days, celebrities and fashion are two peas in the same entertainment pod, and it seems like more stars are signing on to take a stab at making their name in the fashion and beauty industries. We trace the glitter-paved road that began in the 90s, and recount the wows and woes of celeb-started fashion brands.
From Start:
KIMORA LEE SIMMONS
The OG of celebrity-run fashion houses, Baby Phat was started by Kimora Lee Simmons Leissner in 1998. Given her then-marriage to music mogul Russell Simmons, her line of clothing featured plenty of hip hop references, including ripped jeans, big gold hoops and sky-high stilettos. Most recently, Kimora relaunched Baby Phat by releasing a limited-edition collaboration with Forever21.
JENNIFER LOPEZ
Jennifer Lopez is almost always in a dramatic couture dress, but in 2001, things were looking very different for JLo. Named Sweetface, her line of womenswear was primed as a luxury celeb label, and featured plenty of styles that the '00s were known for. Low-cut jumpsuits? Check. Mini denim skirts? There were plenty. Cropped fur jackets? You bet. Sadly, Jennifer shuttered her brand in 2009.
THE OLSEN TWINS
Becoming fashion icons in their teens, Mary-Kate and Ashley were always destined to have a successful career in fashion. Since their childhood, the twins were already releasing kidswear collections in collaboration with Wal-Mart, but their first proper foray into fashion started in 2005, when they released their critically-lauded fashion label, The Row. To this day, The Row continues to champion its brand of sleek, minimalist designs.
KIM KARDASHIAN WEST
Never a stranger to headlines, Kim caused a stir this year when she announced that her own shapewear line would be called Kimono, and that she intended to trademark the brand name. She received backlash for cultural appropriation for using the word "kimono", and has since changed it to Skims Solutionswear.
GEWN STEFANI
Fresh off a successful solo career debut, Gwen's fashion line was met with equal fanfare. She named her brand L.A.M.B., an acronym that was derived from her solo album titled "Love. Angel. Music. Baby.", and the line is described as an amalgamation of different cultural influences. Gwen's family were mostly seamstresses, and this only fuelled her love for fashion even more.
VICTORIA BECKHAM
A woman who needs no introduction, the ex-Spice Girls member is now making waves in the fashion industry. Opening her eponymous label in 2008, the brand started out on shaky footing, but soon began to garner industry success in the last few years. Today, Victoria has expanded her brand to include a sold-out collaboration with Estée Lauder, a diffusion brand and a line of eyewear.
LINDSAY LOHAN
She may not have started her own brand, but troubled child star Lindsay deserves a mention for what might have been the most head-scratching moment in celeb-fashion history. Employed by French luxury label Emanuel Ungaro in 2010 as the brand's creative director, she sent out a collection that was deemed "a disaster". Models wore garishly-coloured minidresses and sequined nipple pasties, cementing the end of Lindsay's fashion career.
RIHANNA
In today's pop culture lexicon, Rihanna's name is always associated to her brand Fenty, and this started back in 2017 when she launched hit beauty line, Fenty Beauty. Today, Rih's effects in fashion has expanded even further, including an applauded lingerie line called Savage x Fenty. With the help of fashion monolith LVMH, Rihanna has recently launched her high fashion label Fenty, making her the first woman of colour to lead a luxury brand.
KIM KARDASHIAN WEST
Never a stranger to headlines, Kim caused a stir this year when she announced that her own shapewear line would be called Kimono, and that she intended to trademark the brand name. She received backlash for cultural appropriation for using the word "kimono", and has since changed it to Skims Solutionswear.
PHOTOS: 123RF.COM