Artist and art educator Saharra discusses the importance of art education as coping strategies for our young ones during these unprecedented times.
Artist and art educator Saharra discusses the importance of art education as coping strategies for our young ones during these unprecedented times.
Almost overnight, a new world has emerged with social distancing measures put in place even as schools reopen. Kids are still donning masks and unable to freely socialise with their friends. The stress cast over this new lifestyle must not be underestimated. Feelings of despair, fear, confusion, and helplessness manifest as the coronavirus affects our daily lives.
Saharra, the art educator, artist, and yoga and meditation instructor, at work.
Make Sense Of The World
Art is the essential language of emotions, and the subconscious, much like dreams are. As an artist and a mother to a 14-year-old daughter, we often turn to our creative outlets to make sense of our inner worlds. My teenager takes her creative interests in forms of journaling and dance, while I immerse myself in acrylic painting and music-making.
Saharra's painting of one of her cats, Astroboy – check out their shenanigans on IG @abcmeowssg.
Calm Down
With younger children, visual language comes before spoken words.
Many studies have demonstrated the benefits of art for calming the mind and soul. With our excessive technological dependence, everything is happening too fast. In art, children can learn to observe slowly and look deeply, really listening to one another and to themselves.
Not limited to drawing, painting, music or dance, all other forms of creative expression promote mental well-being that is crucial for children's development in the long run.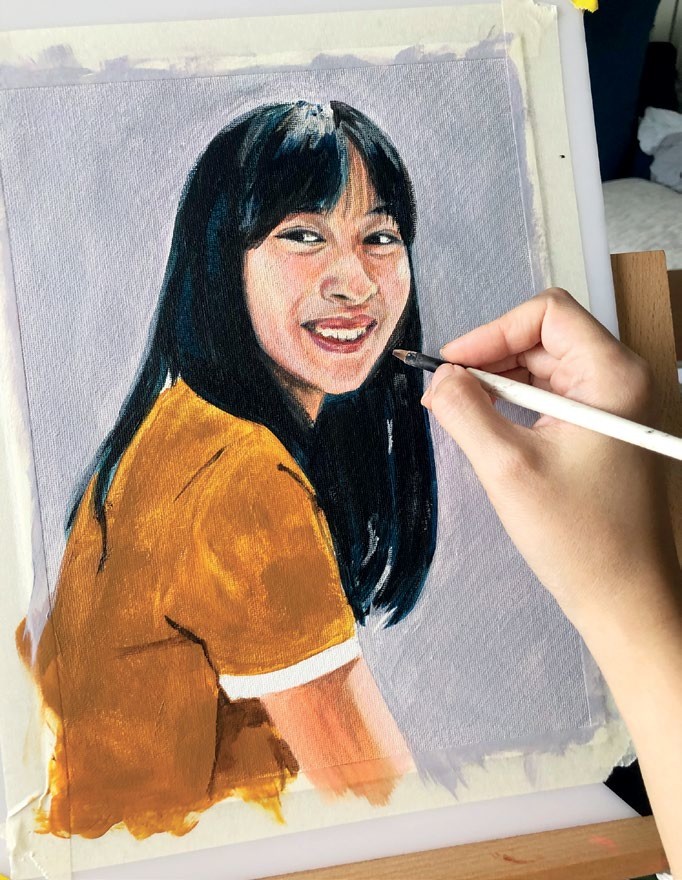 Saharra's portrait of her daughter.
Build Confidence
Once, the father of my 7-year-old student expressed concerns over his daughter's butterfly drawings.
"[Her butterfly drawings] looked more like rainbow-coloured bees with triangle wings instead of the cartoon butterflies we know".
Children do not think when they draw, this thoughtlessness allows the purity of ideas that need to be celebrated. Art is a space where children can reclaim their freedom and power, but only if we encourage it.
And when we do, children gain confidence in themselves as they hone their observation skills and appreciation for aesthetics in the world around them. Art is an exercise that continually invites us to probe courageously into the unknown.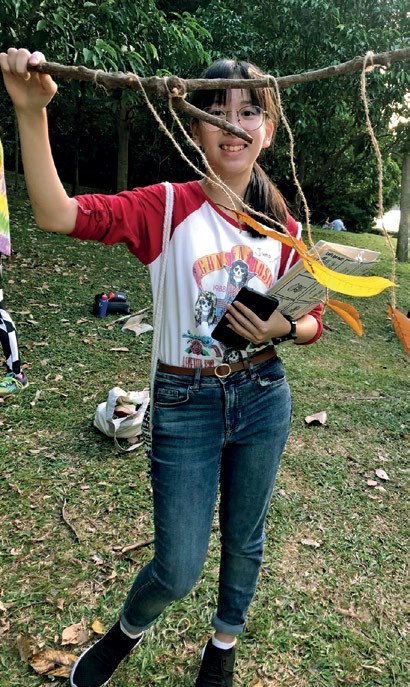 Saharra's daughter showing her hanging mobile creation at an art field trip with her mum.
A Way To Reconnect
The Covid-19 pandemic has brought about feelings of anxiety, frustration, sadness and stress in both adults and children. Adults may be better at relating their sense of displacement verbally, but most children may not be able to do so.
When they are unable to describe their emotions, these big feelings stay cooped up within their tiny selves and may emerge as tantrums. They may even shut out the world. 
Art education is even more vital for children during this coronavirus pandemic, as it can break that time-space barrier and reconnect children to their limitless self and others. It serves as a way to calm their senses, clear their minds and works as a pivotal platform for their inner voices to come through.
I use art as a medium to engage children in conversations, to help me understand them better, and to develop their minds. Listening to your children as they share the stories behind their creations makes for quality parent-child bonding.
Some of Saharra's artwork.
We all have different 'butterflies', accepting that makes for new opportunities and important dialogues
Art As An Expression, Not As A Syllabus
Art is for everyone. It doesn't have to be made out as another technical skill taught within a rigid structure. And when you see art as a free form of expression, you can never run out of craft ideas for your children. 
Make use of everyday things, even perishable materials like shaving cream or sand for art. Seek out gifts from nature, such as stones, sticks or leaves. These can also impart a more profound lesson of impermanence in life itself. 
Working with different and uncommon tools helps remove our fixation on the end product and provides a more meaningful tactile experience for children to simply create in the present. It allows them to express whatever passes through their heads, without limitations or considerations. You become more creative in the planning process, as well.
I led a nature art field trip for kids back in March, and we made a bunch of hanging mobile, using broken tweaks and fallen leaves, which they can take home.
One of the proud artists was having butterflies in her stomach."My mum will think that this is rubbish and she [will] make me throw it away".
Everyone creates different "butterflies". Accepting that creates new opportunities and important dialogues between parent and child.
We shared a little laugh, and I urged, "Perhaps this would be a great chance to share with her what this art project means to you?" 
Saharra (f.k.a Pepper See) is a self-taught artist with a background in Design Media and Counseling Psychology. She runs Nomad Art workshops spreading the joy of art-making to families and children ages 4 and above. In her free time, she also teaches yoga and meditation for all ages.
More of her artworks can be found on IG @journeyoftheart.
PHOTOS: SAHARRA SEE
BUTTERFLY IMAGES: 123RF.COM