Every year, we shine a light on 18 distinguished and powerful women in the Great Women Of Our Time Awards.
Every year, we shine a light on 18 distinguished and powerful women in the Great Women Of Our Time Awards. They are women who are changing their field of work, and doing their best to improve life in Singapore – and the world.
This year marks the 15th anniversary of this annual celebration. We are honouring inspiring women from industries, such as Arts & Media; Sports, Health & Wellness; Finance & Commerce; Science & Technology; Education & Public Service; and Design & Style. We are also recognising three alumni who have forged their legacy by continuing to make significant strides and accomplishments in their field. Join us to celebrate all these trailblazers and game-changers.
ARTS & MEDIA
Alecia Neo
34, Founder of Brack and Unseen Art Initiative
Art is a window into issues like poverty, disability, marginalisation and social inequality, as well as a platform to continue the conversation – and it is through this pair of lens that Alecia approaches her craft. Alecia is the founder and artist lead of Brack, a trans-border arts platform for socially engaged artists. She is also the founder and director of Unseen Art, a non-profit arts company that aims to evoke and harness the creative potential of people through the arts. Working primarily with photography, video, installation and participatory workshops, Alecia's artistic practice focuses on long-term projects involving a variety of individuals and collaborators, overlooked communities and their spaces. "Our focus lies in the concept of radical hospitality, to understand the fundamental elements of mutual respect and equal status that underlie practices of hospitality and how communities draw boundaries and connect with outsiders."
Emily Hoe
46, Executive Director at Singapore International Film Festival
Having always been interested in the creative side of things, Emily's accomplishments in the arts industry began in 2007 when she started at The Substation, then the Esplanade, and now as the Executive Director of Singapore International Film Festival. "Film can be something transformative. It can just unlock emotions and that array of emotions can obviously be really, really wide. It can cause you to question your beliefs. If those questions then inspire conversation, then I think that is an even more positive impact that the film can make. It can educate, it can inspire." With this in mind, Emily hopes to expand on the work to reach an even wider community and continue instilling a love for film within the community.
Speaking to the shared experience in a cinema, Emily shares, "Even when you're watching a film on your own, there is still that sense of community as you have people around you [who] are laughing at the same or different things. I think that feeling of community is really strong, and we can see that is shifting into the digital space with watch parties and conversations that happen around watching a film, even though you might be separated by distance. Having both of those shared experiences are actually really important."
Balli Kaur Jaswal
36, Award-winning novelist
As an author of four novels, Balli is accomplished in her own right. In 2014, her first novel, Inheritance, won the Sydney Morning Herald's Best Young Australian Novelist Award. Sugarbread, her second, was a finalist for the 2015 inaugural Epigram Books Fiction Prize and the 2018 Singapore Literature Prize. Erotic Stories for Punjabi Widows, her third novel, was bought by Ridley Scott's production company Scott Free Productions and the UK's Film4 for film rights. If that weren't impressive enough, it also made a splash in international waters and was picked up by Reese Witherspoon for her book club in 2018. Her novels all give a platform for the voices of the displaced and marginalised to be heard.
"It has always made sense to me to tell those stories, to look at things from the perspective of the people in the periphery, the outsiders. I guess it also comes from the idea of 'write what you know', because I've always known that minority position. That has always been the lens that I look at things," explains Balli, "I think we don't hear enough narratives from people in the margins and that is one big impetus, to write about people we don't hear from. Because the current narrative throughout society, the current narrative that we always get by default is from the perspective of the majority or from men. So we don't always get a clear idea of what society is like. I think it is so important, especially now, even more so because we are talking so much about the fact that diversity matters and the people in the margins matter."
Rewind The Time
The skin microbiome is an integral part of the skin's surface, as its balance is essential to the overall appearance and health. Lancome's Advanced Génifique Serum with Microbiome Science is enriched with a complex of seven prebiotics and probiotic fractions that help transform and deliver essential nutrients to the skin and the microbiome. This best-selling anti-ageing serum strengthens the defence and recovery functions of the skin. The serum helps to reduce the appearance of ageing and refine the skin to look more radiant and smooth. 
SPORTS, HEALTH & WELLNESS
Lim Anqi
37, Award-winning freediver
The scuba diver dives to look around, and the freediver dives to look inside. For Anqi, a former avid scuba diver and current award-winning freediver, she knows the experience of both and embraces the meditative perspective of the latter. "Freediving is a journey inwards, and it's incredibly meditative for me to experience the freedom and beauty of being underwater in a single breath." As the first female freediver to represent Singapore on the international stage for freediving, Anqi currently holds the Singapore national record for all depth disciplines with the deepest dive to 70 m and is ranked top 14 in the world, for the female overall depth category in 2019.
In a pragmatic society, she went against society's norms as a female seeking out diving as a career, and though she was never met with much approval, she persevered still. As an ocean ambassador, her passion for ocean conservation led her to start the Sea Glass Project, to create artistic pieces and statement jewellery from sea glass pieces that she would find during her time by the waters. "I want to use these sea glass pieces as a way to connect with people to bring about awareness for ocean conservation. To show people the beauty of the ocean, and in turn, start a conversation on how we can do our part to keep them clean for ourselves and future generations."
Ka Yi Ling
33, Chief Scientific Officer and Co-Founder of Shiok Meats
With the population of the world estimated to reach around nine billion and seven hundred million by 2050, and given the current rate of growth, the relationship people have with their food sources needs to adapt to become more sustainable. As a developmental and stem cell biologist with over 10 years of expertise in tracing and studying stem cells during development, Ka Yi married her love for science and food to produce sustainable food products. "The way the world eats at present is unsustainable and unhealthy for the environment, animals, and ourselves," explains Ka Yi, "Shiok Meats is a cell-based crustacean company and we use stem-cells to make shrimp, crab and lobster.
We wanted to create meat that is healthy and environmentally-friendly, that's as tasty and nutritious, but without involving any animal cruelty." Her cell-based clean meat company is the first of its kind in Singapore and Southeast Asia. "We believe it is important to do our part and increase food security." Ka Yi shares, that by using stem cell technology, Shiok Meats hopes to eventually replace the tradition of consuming live animals. As an active science communicator, she also frequently partakes in science outreach to share about food sustainability. On top of all her achievements, she also does a podcast, Science Now, and Life after PhD, with fellow scientists.
Josephine Tan
41, Marketing Director at Doctor Anywhere
Having spent years in the field of marketing, Josephine continued on to become the Marketing Director at Doctor Anywhere, a healthtech company founded to improve healthcare delivery through innovation and technology. With years of experience in the retail sector under her belt, she took a break and came to the realisation that if she were to go back into the commercial world, it would have to be an opportunity where she could challenge herself more and do something different. With Doctor Anywhere, "It was the kind of challenge I wanted.
I thought that this is something that was never done before; and it is changing behaviour, helping people to improve their lives, deliver health care in a better manner, to reach out to people who think that healthcare is very expensive or people who could be restricted by movement or other reasons." She joined in part because of her dad, and the intention to make healthcare inclusive and accessible resonated with her deeply. Two years since, she's helped build the brand from a three-member team to a homegrown company that currently operates in Singapore, Vietnam and Thailand. "We are currently expanding out of Singapore - hoping to bring healthcare closer to everyone out there. Especially in developing countries where healthcare is almost non-existent. So as a healthcare brand, we wanted to reach out to more people and that is when my role comes into play.
More Than Meets The Eye
The skin around our eyes is up to six times thinner than the skin around the rest of our face, it's also fragile and more prone to damage as it naturally lacks natural moisturisation. The Advanced Génifique Light Pearl Eye and Lash Concentrate is enhanced with a patented massage applicator that helps depuff eye bags and even fortify the lashes for brighter eyes.
FINANCE & COMMERCE
Anna Vanessa Haotanto
35, CEO & Founder of The New Savvy and CMO at Gourmet Food Holdings
As the Chief Marketing Officer for Gourmet Food Holdings, Anna positions the food and beverage platform to invest in highly scalable companies, such as Mrs Pho and Tsuta. Before this, she started The New Savvy, an investment, career and financial platform for women based in Asia. It started five years ago and currently holds about 60,000 subscribers across five countries. Having spent 10 years in finance, ranging from private equity investment banking and private banking, Anna recognised the importance of financial literacy and wanted to create a platform to empower women to achieve financial happiness.
"Women have always been an underserved market, if you realise, especially in the financial market. In a way, I think a lot of financial firms focus on men because I think they believe that men are the only ones interested. But that is not true," she recalls, "Now as women are more educated and taking more roles in the workplace, we actually want to focus and want to learn more about finances. I think women and men look at finances very differently, and our platform caters to that perspective." 
Jamie Koh
34, Founder of Brass Lion Distillery
Travelling around South America gave Jamie the inspiration to start Brass Lion Distillery. She recounts, "Going to all the different countries connected the dots that all these places had something unique that they can call their own. They had their own signature spirits that highlighted their native produce, and I really wanted to open a distillery because I felt that it was a shame that Singapore didn't have any craft spirits to call her own." Brass Lion Distillery is Singapore's first micro-distillery producing homegrown gin, the intent is to educate international and local audiences on the craft of spirits, and elevate the city's local drinking culture by building a global spirits brand.
This is not her first foray into the F&B industry, afterall, she's had over 10 years of experience with Chupitos Shots Bar, and The Beast Southern Kitchen and Bourbon Bar under her belt. "I think food and drink is a very communal experience. It is all about hospitality. But it also has the ability to excite and delight, and I really enjoy that." On top of being a distillery, Brass Lion Distillery is also a tasting room, research and development lab, retail space, as well as herb garden.
Audrey Chew
36, Co-Founder of Inspired Snacks and Founder of You Tiao Man
The best way to preserve the longevity of heritage is to combine it with an innovative and adaptive approach, and it is this belief that inspired Audrey to modernise her father's 80-year-old hawker stall in Toa Payoh by starting You Tiao Man, a manufacturing facility that supplies you tiao to restaurants, hotels and food courts. "For You Tiao Man, the product is very traditional, but the approach is nothing traditional. We took a very simple product, something that nobody understands or nobody really cares about, a product that is always in the background and we brought it to the spotlight.
We also developed the charcoal you tiao, the wholegrain you tiao – which is the first in the world and is a healthier choice. In fact, our wholegrain you tiao was awarded with the Healthier Choice Symbol by the Health Promotion Board." With this experience, she co-founded Inspired Snacks, disrupting the traditional chips market by using a well-loved Singaporean street food and giving it an innovative twist – all while promoting youth, entrepreneurship and women empowerment.
All Eyes On You
The eyes are often where the first signs of ageing, like dark circles and fine lines, will start to show. Advanced Génifique Yeux Eye Cream is a fresh and lightweight eye cream that is formulated specially to target these problems. It uses Bifidus extract that helps lighten dark circles, smoothen the eye area, and keep it hydrated.
DESIGN & STYLE
Lin Ruiyin
30, Co-Founder of State Property Fine Jewellery
With her pieces worn by inspirational and influential women like Lady Gaga, Nicole Kidman and Michelle Obama, Ruiyin helms State Property, an award-winning contemporary fine jewellery label in Singapore. Together with her partner, the label navigates the cusp of art and design, fusing contemporary approaches to design with traditional craftsmanship. "In my 20s, I stumbled upon the subject of contemporary jewellery as a degree in Central Saint Martins, where jewellery was seen as sculptures on the body. In this case, the body acts as the platform that gives different context to the sculpture as it moves around in its environment."
Inspired by Mother Nature and science, State Property plays with structured silhouettes in precious metals juxtaposed against the soft textures of the body. It offers subtle yet adventurous pieces for those with an appetite for both style and quality. Every piece is crafted with the idea of sustainable design through emotional durability. "Be it being pieces that we hope would eventually end up as heirlooms for the next generation or even reworking inherited heirlooms from previous generations, we always try to put ourselves in the shoes of the wearer, and design something that we would take on as if it were our own."
Lyn Rosmarin
41, Founder of K.Blu Swimwear
The idea to create a luxury swimwear brand began when Lyn was participating in sea sports to relieve stress from her work in banking. She realised then that there were no swimwear brands catered to Asian body types. So she took a sabbatical break to visit trade shows and research on how she could start a boutique swimwear label and started it from the ground up by herself. It eventually grew into an online business, with a focus on designing prints that highlighted Asian elements. And celebrating women of all body types with size-inclusive collections. In 2018, K.Blu Swimwear also went on to showcase in New York and Paris fashion week in 2018.
Apart from the core pillar of style and fashion, the brand champions the value of sustainable fashion by using sublimation printing process, an eco-friendly printing technique that reduces wastage. "Since day one, all my swimwear has been made out of the sublimation method. We also work with a mill in Italy, and they are one of the better luxury textile mills that swimwear customers use. They basically recycle old fishing nets and make them into recycled polyester. By using these two methods in our design philosophy, we commit ourselves to staying sustainable."
Chee Sau Fen
In her 40s, Founder of Heads of State Millinery
With more than 15 years of experience in the visual arts, exhibition, and events industries, Sau Fen decided to focus on her own creative work as a milliner. As an award-winning, self-taught designer, she has earned recognition for her art in the fashion industry which explores issues on sustainability. Applying radical redesign to the art of hat-making, she aims to create fresh applications for regional indigenous craft traditions. "I believe that the fashion industry holds immense potential to become a champion of socially and ecologically responsible development through innovative design and popular advocacy," explains Sau Fen, whose work has been recognised by WDA and TAFF. 
She adds, "The other way of looking at this is that I feel, especially when working with communities, that are living very close to the earth, it is a reality check. If you want to benefit the environment, you have to benefit the people. In order to protect the nature reserve and the tribe the communities live in, you have to create employment opportunities and a future for the tribal youth. It's something that works in tandem. And this is in everything that I do for the brand or in the projects that we choose to do, whether it is creating hats out of unconventional materials, which are overlooked, or biodegradable 3D filaments." 
Overnight Hero
Face masks have become a fundamental essential, but for some, it unfortunately causes some skin irritation that can lead to breakouts around the cheeks and chin. To reset the skin, the Advanced Génifique Sensitive is the perfect nighttime treatment to soothe stressed out or tired skin. With a blend of ferulic acid, Vitamin E, and Centella Asiatica, this dual antioxidant serum calms distressed skin and protects it against air pollutants, infrared radiation, free radicals, and UVA rays. 
PUBLIC SERVICE & EDUCATION
Alicia Cheong
36, Co-Founder of GenieBook
In her years as a tutor, Alicia noticed a gap in the education sector where her students struggle to grasp concepts despite attempting countless rounds of worksheets. She then co-founded GenieBook to bridge that gap, using AI to generate personalised worksheets based on an individual student's weaknesses. Through GenieBook, she hopes to make education accessible to all students, regardless of their progress and socioeconomic status, and make learning more enjoyable. Much like how Mother Teresa lived by the adage to help one person at a time, Alicia approached GenieBook with this same belief. 
"Our slogan at the learning centre is one person at a time, we wanted to focus on one student at a time, and I'm very happy that even after 13 years our direction is still the same. Ultimately, what we want to do is help one student at a time through personalisation. We really want the student to improve, and more importantly, strive for personal improvement. There is no need for them to benchmark against others, they should be better each day because of their own personal improvement." 
Dipa Swaminathan
48, Founder of It's Raining Raincoats
When Dipa came across two migrant workers soaking wet in a thunderstorm and gave them food and dry clothes to change into until the rain stopped, she didn't realise that would be the catalyst for It's Raining Raincoats. As a Harvard-educated lawyer with over 24 years of professional experience, she founded the successful social initiative It's Raining Raincoats, aimed at improving the welfare of migrant workers in Singapore. "I was helping migrant workers and they were not a glamorous cause. Now, they're a topical cause, but back in 2014, when we just started after the Little India riots and everything, they were not a glamorous or popular cause, but they were a group that appealed to my compassionate instincts. 
I felt that they were vulnerable, and those of us in a position of being able to help them, should help them. Because it can make a lot of difference to them if a Singaporean or resident steps out to speak on their behalf or give them something when they are in need of assistance. And my whole view and ideology on it was driven by the simple belief that you shouldn't be scared to do something good. If you want to be compassionate, you should be able to do that without overthinking it." The organisation seeks to build bridges between them and Singaporeans, to stop migrant workers from being an invisible community here. In 2017, It's Raining Raincoats was named the Kampong Spirit winner at the President's Volunteerism & Philanthropy Awards.
Emily Teng
33, Founder of Blessings In A Bag
At 20 years old, Emily wanted to do something purposeful and meaningful with her life. She started Blessings In A Bag, now an award-winning and globally recognised community organisation that champions the kampung spirit and journeys with children and youth. To take it from a perspective of charity and shift it to a form of empowerment, she asked local communities what they required instead of giving what was not wanted; and instead of using them as handouts, a lot of the local communities use them as social incentives. 
"We have a vision as well where every young person is valued and celebrated for who they are and who they are becoming; resilient, passionate and loving agents of change who uplift their own communities." So if kids were attending their classes regularly or if parents came and attended health workshops, they would be given these blessings in a pack. Apart from her work with Blessings In A Bag, Emily also spends her time supporting other community leaders, mission-led entrepreneurs and people with purpose by encouraging them to start where they are, cheerleading people to own their superpowers and to use them to change the world.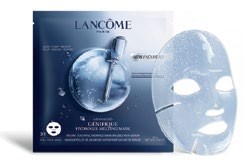 Lit From Within
Sheet masks are the ultimate treat for the skin and they've long earned a lauded reputation. Generally speaking, sheet masks are packed with concentrated serum and have many beneficial active ingredients that give your skin a boost. The Advanced Génifique Hydrogel Melting Mask has a heat-sensitive hydrogel mesh that melts into the skin, releasing active ingredients and probiotic extracts that strengthen the skin's barrier function. Using the star ingredients of Advanced Génifique serum, the skin is left feeling moisturised, supple, and radiant. 
SCIENCE & TECHNOLOGY
Yvonne Gao 
32, Quantum Physicist & Assistant Professor in the Department of Physics at NUS 
Having earned her doctorate from Yale University, Yvonne's work focused on developing multimode operations between multiphoton quantum states encoded in superconducting cavities. In 2019, Yvonne was named one of the Innovators Under 35 (Asia Pacific) by MIT Tech Review. She was also awarded the National Research Foundation Fellowship (Class 2020) to start a new research initiative in Singapore, focusing on building modular quantum devices with superconducting circuits. 
Aside from her role at NUS as the assistant professor in the department of physics and a principal investigator in the Centre for Quantum Technology, Yvonne also spends her time doing more outreach and investing in mentorship opportunities. She shares, "I do prefer to do a lot more outreach and to pass the knowledge I've learnt over my long education to the next generation of students or young scientists who want to learn about this field. My personal aspirations are really to be in the academic domain, where I can teach and lead an independent team to investigate interesting things. So the educational setting has really set the way I see myself and my personal career better. By doing that, I was also able to constantly find ways to stay enthusiastic about the field and keep going."
Wan Cheng Ong
30, AI Trainer at Lazada Group
Coming from the banking sector, Wan Cheng has long been interested in analytics and e-commerce. This fascination naturally led her to Lazada as an AI trainer, providing tech-driven solutions that drive customer service and the overall experience on the platform. Never one to turn down challenges and try new things, she easily took on the role as an AI Trainer. 
Apart from a focus on dashboard monitoring, analytics, and applying solutions to those queries, she also works with her team to consistently update and feed the Chatbot and algorithm model the information it needs to be more instinctive to the customer service journey. New to the field of artificial intelligence, Wan Cheng shares, "The common bridge that brought me from banking to my current role is definitely analytics, because this role is very heavily focused on analytics and data. In the bigger picture, AI has transformed the workforce and the industry in so many ways. By creating more opportunities for people to engage in more meaningful work, and creative problem solving, being part of the transformation has been a very fulfilling journey for me. It is definitely rewarding as well." 
Dr Felicia Tan 
41, Breast Surgeon, FeM Surgery
Change is the only constant, and this is one of the few things that Dr Felicia lives by. Her entire life has been centred around change and she's since learned to embrace the unexpected. Before she specialised in breast surgery, she was training in liver surgery. However, when her daughter was diagnosed with congenital myopia, she decided to choose another specialty that required less emergency work. And before she went into liver surgery, she wanted to be a vet and always wanted to be one since I was young. "But a life event happened when I was 12 years old. My mum was involved in an accident and she passed on, and that made me change my focus. Instead of treating animals, I wanted to treat humans and that started me on my path to do medicine." 
Alongside surgery, she also focuses on delving into research on young breast cancer patients and conducting medical missions that provide needy communities with healthcare. "A large part of my practice is mission work. Every two months we're off to somewhere, some remote country and village, providing healthcare to people who need it most. This has been an extremely meaningful part of my job as we go back to the same community and build a relationship with them."
Skin Awakening
Essences focus on restoring skin's pH and moisture levels, and reset the skin by infusing it with a host of nutrients like vitamins, minerals, and amino acids to amplify the effects of serums and moisturisers applied after. The new Clarifique Dual Essence is powered by French Beech bud extract that activates the skin's enzymes to naturally exfoliate the skin. This innovative formula also helps refine and brighten the skin, and reduce the appearance of pores.
HONORARY AWARD WINNERS
Denise Phua
60, Politician; President of the Autism Resource Centre; and Co-Founder of Pathlight School
Besides representing the people of her Jalan Besar constituency, Denise also started a pioneering school for children with autism in Singapore in response to her son's own autism diagnosis in the 90s. "The journey started when my son was diagnosed with autism – and it was something very unexpected. My husband and I were distraught at the time; we didn't really know what autism was. We were reading, and what I did was travel worldwide to learn as much as I could to find out more about autism to help my son. 
Throughout the whole process, I was plunged into a world that I was never in before, knowing that I came from the private sector and then into the world of special needs, social service, special education, and so forth." She also helped start the Purple Symphony, under the central Singapore CBC, where she served as mayor. It is the largest inclusive orchestra with a hundred or so musicians, with and without special needs. With that, she also founded the Purple Parade, the largest annual movement that supports inclusion and brings awareness to the rest of Singapore about the disability community. "I wish to see a future where all of society embraces inclusion of persons with disabilities in all key aspects of life in Singapore."
Professor Jackie Ying
54, Head of NanoBio Lab, A*STAR
A leader in nanotechnology, Professor Ying fronted the team that came up with the rapid test that can tell if a person has Covid-19 in as little as five minutes instead of the usual six hours. Professor Ying heads the NanoBio Lab at the A*Star, but her accolades have long begun before then. At 35, she was one of MIT's youngest full professors, and in 2008, she was named one of the 100 Engineers of the Modern Era by the American Institute of Chemical Engineers. 
"I've always told people that I was really a minority in many ways, especially when I was in the States," shared Professor Ying, "In MIT, I was the second female Asian-American to become a professor. Coming back here, obviously, I am in the majority race since I'm Chinese. But I'm a Muslim. I think that makes it a very small minority of people who are doing research with my background. Having said that, there have always been very few women in the STEM area. We have to work extra hard in order to be recognised and we also have to present ourselves in a certain way." 
Irene Ang
52, Founder & CEO of FLY Entertainment
Irene has put Singapore's media and entertainment industry on the global map after several actors under her artiste management company, FLY Entertainment, joined the cast of Hollywood blockbuster Crazy, Rich Asians. 10 years ago, she had a dream to send FLY's artistes to Hollywood. And three years later, she did just that. As she recounts, "In the beginning, we only had eight artistes and we aimed to be the biggest. Today, we have 68 artistes, and we will keep growing, because after Crazy Rich Asians, Hollywood is aware of Singapore. From the crew to the producers and even the directors, they were very surprised and impressed with the level of talent and acting skills of our artistes. They don't realise that effectively, Singapore is one of the few Asian countries with a full-fledged English channel." When Irene started FLY Entertainment 20 years ago, she began with the tagline "Asian talents, global audience". 
"I'm very glad that I can now see the global audience. Deep in my heart when I set that goal, I felt that my dream of somebody in Singapore winning an Oscar was a ridiculous dream. But after Crazy Rich Asians, I think that it might come true in my lifetime or possibly in the next 10 years. What we have is the talent but we lack opportunities. So now, the opportunities are coming closer and closer." Along with FLY Entertainment, Irene has also founded FRY Rooftop Bistro & Bar, and the Femme5 agency. True to her entrepreneurial spirit, there are other businesses currently in the works as well, one of which is a Thai noodle house.
The Divine Glow
For those who want a glow from within, this divine Absolue Soft Cream is infused with grand rose extracts taken from 20,000 rose hybridisations that help transform and regenerate the skin. Lightweight and non-greasy, this cream holds anti-ageing benefits that encourage firmness and lifting within the skin while leaving a luminous finish.