Lessons in continuity from the chief of P&G Asia Pacific.
Lessons in continuity from the chief of P&G Asia Pacific.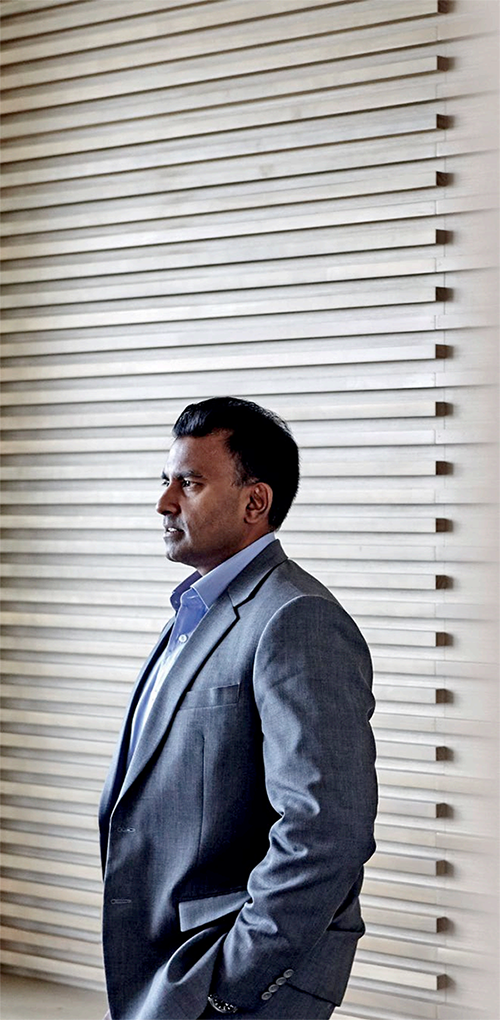 Magesvaran Suranjan recounts his post-graduation road trip across the US with fondness. He travelled with four college mates in a single van over a span of four weeks, and the trip would prove to be a pivotal moment in his life – teaching him the kind of stuff that business school doesn't cover.
Whether it was wading knee-deep into chilly waters to fish for trout at Yellowstone National Park, mountain biking down gravel trails in Utah, or trekking in Yosemite National Park, Suranjan is quick to admit that the trip was more of a lesson in life than anything else.
"When you travel with four guys on $35 a day, I'm pretty sure you master the art of compromise," he says, adding that the tight budget paved the way for practical and creative ways of dealing with food and accommodation. Read: eating fast food and sleeping in the van whenever motel rates were too high.
Apart from serving as the much-needed buffer between college and work life, the trip taught him critical skills like adaptability and the importance of compromise – life skills that he has applied in his role as president of Procter and Gamble (P&G) Asia Pacific, excluding China.
GRAPPLING WITH CHALLENGES
To be sure, things haven't exactly been smooth sailing for P&G in Asia. Overall, the billion-dollar company reported lower consumer demand in China early last year, resulting in poor revenue, and organic sales which fell by "high single digits" – a setback considering that China is P&G's second biggest market after the US. Asia continues to be a challenging market for P&G because, unlike in Europe and in the US, P&G faces stiff competition from other multinational corporations like L'Oreal, Shiseido, Unilever and Amway.
Yet, Suranjan prefers instead to treat the Asian consumer market's volatile tendencies and aura of unpredictability as a litmus test of a brand's equity, rather than a business impediment. The Asian consumer's high sensorial skew is the driving force behind this phenomenon – scents found in everyday products like shampoos, creams and dishwashers are accentuated more so than they would normally be in Western markets, product designs need to have a greater aesthetic appeal and resonate with a wider spectrum of tastes, and the measure of a product's efficiency is scrutinised in greater depth and detail, given the highly discerning nature of the average Asian consumer.
"The idea here is simple – any product of ours that succeeds in Asia, will succeed anywhere else in the world," explains Suranjan, and rightly so. Japan and South Korea lead the way as world leaders in beauty and personal care standards, with Japan's sales estimated to exceed US$150 billion (S$208 billion) this year, leading the way with the highest per capita spending on skincare and beauty products, coupled with the highest sales figures.
Having implemented a major streamlining process of its brands in 2014, Suranjan asserts that P&G's focused portfolio of 10 categories across 65 brands "capitalises on P&G's strengths", especially in Asia. This involves the use of rapid breakthrough innovation and disruptive technology to maximise its market potential in the region. One example of such an innovation that has proven to be a success in Asia is Tide, which debuted in the Philippines 60 years ago as a laundry detergent. It has since evolved into Tide pods – simple, easy-to-use cleaning capsules – which has garnered mass appeal among both the new and old generation of consumers who prefer quick and effective laundry cleaning methods.
"My current strategy is to take existing brands and portfolios and make sure that they work for the entire scope, from baby boomers to working professionals and first-time mums," says Suranjan.
A CHILD OF P&G
From being a finance intern in 1993 at P&G's headquarters in Cincinnati to helming the Asia-Pacific market as president with over 200,000 staff under his wings, Suranjan is a testament to P&G's practice of investing time and resources in its staff and the long-standing culture of promoting from within. But in a world of collaborations and tie-ups between corporations, how practical is the idea of "promoting from within" in the long run?
"The people are at the core of our company and we've always believed that consistency is key. We won't be able to replicate the same levels of standards and uniformity across the world, if we were to bring in people from different places, which is why we engage in tens of thousands of hours training our staff and investing in their future," explains Suranjan.
Highly capable mentors and focused guidance aside, he cites the freedom to fail as the lodestone that gave him the impetus to be all that he can be. It wasn't so much of what they told him to do. Rather, it was what they didn't. "No one has ever told me what not to do. As a young person trying to make it on your own in the world, it builds a confidence in you that stays with you for life."
Apart from being crowned as Singapore's most attractive employer at the 2015 Randstad Award, P&G was also named fourth-most-in-demand employer in the world by Linkedin in 2013, aside from winning top spot on Fortune magazine's list of Global Top Companies for Leaders in 2011.
On the topic of work-life balance, Suranjan makes a daring proclamation that would normally come across as sacrilegious in most management circles. "There's no such thing as a concept of work-life. Work is part of life but it is certainly not all of life."
He adds there have been seismic shifts in management strategies to cater to the diverse tapestry of modern-day employees, which includes a large number of millennials who no longer view work and life as separate entities but rather as complements of each other.
P&G's embrace of this ideological shift is evident in its programmes such as the Unicef sabbaticals, where employees take three-month breaks to volunteer their services at a country of their choice within Asia, and offer not-for-profit consultation with NGOs.