Marking its 180th anniversar y this year, Patek Philippe celebrates nearly two centuries of forward-looking creativity – and holds its biggest show yet.
Marking its 180th anniversar y this year, Patek Philippe celebrates nearly two centuries of forward-looking creativity – and holds its biggest show yet.
The lush interiors of the Patek Philippe Salon in Geneva.
For two decades, Patek Philippe's famous slogan has conveyed that you never actually own one of its watches, you merely look after it for the next generation. The same might be said of the savoir faire, both technical and aesthetic, that the independent Swiss brand has been transmitting for nearly two centuries – thanks to its unremitting dedication to creating timepieces that are elegant, useful and forward-looking. 
Consider, for instance, Patek Philippe's 2019 novelty, the Alarm Travel Time Ref. 5520P. Mechanical watches with an alarm function are relatively uncommon and, in most cases, their harsh buzzing sounds are not what you would want to wake up to in the morning, or hear right before an important meeting. Ref. 5520P combines the brand's dual-time complication with a 24-hour alarm mechanism featuring the dulcet tones of a hammer and gong, minute repeater-style.
Aside from turning a jarring alarm into a soothing rousing experience, the platinum watch is also designed with the greatest practicality in mind, with locking mechanisms that protect it from damage that might arise from accidental mishandling. Having taken five years to develop, the Ref. 5520P features a new, integrated movement with four patents – just a handful among the more than 100 patents that Patek Philippe has been awarded since its beginnings in 1839, when Polish emigrants Antoine Norbert de Patek and Francois Czapek founded Patek, Czapek & Cie in Geneva.
As Thierry Stern, president of Patek Philippe and the fourth-generation Stern family member to head the company since the family bought the brand in 1932, once told The Peak: "Patek has always had the same strategy – to make the finest watches in the world. We have about 200 different products, ranging from classical to sporty models, but always done to the highest level of aesthetics and technology."
With a 180-year history that has developed alongside a third of the 500-year-old story of mechanical watchmaking itself, it is no surprise that Patek Philippe's innovations have had – and continue to have – a significant impact on not just the brand itself, but on the industry as a whole. These inventions range from high complications and component advances to game-changers that have revolutionised the industry right from the start: In 1868, for instance, when pocket watches and brooch watches were de rigueur for men and women respectively, the company created the first Swiss wristwatch for the Hungarian Countess Koscowicz. 
This September, the last independent family-owned Genevan watchmaking company will bring its impressive history to life here on our shores, with its biggest showcase yet, the Watch Art Grand Exhibition (see page 18, "A Story of Time").
Weighing 1.1kg and featuring 33 complications, the Calibre 89 pocket watch is a milestone in watchmaking history.
CREATIVITY ACROSS COMPLICATIONS
Today, each Patek Philippe boutique serves as a way for clients around the world to experience its latest creations. But three showrooms in particular make for an unparalleled invitation into the brand's universe – the Patek Philippe salons in Geneva, Paris and London. These exclusive boutiques are the only points of sale showcasing the brand's entire current collection. Clients can lose themselves in Patek's exceptional horological creations and achievements across complications.
Aficionados with a penchant for striking watches will be familiar with the brand's expertise in this field. Aside from the aforementioned Alarm Travel Time Ref. 5520P, another notable recent chiming timepiece by the brand is the World Time Minute Repeater Ref. 5531R. The rose-gold watch, which features a cloisonne-enamel dial depicting the Lavaux vineyards near Lake Geneva, is the world's first world-time minute repeater watch that can chime the local time instead of home time. (So, when you travel, you can hear the chiming indication of the time at the place where you are, instead of the time back home.)
Calendar watches are another forte of Patek Philippe's; it invented the annual calendar complication in 1996. While this category includes an impressive line-up of annual calendars, perpetual calendars and perpetual calendar chronographs, the brand showed its playful side this year with the Calatrava Weekly Calendar Ref. 5212A, a steel wristwatch featuring the business-friendly weekly calendar, complete with a whimsical new font based on the handwriting of one of its designers.
The Alarm Travel Time Ref. 5520P is powered by a new movement with four patents.
ON THE CUTTING EDGE
This horological magic all happens at the brand's manufacture in Plan-les-Ouates, on the outskirts of Geneva. It recently underwent a major expansion costing 500 million Swiss francs (S$688 million). The expansion will allow the brand to strengthen its research and training programmes, rather than increase its production numbers, which stands at around 62,000 watches annually.
The vertically integrated manufacture does it all: research and development, component production, movement assembly, decoration and finishings, and restoration. While the brand is renowned for classical designs such as enamelled timepieces and dome clocks, it is also greatly invested in out-of-the-box technologies.
"PATEK HAS ALWAYS HAD THE SAME STRATEGY – TO MAKE THE FINEST WATCHES IN THE WORLD."
In the 2000s, Patek Philippe was part of a research consortium led by CSEM (Swiss Centre for Electronics and Microtechnology) that studied the properties of silicon – a material increasingly favoured in watchmaking because it is impervious to magnetic fields that can affect timekeeping. This research led to the creation of watch-regulating organs made from Patek's silicon, Silinvar.
Such is the confidence of the company in its creations that in 2009, it launched the Patek Philippe Seal, ending an affiliation of 120 years with the Geneva Seal. The Patek Philippe Seal enforces stricter standards than the Geneva Seal – it tests cased watches, not just movements – and the COSC (Official Swiss Chronometer Testing Institute); it allows a maximum variation of -3/+2 seconds a day (for calibres with diameters of 20mm or more), as compared to COSC's -4/+6 seconds a day.
A view of the Patek Philippe manufacture in Plan-les-Ouates, just outside Geneva.
FROM THEN TO NOW
Innovation has been in the brand's DNA from Day One. Consider how you wind a watch using its crown. Things weren't always so easy; pocket watches of the past were wound with a separate metal key. The ease with which watches are wound today goes back to Patek Philippe's first patented invention, awarded for the keyless winding and time-setting system created by Jean Adrien Philippe, a French watchmaker who became Antoine Patek's business partner in 1845.
The revolutionary nature of Philippe's work did not go unnoticed by the luminaries of the day. At the Great Exhibition in London in 1851, Queen Victoria of England bought a sky-blue pocket watch featuring the new keyless winding system.
These historical timepieces are housed at the Patek Philippe Museum in Plainpalais, Geneva. Under Philippe Stern – Thierry Stern's father and the company's honorary president – the museum opened in 2001. It tells the story of five centuries of watchmaking, through timepieces ranging from antiques to more recent blockbusters such as Patek's ultra-complicated creations. Unveiled in 1989 to mark the brand's 150th anniversary, the Calibre 89 pocket watch comprises a stunning 1,728 components that make up 33 complications. It's one of Patek Philippe's most incredible creations – and a reminder that to be at the forefront of the future, you first have to dream.
WATCH ART GRAND EXHIBITION
A STORY OF TIME
From Sept 28 to Oct 13, Patek Philippe will host its largest exhibition right here on our shores, following other showcases in Dubai, Munich, London and New York. The Watch Art Grand Exhibition, which will be held at the Marina Bay Sands Theatre, will just about transport the three pillars of the 180-year Swiss watch manufacturer to Singapore. Comprising 10 themed rooms across 1,800 sq m, the exhibition will let visitors feel like they are entering the brand's historic salon, manufacture and museum in Geneva. In addition to live demonstrations by watchmakers and artisans, there will be showcases of stunning timepieces and movements. Visitors will also discover the brand's passion for fine watchmaking and tradition of innovation. Entry to this public exhibition is free. Oct 6 and 13 are dedicated family days. 
MUSEUM ROOM
Learn more about the 180-year history of Patek Philippe and the 500-year story of mechanical watchmaking itself. The exhibition's Museum Room (pictured) will showcase a selection of important – and some extremely rare – timepieces from the Patek Philippe Museum, while the Cinema will screen a film that takes viewers through the brand's history.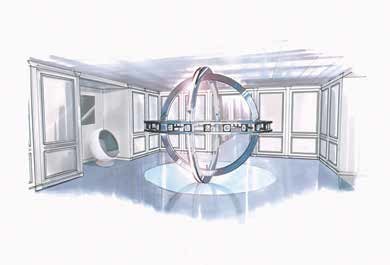 MOVEMENTS & ARTISANAL – SPHERE
Skilled watchmakers and artisans will be present at the Watchmakers Room and the Rare Handcrafts Room respectively. The former will take visitors through the intricacies of mechanical movements, while the latter will demonstrate artistic techniques. The Movements Room (pictured) will showcase a comprehensive range of Patek Philippe watch movements.
SINGAPORE ROOM
This being the Singapore Bicentennial, a special Singapore Room (pictured) will pay tribute to Singapore and South-east Asia by showcasing rare-handcraft timepieces inspired by regional art and culture.