On Sept 27, Vacheron Constantin launched the Fiftysix collection at The NCO Club.
On Sept 27, Vacheron Constantin launched the Fiftysix collection at The NCO Club. Over 100 guests enjoyed masterclasses on strap-making, DJ spinning and wine appreciation, as well as a concert by English singer-songwriter Will Heard.
01 John Sze & Jo Yeo
02 Benjamin Kim & Serene Tan
03 Dr Calvin Chan, Shaun Tay & Benjamin Kim 
04 Simon Gockeritz
05 Stella Mok & Maverick Mok 
06 Vincent Teo & Bryan Lim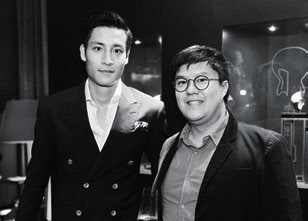 07 Shoyu Kawamura & Donovan Tan
08 Yuen Mun Fong, Dr Bernard Lim, Yassin Tag, John Tee & Dr Kenny Pang
PHOTOGRAPHY CHERYL RAHARJO PHOTOS VACHERON CONSTANTIN
GERMAN EMBASSY MARKS 28 YEARS OF GERMAN UNITY
The date of Oct 3 marked the 28th German Unity Day, as well as 28 years of cooperation between the German Embassy and AHK Singapur (Singaporean-German Chamber of Industry and Commerce). The celebration was held at the German European School Singapore, with over 800 guests in attendance.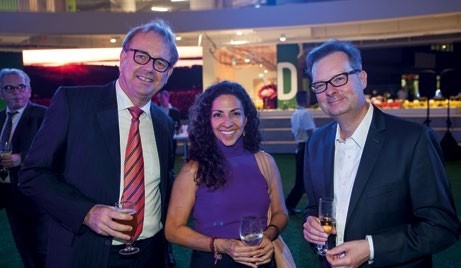 01 Matthis Muegge, Claudia Torres &  Thomas Adaemmer
02 Natalia Tatarinova & HE Andrey Tatarinov, Ambassador for Russia 
03 Dr Intan Azura Mokhtar, Dr Mohamad Maliki Osman, Senior Minister of State for Defence & Foreign 03 Affairs, HE Dr Ulrich Andreas Ferdinand Sante, Ambassador for Germany, & Chong Kee Hiong 
04 Robin Hoening, Annabel Lee, Tasmin Silva & Jacqueline Siansilas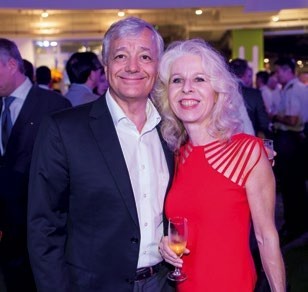 05 Peter Nagler & Christine Nagler
06 HE Mohamed Ahmed Fathi Abulkheir, Ambassador for Egypt, & HE Manopchai Vongphakdi, Ambassador for Thailand
07 Fredrick Sturm & Sir Peter Loh
PHOTOS GERMAN EMBASSY
MEXICO INDEPENDENCE DAY
In commemoration of the 208th anniversary of the Independence of Mexico, His Excellency Nathan Wolf Lustbader, Ambassador for Mexico, hosted celebrations at Kidzania Singapore on Sept 13.
01 Dr Antonio Alvarez & Dr Margaret Alvarez
02 Carlos Nino & Olga Nino
03 Phonethip Thammavong, Niti Vongphakdi & Linda Low
04 Lourdes Mendoza & Cristina Pineda 
05 Cristina Pineda, Chee Hong Tat, Senior Minister of State for Trade and Industry & Education, & HE Nathan Wolf Lustbader, Ambassador for Mexico
06 Mrs and Dr Winston Ho
07 Frederick Wong & Brian Tan
08 Stephanie Xie, Jolene Koh, Chew Kian Boon, Agnes Chan & Sabrina Tan
PHOTOGRAPHY ALVINN LIM
FOUNDATION FOR THE ARTS, SOCIAL ENTERPRISE PARTY
On Oct 7, supporters of the arts gathered at Atlas Bar to support the Foundation for The Arts and Social Enterprise's annual gala. The organisation was raising funds for projects that include having the London Philharmonic Orchestra record a symphony written for Singapore, and the commissioning of new music by local composers.
01 Michael Tay & Iris Manzanares Murillo, Ambassador for Costa Rica
02 Ho Kok Sen, Ivy Lam, Ho Kok Tong & Leslie Lam
03 Derrick Koh, Mark Tjong, Patractia Tan & Ming Alihan
04 Henry Chen
05 Karen Yu, Jeong AeRee, Mark Tjong, Vivi Cheng, Richard Shin, Heidi Wong & Ming Alihan
06 Mohan Mulani, Karen Xavier, Charmaine Ong, David Howard, Alfredo Castillo, Michael Tay, Goh Ching Lee & Klara Chan
PHOTOGRAPHY FOUNDATION FOR THE ARTS AND SOCIAL ENTERPRISE
FOOD FROM THE HEART CHARITY GOLF TOURNAMENT 2018
Food from the Heart raised more than $100,000 in its charity golf event at Singapore Island Country Club on Aug 31. Established in 2003 by Singaporebased Austrian couple Henry and Christine Laimer, the organisation distributes food to the needy. Proceeds will go towards funding its six core programmes, including Community Food Pack and Toys from the Heart.
01 Zubin Dastur, Oliviero Bottinelli, Chin Bottinelli, Khushroo Dastur & Linda Soo-Tan
02 David Boyle, Nick Selff, Harry Taylor & Howard Goh
03 Seah Kian Peng, Andre Hoeden & Glenn Ong
04 Pravin Jumabhoy
05 Harris Kor, John Tee, Zubin Dastur & Khushroo Dastur
06 Claudia Salem, Sharon Spaan, Rudi Spaan & Miles Murphy
07 Manik Bucha, Sany Subramaniam, Adrit Raha & Choong Wing King 
PHOTOS FOOD FROM THE HEART