With MAYBANK VISA INFINITE Venue ART AT CURATE, RESORTS WORLD SENTOSA
With MAYBANK VISA INFINITE
Venue ART AT CURATE, RESORTS WORLD SENTOSA
The Peak, in partnership with Maybank, hosted another edition of the Visa Infinite Experience at Art at Curate, Resorts World Sentosa. The eight-course dinner on April 27 saw guests savouring fine European cuisine paired with exquisite wines from a menu specially prepared by chef Tanja Grandits (of two-Michelin-star Stucki in Basel), resident chef of Curate Benjamin Halat, and renowned wine critic, Robert Parker Jr.
For more event photos, please visit www.thepeakmagazine.com.
Lim Hoo Yang, Alvin Lee & Stephanie Lim
Resident chef Benjamin Halat & chef Tanja Grandits
Mrs & Mr Richard Lim
Mrs & Mr Scully Robert William
Douglas Ong, Alan Yet & Clinton Wee
Pauline Lin
Amanda Tan & Angel Tan
Mrs & Mr Chiang Teng Jooi & Alan Yet
Dawn Wong
Tan Mei San, Wu Yulei, Clinton Wee, Geoff Tan & Keefe Teo
Candy Tan, Simon Gay, Karen Low & Fiona Gay
Lim Kok Boon, Karen Low & Mrs & Mr Loi Win Yen
Candy Tan & Roy Wong
Alvin Lee & Karen Low
Linda Tan & Tan Guan Hong
Janice Chow & Thomas Ng
Fon Lin
Choo Hong San & Charlene Zheng
PHOTOGRAPHY AHMAD ISKANDAR
FOOD FROM THE HEART'S PASSION BALL
Themed "Brazilian Dreams, Romance in Rio", the Passion Ball organised by Food from The Heart raised $560,000 with the support of sponsors Audemars Piguet, Images in Motion Singapore and UBP Bank. The Peak was the official media partner of the benefit, which celebrated the charity organisation's 15th anniversary and was held at Fullerton Hotel on April 7. The non-profit helps underprivileged families through food distribution and outreach initiatives.
Collin Barry & Michael Koh
Clara Goh, Dr Goh Yau Hong, James Quan & Winnie Chan
Alec Chua
Georgina Day & Justin Day
Oliviero Bottinelli & Ronald Stride
Maverick Mok, Stella Lee, Ariel Mok & Henry Mok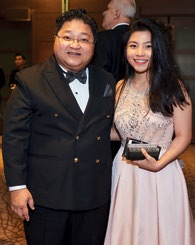 Andy Kuek & Rosanna Kuek
Adrian Peh & Susan Peh
Chia Kwan Hwa & Chia Ngiang Hong
Bill Chan & Joanne Tee
Janet Stride, Ronald Stride, Rosa Maria Campos Damico & HE Flavio Soares Damico, Ambassador for Brazil
PHOTOGRAPHY JASPER YU
SICC MAY DAY CHARITY DRIVE
The 47th Singapore Island Country Club (SICC) May Day Charity event held on May 1 raised close to $1 million for 22 charity organisations. The proceeds go to providing children, the elderly and the disabled with medical and financial assistance.
Desmond Tay, Marilyn Lum, Khoo Boon Hui, President Halimah Yacob, Mohamed Abdullah Alhabshee, Andrew Low, Ivan Chua & Jeannie Lau
Ivan Chua
How Sow Chuen, Gerald Teo, Lim Hock Thiam & Benny Chong
Kwek Hyen Chee, Peter Goh, Chia Teck Huat & Seah Chin Siong
Alfred Chua, Wong Kar King, Dick Lee, Tan Min-Li & Chia Hwee Siang
Philip Heng, Victor Lee, John Lim, Wong Kar King, Mike Neo & Jaimes Chao
Magdalene Foo, Janet Seow & Kenji Shinoda
Phua Hua Seng, Ivan Chua, Kenji Shinoda & Ray Stopforth
PHOTOS SINGAPORE ISLAND COUNTRY CLUB
SINGAPORE SYMPHONY ORCHESTRA'S FIESTA LATINA!
More than 400 of society's who's-who attended the Singapore Symphony Orchestra's (SSO's) annual benefit on April 21 at the Ritz-Carlton Millenia. The guest of honour was Ong Ye Kung, Minister for Education. Chairwoman of SSO ladies league and fundraiser-in-chief Odile Benjamin delivered on her promise to garner $1.1 million for SSO's music outreach programmes and performances.
Paul Tan & Arnoud De Meyer
Damien Patti, Igor Yuzefovich, Ong Ye Kung, Minister for Education, & Lynnette Seah
Beh Swan Gin & Vincent Ong
Jennifer Chen & Serene Tan
 Clarinda Tjia- Dharmadi-Martin, Kim Camacho, Grace Yeh, Rosy Ho, Maisy Koh, Odile Benjamin, Kwan Lui, Judy Hunt, Kris Tan, Annie Koh, Dr Julie Lo, Paige Parker & Celeste Basapa
Genevieve Peggy Jeffs &Tony Jeffs
Douglas Benjamin, Dalia Benjamin & Odile Benjamin
PHOTOGRAPHY WONG WEILIANG