A brightening regime is as essential as using anti-ageing skincare. tells you why.
A brightening regime is as essential as using anti-ageing skincare. tells you why.

Don't Wait Until You See A Spot
Sun exposure causes pigmentation, or dark spots, to form over time. Once a dark spot forms, it is much harder to tackle. So the idea is to treat dark spots as if they were wrinkles, and address them even before they get a chance to surface.
There's a range of brightening skincare on the market targeting different aspects of pigmentation. "Some products help to block pigment formation, some mop up free
radicals that contribute to pigment formation, and others prevent the
transfer of pigment from cells to the surface of the skin," explains Dr
Joyce Lim, dermatologist at Joyce Lim Skin and Laser Clinic.
It's Not About Having Fair Skin
That's another common misconception. Skin experts tell us there is no way to become fairer than the skin tone we're born with. Dr Low Chai Ling, medical director of The Sloane Clinic, adds that brightening skincare is not about become a couple of shades fairer.
"Brightening skincare is suitable for anyone who desires more radiant and glowing skin. Your skin can have an enviable glow even if you are not fair. Conversely, you can be very fair, but look pale and have a dull complexion," she adds.
Fuss-free Fixes
Multi-tasking brightening skincare is becoming increasingly popular. "In our hot tropical climate, consumers don't want to layer on product after product. They prefer light, breathable skincare that multi-tasks to enhance skin radiance, exfoliate dull skin cells and boost hydration levels," explains Dr Low.
Since brightening skincare can have universal benefits for all skin types and tones, the important thing is to star t on your brightening regime early. "Young skin responds well to most products because it is resilient and healthy. As such, you don't need too much to look radiant," says Dr Low.
So don't wait until you notice uneven skin tone and pigmentation. If brightening is not already a key step in your daily regime, you should upgrade your age-defence regime with a brightening serum.
DIGITAL EXCLUSIVE! The quickest way to get bright and clear skin is to use a brightening face mask. Tap here for our reviews of the newest ones.
Choosing The One For You
With the myriad of brightening products on the shelf, what should you look out for?
Antioxidants such as vitamin C, grapefruit extract and tea extracts
effectively reduce pigment formation and in ammation, and mop up free
radicals that also cause premature ageing, says Dr Lim.
Hydroquinone and kojic acid inhibit melanin production; hydroxy acids ght skin damage caused by free radicals; and arbutin inhibits a protein in the skin that triggers melanin production, says Dr Eileen Tan, dermatologist at Dr Eileen Tan Skin, Laser & Hair Transplant Clinic.
The important thing is to choose a product that is suitable for your skin, stresses Dr Low. Products with alpha- and beta-hydroxy acids may work wonders for combination to oily skin, but if you have sensitive skin, you should avoid them as they may be too harsh.
An Added Benefit
Naturally, having clear and lustrous skin can make you look years younger. But experts point out that brightening products have other anti-ageing bene ts too.
Get Radiant
Some new brightening serums to check out.



City Defence
Pollution and sun exposure increase hyperpigmentation.
Clinique Even Better Clinical Dark Better Clinical Dark Spot Corrector & Optimizer, $135 (50ml), diminishes the appearance of dark spots and quells skin irritation with gyokuro extract, from a precious Japanese green tea.
Lift Off Spots
Zero in on multitudes of tiny brown spots with Shiseido White Lucent Micro Targeting Spot Corrector, $155 (30ml). Inspired by laser therapy, the serum is said to reduce excess melanin and optimise skin cell turnover to fight pigmentation for lasting radiance.
Preventative Care
Nip pigmentation in the bud – Biotherm Blanc Therapy Total Brightener Essence, $119 (50ml), is said to dilute melanin at its source and reduce the look of dark spots for pure radiance.
Instant Luminosity
Fight dark spots, redness and uneven skin tone with Elizabeth Arden Visible Whitening Melanin Control Day Essence, $134 (30ml). It soothes and brightens skin, and gives you an instant glow.
All-around Brightening
SK-II Genoptics Aura Essence, $199 (30ml), doesn't just reduce the appearance of spots, it also targets hidden spots that may take many more years to surface. It gives yellow skin tone a rosy glow, smooths roughness, and deeply hydrates parched skin.
Translucent Glow
Laneige White Plus Renew Original Essence_EX, $80 (40ml), is formulated with truffle yeast extract to prompt the breakdown of dark pigments in the skin. Its key ingredients are said to fill melanin cells with moisture and strengthen blood vessels for luminosity.
Rosy Luminosity
Minimise the look of dark spots and yellowish skin tone with Chanel Le Blanc L'Extrait Intensive Youth Whitening Treatment, $415 (20ml), said to prevent melanin accumulation and the formation of waste products.
THE MOST COMFORTABLE LIP GLOSS YOU'LL EVER USE
Shu Uemura Laque Supreme Shimmer, $40 (available in eight shades) WHAT The oil-in-water lip gloss is infused with ultra-fine crystal pearls, and gold and silver powder, to make it intensely pigmented and long-wearing. VERDICT "The lip gloss was so lightweight – it was like I was simply wetting my lips, which felt plumped up and smooth, not greasy. Dry lines became less obvious and my pout was full and glossy. I loved the tapered wand tip as it made slicking on the lip gloss easy and precise." – Simone.
WHAT I'M LOVING...
Beauty editor Simone Wu's picks for this month.
1. "Bioderma Hydrabio Perfecteur SPF30/ PA+++, $49.90 (40ml), is the perfect time saver. Besides hydrating rapeseed extract and glycerine, the moisturiser contains salicylic acid to help clear the pores and loosen dead skin cells, while protecting with antioxidants and sunscreen – my skin felt incredibly smooth and supple. It also works wonderfully as a makeup base."
2. "Dermalogica Overnight Retinol Repair, $190, comes in two parts: a retinol powder and a retinol cream, which you mix according to the instructions. I could also add more retinol, if I wanted. It didn't irritate my skin, and left it firm and radiant."
Get Instantly Glowing Skin
Go Glow Facial, $267.50 (60min a session)
The Sloane Spa, #03-14A Ion Orchard, tel: 6509-8108, www.sloanespa.com
WHAT The facial starts with a microdermabrasion scrub to eliminate dead skin cells and debris. It follows with an oxygen mask to revive dull skin. Another facial mask is then used, this time to nourish skin with antioxidants. To finish, a blend of brightening and repairing serums is applied over the skin.
VERDICT "My dehydrated skin felt more supple and firmer after the facial. Enlarged pores looked less obvious and my skin was seriously glowing!" –Simone.
Use it in the shower Slip on an oxygen mask after cleansing skin, rinse it off after a few minutes and you'll be stepping out of the shower with brighter, more moisturised skin.
1 To instantly revive dull skin. Strivectin Oxygen Infusion Smoothing Mask, $93 (50ml), gently exfoliates, repairs damaged skin cells and reduces the look of pigmentation.
2 To decongest and revitalise skin texture. Natura Bisse Oxygen Finishing Mask, $76 (75ml), is a gel mask that hydrates, brightens and purifles skin with vitamin- and mineralrich green algae extract.
Sleep with it
Go to bed with a sleeping mask and wake up with glowing skin.
1 For deep hydration. The lightweight Shiseido Ibuki Beauty Sleeping Mask, $60 (80ml), leaves skin superbly supple with phytoplankton extract, a plant that can withstand extremely dry conditions, and vitamins C and E.
2 To revive skin radiance. L'Occitane Reine Blanche Whitening Sleeping Mask, $112 (100ml), contains salicylic acid that gently exfoliates, and plant extracts for skin repair. The result: dewy, supple skin the next morning.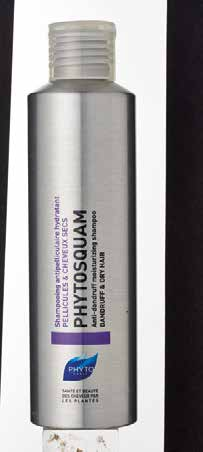 SOOTHING DANDRUFF TREATMENT
While most anti-dandruff shampoos can be drying and harsh on your hair and scalp, Phyto Phytosquam Anti-dandruff Moisturizing Shampoo, $68, helps to soothe and hydrate the scalp, and leaves hair soft.
Q: "I've noticed that eye primer helps my liquid eyeliner stay put. But when I apply a creamy concealer to hide my dark circles, my eyeliner smudges throughout the day. What can I do?" – Melissa Yeo, 33, marketing manager.
A: Makeup artist Larry Yeo says you're missing a step – you need to set the concealer with loose powder. He recommends Chanel Natural Finish Loose Powder, $77, and Diorskin Nude Air Loose Powder, $90. But skip pressed powder as it can make the under-eye area look cakey.
If you are already using loose powder and your eyeliner is still smudging, your concealer could be too creamy or moisturising, dissolving the eyeliner whenever you blink. Or your eyes may be sensitive to the concealer formula, making you tear, and also dissolving the eyeliner.