These innovative shoes will give you the speed and momentum you need to ace a run.
These innovative shoes will give you the speed and momentum you need to ace a run.
It's every runner's dream to own a pair of shoes that can make repeated pounding feel like heaven, while being stylish enough to wear out of the gym.
Frankly, I've had my fair share of disappointments after trying out half a dozen new running shoes this year that promised to be lightweight and cushioned.
The shoes that I tested were sleek, yes. But the midsoles – where the cushioning is located – were either too stiff, resulting in little or no rebound from each stride, or too skimpy, with barely enough foam to soften the impact of my heel strikes.
Let's not even talk about providing support for my flat feet, which requires a degree of torsion to stop my feet from rolling inwards when I run. Worse still, the outsoles of some shoes had such poor traction, I would skid on wet pavement.
Then, right after I stopped searching for the perfect "lightweight cushioned" pair, I found them on a press trip to New York City.
The DynaFlyte running shoes – the latest innovation by Japanese brand Asics – have become my go-to footwear, whether I'm doing 5km runs or longer distances.
They were designed and developed at the Asics Institute of Sports Science after three years of research and over 300 prototypes.
"It's the lightest shoe Asics has ever created, with a potential to unlock speed," said Paul Miles, the global marketing head for Asics. "Many shoes are geared towards speed, but they provide very little cushioning."
Cushioning is the key to sustainable running – it absorbs the shock that courses through your body with each step.
Too little foam, or when the shoes are minimalist, and your joints (knees, hips and ankles) get the impact, resulting in pain and/ or injuries over time. Too much foam, when the midsoles are thick, and your legs will feel like lead, causing you to exert more energy with each stride.
So the challenge for manufacturers has been to create shoes that allow runners to reach their maximum speed, while protecting the joints.
To strike that fine balance, Asics decided to create a new foam for these DynaFlyte shoes, instead of using industry-standard Eva foam, which is known to be a durable shock absorber.
According to Asics' research, FlyteFoam is nearly 55 per cent lighter, and has 76 per cent better cushioning than Eva foam.
The shoes also look as good as they perform, boasting a minimalistic, futuristic design with nosew uppers to keep them sleek. Streaks of bright orange and yellow around the midsoles, plus sky blue outsoles, lend a feminine touch.
Already, athletes are giving their thumbs up. Candace Hill, a competitive sprinter in the US, said: "The DynaFlyte shoes are so supportive and comfortable, when I train and work out, I feel like I'm running on clouds. I also really like its bold colours. It complements my dress sense perfectly!"
Retired American marathoner Ryan Hall said: "I've gained 25 pounds since I started weightlifting, so cushioning is super-important to me. These let me run fast and feel good without having to wear bulky shoes."
With its game-changing midsole technology and promising design, the DynaFlyte might just be what you need to break your running record.
The Asics DynaFlyte running shoes are retailing at $229 at Asics stores.
Tried and tested: Asics DynaFlyte
On the first day I wore these shoes, I clocked over 10km in them, according to my fitness tracker.
Now, that's a feat, considering how many shoes offend my broad feet by having a stiff and narrow toe box, causing abrasions to my bunions. In contrast, the DynaFlyte uppers wrapped around my feet securely while giving my toes sufficient wriggle room.
At the launch event in New York City, I was tasked to put the shoes to the test by dashing, jumping and doing butt kicks in them. That was followed by a casual 5km run around iconic Central Park.
Under sunny 28 deg C weather, there were sights and sounds to take my mind off from the monotony of running: skating teenagers, rambunctious tourists snapping pictures, fancy horse carriages ferrying more camera-wielding tourists, bikini-clad women tanning on the grass, families gathering for a picnic,  and fellow runners flaunting their supermodel figures in sports bras. Talk about running motivation!
It was easy to pick up speed in the DynaFlyte shoes, each weighing about 250g for a women's US size 8. I felt noticeably lighter, and could run at a faster pace than usual. Or was it a combination of the shoes and running in a new environment? Either way, the cushioning was just right – supportive but not chunky. I enjoyed the rebounding sensation each time my heel struck the ground, making me feel unstoppable.
Before I knew it, the run was over. And my legs were still raring to go.
The writer's trip to New York City was sponsored by Asics.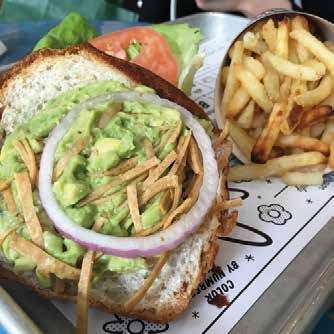 Only in New York
Slot these healthy activities into your itinerary when you visit the big apple.
EAT
By Chloe. (www.bychefchloe.com) 185 Bleecker St, New York, NY 10012
At this vegan cafe, everything on the menu is made from scratch, including condiments and sauces. Grab The Guac Burger (US$9.95 or $13.50), featuring a patty made from black beans, quinoa and sweet potato encased in a wholegrain bun.
If you love fries, try the sweet potato Air Baked French Fries (US$3.95). Sweet potatoes are richer in fibre as well as vitamins C and A. There is also a takeaway selection, which includes a Detox Kale Salad (US$9.95) and Matcha Kelp Noodles (US$5.95). Go early, as the cafe is known for its snaking queues during meal times.
DRINK
Matchabar (www.matchabarnyc.com) 256 West 15th Street, New York, NY 10011
Matcha latte is finding its way to more cafe menus in the US. Matcha, the highestquality powdered green tea, is loaded with antioxidants, especially catechins, which are recognised for their cancerfighting properties.
Matchabar has unsweetened matcha lattes that are made with skimmed, soya or almond milk. The result is a grassy drink that's low in fat and sugar.
Feeling adventurous? Order the Earl Grey Matcha Latte (US$4.83). The spiciness of Earl Grey tea goes well with the slight bitterness of matcha.
SCULPT
Physique 57 (www.physique57.com) 24 West 57th Street, Suite 805, New York, NY 10019
It's no secret that barre classes are hot, hot, hot. Doing ballet- and pilates-inspired moves might not seem like a sweat sesh, but you'll feel the burn in your butt, quads and calves after doing repeated plies and pulses in elegant dancer poses (yes, looking as toned as ballerina Misty Copeland is possible!).
Try the Physique Beginner class if you're new to barre. Those with experience should go for the Physique Signature class, held at a faster pace and higher intensity. A drop-in class costs US$36.