Your guide to keeping your visage radiant and youthful through the years.
Your guide to keeping your visage radiant and youthful through the years.
You can't turn back the clock, but you don't have to let the ravages of time show in your complexion. Dr Cheong Wai Kwong, a consultant dermatologist on Shape's advisory board, and Dr Georgia Lee, founder of TLC Lifestyle Practice and DrGL skincare, explain what the top agers are, and how you can take care of your mien to look gorgeous at every age.
Know your enemy
Right from the onset, many factors already work in tandem to visibly speed up your skin's ageing process. While genetics play a part, other considerations like environmental pollution, smoking and stress can also cause dull, worn complexions.
And listen up if you're not a regular sunscreen user: Both Dr Cheong and Dr Lee agree that one of the biggest contributors to an aged complexion is ultraviolet radiation (UV). "It accounts for 90 per cent of the premature skin ageing process," says Dr Cheong.
UV rays are made of UVA and UVB rays, and both damage your skin in different ways. According to the Skin Cancer Foundation, UVA rays pierce and penetrate skin more deeply than UVB, causing a loss of elasticity and wrinkles.
On the other hand, UVB rays are responsible for sunburn and redness, and tend to damage the surface layer of skin. A combination of both speeds up skin ageing, and can even cause genetic mutations that lead to skin cancer.
Take action
Generally speaking, it's best to start using anti-ageing products once you hit the big three-O, but it's also fine to include them earlier if you've already noticed fine lines starting to form.
For instance, Dr Lee suggests that sufferers of sensitive skin can consider using ceramide-enhanced moisturisers in their 20s to combat dryness and premature skin ageing. Otherwise, those with normal skin types can use moisturisers or serums with antiwrinkle peptides from their 30s.
That said, "even products with Sun Protection Factor (SPF) can be considered anti-ageing, and these should be incorporated as early as during childhood," says Dr Lee.
Dr Cheong adds that the two building blocks of any skincare regime are sunscreens and moisturisers, and you can build your repertoire of anti-agers from there depending on your skin type and need.
To do so, start by examining your own skin and identifying what your main concerns are. Wrinkles? Dark spots? Blotchy skin? Once you've created a mental checklist, you can add in targeted skincare products to treat those problems.
"Good products to kick off your anti-ageing routine include those containing antioxidants such as vitamins C and E, retinols, coenzyme Q10 and peptides," says Dr Cheong.
Dr Lee recommends using an exfoliating agent like tretinoin, as it helps speed up cellular turnover. She suggests pairing tretinoin with peptides and vitamin C for a more comprehensive anti-ageing regime. 
Your skincare superheroes
No matter what your current complexion situation is, you can still get effective results by using the right formulas. Here are some anti-ageing powerhouses we love. 
Antioxidant Hit
Fresh Black Tea Age-delay Firming Serum ($123) boasts a high concentration of antioxidants and skin-firming peptides that are said to inhibit the production of free-radical damage by over 50 per cent. The potent blend also envelops skin for a corset-like effect to lift and hydrate.
Power Duo
Combining the targeted benefits of a serum with the nourishing properties of an overnight moisturiser, Philosophy Ultimate Miracle Worker Night Multi-rejuvenating Nighttime Serum-in-cream ($120, Sephora) has plant stem cells from the iris flower to encourage collagen production and skin repair. Expect to wake up with a dewier, more radiant complexion after using this for just three nights.
Renew and Firm
Developed together with plastic surgeons, IT Cosmetics Confidence in a Cream ($72, Sephora) boosts skin's natural regenerative cycle. With collagen and hyaluronic acid as two of its key active ingredients, this rich moisturiser works to plump fine lines and wrinkles for a smoother complexion.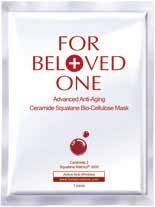 Glow From Within
Pamper yourself by putting on For Beloved One Advanced Anti-aging Ceramide Squalane Bio-cellulose Mask ($63 for three sheets, Sephora).
As its name suggests, this luxurious mask is infused with squalene – a nourishing, reparative oil – and ceramides to enhance skin's own protective barrier. Your visage will be noticeably more luminous in just one use.
Facial in a Jar
First Aid Beauty 5 in 1 Bouncy Mask ($70, Sephora) features a lightweight gel texture that's perfect for Singapore's humid weather. This multitasker works as an instant pick-me-up to nourish, calm, firm, plump and refine skin.
Wake Me Up
Give the delicate skin around your peepers some love by applying Peter Thomas Roth Retinol Fusion PM Eye Cream ($105, Sephora). It has microencapsulated retinol to encourage skin renewal and caffeine to reduce puffiness.
Banish Dullness
Restore skin's suppleness with Estee Lauder Revitalizing Supreme + Global Anti-aging Wake Up Balm ($115). Formulated with an Energising Complex made with a combination of botanicals like sea lavender flower extract, this will imbue a healthy radiance to your mien. Use this by itself or layer over your moisturiser whenever your skin needs a brightening boost.
Stay Safe
Fend off harmful UV rays with DrGL Sun Protection SPF 30 PA++ Anti-aging ($108, Sephora). Apply this generously over your face and neck before heading outdoors to keep skin protected. Another plus: The lightweight formula has antioxidant ginkgo biloba leaf extract and amino acids to neutralise free-radical damage and stimulate collagen production.