A modern home, swathed in hues of golden-brown and green, shows what happens when you embrace the best that nature has to offer.
A modern home, swathed in hues of golden-brown and green, shows what happens when you embrace the best that nature has to offer.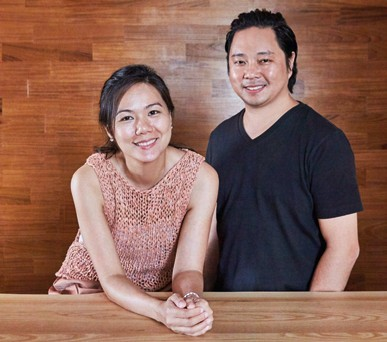 WHO
A couple in their
40s and their two
young daughters 
HOME
Three-bedroom
condominium unit 
in Tampines
SIZE
1,185sqf 
Every angle of Adrian Chua and Irene Ng's abode accords a soothing vignette. With most of its surfaces clad in beautifully grained teak veneer plywood, the apartment exudes a cosy and rustic vibe, accented by notes of modernity.
Greenery is also incorporated into the nature-inspired look, in the form of a living wall in the living area and around 150 plants peppering the interiors. The renovation was handled by the couple themselves, who are the founders of Paper Carpenter, a business that uses cardboard to create installations, art displays, and even pet furniture.
Dressing the walls of the living room (and reaching the ceiling of the corridor and into the master bedroom at the back of the apartment) are 3mm-thick teak veneer ply pieces, cut into 4-by-8-inch strips and staggered. Adrian shares that he chose teak for its durability and unique grains. "Teak grains are more distinct than other woodgrains," he says.
He scoured through the wood piles of four different shops to get cuts from various trees for a more textured and distinct look. Adrian preserved the wood's natural golden-brown colour, which he loves, by simply applying a lacquered finishing.
"As wood is a very overpowering element, having strong, leafy greens is a great contrast," he says on the stimulating colour contrast provided by the integrated greenery. While the green wall, complete with a self-watering system from Vertical Green, is the focal point of the living area, pops of green in the form of herbs, ferns, bonsai, and creepers enliven the other spaces. 
This reflects Irene's love for plants, which stems from one of her first jobs with the National Parks Board, she shares.
As the couple travel often for work, they selected plant types that don't require as much maintenance and attention. They even purchased wild plants from Bangkok's Chatuchak market. "On Tuesdays, the market has lots of exotic plants on sale," Irene says. Because of the many plants at home, their daughters are also involved in gardening, she smiles.
As for the rustic-chic furniture, including a D-Bodhi dining table and sideboard, the resourceful couple acquired pieces from the International Furniture Fair Singapore, as well as a sofa customised from a factory in Thailand.
WHERE TO GO
Paper Carpenter, TEL: 6282-1511
text LOUISA CLARE LIM photography VEE CHIN art direction KAFFY TAN