A clever design and smart choice of materials helped to make this small apartment appear more spacious than it actually is.
A clever design and smart choice of materials helped to make this small apartment appear more spacious than it actually is.
Homeowners today are increasingly savvy in exploring design ideas. For newlyweds Robertson and Joanne Tay, they were sure of the look they wanted for their matrimonial home, which led to them meeting Ivan O, creative director of IDISID, through a friend's recommendation.
Much to the designer's delight, the couple came prepared with a digital library of ideas, which they had collated from websites like Pinterest. This helped to move the discussion along and provided the designer with a good reference of the style they wanted. "We wanted a bright and airy home, with a good combination of materials like wood and concrete against a backdrop of white," shares Robertson.
To achieve the look, they broke down the walls of two bedrooms, creating a large, open dining room that sits in the centre of the home, where they enjoy the luxury of natural light and ventilation. The dining table sits on a raised platform, framed by a suspended swing bench and dining chairs. Designed as an answer to a safety concern – they were worried a regular bench would topple over due to the narrow space – the swing bench serves both function and aesthetics. 
The kitchen and living room connect seamlessly with this space. "I really like the open-concept kitchen and island, because I can cook and still stay connected with others around the home," Joanne explains.
White subway tiles were used for the backsplash to add texture and frame the space, while maintaining an overall unified look with the rest of the home. The kitchen island doubles as a bar where guests can gather around, too. In the living room, the couple chose sleek and simple furniture to pair with the minimalist concrete-look feature wall, which was cladded using Panaplast laminates.
A mini pebbled garden path was added to bring nature into the home. The path leads to a bedroom, which will eventually be a child's room. Wooden framed windows and doors create visual continuity, furthering the illusion of space beyond the front of the home. The look of the master bedroom, too, was kept pared-down, making it easier for the homeowners to maintain. Concrete screed was used in the main bathroom to match the look of the rest of the home. "One of the main challenges when designing this home was the extensive rewiring required, as many of the original switches sat on the walls which had been hacked," explains Ivan.
The efforts paid off handsomely; with an extremely spacious home that is everything the homeowners asked for and more, with a renovation budget of $47,000.
IDISID, TEL: 9876-5485, www.idisid-interiors.com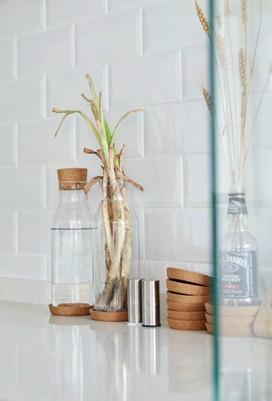 Text Domenica Tan Photography Vernon Wong Art Direction Lim Yi Ling