Our monthly roundup of the hottest new design products for the home.
TRENDING: LOUNGE IN STYLE
Flaunting sensual curves and a sculptural quality with a continuous line, the chaise longue is as much a statement piece as it is an ergonomic seat. Here, the stylish new options you'll yearn to cosy up on. 
1. La Chaise by Charles and Ray Eames, $14,620, from Vitra Store by W. Atelier.
2. Repose sofa, from US$8,450 (S$11,619) excluding fabric, from Okha.
3. Cassina Wink armchair-cum-chaise-longue by Toshiyuki Kita, $7,455, from W. Atelier.
4. Adams Right Chaise, $699, from Castlery. 
COSY COMFORT
Qeeboo, together with pet product specialist United Pets, has unveiled the Cat Cave, a sleek, sculptural and snug hideout for feline friends. Designed by Qeeboo founder Stefano Giovannoni, The floor of the bottom chamber is fitted with a scratcher for a spot of claw sharpening, while the top is hung with a ball. The Cat Cave is available in two colours, Bordeaux and Dove Grey.
The Cat Cave can be ordered at www.qeeboo.com, price upon request. 
JOSEON ROMANCE
Luxury handmade wallpaper atelier de Gournay has co-created a collection inspired by the Joseon dynasty with Seoul-based interior designer Teo Yang. The two designs, titled The Art of Learning and Steps for the Flowers, drew from the architectural and still-life painting of the celebrated dynasty. The former features a composition of book piles and rock formation symbolising the dynasty's chaekgeori ("books and things" – a school of still life that highlighted the importance of learning) while the latter depicts the royal hwagye (terraced rock garden) populated with peonies, butterflies and frogs. The artworks are hand-painted on antiqued rice paper.
In Singapore, de Gournay is exclusively distributed by Tatum www.tatumcompany.com. Visit www.degournay.com to find out more about the collection.
SCENT-TILATING
Chlorine is used in tap water to combat bacteria and germs, but it can also leave behind chemicals that result in skin irritation, dry skin, and brittle hair from daily showering. Ruhens' new scented shower head is here to combat that with a filter that doesn't just remove 99.9 per cent chlorine and harmful particles, but also infuses the water with Vitamin C. Choose from three essential oil filters: lavender, rose and lime. Depending on the frequency of use, each can last from three to six months. Each showerhead offers both high pressure and a fine mist.
Ruhens Scented Shower Head with Vitamin C filter comes in three individually packed scents and retails at $129 per unit (showerhead and one filter). To purchase, visit www.facebook.com/ruhenssingapore/shop. 
FANCY TEA PARTY
Tea drinkers will love the Tisaurea by Ludovica Mascheroni, a trunk designed specifcally for the enjoyment of the tea-making and drinking ritual. Hand-crafted from bleached ash, with a Michaelangelo marble top and Nabuk leather details, the trunk is the perfect place to display your prized tea collection. "Tisaurea is an invitation to enjoy time, the most precious one, that is, the one dedicated to ourselves," brand founders Fabio Mascheroni and Roberta Caglio share.
The Tisaurea retails at www.ludovicamascheroni.eu, price upon request. 
GRAPHIC IMPACT
A mix of geometric shapes and patterns make an appearance in the Mutina Numi tile collection dreamed up by porcelain tile manufacturer Mutina and German designer Konstantin Grcic. Glossy patterns are paired with matte, dusty-hued surfaces, making it perfect for those after a subtle yet graphic presence in their homes.
The Mutina Numi tile collection retails at Rice, 213 Henderson Road #01-03. Visit www.ricefelds.com, price upon request. 
HEALING GARDENS
Renowned in the creative industry as the creative director of Christian Lacroix Maison, French designer Sacha Walckhoff has been branching out and exploring his signature style through various collaborations with international brands. One of his latest creations is Magic Garden, a porcelain tableware collection with German brand Rosenthal. Inspired by the apothecary gardens, which feature plants with healing properties, Magic Garden mixes classic delicate floral design with Bauhaus geometry with a surprisingly versatile result.
Magic Garden retails at www.rosenthal.de from £10.75 ($18.80). In Singapore, Rosenthal is available from Da Vinci Lifestyle www.davincilifestyle.com. 
PHOTO WWW.WALCKHOFF.COM 
COOL BEANS
Elevate your home coffee game with freshly roasted beans right from your kitchen with the BeanBon home coffee roaster by Taiwan-based startup Avigo. The smart countertop gadget allows for raw beans to be used, so you'll get to experiment with creating different flavour profiles and blend your own combination of beans to suit your taste. Settings can be adjusted via the BeanBon app in three modes: Smart mode with pre-set roast profiles for novices, Creator mode for more hands-on control and Guru, which allows users to recreate flavour profiles crafted by experts.
The BeanBon coffee roaster is priced at US$699 (S$960.80) via Kickstarter. Visit www.beanbonroaster.com for more information.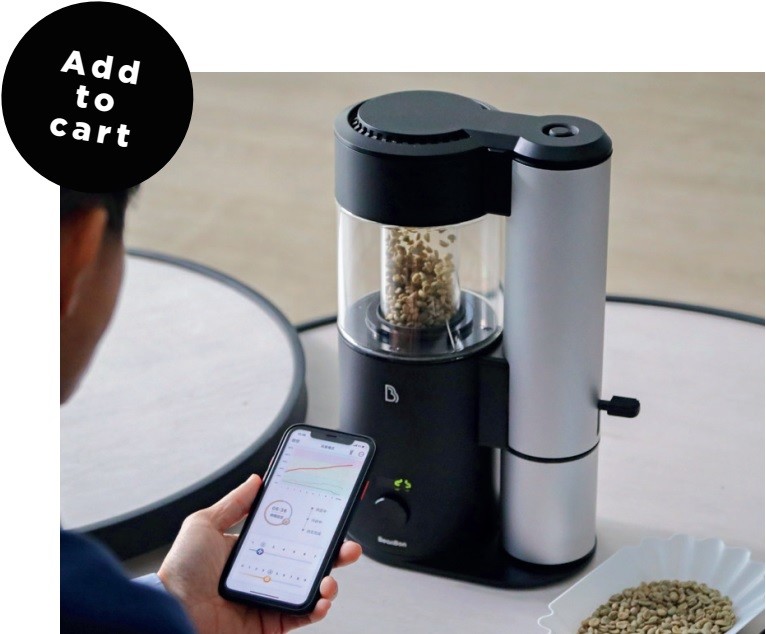 SUBLIME SOUND
British Hi-Fi brand Ruark Audio has dropped the R3, a wireless compact speaker. Covered in a woven grille fabric and a rich walnut veneer or soft grey lacquered finish, it'll sit on shelves like a sculptural accent. Thanks to a high-fidelity two-channel Class A-B amplifier, audiophiles can be sure of outstanding sound. You can also stream music from platforms like Spotify, Tidal and Amazon Music via Wi-Fi or Bluetooth aptX. Its Smart Radio function can be used to tune into the internet, digital audio broadcasting (DAB/DAB+), or FM stations. 
The Ruark R3 retails at $1,299, available at Musica Boutique, #04-26 Ion Orchard. 
EXHIBITION OF THE MONTH
Materials & Design
What: A Passage Through Colours
Where: Now until Sept 30, 2020
When: Visit www.mulangallery.com.sg for the link to the virtual exhibition 
Presented by Mulan Gallery, A Passage Through Colours showcases the abstract works of Japanese artists Kaz Orii and Yokomizo Miyuki, as well as Shanghai-born artist Mao Lizi. Evoking brilliant movement through exuberant yet controlled strokes, as well as intense colours, many of the contemporary artworks in the exhibition reflect the artists' expressions of freedom simply with the use of colours. 
The Suite Life
The newly redesigned La Reserve Eden au Lac Zurich in Switzerland takes visitors into an imaginary yacht club dreamed up by renowned architect and designer Philippe Starck. For its bathroom fittings, the five-star hotel and Starck tapped Hansgrohe's luxury line Axor. Fittings include washbasins, bathtubs and showers under the Axor Starck series. Also co-created with the French designer, it draws inspiration from the beauty of nature and water.
Treasure Trove
Playful and energetic, Crate and Barrel's new Trove collection injects a breath of fresh air with its vibrant colours and sleek shapes. Designed for today's modern apartments, the pieces in this collection work even in the smallest of spaces. These include smaller tables for the kitchen nook, office furniture that adds storage, and modular furniture that can ft different room configurations.
For more information, visit www.crateandbarrel.com.sg. 
Fresh & Clean
Japanese sanitary giant Lixil has devised the Sato Tap for households without access to basic handwashing. Aiming to improve hygiene in the emerging economies, Sato can be used without running water. Its nozzle can be fitted with plastic bottles to minimise direct contact while its trickle action reduces water usage.
Visit www.sato.lixil.com/satotap for more information. 
SLIM AND MIGHTY
Cosentino has added five new colours to its Dekton Slim collection. With just 4mm thickness, the ultra-compact surface collection is ideal for customising cabinetry, doors, walls, backsplash and furniture to match your kitchen countertop without adding significant extra weight. The five new collections are Helena, Laurent, Rem, Eter and Aeris, which present subtle patterns in various neutral shades.
Samples can be viewed at Cosentino City Singapore at 34/35 Duxton Road. Call 67139543 for a private viewing. Find out more at www.cosentino.com/en-sg 
EDITOR'S CHOICE: THAI STREET STYLE
Ikea has launched Sammankoppla, a collection co-created with Thai fashion brand Greyhound Original. Inspired by the Thai street style, it has been designed to be affordable, multi-functional and adaptable. "Thai street style is 'anything goes', and nothing goes to waste," says Greyhound Original founder Bhanu Inkawat, citing plastic jerrycan upcycled into lampshades as an example, which made it into the final collection as the Sammankoppla LED Multi-Use Lighting. The collection includes rugs and bags made with woven PET waste, shelving units inspired by scaffolding and a literal jacket for chairs, a wink to Greyhound Original's fashion root. 
Sammankoppla collection retails at www.ikea.com, prices range from $1.90 (zip case) to $129 (shelving unit). 
LIGHT UP YOUR LIFE
Inspired by the picturesque mountains of Japan, the Yama series is a range of sleek, conical pendant lamps whose streamlined shapes lend themselves well to minimalist interiors. The series was unveiled as part of Shanghai-based Stellar Works' first lighting collection, and created in collaboration with Space Copenhagen. "We try to be attentive and respond to the little ways these typologies evolve over time, how uses might morph or change, while also working towards the piece having a certain sculptural quality," says Space Copenhagen on their lighting design. 
Stellar Works is available in Singapore from P5 Studio, price upon request. Visit www.p5studio.com.sg for more information. 
SIGNATURE SCENTS
Perfume house Creed has launched two new scented, hand-poured beeswax candles, housed in tulip-shaped glass containers. Bestselling perfume Aventus now comes in the form of Creed Aventus Scented Candle, which combines a heady mix of blackcurrant, French apples, dry birch and oakmoss notes for a woody and fruity scent. The fragrance of the Love In White candle will transport you to a garden in bloom. Its fresh and powdery scent has delicate top notes of hyacinth and magnolia, which leads to a heart of French daffodils, white iris and tonka bean. 
The new candles retail at $179 (in 200g glass candles), available at the Escentials stores and counters at Paragon, Tangs at Tang Plaza and Ion Orchard. 
ARTIST OF THE MONTH
KASS KOH
Emerging Singaporean interdisciplinary artist Kass Koh delves into the complexities of myths set in metamodernism, working with mixed media that include acrylic, gouache, ink and holographic stickers on wood. Taking her cue from speculative themes of science fiction, ancient mythology, video games, board games and comic books, she creates alternate realms that expand the imagination, and explores dialogue centred on personal myths and archetypes.
Kass is currently exhibiting at The New Now IV: Tension/Creation exhibition at Gajah Gallery, which runs till Sept 6, 2020. 
Text ASIH JENIE, MELODY BAY & MICHELLE LEE