This British interior designer's eclectic Asian-influenced style is abundantly present in her home here.
This British interior designer's eclectic Asian-influenced style is abundantly present in her home here.
WHO: An interior designer.
HOME: A one-bedroom, one study walk-up apartment in Joo Chiat.
SIZE: 1,300sqf.
When Elly MacDonald was searching for a home in Singapore, her heart was set on ditching the usual expat enclaves for a neighbourhood with a uniquely local flavour. She stumbled upon her Joo Chiat walkup rental apartment through a property website.
Elly, who has lived in the Caribbean, Spain, Switzerland, India, and Hong Kong, is always ready for an "adventure". The old, grotty staircase that leads to her apartment didn't put her off. She was quickly won over by the spacious interiors and rooftop, which she transformed into a herb garden.
"It may be a rental apartment with fixtures you can't change, but there are many ways to turn the space into something that says 'you'," beams Elly. "And I love Joo Chiat! It is an eclectic mix of Singaporean and international culture, people, food and architecture."
In addition to running her design studio from home, Elly is also co-founder and creative director of Anserai, a US-based online boutique offering designer home-decor collections from around the world, with a focus on handmade artisanal wares.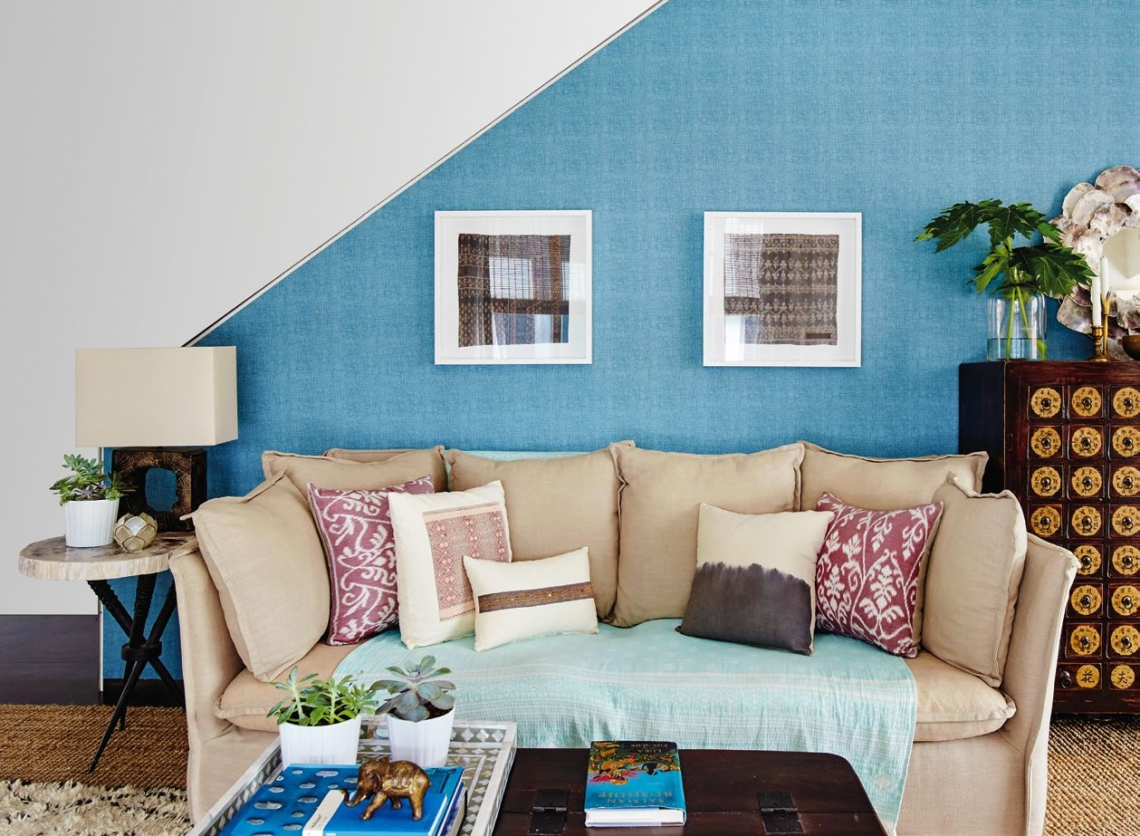 You used to be an accountant. What made you switch to interior design?
It's a happy story of being lucky enough to turn a lifelong passion into a sustainable business. I went into accountancy early on in my career as I'd always wanted to run my own business, and my experience in accountancy helped with that.
After leaving the UK in 2009 and living in different countries around the world, I decided it was time to follow my heart. I retrained in interior design through the KLC School of Design in London, and then launched Elly MacDonald Design here in Singapore late last year.
Describe your personal interior style.
In a nutshell: Eclectic, international, a little bit of ethnic, and lots of authentic natural finishes. I love working in a whole range of styles, from industrial glamour to beach-house chic.
How did your love affair with Asian designs come about?
From my travels around the region! I've always been fascinated by traditional artisanal techniques and handicrafts. In a world of mass-produced, machinemade products, I believe it's imperative to help preserve traditional crafts.
A large proportion of the textiles and other goods that I source come from small family-owned businesses, and I think it's important to do my part to help protect the knowledge that's been passed down through the generations.
What's in your textile collection right now?
As long as it's handmade and has an interesting story to tell, I have it! Current favourites include Thai and Vietnamese hill-tribe textiles (especially those made by the Hmong and Akha people), floaty Indian blockprints, Turkish kilims, Moroccan wedding blankets (although I've learnt the hard way that they do not do well in the humidity here), Indian dhurries, Malian indigo and mud cloth, Hmong batik, Balinese songkets and endek, Timorese buna, and all the different types of ikats from Indonesia.
I've started using these textiles not only as pillows and throws, but also as framed artwork – the artisans who weave them put so much time, skill and knowledge into the process, the textiles truly do qualify as a form of art.
What did you have in mind when you decorated your apartment?
With client projects, I always have very clear direction and inspiration, but with my own place, I take more of an organic approach. For the living room, I added a big dose of carved wood and other beautiful natural finishes, and many gorgeous linens to pull it all together – it can be challenging to combine collections and textiles in a cohesive way, so it's important to balance them with neutral solids.
I also included a few large personalised gallery walls, with travel photography, framed textiles, quotes that speak to me, and other bits and pieces I've collected over the years.
For the master bedroom, I wanted a calm and serene space with lots of layered whites, but kept it interesting with contrasting natural textures, from the capiz shell pendant and the seagrass side table, to the cast bronze antique Thai rain drum used as a nightstand.
Your design studio also bears plenty of personal touches.
I incorporated lots of white into the main pieces of furniture (desk, shelves, filing cabinet) as the nature of my work is often very colourful, so it's helpful to have a calm neutral backdrop.
The diverse palettes of my textile collection and the various accessories I've picked up over the years also add pops of colour to the space. I keep most of my textile collections, linens, and pompom trims in natural woven baskets from Bali and Thailand, and everything is grounded by a beautiful vintage Turkish kilim rug.
I've framed a few of my favourite textiles to create a mini gallery wall. And, of course, I had to include a giant plant. I love all botanicals, and they feature quite heavily in my work – I also specialise in "urban landscape" design, such as terraces, balconies, and patios.
What's on your roof terrace?
I've been working on a kitchen garden, with herbs, chillies, and limes. I love being able to just pop upstairs for my rosemary fix when cooking! It is a green, leafy and calm space with a Balinese daybed a floaty canopy, lanterns and candlelight.
I've planted jasmine and wrightia to attract butterflies, dragonflies and other insects – it's very peaceful having them fluttering around, with the sounds from the side streets below drifting up.
Who inspires you?
I'm inspired by other female interior designers whose work I love. For instance, Lauren Liess, Emily Henderson and Angie Hranowsky – they are living proof that successful businesses can be built with hard work and good style, and that it's possible to start up in design a little later in life. I was also very impressed by Kelly Hoppen when I heard her speak at last year's Maison & Objet Asia.
WHERE TO GO Elly MacDonald, www.ellymacdonalddesign.com