You may not have noticed the quiet revolution, but some of Singapore's best bars are fronted by women bartenders – one even has an all-female team – and they bring a distinctly amiable and amicable touch to the scene.
"From left: Tatiana, Anna, Kino and Clare."
 KINO SOH, 31, HIGHBALL GO FOR: A CELEBRATION OF SISTERHOOD
Singapore's first and only bar with all women bartenders is an intimate gem in Kampong Bahru. Highballs (spirit plus non-alcoholic mixer) are their speciality (natch), but exuberant founder and head bartender Kino Soh says the tight-knit four member team has no problem whipping up other bespoke cocktails on request.
Not all of us are alcohol aficionados, and drink names can be as confusing as the beef between Nicki Minaj and Cardi B, but her menu is designed to be friendly. "We put consumers before the craft. The menu is such that everyone can easily understand the drinks and pronounce the names I have been to bars that made me feel uncomfortable and intimidated, so I am trying to achieve the opposite of that," says Kino, a foodie on her days off .
Try the Jim Beam Citrus Highballs (lower in ABV) that showcase special round ice cubes. Kino's signature is a fruity concoction called Xoxo with French gin, white peach, yuzu and tonic, smoked with lavender.
Fridays are hot; weekday happy hours are 4-7pm. 79 Kampong Bahru Road 
"Torched star anise gives "The Egg" its dramatic flair and smokiness."
SASHA WIJIDESSA, 23, OPERATION DAGGER GO FOR: EXPERIMENTAL COCKTAILS
You'll feel a bit like Alice falling down the rabbit hole at Operation Dagger's nondescript entrance as it does nothing to prepare you for the beautiful cloud of lightbulbs inside, floating overhead. And you'll enter with preconceived notions about wine but leave a convert, thanks to Sasha, a pharmaceutical science graduate – and the brain behind the oxidised wine menu – who gets visibly excited when the convo turns to fermentation or yeast.
Sasha has created natural wines that taste like a cross between wine and sake. "Our natural wine selection was a very organic process, where we started out trying to reduce waste by giving oxidised wine a second life, through reflavouring. It slowly evolved into an even more sustainable approach and doing things in-house," she says, adding that she continues to experiment with new flavours to add to Dagger's eclectic selection. The bar's current six flavours change every few months.
Dagger started as a creative outlet for founders Luke Whearty and Aki Nishikura to experiment. From day one, the cocktails here have been different and kooky. "What I think is more important, however, is that Dagger is a space that is always evolving and growing," says the laid-back bartender. She recommends coming between 6pm and 9pm. Otherwise, come any time after that, or on weekends when the bunker gets lit.
7 Ann Siang Hill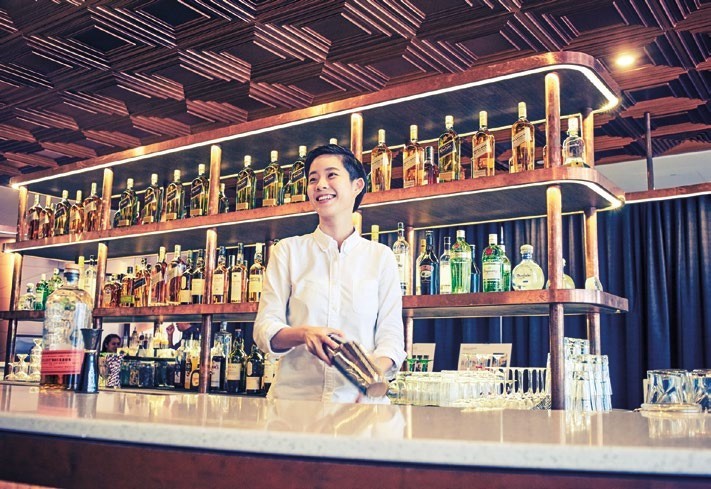 JAYDEN ONG, 25, DIAGEO WORLD CLASS LOUNGE GO FOR: GROUP BONDING
As Diageo is one of the world's largest producers of spirits, it makes sense to situate its state-of the-art bar smack bang inside its own office, where Jayden is head bartender. She is also brand ambassador for Johnnie Walker (one of Diageo's brands).
After a waitressing stint made her see the joy in providing service, bartending proved to be the logical sweet spot for Jayden. "I love providing service that makes one's day – paying attention to the details of a guest's needs, engaging customers in fun banter, and creating flavours to excite the palate," she says. Her career highlights include making a mocktail for Prime Minister Lee Hsien Loong during an F1 pop-up, and being runner-up in the bartending competition Diageo World Class in 2017, in Singapore.
Jayden started young, with bartending stints at Jigger & Pony and Fancy, and is now head bartender at this semi-private lounge. This place gives you panoramic views of the Singapore River, Fullerton Bay and the Esplanade, as well as Jayden's signature drink, Kopi & Kay, a local twist on the classic Espresso Martini.
"I was inspired to make a drink with ingredients you can find at local supermarkets – in this case kaya, gula melaka and egg, as well as vodka and espresso. Garnished with a love letter wafer and served in your traditional kopi cup, this is great as an after-dinner dessert or a sneaky brunch drink," she says.
She'd also like you to ask questions. "It'll make your bar experience so much better. Tell us how you like your drink, ask about the ingredients, and learn about spirits and cocktails if you want to," says the ever-smiling Jayden, a cat  lover who will happily show you her favourite cat photos. After she serves you a killer cocktail.
The Lounge is only open to the public when it hosts group workshops – get updates at www. facebook.com/ worldclasssg. You can also visit if you know someone from Diageo.
1 George Street 
"Want this? Book a masterclass at the lounge and enjoy it with a group of friends."
MARIE NAKAZAWA, 25, THE OTHER ROOF GO FOR: TEA-INFUSED COCKTAILS
Fancy a spot of tea with a twist? That's what Marie Nakazawa has concocted with her flirty Whole Lotta Love cocktail. It's raw tea, lavender syrup, lemon juice, peach liqueur and aromatised wine on top of a vodka base, served in a dainty teacup.
The psychology graduate was inspired to create a refreshing drink to combat Singapore's humidity, and she came up with this unique cocktail that uses raw tea rather than a teainfused spirit.
"It's a good drink to start off with. It's refreshingly tart, so it opens up your palate. I felt this would be a good way to enjoy afternoon tea while having a cocktail at the same time," says Marie, who stands out with her trademark cateye makeup.
Brightly coloured bottles decorate the back of the bar: vodka, gin, rum, bourbon and others, along with various tea finished spirits that are blended by the team. The tea is sourced according to the alcohol it will be paired with, and the flavour profile the team wants to create. If you're with your coterie, share a teapot or a punch bowl, with a side of sirloin steak or a Spanish Cheese Platter.
Rooftop, Ann Siang House, 28 Ann Siang Road 
KELLY D'CRUZ, 26, THE SECRET MERMAID GO FOR: AMERICAN SPIRITS
Bubbly bartender Kelly D'Cruz is smoking something good. And by that w mean her signature Negroni cocktail, called Balancing Act. It has Koval gin infused with chrysanthemum, Campari, Carpano Antica sweet vermouth, and it's smoked with applewood and topped off with a bittersweet citrusy Campari foam. It certainly leaves an impression, as does Kelly with her dreadlocks, laidback attitude and intricate tattoos.
Guests may even have a chance to inspire her next drink. "One guest ordered one of the simpler drinks on the cocktail menu. A few months later, he said that the reason it was so special wasn't just because he liked the taste, but that the flavour brought back a memory. That story really inspired me, so my next cocktail menu for one of our upcoming projects is developed around the idea of memories and taste," says Kelly. The Secret Mermaid is tucked away in the underground passage beneath the Ocean Financial Centre (and hidden behind a Japanese restaurant) – a cosy place for after-work drinks and bar food. If you can't decide what to drink, the bar also functions as a sampling room, with tasting flights of gin, vodka, whisky, rum and agave. Another feature we like is the glorious American craft spirits selection, displayed next to the bar rather than behind it – and available for retail.
#B1-08, 10 Collyer Quay, Ocean Financial Centre
JUNE BAEK, 28, COURT MARTIAL BAR GO FOR: CLASSICS WITH A TWIST
While in Seoul preparing for a working holiday abroad – a stint at a cosy lounge bar – June had a revelation as she had drinks with her pals. "I was having fun conversations and passing around delicious cocktails. It felt perfect and I fell in love [with the bar concept]. I decided to put my working holiday on hold and instead started a full-time job at that bar!" says June.
Three years on and the budding psychologist-turned bartender is in Singapore, helming Court Martial Bar at South Beach by Marriott. The bar is in a former military base and courtmartial centre, and the tumultuous pre- and post-war history of Beach Road has been reimagined in June's drinks – her first signature was a twist on the classic Godfather cocktail.
"I created a rendition called My Old Man by adding an Italian bitter liqueur for refreshing herbal notes, and a hint of cacao and cinnamon smoke for drama, to complement the sweetness of the almond liqueur," says June, who imagined the figure of a judge sitting in that very building as inspiration.
An avid fan of Marvin Gaye, Lauryn Hill and Aretha Franklin, she can be found jamming to Court Martial's mostly R&B and hip-hop playlist as she whips up drinks. June adds that some of her more recent creations aren't on the menu. "We always advise customers to ask for 'June's special signature cocktails', or you can try our daily offerings. If all that doesn't matter to you, come for me!"
30 Beach Road 
"Her Prima Donna cocktail is a modern take on the Cosmopolitan, with Campari as a highlight."
PAN YING LEE, 23, NUTMEG & CLOVE GO FOR: LOCAL FLAVOURS
The bartenders here focus on Singapore flavours and ingredients, and  the drinks are divided into four categories: herbs, fruits, spices and flora. Pan's signature drink, Leo's Flip, inspired by the festive pineapple tart, was awarded the title of Singapore's Next Top Cocktail in 2017 at the Singapore Cocktail Festival.
This  zesty cocktail is a blend of amaretto liqueur, Wild Turkey American Honey liqueur, rum, egg yolk, fresh pineapple juice and homemade spiced pineapple puree – Chinese New Year in a glass.
Pan started bartending while pursuing a diploma in restaurant and culinary operations, and the bartending consumed her life, along with Asia's Next Top Model, her favourite TV show.
Pan says the best time to visit this dark, handsome Cantonese shophouse is on Mondays, when happy hour lasts all night. If you get hungry, the bar has some comfort fusion food such as Crispy Duck Confit sandwiches and Salted Egg Chicken.
10 Ann Siang Hill 
"The bar's name was inspired by the spice trade that was prevalent in Chinatown."
CHRISTYNE LEE, 30, TESS BAR & KITCHEN GO FOR: DRINK AND FOOD PAIRING
True to her love of travel, Christyne's signature drink The French Kiss was inspired by her first trip to Europe, when she visited Paris after winning a regional bartending competition. Floral, fruity and flirty, it combines all things French, with G'Vine Floraison gin, Giffard Creme de Cassis, Giffard Rose Syrup, fresh grapefruit juice and sauvignon blanc.
This bustling gastrobar in a conservation shophouse also serves some mouth watering dishes (Bone Marrow with Rangers Valley Wagyu Beef Cubes, and Porcini Mushroom Risotto) to pair with cocktails, and Christyne has a wicked suggestion: "After you're done with the marrow, ask the staff to help you torch the bones, then order a shot of your favourite whisky – my pick is Lagavulin 16 – and drink the shot out of it!" The Tess Sharers drinks here are large enough to be enjoyed by up to nine people. Got a sweet tooth?
The Apple Of My Eye is an alcoholic apple pie: Hendrick's Gin, apple pie and vanilla tea, rose syrup and fresh lemon juice.
When it gets noisy on busy nights, sit outdoors and people-watch.
38 Seah Street
"You can watch the bartenders at work, or ogle the chefs through the open kitchen."