Here's where the cool people like Instagram stars Beatrice Tan, Chloe Choo and Amelyn Beverly, and Her World staff go.
Here's where the cool people like Instagram stars Beatrice Tan, Chloe Choo and Amelyn Beverly, and Her World staff go.

Amelyn Beverly, 22 @amebeverly Blogger
Cat socrates 448 Joo Chiat Road (6348-0863) www.catsocrates.com.sg
Best for: Cute trinkets inspired by local heritage.
We won't be surprised if you spend an entire afternoon here – knick-knacks like tin toys and animal-shaped thumb drives are in every nook and cranny.
Amelyn loves the store's rustic, vintage vibe. "There's even a cat roaming about the store," she points out enthusiastically, referring to the shop's resident tabby, Zoo Zoo. And while Cat Socrates' first store at Bras Basah Complex is better known for handicrafts, this Joo Chiat shophouse (which opened in August 2014) throws the spotlight on local brands with a heritage focus. It has When I Was Four brooches inspired by old-school snacks, and totes and pouches with an ang ku kueh (a small round pastry with a sweet filling) motif from Ang Ku Kueh Girl.
If you're on a last-minute scramble for presents, Cat Socrates has just launched gift sets too. Each set, from $10, follows a different theme (cats or pineapples, for instance) and comprises small items like pouches, brooches
Ian Lee, 32 Her World fashion editor
KAPOK #01-05 National Design Centre (6339-7987) www.ka-pok.com
Best for: Limited-edition designs and lifestyle products from cult brands.
This shop and cafe is where Ian heads to for cool, under-the- radar brands. His faves: Maison Kitsune for caps and tees with logos, Macon et Lesquoy for fun fabric brooches and US brand Miansai for preppy woven bracelets.
Looking for something that few people own? Check out Kapok's exclusive brand collabs, like the minimalist silver cuffs and rings (only 10 of each were made) from local accessory brand Stale & Co. Or the limited-edition totes (only 50 were made and each bag is numbered) from the collab with Danish brand Mismo, which is famous for its canvas totes.
Sherli Chong, 43 Her World senior designer
Supplies & company #01-23 Park House (info@suppliesandco.com) www.suppliesandco.com
Best for: Unisex gifts like artisan candles and Bearbrick figurines.
Tucked away in Park House, an apartment building along Orchard Boulevard, is a store that has been Sherli's go-to for the last three years. It's the place she counts on to score out-of-the-ordinary presents like artisanal candles from Cire Trudon. The French brand makes them in the shape of 17th-centuryinspired sculptures. Another fun fact: Cire Trudon is the world's oldest wax manufacturer, and at one point, supplied candles to the Palace of Versailles in France. Other brands to check out for unisex gifts? Japanese labels like Medicom Toy for its collectible Bearbrick figurines, and Postalco for vintage-looking envelope bags.
Beatrice Tan, 26 @beatricesays Owner of online store Klarra
Weekends #B1-10 Vivocity (6376-8031) www.weekends.com.sg
Best for: Girlie stationery and patterned kitchenware.
Beatrice confesses that she loves receiving practical gifts (like desk supplies and kitchenware) that also look pretty. "I own a Kate Spade organiser from Weekends, and I love that it's useful and attractive," she says.
So it's apt that Weekends is her must-visit gift-hunting spot. It's owned by the founders of another popular gift shop, Monoyono (think of Weekends as its younger, quirkier sister). It carries a wider range of cheery patterned trays and mugs from US label Jonathan Adler, and typographic posters from New York-based brand Read Between the Lines.
Here's where you can also pick up accessories for your girlfriends. Weekends carries pop-art-inspired perspex necklaces from UK label Tatty Devine – which is loved by celebs Bjork and Katy Perry – and silver- and gold-tone costume jewellery from Italian brand Fiorelli.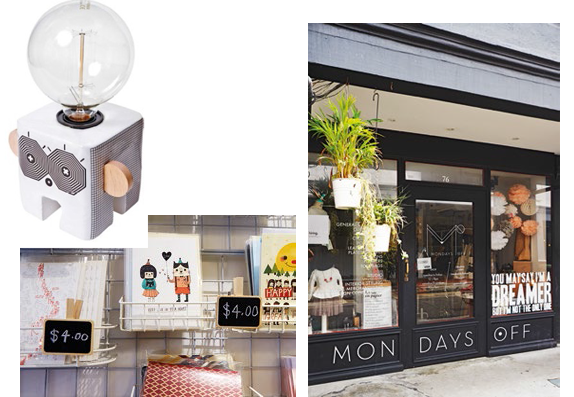 Chloe Choo, 22 @chloeandchoo Online fashion writer
Mondays off 76 Haji Lane (ask@mondays-off.com) www.mondays-off.com
Best for: Arty knick-knacks.
She's got more than 60,000 followers on Instagram, and has her own Youtube channel where she posts how-to videos on makeup and nail art. Chloe also has a thing for DIY-ing her presents, and for off beat gifts. If you're looking for things similar to what she would go for, check out the double-handed mug (inspired by human ears) from Dutch brand Gispen Dombo and the robot lamp from Malaysian brand Oh&Ah (known for its handmade toys and home decor), both available at Mondays Off .
Add local handicraft brand Anabarr to your list – they've got sunglasses with rustic wooden frames. For something more personal, check out Mondays Off 's bestsellers: greeting cards and typographic prints from Swedish paper-product brand Papperskarlek. Prefer shopping online? The e-store offers free local delivery for checkouts below 5kg. It charges a flat delivery rate of $10 for buys up to 20kg.
Evon Chng, 27 Her World fashion stylist
Haus of egg3 164 East Coast Road 6348-6564) www.eggthree.com
Best for: Fashion and home accessories with a vintage twist.
Evon is always on the lookout for stylish presents that are also useful for the home. So her fave gift store is none other than Haus of Egg3, the flagship of lifestyle chain Egg3 (which has outlets in Erskine Road and 112 Katong).
Her idea of the perfect gift from here? A fragrance or scented candle by Italian label Culti, famous for its woody and citrusy scents packaged in apothecary-inspired bottles.
The two-storey conservation shophouse also has a wide range of furniture and accessories for the home and garden. Fans of minimalist Nordic designs will be pleased to find award-winning Danish brand Norrmade here. The label is known for furniture that is super-functional – think stools and garden rakes that double as clothes hangers.