These Singapore artists – working with wildly differing media – share their artistic journey with Hayley Tai.
Kelly Lim 28
Known for: crochet sculptures of monsters Instagram: @kllylmrck
It's not that hard to see artist Kelly Lim reflected in her own crochet artworks, done in that very niche genre known as kimo kawaii (Japanese for cute and freaky – think Tim Burton – yes, it's a thing). She's got a flock of braided hair that's not unlike the thread she works with, a medium she liked after tagging along with her mum to a crochet workshop. Since then, she's been creating cute and freaky art pieces (including monsters), and has had her works exhibited alongside those of other artists in Singapore and Japan.
Her first notable piece, though, was a crochet hat she made and wore to the office when she was working in a Japanese company. "My boss' wife worked for a Japanese fashion magazine. She thought the hat looked like an anime character and told me about this kimo kawaii style that was quite popular in Japan. Then I did more research: It felt very in line with my style, so I started using it to describe my work to people," the 28-year-old artist explains.
Kelly says that she doesn't consider herself as a fine artist or even a crochet expert (we reckon she's too modest), even though she has collaborated with renowned brands like New Balance and H&M.
Her distinctive style – bright colours and boho chic – has already won her a legion of fans on social media who conflate her image with her art. She's inspired by Japanese artist Hokusai Katsushika's work ethic, and feels that an artist always has to be learning.
Kelly adds that unlike other artists who already know what they want to do with the paintbrushes in their hands, she draws inspiration during her crocheting. "I don't always know how I want the end product to look, and I am inspired by what happens during the process," she says.
Right now, she hopes to make the transition to fine art and wishes to create more than kawaii monsters. To Kelly, great artwork has to be transient; it has to change with time and cannot remain in the same state it first came in. "My dream is to make something biodegradable. Like a huge sculpture that will disappear into the ground and not harm the environment over time," she says.
That could be kimo kawaii in its own way.
"If I see a bird fly past  my window, it may connect with something inside me and I'll find a way to express it in my work." 
Loey Wong 25
Known for: hair embroidery wreaths Instagram: @naked.works
Picture human hair cascading from a suspended funeral wreath. It might not strike you as art, but hair is the unexpectedmedium that 25-yearold artist Zoey Wong uses to create her works. She used hair which she had been collecting for more than 10 years to create a collection called "Goodbye". Theodd project took her about four months of painstaking sewing, but her efforts came tofruition last year when the haunting art won her the Young Talent People's Choice Awardat the Affordable Art Fair, Singapore.
Take a closer look at her work and you'll see intricate embroidery that you never thought was possible using human hair. Well, Zoey didn'teither, at first. But using hair was the only way she knew she could aptly represent the human desire for self-preservation. To her, hair represents a multitude of things: "It doesn't decay as quickly as the rest of the body, and it's a very personal part of our self-image."
For Zoey, interaction between the audience and her art is crucial. The effect of her art is often dependent on the space around it: "My favourite exhibition was the one I had at Pasir Panjang power station. The defunct power station had no electricity at all, and this added a new dimension to my hair-embroidered hoops when the sun started to set. I think the most important part of this experience was the interaction that people had with the art as they had to go up close to touch and feel the embroidered pieces."
She credits the people around her giving her support: "I have been very lucky so far to have many supportive and encouraging mentors and friends to guide and advise me, as I am pretty new to the art scene."
The secret of her creativity? Dreaming. Inspired by Salvador Dali's surrealist works, Zoey constantly draws creativity from her own dreams. "A lot of the work I do is heavily inspired by the dreams I have, much like an insight to a parallel universe."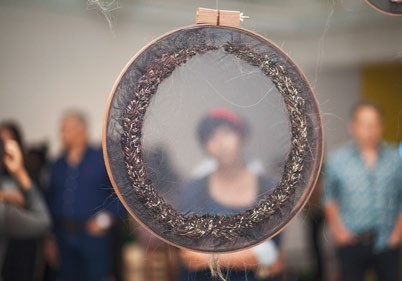 "It doesn't decay as quickly as the rest  of the body, and is a very personal part of our self-image." 
Weixin Quek Chong 30
Known for: abstract art pieces using different materials
The abstraction in her most recent installation begins with its very name – "sft crsh ctrl". The work is a sequence of cascading silk twill, latex sheets and faux fur draped over frames that billow from the ceiling. And it is a deliberately confusing work. (Read: You're not supposed to get it… maybe.) Her oeuvre questions everyday problems and challenges viewpoints. Perhaps that sense of "I'm not sure what to make of it…" is part of the work's appeal.
Certainly, smarter people than us get it, because Weixin Quek Chong was recently named grand-prize winner of the 2018 President's Young Talents awards.
Perhaps her aesthetic stems from her unconventional relationship with art as a child. Coming from a family that loves books, Weixin's first engagement with art was not what you'd expect a fine artist's to be: As a child, she would "make things with discarded printer paper, read Ladybird books on the lives of artists", and visit museums with her parents.
She now has a decade of experience as a professional artist, and a commendable repertoire of awardwinning artworks exhibited in London and New York. Weixin is currently also a part-time adjunct lecturer at educational institutions in London and Singapore.
While she's committed to teaching future artists, she also believes in some of the truths behind the traditional image of the struggling artist. "It's difficult to be an artist anywhere if you struggle for capital. In Singapore, the normalised work-life schedule generally leaves little room for maintaining a separate creative trajectory.
"Most artists require other jobs to survive and support their artistic practice and the resources it demands," she says.
To her, artistic integrity is everything. She cites a recent work that inspired her  – Adrian Piper's "The Probable Trust Registry", an installation and participative group performance.
"[Piper's work] feels vital, honest and unflinching. It is a healing counterbalance to the banality of navigating a 'professional' art world and having your interests or idealisms subjected to marketbased pressures or flippant trends."
That, more than anything, explains the abstract nature of her work and self.
"Most  artist s require other jobs to survive and support their artist ic practice and the resources it demands. It is often a labour of love." 
Sarah Choo 29
Known for: panoramic installations of multidisciplinary art Instagram: @sarahchoojing
Her multilayered panoramic works comprise photography, light installations, videography and painting. Each of those fields is difficult to master in itself, but Sarah Choo relishes the challenge of working in all of them, and doesn't identify with just one medium. The results are complex and compelling, and have earned her multiple awards: the gold award for fine art in the 2016 PX3 Prix de la Photographie Paris; and the Icon de Martell Cordon Bleu photography award in 2013.
Though she found her passion for art only in her late teens, Sarah was always inspired by random things when she was growing up, items we never would have thought were art because, to her, art is everywhere: "You know the little twisty toy machines they used to have at the neighbourhood shops? Those affected me in a creative way. I just didn't know that then. When I was a kid walking along Orchard Road, the fashion items placed on the mannequins were very much also art to me," she reminisces with a certain joy.
Her works are often depicted in theatrical form; the pieces frequently mimic a Singapore scene and refl ect themes that most Singaporeans would be familiar with: loneliness, abandonment and ennui. Sarah's art has been described as "uncanny" by international audiences, and the 29-year-old is a natural at being uncanny.
She works intuitively on her pieces, from the strategically spaced trees to the well-lit alleys she depicts. And she only realised their unique quality when she heard from others how deliberate her set-ups looked. "I never really noticed it, but when my peers from other countries started to point that out, I realised that the structure of my art was derived from the way I was brought up. As Singaporeans, we're very used to structure. I think having that in my pieces really defined my voice as an artist," she says.
She is, in some ways, a truly Singaporean artist. And that's not because her works are heavily patriotic or explicitly about Singapore.
Having lived in cities all over the world, Sarah still considers Singapore as the place she can "draw the most creativity and inspiration from" because she feels most comfortable in a place she can call home, where she can distil everything she feels into her indelible works.
"When I was a kid walking along Orchard Road, the fashion items placed on the mannequins were very much also art to me." 
Give me an "A", give me an "I"!
Here are artworks you can only see on your screen. Welcome to the new world of AI art.
1. "A Better Tomorrow" by Andre Wee
Time travel made easy. Move aside, half-hearted 3-D renderings of the future. With "A Better Tomorrow", simply scan a picture of any Singapore scene and you'll be taken 25 years into the future.
2. "Paperchase" by Alfonsus Wong
It's not really environmentally friendly if you're using toxic paint to create pretty green pictures. This piece is actually going to help: It's an interactive educational AR experience that invites you to find and use Singapore's recycling points while collecting comic strips to piece together the story of a trash-eating monster.
3. "Animaker Asia" by Andre Wee and Omai
Duplo bricks made better. Yes, you can be an adult and still love building blocks. Using Duplo bricks, you can create your favourite animal and see it live and interact in a virtual world on a large screen in the gallery. A perfect weekend activity for you and your kids.
4. "Living Archive" by Google Arts, Culture Lab and Studio Wayne McGregor
Move it and groove it with this application. This tool generates original movement inspired by award-winning choreographer Wayne McGregor's dance routines. Dancers, you can literally work with a famous choreographer here.
5. "Art Palette" by Simon Doury and Etienne Ferrier
Find other artworks according to colour – it's almost like a Google colour search. Something we learnt from this: The same five colours from Van Gogh's "Irises" are used in Monet's "Water Lilies". Mind blown? Ours was.