Cue Music Turn On The Spotlights... And Bring On The Drama! The Stars Of Rupaul's Drag Race Zouk-out In The Season's Hottest Fashion.
Cue Music Turn On The Spotlights... And Bring On The Drama! The Stars Of Rupaul's Drag Race Zouk-out In The Season's Hottest Fashion.
"I always think 'Be sexy, be cool and be nice' while getting ready for a show."_Pearl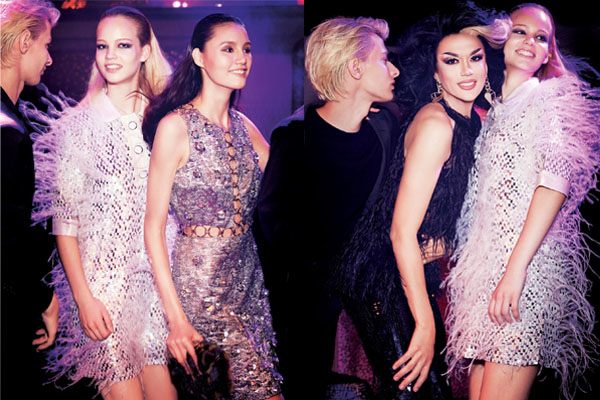 "Being fabulous is all about feeling your best and not caring what anyone else thinks of you!"_Manila Luzon
Manila Luzon (second right) wears top; pants, Michael Kors Collection. Earrings, Luzon's own
FROM LEFT: Blazer; sweater; pants, Michael Kors Collection. Dress, Michael Kors Collection. Dress, Michael Kors Collection. Clutch, Jimmy Choo
"A ny party is fun...as long as you invite me!" _Manila Luzon
Manila Luzon (left) wears blazer; pants, Gucci. Corset, Luzon's own
RIGHT: Dress, Dolce&Gabbana
Manila Luzon (left) wears dress, Moschino. Necklace, Chanel. Detox (centre) wears top; skirt; necklaces, Chanel
RIGHT: Sweater, Moncler. Pants, Shanghai Tang
"My superpower is integrity."_Detox
Detox (second left) wears coat; pants, Céline. Earrings; bracelets, Detox's own
FROM LEFT: Dress, Burberry. Jacket; pants, Coach. Dress, Burberry. Jacket, Moncler. Pants, Saint Laurent. Sneakers, Jimmy Choo
It's a strange feeling to be standing in front of Zouk bright and early on a Monday morning, when one is more used to partying up a storm inside its dance halls under the cover of night.
Take away the sweeping laser lights, the pulsating music and the throng of party-goers lost in the mesmerising beat, and Singapore's premier nightlife institution looks like a gaudily painted go-down, which is exactly what it was 50 years back when the Singapore river (that fronts the club) was a main thoroughfare for goods transportation.
I am here to meet the flamboyant troop of drag queens from RuPaul's Drag Race. No, they're not performing at the club, but actually starring in BAZAAR's big dance fashion shoot capturing all the glitz and glamour of the coming fall/winter 2016 collections.
Launched in 2009, RuPaul's Drag Race is the outrageous reality television series that follows the programme's titular host and his quest to look for "America's Next Drag Superstar."
Modelled in the same format as Project Runway and America's Next Top Model, the show pits a motley crew of drag performers against each other through a series of challenges that puts their creativity to the test.
Whether they land the coveted tiara or not, each contestant who has appeared on the programme has gone on to become a star in their own right.
The unprecedented success of the show led RuPaul and the production team to follow up with eight seasons and other spin-offs. RuPaul's Drag Race: Battle of the Seasons is one such offshoot from the colourful franchise.
Touted as "the world's biggest drag revue," the four month-long travelling tour sees a rotating cast of past winners, finalists and fan favourites entertain audiences with comedic skits and song-and-dance numbers.
After stops in cities such as Paris, Berlin and Barcelona, the laugh-a-minute tour finally landed on Singapore's sunny shores for a one-and-only showing in Asia—sequins, feather boas and all.
Making an appearance in our shoot were: Manila Luzon from Season 3, Phi Phi O'Hara from Season 4, Detox from Season 5, and Ginger Minj and Pearl from Season 7.
From the minute the drag queens sashay on set, it's obvious they're obsessed with fashion, cooing like excited children in a candy store over the racks of designer clothes. "My fashion icon is Thierry Mugler,"
'Detox exclaims as he pours himself into Chanel. "He's the reason I love fashion. But I really want to steal Björk's wardrobe. I'm sure it's freaky, weird and very couture!" Without missing a beat, Ginger Minj deadpans: "I want Beyoncé's so that I can sell it on eBay."
Whether they are channelling Old Hollywood pin-ups or Goth princesses, part of drag's artistic appeal lies in the performers' ability to transform themselves into different personalities. Fashion, of course, plays an important role in their camouflage.
Considered an act of self-expression, the cliché that fashion doubles up as a form of armour is further exemplified by the drag queens. "Out of drag, I'm a very shy and quiet boy with severe social anxiety," Ginger Minj confesses, "I like to blend into the background."
Part of the reason for the decision to have the drag queens dance their way across these pages—dressed in a turnout of statement clothes fresh off the catwalks—is because they're also representative of the maximalist aesthetic taking root on the fall runways.
They capture the zeitgeist—who better to embody fashion's over-the-top spirit than a coterie of colourful characters who have crafted their own visual language through the dramatic use of makeup, lip sync, dance and costumes?
Drag runs parallel to fashion's current obsession with gender fluidity. On top of hiring unisex-looking models to grace their runways, designers Hedi Slimane and Loewe's Jonathan Anderson have toyed with androgyny over the past couple of years with genderless collections.
Others, such as Miuccia Prada and Gucci's Alessandro Michele have seamlessly melded their menswear and womenswear showings for a complete visual narrative. Like drag, fashion is revelling in blurred boundaries.
In that sense, RuPaul and his motley crew of queens have thrown open the lid on what is masculine and feminine, and with lights, camera and a whole lot of makeup and wig action, brought characters from the fringe of society to the fore.
Their talent, wit and humour repackaged with layers of eyelashes and feathers, makes for highly entertaining TV. From the time RuPaul rewrote history as the first drag queen to appear on M.A.C's Viva Glam campaign in 1994, to the cast members turning up at Miu Miu's Cruise 2016 show last year, drag has evolved into fashion's current bedfellow. Isn't it wonderful how it all started with a dream and one humble sequin?
"A party is any time I am with friends and family, have a laugh and get tipsy...! "_Gunger Mini
Ginger Minj (centre) wears cape, Salvatore Ferragamo. Dress; necklaces, Minj's own
FROM LEFT: Dress, Givenchy by Riccardo Tisci. Jumper; scarf; pants, Salvatore Ferragamo. Blouse; skirt, Salvatore Ferragamo. Jacket; pants, Givenchy by Riccardo Tisci
"My beauty icon is any hot blonde through the '80s and '90s. I love a smart bimbo."_Pearl
Pearl (centre) wears jacket; pants, Louis Vuitton. Scarf; rings; pumps, Pearl's own
FROM LEFT: Jacket; pants, Louis Vuitton. Dress, Louis Vuitton. Shirt, Louis Vuitton. Top; pants, Louis Vuitton
Pearl (centre) wears dress, Miu Miu. Scarf, Pearl's own
FROM LEFT: Jumpsuit, Moncler. Dress; belt, Bottega Veneta
"Music is my drug of choice. Nothing feels better than dancing and laughing to a good song."_Phi Phi O'Hara
Phi Phi O'Hara (centre) wears blazer, Dior Homme. Brooch, Chanel. Corset; cuffs; rings; stockings; boots, O'Hara's own
FROM LEFT: Blazer; pants, Dior Homme. Blazer; jumper; jeans, Dior Homme. Jumper; skirt, Dior. Bag, Jimmy Choo. Jumper; skirt; bag, Dior
"Being unique is fabulous!"_Detox
Detox (centre) wears coat; shirt; belt, Prada. Earrings, Detox's own
From left: Shirt; skirt; belt, Prada. Coat; jumper; pants, Prada. Dress, Prada. Coat; shirt; pants, Prada