We highlight the unstoppable revival of gin, in Singapore and around the region.
We highlight the unstoppable revival of gin, in Singapore and around the region.
The wood-panelled interiors of Stable Bar 
GIN TOURS
The fifth edition of the Singapore Cocktail Festival returns this month from 10 May to 18 May. Get ready for a heady mix of world-class mixologists and bartenders, craft brews and artisanal spirits, tastings and competitions. Amid this dizzying celebration of cocktail culture, look out for the tours hosted by Australian craft gin brand Four Pillars. There will be stops at some of Asia's best bars like Atlas, The Other Room, Jigger & Pony and Employees Only, as well as cocktail-making sessions and a gin flight. Check out singaporecocktailfestival.com
The hidden speakeasy, b bar 
HOMEGROWN IN HONG KONG 
The former marine police headquarters in Kowloon has been transformed an elegant new dining destination House 1881, with five new F&B venues to satisfy every appetite. the Stable Bar, you can take your pick from 102 types of gin and sit back to enjoy its gorgeous wood-panelled interior. We'd recommend trying Perfume Trees Gin—the very first gin crafted by a Hong Konger, but made overseas in the Netherlands. With its fragrant notes of sandalwood and white champaca, it promises quite a taste sensation.
A Four Pillars gin cocktail 
AROUND THE WORLD IN COCKTAILS
One of the newest bars on the block, Idlewild boasts a plush, intimate venue that, together with carefully curated cocktails, promises to whisk visitors on an experiential journey. The menu is designed like a map, with drinks and dishes grouped according to cities like London, Paris, Lima, Lisbon and Havana. Try The French Cook, a divine concoction of citadelle gin, carbonated Chardonnay, lemon and absinthe. And don't miss a tasting at the Cabinet of Curiosities, a mirrored closet filled with intriguing liqueurs from around the world.
The French Cook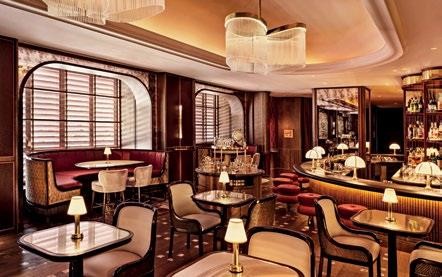 The plush interior of Idlewild at the Intercontinental Singapore at Middle Road
NOT YOUR AVERAGE G&T

Habitat by Honestbee adds to its repertoire by opening a secret speakeasy within its stylish supermarket-cum-dining premises. Calling itself a "progressive cocktail bar", b bar offers drinks categorised by ABV. Look out for an entire page of signature gin and tonics featuring unusual blends of the spirit. Beehive boasts beeswax-washed gin, while Tiki features it slow-cooked with pineapple and molasses, and Smoke infuses it with Lapsang Souchong for an unusual savoury, roasted flavour.
This year's Singapore Cocktail Festival promises even more good things
A DIFFERENT TYPE OF DEGUSTATION
Sukhothai Shanghai's URBAN lounge has just launched a gin degustation menu. Guests get to choose four gins from its vast library of over 140 labels, and pair them with a tonic and their choice of garnishes for a distinct tasting experience. On weekends, house-made juniper cakes will be served as well. 
The gin degustation sampler at the URBAN lounge of the Sukhothai Shanghai