We love DSLR cameras for their high-quality images, the versatility of their lenses, and their long battery life. But it takes too long to get pictures out of the camera and into our smartphones and tablets to share them.
We love DSLR cameras for their high-quality images, the versatility of their lenses, and their long battery life. But it takes too long to get pictures out of the camera and into our smartphones and tablets to share them. The Nikon D5600 changes that. With Bluetooth® low energy (BLE) technology and support for the SnapBridge mobile app, the D5600 can automatically transfer still images to a paired smart device, so you can quickly upload and share the pictures you just took.
The D5600 can maintain a constant connection and automatically transfer all of the photos it took, even with the camera turned off. Pictures can be uploaded to Nikon's photo sharing service, Nikon Image Space. You can also transfer selected images and movies quickly using the D5600's built-in Wi-Fi.
The D5600 delivers lifelike images with its high-resolution 24.2MP DX-format image sensor. The absence of an optical lowpass filter captures intricate details, and the EXPEED 4 imageprocessing engine gives you a broad range of ISO 100 to ISO 25,600 for great low light photographs.
The D5600 also inherits the Time-Lapse Movie feature from Nikon's advanced DSLRs. Just set the intervals and amount of time, then let the camera shoot. You'll get a fully-assembled timelapse movie that transforms the passage of time into a dramatic video, all done in-camera. The 3.2" vari-angle touchscreen monitor lets you shoot from different angles, and handles selfies with no problem.
Smoothly scroll through images with the innovative frame advance bar feature, adapted from Nikon's high-end D5 and D500 cameras, to see the ones you like. With the Nikon D5600, you can get great photographs you'll love, and share them as soon as you take them. The camera makes it easy. Nikon D5600.
The Nikon D5600 makes it easy to share your images with the world.
To find out more about the Nikon D5600, go to http://www.nikon.com.sg.

1. Smart Power-up
Looking for an easy way to stream wireless audio to your existing speakers? Then you need a PW AMP. It's got a Class D Anthem amplifier, allowing it to power anything from bookshelf speakers to full-size floor-standing speakers. Power your speakers with these, and they'll instantly handle high-resolution audio wirelessly from online music streaming services, your PC or laptop, or mobile devices on both iOS and Android. Paradigm PW AMP.
2. Très Chic
No headphone jack on your phone? No problem! The new Solo3 Wireless from Beats has you covered, with up to 40 hours of wireless listening on a single charge. It also comes with Fast Fuel technology that gives you 3 hours of playback on just a 5-minute charge. Add dual beam-forming mics for taking and making calls on the go, and you're set for the road. Beats Solo3 Wireless.
3. Desktop performance in a notebook
Aftershock's new S-15 gaming notebook is one of the most tastefully designed machines on the market. Its minimalistic chassis is topped off with an aluminum finish, and it features up to an NVIDIA GeForce GTX 1070 graphics card. NVIDIA has ditched the -M suffix for its "mobile" parts, so you're getting nearly the same performance as you would from the actual desktop GPU. Aftershock S-15.
4. Jupiter on your wrist
Hamilton has teamed up with Nathan Crowley, the production designer of the film Interstellar, to create this homage to Jupiter. The ODC X-03 is a large 49 x 52mm watch made of black PVDcoated titanium, with three dials for telling time in three places. A photorealistic 3D-printed image of Jupiter lies just off-center of the watch, with an open space along the planet's rim. Hamilton ODC X-03.
PICTURES PARADIGM, BEATS, AFTERSHOCK, HAMILTON.

5. Tempered glass beauty
Acrylic has nothing on tempered glass. Wrought almost entirely of steel and glass, the Corsair Crystal Series 460X RGB is almost beautiful. Flexible mounting options help accommodate high-end builds, while a PSU shroud keeps cables out of sight and things looking tidy. Cors air Cr ystal Series 460X RGB.
6. Lights, lights everywhere
The Roccat Suora FX is proof that gaming hardware doesn't have to be garish and unwieldy. Its minimalist, frameless aluminum chassis provides an exceedingly clean look, a good fit for those with less outlandish tastes. It utilizes TTC Brown switches, and ships with a ton of RGB lighting options, including wave, breathing, ripple and solid lighting effects. Roccat Suor a FX.
7. Lucky lens
The Leica APO-Summicron-M 50mm f/2 lens is one for the ages, with a reputation for sharpness. Leica now offers it in a bright, red-anodized finish. This is a strictly limited edition, with only 100 red-anodised lens to be made. Leica Red APO-Summicron-M 50mm f/2 Lens.
8. Tough as nails
Designed in collaboration with legendary photography Chris Burkard, the Tanuck 40L Backpack is tough as nails and built for the professional. Inspired by a climbing haul bag, the Backpack is made from durable and water resistant Cordura fabric, with MOLLE style webbing for accessories, and a front compartment for your camera gear. Chris Burkard Tanuck Backpack.
PICTURES CORSAIR, ROCCAT, LEICA, MOUNTAINSMITH.
9. Clean water, anytime
Water is essential, but water can also be icky. The Platypus Meta Bottle and Microfilter is both water bottle and filter in one, the filter cleans two liters per minute with a lifetime of up to 1,000 liters of water. All you need to do is scoop, wait, and drink. Platypus Meta Bottle and Microfilter.
10. Earth on your phone
Google's official Google Earth Live Pixel cases pair beautiful graphics of South Pacific beaches, Antarctic ice formations, or East African deserts with a live wallpaper that shows landscapes culled from Google Earth. There's even a shortcut button will take you right to that location in Google Maps. Google Earth Live Pixel case.
11. Forget about USB sound cards
Sound cards can be a huge hassle, which is why the Zowie Vital wants to get rid of the need for them. You interact with it via a touch panel, and once you load your personal sound settings, you can take them anywhere with you. There's no need to bother with things like driver installation, and you'll still be able to take advantage of better sound quality thanks to the built-in Hi-Fi chip. Zowie Vital.
12. A car lover's watch
The Tissot V8 pays clear homage to the automotive world. If you love cars, you'll love the vintage flourishes on the V8, like its polished curves, valve pushers, tachymeter, the holes in the leather strap and the dashboard-like counters. Tissot V8.
PICTURES PLATYPUS, GOOGLE, ZOWIE, TISSOT.

13. 603 Lego parts and it works
The Lego Technic BMW R 1200 GS Adventure Motorcycle has been designed with BMW Motorrad to insure that this 603-part set stays as faithful to the original as possible; enthusiasts will recognise the authentic BMW Telelever front wheel suspension and the shaft drive. The 2-cylinder boxer engine even moves when the wheels are in motion. Lego Technic BMW R 1200 GS Adventure Motorcycle.
14. Power in a small package
This is one of the most powerful mini PCs you can get right now. The Zotac Magnus EN1080 packs an Intel Core i7-6700 CPU and NVIDIA GeForce GTX 1080 GPU, and even manages to include a liquid cooling loop for both CPU and GPU. It's also use-rupgradeable, so you can add in more RAM or storage if you wish. Zotac Magnus EN 1080.
15. An eco-friendly pack for your back
The simply-named Backpack from Bluelounge is made from recycled plastic bottles, which also makes it water-resistant and hard-wearing. The large capacity rolltop backpack can comfortably carry a 15" laptop, tablet, and the rest of your gear. Solid aluminium details and carbineers secure this rugged bag with a solid fit and finish. Bluelounge Backpack.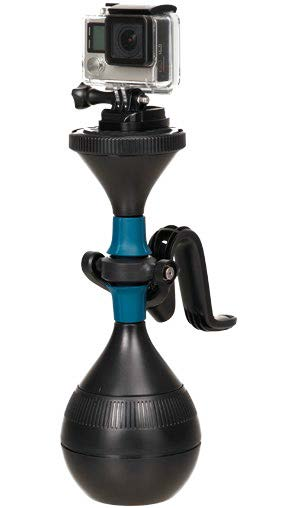 16. Steady as she goes
First seen at Photokina, the solidLUUV is a camera stabilizer that uses mechanical action and weights to offer 2x3-axis stabilization for your action camera, compact camera, or mobile. This means that no batteries are required,and that it's also completely weatherproof! Mount a device that weighs less than 500g, and you're good to go. SOLIDLUUV.
PICTURES LEGO, ZOTAC, BLUELOUNGE, LUUV.