This year marks the 11th edition of the annual HWM+HardwareZone.com Tech Awards, Singapore tech industry's premier event where we recognize the best brands, products and services.
This year marks the 11th edition of the annual HWM+HardwareZone.com Tech Awards, Singapore tech industry's premier event where we recognize the best brands, products and services. While the event was scheduled to be held on February 21st 2020, due to the Coronavirus disease (COVID-19) outbreak, we've to host a physical event to ensure the safety andof all our working partners and staff.
Voting for the 40 Readers' Choice categories was opened to all readers of HWM, HardwareZone.com, and GameAxis.com. With a total of 245 brand nominations, it remains one of the most comprehensive brand recognition surveys in the industry.
BEST ULTRAPORTABLE NOTEBOOK BRAND
APPLE
With 28% of the votes, Apple is the brand that comes to most of our readers' mind when asked about ultraportable notebooks. To refresh your memory, towards the end of 2018, Apple finally introduced an all-new MacBook Air portable. Sporting the original MacBook Air's signature wedge-shape design, the new Air measures 15.6mm at its thickest point and weighs just 1.25kg. It also has Touch ID, two USB-C ports (support Thunderbolt 3) and, yes, a Retina display. Another Mac portable that's released in 2019 is the new 16-inch MacBook Pro. Other than its larger screen size, the most obvious difference between it and the 15-inch MacBook Pro is the inclusion of a Magic Keyboard that uses a more traditional scissor-switch mechanism. Other notable features include a 3-mic array for better audio recordings and four USB-C Thunderbolt ports.
BEST PC COMPONENTS RETAILER BRAND
FUWELL
Sim Lim Square has always been the go-to place for DIY enthusiasts building their own systems, as this is the mall that gathers numerous PC components retailers under the same roof. For the 11th straight year, our readers have voted Fuwell (14%) their favorite local PC components retailer. Once again, Fuwell has to fight off strong challenges from many other crowd favourites such as Bizgram (10%), Allstars (9%), PC Themes (9%) and Best Bargain (9%).
BEST GRAPHICS CARD BRAND
ASUS
With 43% of the votes, do you know that this is the 11th year ASUS is walking home with our Readers' Choice award for Best Graphics Card Brand? Like its motherboards, we think ASUS' popularity boils down to its longstanding ability to churn out a wide range of graphics cards for both NVIDIA and AMD users. And mind you, these aren't just duplicates of reference cards, but cards with exclusive ASUS technologies, such as DIGI+ VRM, Super Alloy Power, DirectCU cooling tech for better overclocking as well as Aura Sync RGB LED synchronization.
BEST REMOVABLE FLASH STORAGE BRAND
SANDISK
With 47% of the votes, SanDisk is once again the winner of our Readers' Choice award for Best Removable Flash Storage Brand. For the uninitiated, SanDisk is now owned by Western Digital, but the company has continued to release products under the SanDisk brand. Which makes an awful lot of sense because, really, who hasn't heard of SanDisk SD cards or USB flash drives?
BEST EXTERNAL STORAGE BRAND
SEAGATE
With 22% of the votes, the winner of this year's Readers' Choice award for Best External Storage Brand goes to Seagate, which also won the award last year. If you need a portable SSD that's fast, fits in your palm and supports USB-C, the Seagate Fast SSD (really, that's the name) is worth checking out. Of course, if tons of storage is your priority, external drives using traditional HDDs like Seagate's Backup Plus products still offer the best bang for the buck. In second and third place this year is WD (20%) and SanDisk (19%), which are hot on the heels of Seagate's pole position.
BEST SSD BRAND
SAMSUNG
With 27% of the votes, Samsung is once again our readers favourite SSD maker. This also happens to be the 6th straight year Samsung has won this award. For those following the news, Samsung has just weeks ago announced the SSD T7, a portable external SSD that includes a fingerprint scanner. And after a keeping quiet for the most of 2019 (because the 970 Pro and 970 Evo are still selling great?), a new speed demon (with sequential read and write speeds up to 6,500MB/s and 5,000MB/s respectively!) in the form of the 980 Pro is almost upon us. It's unclear if we'd see a '980 Evo' this year, but in early 2019, the 970 Evo did get a update via the 970 Evo Plus, which brought sequential read and write speeds up to 3,500MB/s and 3,300MB/s respectively.
BEST MOTHERBOARD BRAND
ASUS
ASUS Prime, ROG (Republic of Gamers), TUF (The Ultimate Force) and TUF Gaming, Commercial, Workstation — whether you're a gamer, an Intel fan, an AMD supporter, or a business user looking for a micro-ATX motherboard, surely there's one in ASUS' comprehensive stable that will fit your needs. 2019 continued to be a great year for ASUS users, as the Taiwanese company once again released a slew of high-performance boards such as the ROG Crosshair VIII Formula (for AMD X570), ROG Crosshair VIII Impact and ROG Strix X570-I Gaming (for small form factor PCs using the Ryzen 3000). And let's not forget the various Intel Z390 and Z370 motherboards that ASUS has unleashed in the last couple of years. With a commanding 62% share of the votes, ASUS is once again the winner of this Readers' Choice category.
BEST TELCO (SINGAPORE)
SINGTEL
With 43% of the votes, Singtel is again our readers' favourite Singapore telco. In March last year, Singtel introduced new XO postpaid mobile plans that pack premium entertainment content such as HBO Go. This was followed up soon after with an announcement that new and re-contracting mobile and broadband bundle customers who signed up between March 26 and June 30 would be eligible for a free 12-month Amazon Prime membership. In June the same year, Singtel unveiled Unboxed, its first unmanned pop-up store that allows customers to try out phones, sign up for mobile plans at video-assisted self-serve kiosks and immediately collect their devices from the in-store POPStation. In the area of 5G, Singtel, Razer and IMDA have recently joined hands to work on 5G cloud gaming.
BEST PAY TV SERVICE PROVIDER (SINGAPORE)
STARHUB
After losing out to Singtel last year, StarHub is once again the winner of our Reader's Choice award for Best Pay TV Service Provider. The highlight for StarHub Entertainment in 2019 was undoubtedly its move in April to a more simplified lineup that consists of seven carefully curated 'Entertainment Passes'. And get this: there's now no compulsory Passes (goodbye, inflexible basic groups) you need to sign up to. Service activation fee was also dropped and the set-top box is now provided for free. But wait, there's more: StarHub is also allowing customers to switch between the passes whenever they want; so if you've only signed up to the Asian Entertainment Pass, you can switch to the Sports Pass when the NBA Finals matches roll along. And last but not least, the StarHub Go value-added service is now free as well, which means you can watch your shows on your mobile devices at no additional charge. Looks like the company's #HelloChange momentum is working!
BEST WIRELESS NETWORKING BRAND
ASUS
With 29% of the votes this year, ASUS has now captured this Readers' Choice award for Best Wireless Networking Brand for seven straight years. 2019 (and we expect 2020, too) was all about mesh networking and Wi-Fi 6 (802.11ax); and as a leader in this space, ASUS obviously has new products that incorporate all this new tech — and then some.
BEST NAS BRAND
SYNOLOGY
It's a tight race here but Synology eventually emerged victorious in this Readers' Choice category for Best NAS Brand, with 19% of the votes. Like clockwork, Synology announced a variety of NAS products in 2019 to satisfy different usage needs. Early in the year, we saw the DiskStation DS1019+ (5-bay) and DS2419+ (12-bay) for home users and growing businesses; and then months later, the DS419slim, a small 4-bay NAS, arrived to the delight of many home users and road warriors. After a few more data management products for IT pros came the DS120j, a compact 1-bay NAS for individuals with relatively simpler needs. Synology has wasted no time in 2020 either: the DiskStation DS420j, a 4-bay desktop NAS that supports cross-platform file syncing and sharing, was announced just this January. We expect the race to be tough again next year as D-Link (17%) and Seagate (17%) are not far behind in the vote count.
BEST IP CAMERA BRAND
D-LINK
With 19% of the votes, this is the fourth straight year that D-Link has won our Readers' Choice award for Best IP Camera Brand. After tackling the wire-free market with the premium DCS-2802KT kit earlier in the year, D-Link went on to launch the DCS-8515LH (720p) and DCS-8600LH (Full HD) cameras in 2019. A pan-and-tilt wireless camera, the DCS-8515LH supports auto motion tracking, has built-in mic and speaker for 2-way audio and works with Amazon Alexa, Google Assistant and IFTTT. On the other hand, the DCS-8600LH is an outdoor camera that's IP65 rated and sees up to 7m at night. It too has 2-way audio and works with Amazon Alexa and Google Assistant. Followed not that far behind is Samsung, with 15% of the votes.
BEST OFFICE PRINTER BRAND
FUJI XEROX
With 30% of the votes, our readers have chosen Fuji Xerox as their favourite office printer brand. In 2019, the company launched several monochrome printers designed for SMBs, including the DocuPrint M375 z multi-function model with a single-pass duplex scanner and the P375 dw single-function model that sports built-in Wi-Fi connectivity. Then there's the DocuPrint 4405 series: consisting of three models, the 4405 is capable of A3 printing, can be connected to two separate networks and uses a Super EA-Eco Toner for reduced power consumption. 
BEST MVNO (SINGAPORE)
MYREPUBLIC
Thanks to MVNOs (i.e., mobile virtual network operators that buy access to a network operator's services and then sell them on to their customers), we now have more attractive mobile plans from more companies to choose from. With 31% of the votes, the inaugural winner for this Readers' Choice award for Best MVNO in Singapore goes to MyRepublic. After launching its first mobile plans in mid 2018, the company in August last year unveiled an unlimited plan priced at just S$48/month that gives you unlimited data (though 3GB/day at 4G speeds), unlimited local talk time (capped at 8,000 minutes) and unlimited local SMS messages (capped at 8,000 outgoing). 
BEST VIDEO STREAMING SERVICE PROVIDER (SINGAPORE)
NETFLIX
With a staggering 66% of the votes, Netflix is the undisputed winner for this Readers' Choice award for Best Video Streaming Service Provider. While the streaming space is now more crowded thanks to new players like Apple TV+ and Disney+, Netflix is still king when it comes to subscriber numbers and content variety. The streaming juggernaut has got some exciting stuff lined up ahead too, including an animated series set in The Witcher universe and a total of 21 classic Studio Ghibli movies.
BEST CAMERA BRAND
CANON
Our readers have spoken: with 35% of the votes, Canon is their favourite camera manufacturer. If you're a Canon pro DSLR user, there's much to be happy about as the Japanese company has just launched the EOS-1D X Mark III, a high-end, 20-megapixel full-frame EOS DSLR that can do 4K video without cropping (finally!). 2019 also saw the arrival of the midrange EOS 90D, which touts a 32.5MP APS-C sensor, Dual Pixel CMOS AF (45 cross-type AF sensor) and up to –5 EV low sensitivity. For those who prefer something lighter and more pocketable, 2019 also brought us the EOS M200 and EOS M6 Mark II mirrorless interchangeable lens cameras. And let's not forget the EOS RP that dropped in February. Canon's smallest and lightest full-frame mirrorless camera to date, the RP has a 26.2MP Dual Pixel CMOS sensor, 0.05s focusing speed and up to EV –5 focusing capabilities.
BEST SMARTPHONE BRAND
APPLE
With a strong 41% share of the votes, Apple remains our readers' favorite smartphone maker this year. Like clockwork, Apple launched the iPhone 11 and 11 Pro in September last year. In a nutshell, the 6.1-inch iPhone 11 is the the spiritual successor to the iPhone XR and the iPhone 11 Pro is the successor to the iPhone XS. Offered in two sizes once again — 5.8-inch for the regular 11 Pro and 6.5-inch for the 11 Pro Max — Apple's first pro iPhone also comes with a few extras that the 11 doesn't, including an OLED screen, a telephoto lens and faster 4G LTE. But put another way, with the same A13 Bionic chip, the same wide and ultra-wide cameras, the same iOS 13 experience, the same Night Mode capability and the same Face ID system, you can say that the 11 and 11 Pro are cut from the same cloth. Coming in second place is Samsung, with 21% of the votes. The Galaxy Note 10/Note 10+ and Galaxy Fold were the obvious highlights for Samsung's mobile division in 2019, but things move quickly in the smartphone world. Just last week, Samsung announced the new Galaxy S20 series and Galaxy Z Flip foldable phone.
BEST HOME PRINTER BRAND
CANON
It looks like Canon's printers have continued to delight our readers, as the Japanese printer and camera maker is the runaway winner of our Readers' Choice award for Best Home Printer Brand, with 41% of the votes. Canon certainly launched a lot of printers last year, including the Pixma G7070, GM4070, G6070, G5070 and GM2070 ink tank all-in-ones and a slew of speedy Imageclass laser printers (both colour and monochrome models) that don't break the bank. 2019 also saw the arrival of the iNSPiC series of pocketable instant camera and printer hybrids.
BEST CONVERTIBLE NOTEBOOK BRAND
ASUS
With 26% of the votes, ASUS is the new winner of our Readers' Choice award for Best Convertible Notebook Brand. For the uninitiated, if you're looking for an ASUS 2-in-1 convertible, you should explore the company's VivoBook Flip, ZenBook Flip or Transformer series. As the Flip in their names implies, these notebooks' key difference from the regular ZenBook and VivoBook portables is their 360-degree hinge, which enables the screen to hold securely at any angle. Like the regular ZenBook and VivoBook models, the Flip models are also very thin and light, with some offering unique ASUS' features such as this NumberPad function on the trackpad. Coming in a close second with 25% is Microsoft, which has a lot of products to show for in 2019, including the Surface Pro 7, Surface Laptop 3 and Surface Pro X.
BEST SMART SPEAKER BRAND
SONOS
2019 saw a flurry of smart speakers, but when it comes to our readers, the Amazon Alexa and Google Assistant-capable Sonos speakers are still their favourite. With 19% of the votes, Sonos has managed to edge out heavyweights the likes of Bose and Google (which finally brought its 7-inch Nest Hub to Singapore last year) to win this Best Smart Speaker Brand Readers' Choice award. To recap, in early 2019, we saw the arrival of the 2nd-gen Sonos One, which now comes with Bluetooth LE support, more memory and a faster processor. Then later in the year, Sonos introduced the Move, which is an IP56-rated portable speaker that lasts up to 10 hours on a single charge. For those who don't want voice control, there's  also the new mic-free One SL.
BEST FIBRE BROADBAND SERVICE PROVIDER (SINGAPORE)
SINGTEL
Singtel is on a roll! With 30% of the votes this year, it has once again beaten the likes StarHub, MyRepublic, M1, and ViewQwest to be our readers' favourite local fibre broadband service provider. Currently, Singtel is running an online promotion that has its 1Gbps fibre broadband going for S$44.90 a month, with new sign-ups additionally getting a free Wireless AC router worth S$229. Moving into a new home? You can even get Dyson appliances through Singtel via monthly installments. As we've reported before, Singtel has a gaming-centric plan called 1+1Gbps Gamer Bundle. Bundled with a WTFast optimised gaming network service, this plan additionally comes with Razer's AC3000-class Sila gaming router. And for those who need whole-home Wi-Fi coverage, Singtel is also onboard the mesh networking trend: its 1Gbps and 2Gbps fiber broadband plans include a pair of Askey and AirTiles Wi-Fi mesh routers respectively. Singtel also has a 10Gbps plan.
BEST MOBILE DATA ROAMING SERVICE PROVIDER (SINGAPORE)
SINGTEL
With 28% of the votes, Singtel is our readers' preferred mobile data roaming service provider. With 472 roaming networks in over 238 countries, Singtel offers a very wide data roam coverage for its customers. If you're travelling to nearby countries such as Thailand, Indonesia or Malaysia, Singtel's ReadyRoam single-destination plans start at just S$5 per GB. And this scales all the way up to as many as 81 destinations (3GB for S$40) for multi-destination travellers who need connectivity over a 30-day period. If you need more data, there's also DataRoam Unlimited Daily, an unlimited data roaming plan that starts at S$19 per day. StarHub, which also offers DataTravel plans that start at S$5 for 1GB, is in second place with 19% of the votes.
BEST BUSINESS NOTEBOOK BRAND
LENOVO
With 21% of the votes, Lenovo has narrowly defeated Apple (20%) to win this year's Readers' Choice award for Best Business Notebook Brand. The hardworking notebook maker certainly launched a lot of notebooks last year for both home and office use, including new ThinkBook 13s, ThinkBook 14 and 15 affordable business-centric notebooks, new Yoga models with 10th Gen Intel 'Icelake' chips and Wi-Fi 6 support and a ThinkPad X1 Yoga with a 360-degree hinge — just to name a few. And there's more are to come from Lenovo in 2020: at CES, we already caught glimpses of a Yoga 5G Windows ARM laptop and ThinkPad X1 Fold foldable PC. There's also this ThinkBook Plus, which has an E Ink display built right into its lid.
BEST TV BRAND
SAMSUNG
Did you know that Samsung has been the largest TV maker since 2006? That's a good 14 years we're talking about! So colour us unsurprised when the Korean company is once again our readers favourite TV brand with 38% of the votes this year. With 4K TV adoption well on its way, Samsung's focus since 2019 is on driving demand for its 8K TVs. If you think offering five screen sizes of its Q900R QLED 8K TV in 2019 was a lot, well, get ready for more 8K QLED TVs in 2020. Just this past CES in January, Samsung unveiled the Q950TS, a high-end QLED 8K TV with an expansive Infinity Screen and nary a bezel. Then there's the Q800T, which is also an 8K TV but with a lower price tag that Samsung hopes will help drive mainstream adoption. LG (22%) and Sony (18%) come in second and third respectively.
BEST BUSINESS PROJECTOR BRAND 
EPSON
With 21% of the votes, this is the 7th straight year in a row Epson has walked home with our Readers' Choice award for Best Business Projector Brand. In the past several years, Epson has been focusing a lot in the high-brightness projection segment, and this is set to continue in 2020. And the model to look forward to is the EB-L30000UNL, a 30,000-lumen projector that uses a 20,000-hour, maintenance-free laser light source. Supporting up to a 1,000-inch screen size, this WUXGA projector also comes with a 4K enhancement technology and touts a contrast ratio of 2,500,000:1. For installations that don't need such high brightness, the EB-L1070UNL is a more compact 7,000-lumen machine. Like the EB-L30000UNL, it sports a 4K enhancement feature and works with different lenses, including an ultra-short-throw lens. Canon, which recently launched three lightweight LV series LCD projectors,is in second place with 15% of the votes.
BEST CONSUMER ELECTRONICS CHAIN STORE (SINGAPORE)
CHALLENGER
With 29% of the votes, IT and CE chain store Challenger has now won our Readers Choice award for Best CE Chain Store for eight years in a row! With 40 stores islandwide (the current flagship store is at Bugis Junction), the homegrown CE chain store also owns Hachi.tech, an online marketplace with over 50,000 products. Gain City (19%) and Harvey Norman (16%) complete the top three.
BEST PC GAMES DIGITAL STOREFRONT
STEAM
With 40% of the votes, Steam is our readers' favourite platform to get their video games from. Developed by Valve (by the way, where's my Half-Life 3?), the service has now over 34,000 games (according to Wikipedia) and over 95 million monthly active users. One of the key highlights for Steam in 2019 is the launch of Remote Play, a feature that lets users stream games across devices. Then there's Remote Play Together, which lets you play local co-op games over the internet. And in case you missed it, here's a list of the best-selling games on Steam in 2019.
BEST ELECTRONICS SHOPPING PORTAL (SINGAPORE)
LAZADA
With 28% of the votes, Lazada is the winner of this year's Readers' Choice award for Best Electronics Shopping Portal. In fact, this is the third year in a row that Lazada has scooped up this award. For those unaware, in addition to electronics items, you can now also buy groceries and daily necessities through Lazada as online supermarket Redmart has since March 2019 moved to Lazada's platform. Coming in second through fifth are Gain City (15%), Amazon (11%), Shopee (11%) and Qoo10 (9%).
BEST GAMING DESKTOP PC BRAND
ASUS
With 28% of the votes, ASUS is the winner of our Readers' Choice award for Best Gaming Desktop PC Brand. If you already have the ROG Strix GL12, it's unlikely that you'd be looking to get an upgrade anytime soon; but if you're shopping for a new gaming PC, be aware that ASUS has at CES announced the ROG Strix GA35 that packs a 16-core Ryzen 9 3950X CPU. Equipped with plenty of I/O ports, the new GA35 can also be configured with an NVIDIA GeForce RTX 2080 Ti graphics card. If your gaming needs aren't so extreme, the GA15 is another option: this rig comes with an AMD Ryzen 7 3800X processor and GeForce RTX 2070 Super graphics. And finally, ASUS has confirmed that there will be GT versions of these desktops, which essentially swap the AMD chips for Intel chips.
BEST TRUE WIRELESS EARBUDS BRAND
APPLE
With 22% of the votes, Apple has fended off many brands to win this award. Say what you will about phones without a headphone jack, but wireless headphones are a thing now. And while there are tons of wireless earbuds out there, the most famous one is without question Apple's AirPods. The 1st generation AirPods arrived in late 2016, and since then we've seen to new additions: the 2nd generation AirPods with Apple H1 chip (and optional wireless charging case) in early 2019 and the premium AirPods Pro that sports the H1 chip, active noise cancellation, interchangeable tips and IPX4 water resistance in late 2019. Klipsch (13%), which makes the excellent T5, and Sony (8%), which makes the also-excellent WF–1000XM3, come in second and third respectively.
BEST HOME THEATRE SYSTEM BRAND
BOSE
With 20% of the votes, this is the 10th straight year that Bose has won our Readers' Choice award for Best Home Theatre System Brand. The company's Lifestyle 650 and 600 home entertainment systems that come with multiple speakers (including wireless rear surround speakers and a wireless bass module) continue to be popular with consumers; but if you prefer a simpler soundbar setup, the Soundbar 700 and 500 are two classy options (they can also be upgraded with a bass module and surround speakers). Multi-room audio expert Sonos, maker of many fine products such as the Sonos Beam compact soundbar and Sonos Amp amplifier, is second with 16% of the votes.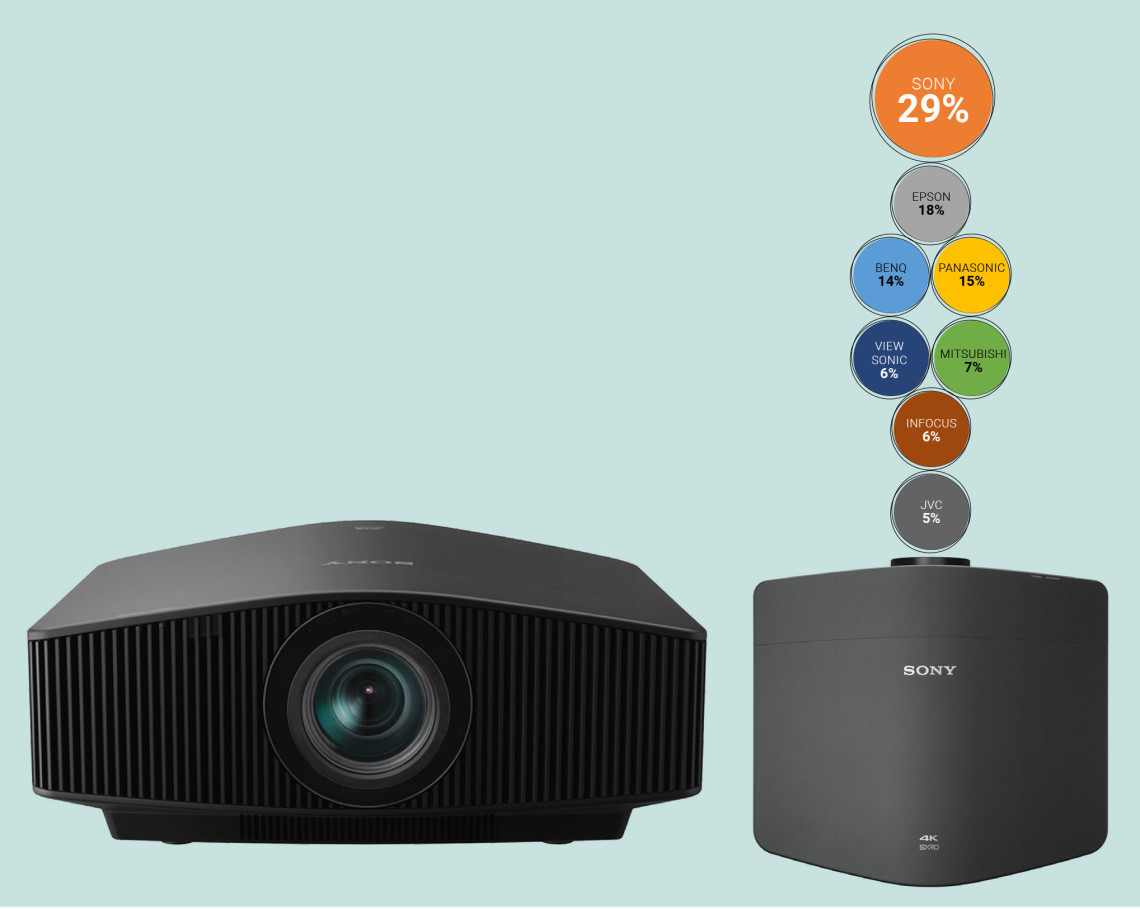 BEST HOME THEATRE PROJECTOR BRAND
SONY
With 29% of the votes, our readers have once again chosen Sony as their favourite home theatre projector maker. If you're looking for a Sony 4K home cinema projector, the company has no fewer than nine models for you to choose from, including this super-high-end VPL-VW5000ES SXRD projector. If your wallet ain't so deep, there's also the fairly new VPL-VW870ES, VPL-VW570ES and VPL-VW270ES, which are all SXRD projectors that support 4K/60p 10-bit processing and low input lag (if you want to game on the big screen). Of the trio, the VPL-VW870ES, which uses Sony's Z-Phosphor laser light source, is the brightest at 2,200 lumens. It also uses a premium ARC-F lens that Sony claims enables the projector to express details with great precision in every corner of the screen. Epson, which recently launched the affordable EH-TW7000 home entertainment projector, comes in second with 18% of the votes.
BEST ACTIVE NOISE-CANCELLING HEADPHONES BRAND 
SONY
If you're looking for the very best noise-cancelling headphones, your shortlist is likely to be down to two products from Sony and Bose. And for the past year they're the Sony WH–1000XM3 and the Bose Noise Cancelling Headphones 700. For this Tech Awards, we asked our readers who is their favourite ANC headphones maker and the one that emerged on top with 18% of the votes is Sony. Bose, with 16%, isn't very far behind. Klipsch, with 12%, completes the top three.
BEST GAMING PUBLISHER
ACTIVISION BLIZZARD
With 24% of the votes, Activision Blizzard has once again defeated over 15 other publishers to snag this Readers' Choice award for Best Gaming Publisher. For the uninitiated, the American video company is responsible for several massively popular games such as Warcraft, Diablo, Call of Duty, Hearthstone, Candy Crush Saga and more recently, Overwatch. Nintendo, which brought us Pokémon Sword and Shield, Luigi's Mansion 3, Super Mario Maker 2, The Legend of Zelda: Link's Awakening and Fire Emblem: Three Houses (just to name a few) in 2019 is in second place with 17% of the votes.
BEST GAMING KEYBOARD BRAND
RAZER
With 30% of the votes this year, Razer is again the winner of our Readers' Choice award for Best Gaming Keyboard Brand. The best keyboard Razer has launched last year (and possibly the best it has ever created) is the Huntsman Tournament Edition. Designed with a focus on esports, the tenkeyless Huntsman TE uses Razer's Linear Optical Switch (and doubleshot PBT keycaps), has a low actuation point of just 1mm, supports USB-C and stores up to five profiles on its onboard memory. For fans of Razer's Tartarus family, the Tartarus Pro keypad also arrived last year. Featuring pressure-sensitive optical switches, the Tartarus Pro has a total of 32 programmable keys and an 8-way directional thumb pad. Need a keyboard for work? Then you need to give the BlackWidow Lite a try.
BEST GAMING MONITOR BRAND
ASUS
With 26% of the votes, ASUS is once again our readers' favourite gaming monitor brand. If you need a gaming display as big your living room TV, ASUS has the ROG Swift PG65UQ to sell you. This 64.5-inch Big Format Gaming Display sports a 4K quantum dot-enhanced panel, a native 120Hz refresh rate, NVIDIA G-Sync compatibility and up to 1,000 nits high brightness. Late last year, we were also treated to a trio of fast 1ms gaming monitors from ASUS: the TUF Gaming VG279QM and VG259QM and the ROG Strix XG279Q. ASUS didn't forget about FreeSync, of course, as September also saw the arrival of several ROG Strix XG monitors that support AMD's FreeSync 2 tech. But the best is yet to come: at CES 2020, ASUS has announced the G-Sync-capable ROG Swift 360Hz, which sports a 360Hz refresh rate. There's also the ROG Swift PG32UQX, a 32-inch G-Sync Ultimate 4K monitor with a 144Hz refresh rate and 1,400 nits peak brightness.
BEST GAMING MOUSE BRAND
LOGITECH
With 26% of the votes, our readers have chosen Logitech G as their favourite gaming mouse maker. In 2019, Logitech G announced the G604 Lightspeed, a wireless, right-handed gaming mouse with no fewer than six thumb buttons. In total, the mouse has 15 programmable controls, so MOBA and MMO players will be able to have quick access to multiple custom key bindings. The G604 Lightspeed also uses Logitech's Hero 16,000DPI sensor, which should provide gamers with flawless tracking. Despite being a wireless mouse, Logitech is claiming a long battery life: up to 240 hours on a single battery or up to 5.5 months on Bluetooth. Razer, which just launched the DeathAdder V2, is just behind with 25% of the votes.
BEST SMARTWATCH BRAND

APPLE
There are smartwatches and there's Apple Watch. With an overwhelming 52% of the votes, Apple is once again our readers' favourite smartwatch maker. Like clockwork, Apple released the Apple Watch Series 5 this past September. While its design is identical to the Series 4 (since discontinued), Series 5 has one important feature that has never made it to any Apple Watch prior: always-on display. Ceramic has also made a comeback in Series 5, and it sits with the titanium model in the Edition series. To keep things fresh, especially for existing users, Apple has smartly continued to release new watch bands in new colours periodically. Coming in second place is Samsung (13%). For Galaxy phone users (and Android phone users in general), the Galaxy Watch Active 2 is perhaps the best smartwatch to get that's not an Apple Watch.
BEST GAMING NOTEBOOK BRAND
ASUS
With 26% of the votes, ASUS is once again the winner of our Readers' Choice award for Best Gaming Notebook Brand. For many years now, ASUS has been very quick to update its notebook lineups when new CPUs or graphics chips arrived, and 2019 was no exception. In April last year, we were treated to no fewer than eight refreshed models that spanned a range of form factors and screen sizes. Fast forward less than a year and newer, updated versions are almost upon us. For instance, at this past CES, we were shown the ROG Zephyrus G15 and G14, the former a 15.6-inch notebook using AMD's new eight-core Ryzen 7 4900HS processor, a blazing fast 240Hz display and USB-C charing; and the latter a 14-incher that packs the Ryzen 4000 chip and NVIDIA's GeForce RTX 2060 Max-Q. For the mainstream segment, there are also new TUG Gaming notebooks inbound: the A15 and A17 come with AMD's Ryzen 4000 mobile chips (you can choose to stick a Ryzen 9 chip in there if you want) and NVIDIA's GeForce RTX 2060 graphics. Unlike the Zephyrus models, these TUF Gaming notebooks are expected to also come in configs that use Intel's 10th Gen 'Comet Lake' chips.
BEST SHOPPING REBATE SERVICE (SINGAPORE) 
SHOPBACK
With a majority 56% of the votes, the inaugural winner of our Readers' Choice award for Best Shopping Rebate Service in Singapore is ShopBack. Founded in 2014, ShopBack's has really grown from strength to strength. To give you an idea, ShopBack now has online presence in seven APAC countries, with over 2,000 e-commerce merchants (Taobao, Lazada, Expedia — you name it) and over 8 million users. Don't buy things online? Well, but you got to eat, right? ShopBack also has something called ShopBack Go, which lets you earn cashback when you wine and dine. Coming in second with 21% of the votes is Fave.
PICTURES APPLE, ASUS, SAMSUNG, SEAGATE, SYNOLOGY, CANON, LENOVO, SONY, BOSE, RAZER, LOGITECH,ASUS