Everyone wants a cool job, as inane as that sounds. But what does it really mean to be working in today's hipster tech environments, complete with sleeping pods and pantries calculated to expand your waistline? We're of the opinion that a pretty office does not a cool job make. There's so much more to it – culture, colleagues, and the work they do – but these firms we visited are pretty awesome, if we may say so.
Everyone wants a cool job, as inane as that sounds. But what does it really mean to be working in today's hipster tech environments, complete with sleeping pods and pantries calculated to expand your waistline? We're of the opinion that a pretty office does not a cool job make. There's so much more to it – culture, colleagues, and the work they do – but these firms we visited are pretty awesome, if we may say so.

Twitter
Loving where you work.
To love where you work is not something everyone can say with conviction or in truth. The exception to that would be Twitter – where they make it very possible to fall for, and stay in love with the work they do. At the same time, Twitter's work culture is a reflection of the social media platform's style, which makes for an interesting dynamic in environment that favors both introverts and extroverts.
What's cool about this office?
The local office overlooks the Central Business District, giving the place a great view of our city and plenty of sunlight – a crucial factor in making the office's outstanding interior design.
It's no surprise that Twitter offices are known to be beautiful given the amount of attention they've gotten in the last few years. What these reports miss out on, is how each Twitter office combines both their company's culture and the local flavor of the country, making each Twitter office unique in each country they operate out of. For instance, the Singapore office which has a capacity of 150 employees adopts a mix of tropical and old-timey elements that's unique to our past. Some ceilings are decorated with a mesh of bamboo sticks, while the 22 informal meeting rooms littered around the floor features shophouse windows. Other decorative elements in the general office area comes with potted plants hanging on grills that resemble an old HDB block, and all these little touches combined with windows that stretches out from the floor to the ceiling makes the office look like a local bird preservation sanctuary.
That probably won't go down well if you said it to a different workplace, but Twitter would consider it a compliment – the design takes extra effort to incorporate both bird themes and the social media platform's quirks into everything else. Said meeting rooms are named after real and mythical birds, and all the facilities and equipment comes hashtagged with clever names. The design language is most evident in the Library meeting room, where it features a quiet space that faces the southern waters of Singapore – making it ideal for a short break. All the meeting rooms can be used at will, except for those that are already occupied by fellow coworkers, and the most formal Emu meeting room that's usually readied for larger, higher-profiled formal meetings.
With one common area (cafeteria)
THE DESIGN LANGUAGE IS MOST EVIDENT IN THE LIBRARY MEETING ROOM, WHERE IT FEATURES A QUIET SPACE THAT FACES THE SOUTHERN WATERS OF SINGAPORE – MAKING IT IDEAL FOR A SHORT BREAK. ALL THE MEETING ROOMS CAN BE USED AT WILL, EXCEPT FOR THOSE THAT ARE ALREADY OCCUPIED BY FELLOW COWORKERS...
that serves complimentary breakfast on Mondays, cold-pressed juices on Wednesdays, catered lunch on Thursdays, and Social Tea-Time on alternate Fridays, it's tough for Twitter employees to say no to the monthly gym membership subsidy. There's also a smaller in-office pantry, well-stocked with tidbits, cereals and good coffee to help you get through the day.
Working at Twitter would mean working like someone who uses the platform. Employees are quick on their feet, arranging schedules and transferring information using cloud storage and online calendars. People can get involved as much as they choose to, as each talent has the space and autonomy to decide on their workflow and after-work interest groups. For example, the common area would clear the tables and chairs aside twice a week for yoga lessons, and any employee is free to start an interest group, should it not exist yet in Twitter's roster.
This place is the best for…
Highly-skilled, adaptable people with a great sense of pride in their careers would certainly feel at home in this office. Hui Theng, Senior Manager in Accounting and Delilah, Head of Direct Sales, say that they are always reminded of why they joined Twitter in the first place. They've toiled for Twitter back when it was a mere service office with barely any space to house all 16 employees, and now they're sitting in spaces that can fit 150 employees, with about 70 more waiting to be filled. It's easy for them to shape the office into a more conducive place than it already is, simply by providing feedback to their administrative peers. Hui Theng and Delilah share the same drive and hunger for achievement that can be seen in almost all of the employees here, yet none of them are bogged down by menial tasks. All in all, working here does have high expectations, but the work and office would be equally fulfilling in return. What's not to love?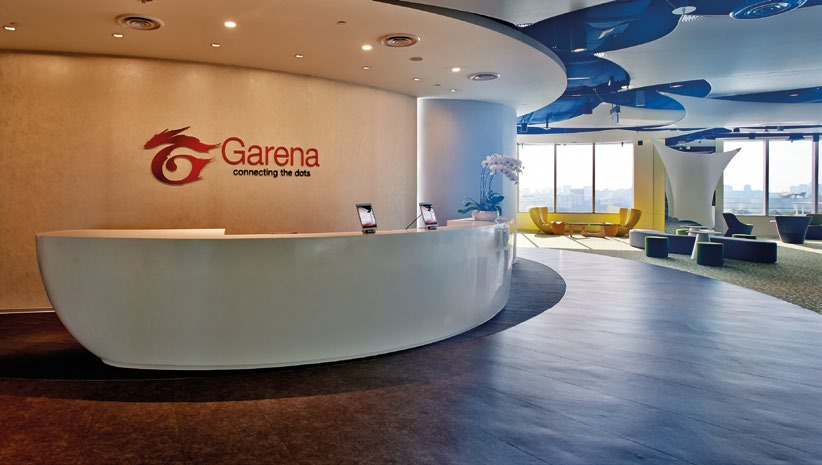 Garena
Connecting the dots.
When it comes to offices that have it all, Garena is up there with the best of them. Perhaps best known for its Garena+ gaming platform, the company has also ventured into a wide range of communication and e-commerce services that speak to its growing ambitions and reach. In fact, it shifted from its Murray Terrace office to its current home at the Galaxis Building to accommodate its rapid growth, which saw its headcount double year-on-year over the past three years.
Forget about being stuck in windowless rooms with whitewashed walls and bone-chilling air-conditioning. Spread over two floors, Garena's new 7,500 square meter office was literally designed to provide its employees with the most conducive and comfortable environment possible.
What's cool about this office?
You wouldn't notice it at first, but a whole lot of thought and planning went into every aspect of the office's design. Garena's motto of connecting the dots has influenced everything from the carpeting – it's a single, connected piece – to workspaces like strategically placed collaboration clusters and breakout rooms.
As a company that concerns itself with building bridges between and among communities and its audience, Garena has worked to foster a space where various creative and collaborative forces can blossom. In addition to its dedicated meeting rooms, a host of collaboration areas are scattered throughout the office for spontaneous discussions to take place.
And if you've got the nibbles, you can just head down to a sprawling pantry that you'll wish was your kitchen. It is stocked shelf to shelf with chocolate bars, ice cream cones, and other delectables, and the fridges are packed with milk, fruit, and other things to satisfy your cravings.
We also weren't surprised to find an entertainment corner at the end of the pantry, complete with an air hockey table, a pool table, and a foosball table for Garenians to engage in some friendly competition or just to destress. After all, all work and no play makes Jack a dull boy.
Furthermore, this is one of those companies that recognizes that a food coma is actually a thing. Sleeping pods are located right next to the huge open offices for employees to catch some shuteye (and indulge in some postprandial somnolence). But in all seriousness, Garenians work hard, and the company knows that even the most dedicated workers need time to recharge.
What you probably weren't expecting was the inclusion of massage rooms, where Garenians can check in to have someone limber up those sore muscles. Yes, at work. Of course, there's a limit on this and employees can only indulge in 30-minute sessions, twice a month. Still, that sounds like a pretty good deal to us.

THE DESIGN LANGUAGE IS MOST EVIDENT IN THE LIBRARY MEETING ROOM, WHERE IT FEATURES A QUIET SPACE THAT FACES THE SOUTHERN WATERS OF SINGAPORE – MAKING IT IDEAL FOR A SHORT BREAK. ALL THE MEETING ROOMS CAN BE USED AT WILL, EXCEPT FOR THOSE THAT ARE ALREADY OCCUPIED BY FELLOW COWORKERS...

This place is the best for…
In our conversations with Garenians, we quickly picked up on a few common refrains. Fast-paced, passionate and transparent. Those were the words that came up the most often, regardless of whether we were speaking to someone in software development or game operations. Things move fast at Garena, and it's not long before an idea floated in a brainstorming session becomes an actual product. This isn't one of those companies where there's a lot of soaring dialog but little action. Zed Zhang, a Business Development Manager, highlighted the huge focus on execution, which means that Garenians are able to quickly see tangible gains from their contributions – a big part of the rewarding experience that they all talked about. Above all, we got a strong sense of the camaraderie that exists at all levels of the company. The open offices feel almost homely, and it really seemed as if Garenians were working among friends. In fact, the transparent and open culture at Garena is perhaps one of the most compelling aspects of the company, and it's something that's borne out in the details of the office design that we talked so much about. This is a fun and vibrant workplace for those who are serious about making concrete contributions in areas as diverse as gaming, e-commerce, and software development. Adaptable, dynamic, and agile – those are the qualities that the company embodies, and those are the same ones that Garenians must possess.
GrabTaxi
Making a Real Impact.
As a young startup, GrabTaxi hasn't quite had the time and opportunity to build a physical office that will incite your envy. Nevertheless, it's on our list for a very good reason – this is one of the fastest growing ride-hailing apps in the region, in an industry that is just beginning to revolutionize how we think about transport and car ownership. It recently opened a US$100 million technology hub here in April 2015 to devoted to R&D. Since then, the number of app downloads has rocketed up to 10 million, from 3.8 million previously. It now boasts over 185,000 drivers across 28 cities in six different countries in the region.
The company views itself as a social startup as well, and employees are motivated to expand more than just its scale and reach. In our talks with GrabTaxi employees, their compassion and focus on the end-user and drivers came out clearly – this is a company that channels its drive for success into creating opportunities for people and improving lives.
What's cool about this office?
It's not every day you get to see a company where people genuinely care about the social impact of their work. After all, the headlines Uber has generated with its aggressive expansion strategies, it's almost refreshing to see a ride-hailing firm that isn't focused on growing just for the sake of growing.
But that doesn't mean that the GrabTaxi team isn't ambitious and driven to expand the company's footprint and scale up operations. There's a saying at GrabTaxi – your problem is my problem, or YPIMP for short – that embodies the company's ethos. Employees are all deeply invested in achieving positive outcomes for all stakeholders. An every man for himself won't get you anywhere at GrabTaxi, and we were struck by the emphasis the team placed on the role of teamwork in resolving issues.
THERE'S A SAYING AT GRABTAXI – YOUR PROBLEM IS MY PROBLEM, OR YPIMP FOR SHORT – THAT EMBODIES THE COMPANY'S ETHOS. EMPLOYEES ARE ALL DEEPLY INVESTED IN ACHIEVING POSITIVE OUTCOMES FOR ALL STAKEHOLDERS. AN EVERY MAN FOR HIMSELF WON'T GET YOU ANYWHERE AT GRABTAXI, AND WE WERE STRUCK BY THE EMPHASIS THE TEAM PLACED ON THE ROLE OF TEAMWORK IN RESOLVING ISSUES.
Unsurprisingly, GrabTaxi eschews closed-off cubicles for an office design, the better to facilitate collaboration and communication. This isn't the slickest office we've seen, but you've got to go deeper to appreciate the culture and values that GrabTaxi has fostered. Even though she just joined GrabTaxi just over a half year ago, Lauren Lin, an Assistant Marketing Manager, already describes the entire team as being a single close-knit family.
This isn't some cutthroat startup that just wants to up its valuation. There's a genuine sense of friendship at GrabTaxi, where the end goal is to benefit both drivers and riders and ensure they both get the best possible experience. For instance, Ditesh Gathani, Head of Engineering at GrabTaxi, talked about how accessibility features for the blind have been built into the GrabTaxi app since its launch. More tellingly, the engineering team included the features without being prompted to at all – they just knew that it was the right thing to do.
As Head of Engineering, Ditesh oversees the entire team, and he says that the engineering minds he's met at GrabTaxi are some of the brightest he has ever seen, his pride in his team clearly evident.
Ditesh also talked about his experiences speaking with GrabTaxi drivers, who told him about the impact any app downtime had on them. Struck by the social ramifications system issues could potentially have on drivers, Ditesh came to better appreciate the full significance of the work he was doing.
This place is the best for…
Passionate, committed, and capable individuals who want to solve and tackle challenging problems, infields as different as engineering, logistics, or marketing. As a real-time platform that must be able to scale up and cope with increased volume on-the-fly, GrabTaxi provides unique opportunities that are found in few other places. This is a company that values out-of-the-box ideas and sharing. No idea is too out-there, and employees must be able to keep up with the pace of things, which we've heard described as being "ridiculously fast". The walls are literally papered with impromptu scribbles and post-its, a veritable melting pot of ideas and initiatives just waiting to be realized. Finally, as we mentioned before, team players will thrive at GrabTaxi. If you want to surround yourself with capable individuals who constantly push each other forward, this is the place to be. The ability to work effectively as part of a team will serve you well anywhere, but this is taken to another level here. After all, YMIMP, remember?
Tableau
Going far by going together.
It's a tough find when you want an office that has your best interests at heart, while ensuring that you feel involved at every step of the way. But such a workplace is real, in the form of an organization that helms Tableau Software, a data visualization program founded in California back in 2003. Fast forward nine years later, Tableau brought a Singapore office upon our shores, ready to show us what true collaboration is all about in its shiny new office.
What's cool about this office?
If you had the chance to speak to anyone at Tableau, you'll quickly realize that the makers of data visualization are big on teamwork. Coworkers are quick to greet and check in with each other, just like long-time neighbors, even with the hubbub of work floating in the brightly-lit compound. Their 50,000 square feet office in Singapore spreads across three levels (with two still under renovation), and it facilitates the collaborative rhythm engrained into their work and play.
The office follows the design language of their original headquarters based in Seattle, and Tableau goes out of the way to import identical workplace tools to match. Everything - from the desks to their well-stocked pantry - uses the same stuff that their headquarters does. That's no small feat, considering how almost every desk is an adjustable workstation that lets the Tableau staff transform their spaces into standing desks, and back.
The flexibility of Tableau doesn't simply end there. Around the compound, you will find many small meeting booths that can sit approximately four people within. Any employee can just book a slot using the electronic room reservation system outside each booth, and do their work distraction-free. Equipped with a conference call system, these pods can grant a good deal of privacy while keeping the bustle down to a minimum. Everyone can benefit from these shared spaces, be it for a quick chat or an important meeting.
Tableau would seem like an ideal place to be if you don't like using PowerPoint or Excel. Data visualization is their core business; the office uses their flagship products – Tableau and Vizable – to do

EVERY YEAR, ALL 3,200 EMPLOYEES ARE FLOWN TO SEATTLE FOR THEIR ANNUAL GENERAL MEETING, AND THE OFFICES LOCATED IN THE ASIA-PACIFIC REGION ALSO HOLD THEIR OWN KICKOFFS FOR GOAL SETTING. NOBODY'S LEFT OUT.
their presentations. It's only sensible, and there's the extra benefit of interacting with the graphs and charts the way they prefer. With such technology, it breeds further collaboration, especially across workers of different tiers.
All this is further amplified by the kind of talent Tableau hires – which their own staff coin as "Humble-smart". Everyone and their ideas are valued, micro-management is not a thing here, and management is always ready to take up suggestions if there's a sound plan to fix the problem. Tableau also makes extra effort in recognizing workers at every level. Every year, all 3,200 employees are fl own to Seattle for their Annual General Meeting, and the offices located in the Asia-Pacific region also hold their own kickoffs for goal setting. Nobody's left out.
But that's just about getting the best. Tableau also keeps the best by offering their people a chance to explore within their company – if someone feel up for the job, they can request for a transfer across different disciplines or even countries. Short term transfers would see reimbursement for accommodations while making up the difference in cost of living, which rides firm on how important each member at Tableau is a crucial part of their data visualization engine.
But how do we know Tableau is truly as good as they seem? A quick talk with Vaidy, Product Marketing Manager for Tableau, shows that the company doesn't pull punches if they are serious about working together. Originally a client who uses Tableau's services, Vaidy's U.S. work visa expired and he had trouble getting the necessary paperwork done. Tableau stepped in and brought Vaidy on-board, creating a role just for him so he could work in Singapore. It's one thing  if a company respects their employees enough to care for their personal struggles, but Tableau's story starts the moment you're working with them – be it client or staff.
This place is the best for…
If you're a talented person who loves collaborating with your colleagues while making friends in the process, Tableau is the firm that lets you do that while getting involved in your achievements. It's easy to install a pretty pantry, but it's a whole different level when a tech firm is so involved and invested in their people.