Illustration, that ambiguous genre between fine art and commercial design, has never been more dynamic – or multifaceted. From a painter making Instagram art for a fashion house to a graphic designer bringing back the old-world glamour of fashion sketches, Lucy Rees puts the spotlight on the most fashionable Singapore names to know now.
Illustration, that ambiguous genre between fine art and commercial design, has never been more dynamic – or multifaceted. From a painter making Instagram art for a fashion house to a graphic designer bringing back the old-world glamour of fashion sketches, Lucy Rees puts the spotlight on the most fashionable Singapore names to know now. 
DAVID CHAN
In-demand painter/sculptor David Chan (www.silentstudio.com) is a well-known name in the local contemporary art scene (he's represented by Art Seasons gallery and usually sells out at Art Stage) for his satirical depictions of animals. Often dressed in human clothes – think bears in tartan suit jackets or dogs in hoodies – his witty works use narrative-realism to make subtle societal commentary. Inadvertently, this stylish, slyly humorous approach has gained him recognition from one of the most infl uential fashion houses around. 
In April, Gucci approached him for the second instalment of Guccigram, creative director Alessandro Michele's brainchild that sees artists reinterpret the brand's Oriental bird and floral Tian motif into an original work for Instagram. One of 24 Asian names commissioned, he deftly swopped his usual modus operandi – slow oil-on-linen paintings that can take up to six months to complete, if you include drying time – for digital tools. The result: a surrealist image of a sulking schoolboy with the incongruous head of a gorilla set against the Tian pattern – a hip and hyper Rene Magritte painting, if you will. 
Chan explains his approach: "I believe in the unwritten code of honour that artists should never rip off another artist's work. I thought, do I cut it up, distort it, repaint, or just change minor elements? In the end, I digitally extracted the Gorilla Boy from an older work. The end result expressed how I felt about the Gucci motif – not wanting to interact too much with the original artwork, and trying my best to hide in the corner."
Like the quintessential Gen Y creative – flexible and multifaceted – he points out that there shouldn't be boundaries between art and illustration though. He says: "There is an age-old debate by snotty artists who feel that illustrators are lowbrow since they are merely hired hands, but to me there is no difference. I straddle both sides of the coin."  
YI LIN JULIANA ONG
Going by the moniker Juls, Ong is a self-professed "mark-maker" – and undoubtedly one of Singapore's hottest creatives. Often found atop 9m-tall ladders scribbling madly on walls or sketching en plein air, her works (see www.ohnicegreat.com) ooze a repetitive, raw energy that recall '80s graffi ti-inspired street artists like Keith Haring or Jean-Michel Basquiat.
Gallery & Co. at the National Gallery, Loof and Facebook Singapore are just some of the It names that have commissioned her to create massive paint-marker murals. At press time, she had also just completed decking out the foyer of Zouk in UV-printed chrome stickers for the super club's 25th anniversary bash. Her biggest – and most recent – claim to fame, though, has to be the Swatch collaboration that launched last month.
Featuring red and blue comic faces originating from old Chinese artefacts she had come across, it's the result of her residency programme at the Swatch Art Peace Hotel along the Shanghai Bund last year. (Cool fact: Haring did a limited edition Swatch watch in 1986 too.) The six-month stint saw her living with 17 artists and given complete freedom to let her creative juices flow, with the only requirement being to leave a "trace" on the wall.
For her, it's as much as about the process as it is the final result, embodying that age-old spirit of art for art's sake. "I find the flow of repetitively scratching graphite or inking with drawing nibs on paper to be really meditative," she says, summing up her approach as "exploring the subtlety of drawing".
Preferring to use humble materials like pencil and ink on paper, she lets her "automatic" drawings run free, never quite knowing how they'll end up. While she currently assists a set designer and is trying her hand at 3-D art and prop-making, she continues the sketching habit of "copying" or making her own versions of existing drawings and paintings (something she picked up from French illustrators the Le Bec brothers). 
Of her affinity to the art form, she says: "I learn to look and practise with my dots and lines to relate (them back to) my own stories". 
DIANE NG
A trained graphic designer, Ng (www.dianengrose.com) has been working with fashion magazines in Singapore for the past eight years – including a stint as Female's senior designer. That background might have something to do with why many of her works ooze the old-world sophistication of '50s fashion illustrations, as if something out of a couturier's sketchbook or fashion advertisement of the time.
In an era when just about anyone can become an imagemaker, her drawings make us want to slow down to soak in the details. A portrait of a chic woman with cherry red-lipstick and winged eyeliner, for example, is depicted in fluid, feminine lines and soft watercolour-like tones against a clean background. The influence of 20th-century Italian illustrator Rene Gruau is hard to miss (she's a fan, she admits).
Her other inspirations can come from anywhere, whether it's Taiwanese-American James Jean or Brit graphic novelist Neil Gaiman. No matter the subject, her work doesn't lose its stylish quotient. Case in point: her refined illustrations in the children's title The Little Singapore Book (available at the National Gallery Singapore), her first published work.  
Like a true style expert, she boils the recent illustration resurgence down to technology, what with an explosion of illustration-focused related accounts on Instagram. She says: "I also put it down to the fact that this new generation of designers taking over directives at fashion houses are the ones who grew up in an era where graphic art was more prominent and explorative; elements of it were everywhere. The benefits of melding the two design disciplines are undeniable."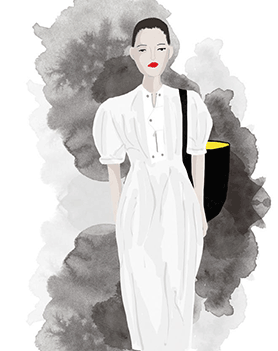 LUCINDA LAW
She made her mark on the local creative scene editing the fashion and travel sections of lifestyle magazines,  as well as teaching fashion at Lasalle College of the Arts. These days, however, Law is in the spotlight more as a full-time "botanical watercolour artist", with brands from Kate Spade to luxury automobile powerhouse Bentley calling with commissions.
Her vivid yet romantically pretty floral paintings recall the ones in vintage storybooks or old-world botanical studies. While it might seem unexpected from someone known for her cutting-edge style, she says it's allowed her to combine her passions for art, design, fashion, botany and culture all into one. 
"There is a certain level of glamorous beauty in nature that I'm mesmerised by. I wonder how it's done, and how I can make that part of my creative process," she explains. 
From blue pea and hibiscus to bougainvillea and coral vine, she observes her "subjects" directly from nature, before bringing them to life on paper through layers of luminous washes of colour. (All her "studies" are captured and categorised neatly on her namesake Pinterest account.) 
Taking her obsession further, she's became a certified florist to get a better understanding of blooms. She also often includes the plant's scientific name on each work in an elegant, vintage-inspired script – a nod to scientific drawings by 19th century naturalists like Alfred Russel Wallace.
 While a single illustration can take weeks to complete (everything is by hand), she enjoys the anti-digital approach, and even conducts classes at her year-old studio Within in Little India (22 Rowell Road). 
She says: "I really like the viscosity of water and what it does to the paint. It's very meditative to see how the colours flow, layer or blend."
Inspired by graphic art and club culture, Ang's digital illustrations are as bold as her beats. 
AMANDA KEISHA ANG
Graphic designer by day, co-founder of DJ trio Attagirl by night, and a member of the Female Collective, Ang (www.aneverydaymuse.com) is the perfect ambassador for Singapore's music and club culture. It's all the more apt, considering how she's behind the artwork on some of the most in-your-face collateral for some of the coolest gigs, parties, and events in town.
Tie-ups include those with local multidisciplinary group Kult, creative arts organisation Onedotzero, Nixon Art Mosh (a one-stop show featuring local underground artists), New York-based artist Jeremyville, and Singled Out (an exhibition of vinyl artwork by local names, with proceeds going to music education). Needless to say, music has had a big impact on her as an artist.
She says: "I've discovered many artists by looking at vinyl sleeve designs from my father's collection, CD covers, gig posters, club flyers, and through people in music who also do other creative work." 
Employing the same boldness to her art as her beats, she works primarily in black and white with a punchy, graphic style. Technical and precise, her instantly recognisable, digitally rendered works are a mash-up of tattoo art, Japanese woodcuts, and the erotic undertones of romantic, 19th century art nouveau artists – complete with a penchant for geometry. (British illustrator Aubrey Beardsley and Czech decorative painter Alphonse Mucha are her idols.) 
Naturally, her process is thoughtful to the point of arduous, with thorough research through books, magazines and the Internet a must before she can commence illustrating. "A work can take a day to a few days, depending on the size and how extensive the colouring/shading is. I much prefer to have a strong, clear idea of what I want from the very beginning, so the research usually takes the most time," she explains. 
Like her music (Attagirl aims to spotlight female talents in the DJ industry), her artwork also tends to have a pro-woman stance. Her next project: a series of illustrations of women that'll hopefully spark discussion on sexual taboos.