Now that you're well-acquainted with the gems of Jeju Island, it's time to learn about the products that harness the goodness of these natural ingredients.
Now that you're well-acquainted with the gems of Jeju Island, it's time to learn about the products that harness the goodness of these natural ingredients.

Have a green tea party

The Green Tea line that brought innisfree into the spotlight is now available in skincare essentials to bring absolute moisture to different skin types. Here are your must-haves!
From the source

All-inclusive and designed to fit different Asian skin types, the Green Tea line focuses on the purity and strength of their key ingredient, fresh, organic green tea leaves. Carefully harvested from Jeju Island, the leaves are then steamed just enough to retain their natural nutrients and squeezed to extract a 100-percent fresh green tea essence that's delivered to your skin.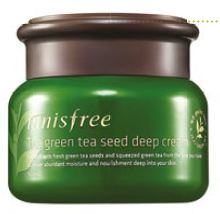 THE GREEN TEA SEED DEEP CREAM
The last step of your regimen is the Green Tea Seed Deep Cream. It offers deep nourishment from green tea leaves and provides a powerful moisture shield to protect damaged skin while the antioxidants within keep skin supple and healthy.

THE GREEN TEA SEED SERUM
Internationally award-winning, The Green Tea Seed Serum is one of the key products in this line and contains 100 percent fresh green tea essence that's suitable for all skin types. Rich in amino acids and minerals, it works deep within your skin to intensely moisturise.

THE GREEN TEA SEED CREAM
Infused with the Dual Moisture-Rising Technology™, the Green Tea Seed Cream provides intense moisture and nourishes the skin from deep within.

THE GREEN TEA SEED EYE CREAM
The Green Tea Seed Eye Cream contains a skin-fitting texture that deeply yet gently moisturises your delicate eye area. The antioxidants in the cream transform the skin, hydrating it such that your skin seems to glow from within.
Skincare Tip:
Mix one to two drops of The Green Tea Seed Oil with The Green Tea Seed Cream to maximise moisturising effects. You may also increase the usage amount so it works like a sleeping pack!
Lava love

Signature to the brand, the Jeju Volcanic line is based on Jeju's natural advantage of having volcanic clay clusters that come with superior sebum absorption and pore care capabilities.
Mad about masks
These super powerful masks did not gain their reputation for naught; the natural volcanic cluster, which is formed when the lava from a volcano eruption solidifies, is native to Jeju Island and has powerful cleansing properties. The natives called it a "Gift from God" and rightly so, for we are thankful.
SUPER VOLCANIC CLAY MOUSSE MASK
This mousse mask contains 6,020mg Super Volcanic Cluster™, twice the amount compared to Jeju Volcanic Clay Mousse Mask. Its micro-clay formula features particles smaller than facial pores and glides over skin easily. These particles deeply cleanse the finest of pores to effectively remove impurities.
JEJU VOLCANIC CLAY MOUSSE MASK
For those who are in need of pore care, the Jeju Volcanic Clay Mousse Mask contains a micro-clay formula that is gentle on your skin yet deeply cleanses your pores. It also contains a higher concentration of hyaluronic acid than the Super Volcanic Clay Mousse Mask version, so it's great for those with dry skin.
SUPER VOLCANIC PORE CLAY MASK
This 6-in-1 mask not only tightens pores, but also controls sebum, exfoliates dead skin cells, deep cleanses and improves your complexion. The most loved pore clay mask in Korea, the Super Volcanic Pore Clay mask has nabbed many beauty awards and accolades across the world.
JEJU VOLCANIC PORE CLAY MASK
A soft-textured pore purifying mask, the Jeju Volcanic Pore Clay Mask contains micro-sized volcanic clusters that absorb sebum while efficiently removing impurities, leaving your skin clean, smooth and dewy.
Skincare Tip:
Use innisfree It's Real Squeeze Mask to replenish moisture and boost the skincare effects after applying any of the clay masks.
Bloom Brighter

The newest addition to innisfree's line of skincare, the Jeju Orchid line harnesses the extracts from the rare Jeju Orchids to bring you vitality in a tub.
The forever fauna

The one thing you need to know about innisfree's Jeju Orchid line is that all of the products contain Orchid Elixir™. While it won't grant you immortality, this rare flower species that's native to Jeju Island is one of the most vital and tenacious flowers for it not only survives, but thrives in the deep of the winter.
Perhaps that is why innisfree chose this particular flower as a key ingredient in their anti-ageing range – so it can impart its innate vitality to give you the best anti-ageing effects possible.
ORCHID ENRICHED CREAM
With the power to effectively reduce the appearance of wrinkles and visible pores, the Orchid Enriched Cream is a powerful anti-ageing cream that helps the skin to recover its optimal density and firmness. The Jeju green complex and pea extract provide extra nourishment care by moisturising the skin from deep within and the smooth texture ensures quick absorption with no sticky after-feel. While it's light, the cream is ideal for normal to dry skin.
ORCHID GEL CREAM
The lightest cream in the range, the Orchid Gel Cream treats early signs of ageing by increasing skin cohesion and brightening your skin tone. Refreshingly light, the semi-shape memory gel fits tightly to skin to enhance the skin's absorptive power through the Jeju green complex. This mask is most suitable for normal to oily skin types, giving the skin just the right amount of moisture.
ORCHID INTENSE CREAM
By far the richest of the three, this nutrient-rich cream offers intensive anti-ageing care and improves the skin's natural resilience against harsh conditions. What's more, it's enriched with jojoba ester, which forms a protective skin barrier that locks in moisture. As its name suggests, it offers intense moisturisation and is recommended for very dry skin.
Skincare Tip:
This rich cream has great healing properties. Soothe this over cracked and chapped skin and watch the magic happen.