This talented artist is now working with some of the biggest fashion labels in the world.
This talented artist is now working with some of the biggest fashion labels in the world.
Flowers are a big part of your work. How did you get into using them?
It was purely accidental. I was painting one day and a wilting rose on my table caught my attention. Wanting to preserve its beauty, I incorporated the petals into a fashion illustration I was working on. I shared my work on social media and that single post went viral. Within a few days of posting it, websites like Buzzfeed and Huffington Post started sharing my work!
What inspires your illustration style?
Nature inspires me a lot. I especially love working with flowers that embody different shades of each colour. My favourites are peonies and garden roses. One of the reasons I love using petals is because their delicacy and exquisiteness mimic those of a soft fabric. For instance, the gentle, fabric-like quality of roses allows me to create folds for flare skirts.
How did you start working with brands? What has been your most challenging project so far?
Many brands first got to know about my work via social media. Last year, I worked with a UK company to create illustrations for their TV commercial. It was challenging because my illustrations were to be animated, and that was something I had never done before. There were many factors to consider in my illustrations, such as the poses, angles and types of flowers. While the project was more arduous than usual, the results exceeded my expectations. I was thrilled when I found it was featured on prime time TV in the UK!
She does her granny proud.
"These days, I spend a lot of my free time with my loved ones, especially my grandmother. I talk to her about my day and show her my new artwork. She may not fully understand my job, but I know she's happy for me for pursuing my dreams."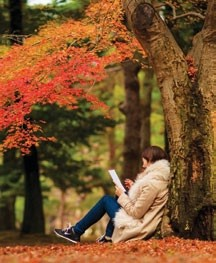 Things that make her happy. "The smell of freesias filling my room. Doing what I love every day. Great conversations. Snuggling in the movie theatre with my boyfriend."
Top travel spot: Morocco. "It was one of the best travel experiences I've had so far! Together with a couple of friends and strangers, we each rode a camel into the desert and stayed a night there. It was the first time I literally saw a million stars in the sky. I'm a city girl at heart, but when our tent ran out of power and my phone died, I truly got to immerse myself in nature and enjoyed that magical moment under the night sky."
Images Grace Ciao Text Compiled By Adora Wong.