Want to make something from scratch? This crafter not only gives you ideas but teaches you how.
Want to make something from scratch? This crafter not only gives you ideas but teaches you how.
You run a website sharing craft tutorials and inspiration. What inspired you to start it?
My business partner Juu and I wanted to create a platform to share interesting craft ideas and tutorials so we started Operation Overhaul. It became a creative outlet for me, and I'm always up to try something new – be it learning a new skill or working with new materials. I enjoy designing and illustrating, but there's something very rewarding about getting hands-on and making something from scratch!
How did you get into handicrafts, and which is your favourite type?
The first time I really got involved was when I started making beaded bracelets with my mum. She used to make these really pretty crystal bracelets, and every time she went to the craft store, she'd get me tiny colourful acrylic beads to make bracelets with. Over the years, I've learnt to work with different materials and picked up different craft skills along the way. Crochet is my favourite! I love how you can work with different yarns and the final outcome can range from an intricate crochet sushi pin to a giant wool blanket!
What has been your most challenging project so far?
We once had to make 160 crochet triple scoop ice cream pins for Strip. I was fairly new to crochet at the time, and Juu had to pick up crochet just for that project, yet we were both excited as it was our very first corporate project. We were crocheting all day and night just to make those pins, but it was so nice when we got to see how much the staff at Strip really liked them.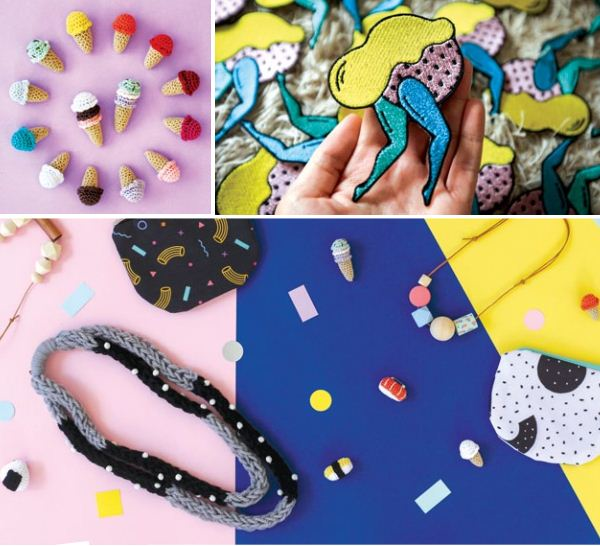 Get to know Roslyn
Japan is her favourite travel destination "There are so many things I love about it from the food, design and toys to all things weird."
Parks and Recreation tops her list of favourite TV shows
"I love April Ludgate (Aubrey Plaza) because of her dark personality and sarcastic sense of humour!"
She also draws
"I enjoy doodling and illustrating when I find time in between work and crafting. It's nice that I get to apply that to Operation Overhaul sometimes, where I have free reign in creating new patterns for our products!"
Five things that make her happy
"Finding an empty day on my planner, spending time with my loved ones, books, soba and a good gin and tonic."
Images Rosyln Chua Text Compiled By Adora Wong.