Colour This, Come Fly With Me, Find Your Tribe, They See Me Rollin'...
Colour This,Come Fly With Me,Find Your Tribe,They See Me Rollin'...
Colour This
No introduction is needed for The Color Run, aka the happiest 5k on the planet. Suitable for runners of all levels, this fun marathon sees participants covering a 5km route while getting doused with colourful powder in all sorts of shades along the way. Talk about an amazing photo op! To make things sweeter in this fourth edition of the annual run, participants of The Color Run will stand a chance to win a weekend getaway to Bali in the lucky draw, with flights and accommodations provided. Yaaaaaaaaaaas!
The Colour Run will take place at Sentosa on August 20 and 21. $65 per person. For more information and to register, visit www.thecolorrun.com.sg.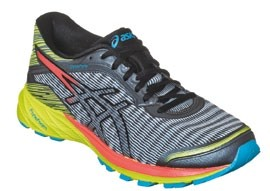 Come Fly With Me
Can't seem to get over that running plateau? You need to push yourself to run faster. And to do that, you first need to be equipped with the right shoes that'll enable you to run like the wind. Enter ASICS Dyna Flyte, which makes its debut with Flyte Foam™, a lightweight cushion designed for runners who want speed. Just how light is this running shoe? Well, a Dyna Flyte shoe in US men's size 9 weighs about 270g, so there really isn't much weighing you down as you swing forward with your strides. Go forth and smash your timing!
Find Your Tribe
If you're a sports enthusiast and love to keep up with the latest sports news, here's a new app that you need to have. Touted as the "first social network that connects sports to everyone globally", Playground allows users to create and join "Tribes" – community groups that allow you to share news, updates, and interact with other users. So it's alright if your friends don't share your enthusiasm for, say, badminton, because you will find others near you who do and would love to meet up for games. Who knows, you might even find a new sport to get excited about through this app.
Playground is available to download for free on the Apple App store and Google Play Store. 
They See Me Rollin'...
Ask any athlete and they'll tell you that the recovery process is just as important as your workout and diet. Even for non-athletes, your body still needs rest to prevent sore muscles and knots. A popular method to relieve those tense muscles is self-myofascial release, which basically uses foam rollers to massage your body. Not sure how or where to start? Virgin Active is offering a class called Stretch and Roll, where you'll be taught how to correctly use these foam rollers to improve mobility, flexibility and performance. A gym class that lets you give yourself a good sports massage for about 30 minutes? Shiok!
Virgin Active is located at 1 Raffles Plac #06-00 Tower 2. For more information visit www.virginactive.com.sg.