The trends you gotta got behind before 2019 ends!
Natural beauty: spotted at Paris Fashion Week 
#1 SPIRITED ANIMAL
Face it: nature can be a little rough, so go wild and pile on flora, fauna, unexpected neon. Safety first, with a boyfriend jacket for good measure. 
#2 HEY, PAR-TEA! 
Nope, it's not another new boba store opening. It's something more exciting than that — a bubble tea multisensory exhibition at *SCAPE. From October 19 to December 18, the exhibit will include boba-inspired giant installations and treats! Get your tickets now from $24 at www.thebubbleteafactory.co 
Boba fans, unite! 
Get your 'BBT fix' and boba-themed pics for the gram 
#3 TOTAL EUPHORIA
With the hype of HBO hit-show Euphoria, people are getting bold with make-up. Bright colours and bling all over! 
@rowisingh painted the colours of a sunset over the lids 
Anastasia Beverly Hills Alyssa Edwards Eyeshadow Palette, $80 
Stick-on face jewels, $25.94, Shrine from ASOS 
Marc Jacobs Beauty Highliner Matte Gel Eye Crayon Eyeliner in Pink Of Me, $38 
How about gold speckles framing peach eyes? 
#4 The '00s Are Calling
Hello! Nokia is resurrecting a classic — the Nokia 2720 Flip gets its modern upgrade. The nostalgic phone now runs on Android with apps like Whatsapp and Facebook. You can now end phone calls with a sassy flip! 
Nokia 2720 Flip 
#5 HAZE DAZE 
2019 was the year that brought climate change to the forefront. There's the Amazon burning, and the hazy days in late September. Then there's 16-year-old Greta Thunberg, who has become the face of the global climate strike. She came up with a school strike in 2018, and had her first solitary protest on the steps of the Swedish parliament in Stockholm. She called out world leaders at the recent UN Climate Action Summit: "You are failing us. But the young people are starting to understand your betrayal. The eyes of all future generations are upon you." 
Follow Greta's journey in striking for climate @gretathunberg 
#6 HO-HO-HOLIDAYS!
What is a little year-end cheer without getting our hands on the best Holiday collections? 
GO SUDSY
Lush practices naked packaging (little to no packaging for most of their products!), and instead of wrapping paper you can use their knot wrap — colourful printed cloths that are reusable. Waste is kept at a minimum! 
Lush Knot Wrap fabric, from $15 
Lush Candy Cane Reusable Bubble Bar, $12 
LUCK AND CHARM
Beautifully mystical and magical, the Diptyque Holiday collection is inspired by the mysteries of spoken tales handed down from generation to generation. The idea of Lucky Charms is central to all the gorgeous items from this range, here are just some of our faves! 
Diptyque Advent Calendar
Diptque Set of 3 x 70g Candles 
Diptyque Snow Globe
#7 ASEAN VACAYS 
Stay close to home, and plan the year-end holidays at these aesthetically-pleasing hotels.
RAFFLES HOTEL, SINGAPORE
An icon reborn; standing in the heart of Singapore, Raffles Hotel has had a major facelift you have to see. Only taking two years to complete, the hotel now has a more approachable and inviting ambience, perfect for those who prefer a more luxurious stay. 
LIU MEN HOTEL, MELAKA
Only an hour plus drive from KL, this stunning boutique hotel takes you on a trip through time. Liu Men takes it back to the 1930s with influences of the Peranakan culture — colonial art decor that emobody a harmonious blend of Eastern and Western elements in its hallways, rooms and common areas. You'll feel the warmth of home.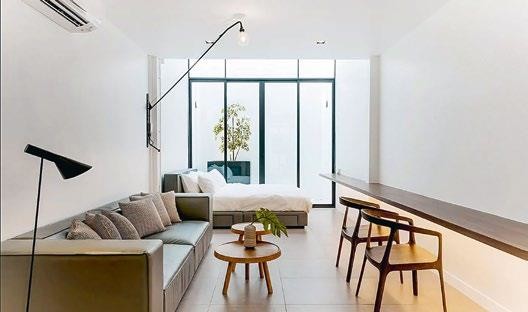 MIQ TOWNHOUSE, BANGKOK
Tucked away in an alley alongside other local townhouses, this AirBnB unit is an unexpected find. Being the only one with monochromatic details in Bangkok, it's perfect for the modern millennials and groups of friends. It can fit up to 16 people, so it's time to book your next trip! 
#8 PADDED HEAD BANGS
ICYMI, our feeds were (and still are) filled with padded headbands, thanks to THAT Prada S/S 2019 show. It's a trend we can totally wear for the Holidays — so chic and suits any hair length (a puffy one over a pixie? Totes cute!). 
Headband, Zara 
Headband, Bershka 
Headband, Pull & Bear 
Wear it like @camilacoelho 
#9 PASS THE POPCORN
Wind down the year-end with some JOMO. Pair these new releases with fluffy blankets, pillows and your fave snack! 
JUMANJI: THE NEXT LEVEL
The game isn't over yet for Spencer and the gang! As far as we know, he foolishly repairs the system which inadvertently sucked in Grandpa Eddie and friends. They're having it harder this time as they had to teach newcomers Eddie and Milo to control their avatars or stay alive. Catch it on December 5. 
LAST CHRISTMAS
Henry Golding is out to charm us again with his upcoming movie Last Christmas, but this time his love interest is another gal — GoT queen Emilia Clarke. She plays unlucky Kate whose life takes a turn after accepting a job as a store elf during the holidays. See what happens next for this couple on November 14. 
STAR WARS: THE RISE OF SKYWALKER
This is it! The last chapter of the sequel is finally putting an end to the clash between the Jedi and the Siths. Rumours of Emperor Palpatine (supposedly dead) returning makes it even more exciting! All happening this December 19. 
#10 ZEN AND GREEN
Take the stress out of last min getaways when you have these on hand. 
While you pack your holiday necessities this time around, try bringing these handy gems with you! From a Muji portable diffuser for aromatherapy on the go (best part, NO water needed!) to an aroma stone to lighten the mood and help with jet lag wherever you're staying. While you're at it, play a part in saving Earth! Get reusable facial cotton pads and you will never have to worry about running out — super-easy to clean and travel-friendly. 
Iceberg Aroma Stone, RM152 (approx $49.90), lifewarehousemy.com 
Pack light, eco and fun. Pick these up for blissful times on your holiday trip wherever you're headed! 
Cotton Washable Make-Up Remover Pad, RM7 (approx $2.30) per piece, thehivefolks.com 
Portable Aroma Diffuser, $59, Muji 
TEXT AINA NUR SARAH, LIM LEE ANN, LINA ESA VOON WEI, VANESSA LIM, YAP JIN WEN PHOTOGRAPHY TPG IMAGES/CLICK PHOTOS; INSTAGRAM; EUPHORIA IMAGES: HBO