SUMMERTIME FUN.
What better way to accessorise your summer outfits than with the new Swatch Energy Boost collection? Featuring a range of fruit-themed timepieces (like mango, kiwi, banana and strawberry) in delicious colours, the playful collection will add a splash of cuteness to even the most basic outfit. Want to try them all without breaking the bank? Get your friends to pick out pieces so you guys can do a swap.
The Swatch Energy Boost collection is available at all Swatch stores and at shop.swatch.com.
 PERFECT FIT 

It's no secret that the HERA Black Cushion is a cult favourite, so it's no surprise that the brand's new Black Foundation has been making a splash. Formulated with Magnefit Powder, the product not only provides full coverage, but also leaves an airbrushed, semi-matte finish. Best of all, it lasts for 24 hours, so you don't have to worry about touch-ups. Available in 12 shades optimised for Asian skin.
HERA Black Foundation, $75, is available at all HERA counters and boutique.
THE ROARING '90S
Love classic sneakers with a twist? Then you'll be glad to know that New Balance has updated its original 997 shoe collection with the 997H range. The new series of shoes feature a '90s silhouette and contemporary design elements, and are just the thing to pair with denim jeans or a maxi skirt. Available in three colour combos for women: White With Laser Blue, Sea Salt With Peony, and Black With Air).
New Balance 997H, $149, is available at all New Balance stores islandwide.
POWER UP
We're well into the middle of the year, but that doesn't mean you still can't work on a new you—not especially when you can sign yourself up for Fitness First's 2,100 fitness classes every week. And you can be assured you'll be in safe hands: Fitness First Certified Fitness Coaches go through a rigorous multi-level training programme, and are routinely assessed on their expertise to get you in top condition. No more excuses now, right?
Contact any Fitness First gym for a complimentary first-time trial.
READY, STEADY, SHOP!
CITY SKIN
Sun rays, air pollution and the dry air of air-conditioned rooms can do a number on your skin, so it's important to take steps to minimise damage from the elements. MUJI Sensitive Toning Water aims to protect your skin against environmental damage by infusing skin with deep hydration. Formulated with natural water extracted from a cavern in Kamaishi City, which has the same pH balance as our tears, it'll leave your skin soft, clean and supple.
MUJI Sensitive Toning Water, $13.90, is available at all MUJI stores.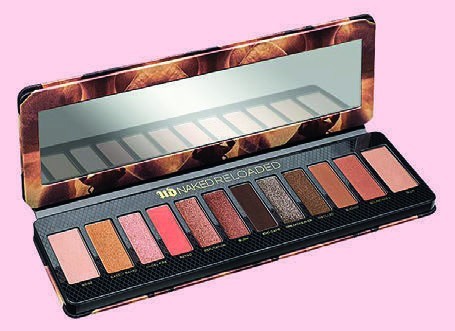 NATURAL BEAUTY
Can't get enough of going Naked (we mean the eyeshadow palette, of course)? Then you'll want to get your hands on Urban Decay Naked Reloaded, which features 12 all-new neutral shades that are flattering for every skin tone. The best part? The brand is crueltyfree (so your conscience can rest easy) and the powders have a rich, velvety texture that allows for extreme blendability. Who says natural makeup is boring?
Urban Decay Naked Reloaded, $71, is available at all Sephora and Urban Decay stores.
RUN WILD
Not too long ago, Nike discovered that those who run without shoes develop more foot flexibility, better balance and improved strength. But it isn't always convenient to run barefoot, so Nike's team of designers created the Nike Free series to replicate the feeling. The brand's elite athletes use the Free series for jogging and low-mileage track workouts, and if it's good enough for them, it's good enough for you too, no?
Nike Free RN 5.0, $159, and Nike Free RN Flyknit 3.0, $209, are available at Nike.com and selected retail stores.
ON THE RUN
Looking for something classy to wear every day with your work blouse and black pencil skirt? Consider investing in a CALVIN KLEIN Mesmerize watch, which will add a dash of sophistication to any work outfit. Available in silver and rose gold, the feminine timepiece may boast a Swarovski crystal-studded bracelet and a clean face encased in stainless steel, but it isn't heavy or overly showy. Oh, and it's perfect for nights out, too.
CALVIN KLEIN Mezmerize watches are available at #01-15 Bugis Junction, #B1-14 ION Orchard and #B2-K7 Marina Bay Sands.
TEXT AMINAH AHMAD.