Ready, steady, shop!
Ready, steady, shop!
Be a Rebel
Looking to add an edgy timepiece to your collection? The Calvin Klein Rebel range has got you covered. The watches feature a thin strap and a minimalist dial that adds a sophisticated touch to your OOTD. With colour variations like black, white, blue, and rose gold, you'll definitely be able to find one that perfectly complements your wardrobe.
Watches from the Calvin Klein Rebel collection retail for $299 at all Calvin Klein Watches + Jewelry stores.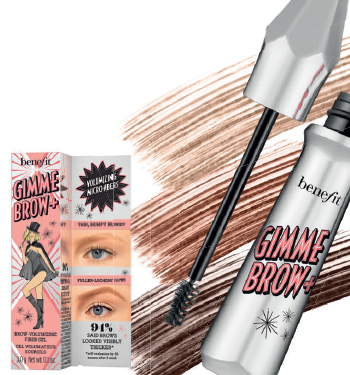 Brow Wow
Make every day a good brow day with Benefit Gimme Brow+. Now available in eight shades, this tried-and-tested formula is packed with microfibres to give your brows instant fullness. You can definitely count on a product that's longwearing and water-resistant – it'll keep your eyebrows perfect all day.
Benefit Gimme Brow+ retails for $42 at Benefit Westgate Boutique, Sephora Benefit counters, Shilla Dutyfree, lazada.com and zalora.com.
Cushion Crush
Combat the signs of ageing and keep sun damage at bay with CREMORLAB Eau Thermale Serum Cushion SPF 50+ PA+++. Featuring a high-coverage, hydrating formula, this cushion allows easy application and has a lightweight finish. It's also made from mineral-rich T.E.N™ water instead of purified water, infusing the skin with intense moisture. The result? Smooth, even-toned skin that glows.
CREMORLAB Eau Thermale Serum Cushion SPF 50+ PA+++ retails for $56 at TANGS VivoCity and cremorlab.com.sg.
Super Blend
Need a little pick-me-up? Improve your mood, digestive health and skin radiance with Asmara's Asari 7, a yummy drink that contains a nutritious blend of seven nourishing ingredients. Key ingredients include superfoods such as Bird's Nest Concentrate, French Rose and Organic Winter Cherry, which work to strengthen your immune system and improve the complexion.
Asmara Asari 7 French Rose Bird's Nest Drink with Winter Cherry & Prebiotics retails for $8 at
www.asmara.sg.
Freshen Up
For fresh breath and pearly whites, try Himalaya Botanique Complete Care Toothpaste. Made with a 100 percent organic formula that's free of fluoride, parabens and artifici9al colouring, it'll not only leave your mouth "dentist clean", but also promote healthy gums, whiter teeth and fresher breath. Also available in two other varieties: Complete Care Simply Cinnamon and Whitening Complete Care Simply Peppermint.
Himalaya Botanique Complete Care Toothpaste retails for $8.90 at all Watsons and Guardian pharmacies.
Text Zoe Zeng.
Soothing Sleep
Your skin repairs itself while you sleep, and you can boost that restorative process with the SOTHYS NO2ctuelle™ Night Range. It includes a Detox Resurfacing Overnight Cream (which detoxifies and smooths), Chrono-Destressing Sleeping Mask (which revitalises) and Pillow Mist (which promotes restful sleep). Here's to waking up with a healthy glow.
SOTHYS NO2ctuelle™ Night Range retails from $99 to $179 at all SOTHYS Premium salons and SOTHYS outlets.
A Kind of Magic
Look all glowed up with a little help from MISSHA's Magic Cushion Moist Up SPF50+/ PA+++, which is basically the foundation equivalent of your fairy godmother. The secret is in the sponge, which is both soft and long-lasting. The result? Natural-looking glowing skin, and lasting hydration thanks to Botanical Fresh Water.
MISSHA Magic Cushion Moist Up SPF50+/PA+++, $26.90 

Essence of Youth
Keep dry skin, dark spots and fine lines at bay with Kinohimitsu J'pan UV-Bright Drink. Packed with the nourishing goodness of grape seed extract, vitamin C and polyphenols derived from grapes and apples, it also provides UV protection for up to nine hours. This delicious drink is best consumed in the morning or 30 minutes before heading out to provide maximum protection for your skin.
Kinohimitsu J'pan UV-Bright Drink retails for $39.90 for 10 bottles at OG, BHG and Waterway Point.
Watch This
If you're looking for a bold yet classic timepiece, you'll love the Swatch SKIN Irony Collection. Featuring polished stainless steel and sturdy leather, it not only lends a touch of elegance but is also incredibly durable. Plus, it's available in a variety of shades, so you'll have no problem matching one to any outfit.
Watches from the Swatch SKIN Irony Collection retail from $209 at all Swatch outlets.
Vitamin Boost
Boost your body's intake of antioxidants and vitamins with Astavita® Healthy Living Antioxidants, a dietary supplement that can easily fit into your everyday routine. Containing natural astaxanthin, a potent source of antioxidants, it not only supports skin and eye health but also muscular recovery and overall immunity.
Astavita® Healthy Living Antioxidants retails for $61 at Activ360 at Velocity and Isetan Parkway Parade, and astavita.sg.
Collagen Calling
You probably know by now that collagen plays a crucial role in maintaining skin elasticity, so if you're looking to keep fine lines and wrinkles at bay, consider including products from the Hadatuko Collagen Series in your skincare routine. It consists of a cleansing foam, lotion, cream and eye cream that work together to help you counter the effects of stress, pollution and a poor diet, and keep skin clean, supple and youthful.
Hadatuko Collagen Series products retail from $76.90 to $134.90 at all Sasa outlets.