AsiaSpa magazine is proud to announce the 15th annual AsiaSpa Awards.
Created in 2005 to recognise the leaders in Asia's dynamic industry, the prestigious accolade sets the benchmark for quality and innovation for spas in the region.
Innovation and quality are integral to the AsiaSpa Awards, whose intent is to give credit to the spas and properties that push the envelope and continue evolving this exciting industry. Now in its 15th year, the AsiaSpa Awards are respected for their uncompromised independence with a reputation for transparency and objectivity. They are among the most accessible awards, as all Asian spas and hotels are eligible for nomination, regardless of size or philosophy.
The AsiaSpa Awards was the first in the region to offer a comprehensive line-up of categories that encompass the fundamental elements of the dynamic spa business. As the industry advances, so do the awards. Starting with 10 categories in 2005, the award categories now span 26 to reflect the latest trends and developments.
The AsiaSpa Awards are proud to celebrate the outstanding efforts of individuals and companies in driving the exceptional standard of Asian spas forward, and as always, the spa community waits with bated breath to see who the winners of the coveted AsiaSpa trophies will be in 2019. 
Organiser
Main Sponsor
Trophies Sponsor
Stephanie Shiu, Editor-in-Chief, AsiaSpa
With over 10 years of experience in the magazine publishing industry, Shiu's editorial experience covers luxury lifestyle and custom publishing, with a particular focus on travel and well-being. She travels the globe in search of the best resorts, retreats and spas to share with AsiaSpa readers, and is on the panel of judges for the Wellness Travel Awards and Cosmoprof Awards. 
Foong Seong Khong, Managing Director, Blu Inc Media
Foong Seong Khong is the Managing Director of Blu Inc Media, a subsidiary of publicly listed media group Singapore Press Holdings (SPH), the publisher of leading luxury lifestyle magazines, including AsiaSpa, Asia-Pacific Boating, China Boating, LP-Luxury Properties, JET Asia-Pacific and Action Asia. 
---
Check out our highly anticipated list of nominations in the November/December 2019 issue to see if you have made the shortlist.
To ensure complete transparency, we invite a panel of judges to provide their unbiased, objective opinions on which properties, products and treatments deserve to be nominated. They pick one winner from each category from the shortlist. Results will be revealed at the AsiaSpa Awards ceremony in November 2019. Nominations will close on August 11, 2019.
If you have any questions regarding the awards, please write to us at awards@bluincmedia.com 
The categories for the AsiaSpa Awards 2019 are:
Spa of the Year (Southeast Asia & the Pacific)
Spa of the Year (North & West Asia)
Urban Spa of the Year
Day Spa of the Year
New Spa of the Year
Design Spa of the Year
Green Spa of the Year
Medi-Spa of the Year
Destination Retreat Programme of the Year
Spa Treatment of the Year
Couple's Treatment of the Year
Medi-Spa Treatment of the Year
Innovative Spa Treatment of the Year
Spa Menu of the Year
Professional Spa Product Line of the Year
Results-Oriented Product Line of the Year
Anti-Ageing Product Line of the Year
New Product Range of the Year
Natural Product Line of the Year
Skincare Favourite of the Year
Spa Cuisine of the Year
Destination Hotel/Resort of the Year
New Hotel of the Year
Family-Friendly Hotel/Resort of the Year
Green Hotel/Resort of the Year
Romantic Hotel/Resort of the Year 
---
Johnny Chang, CEO & Founder, Spa Solutions Training & Management Consultancy
Founder and CEO of Spa Solutions Shanghai, a popular strategist, Chang has more than 25 years international hotel spas and imported spa product brands successful branding experience in China. He acts as a bridge between East and West, offering all-round spa and product brand strategic business plans, development success consultancy and most in need training services to turn his clients' passion into reality. 
Najwa Green, Founder Asia Spa Services & Products International
With over 30 years experience in consulting for renowned brands in the hotel, banking and airline industries, Green is one of the most qualified professionals in her field. Implementing and maintaining high standards for award-winning luxury brands, she takes great pride in creating bespoke and innovative spa treatments. She is passionate about training, skills development and specialises in creating customised programmes designed to bring out the best in therapists and all levels of industry personnel. 
Pete Wong, PR Consultant, Awarna Media
Founder of PR consulting firm, Awarna Media, Pete Wong counts travel, writing and photography as his life passions. When he has time off from the office, he travels to remote destinations in Asia visiting resorts and spas. His work is regularly featured in publications around the region, including Forbes Asia, Shanghai Daily and ParGolf, among others. Wong is based in Kuala Lumpur and has been contributing to AsiaSpa since 2005. 
Maggie Gunning, Spa Consultant, A.W Lake Spa Concepts Pte Ltd
Maggie Gunning gained much of her spa experience in Asia and Europe, honing her skills in all aspects of spa health and consultancy. Clients range from large international hotel groups through to luxury, boutique hotel spas. Gunning's areas of expertise include market feasibility, full concept and branding development, technical services, financial performance forecast as well as pre and post opening services. 
Andrew Jacka, Director, Spa Origins
Jacka is a veteran of the Asian spa industry, celebrating a career spanning 40 years in hospitality. He heads up two not-for-profit organisations: Global Wellness Day Thailand, and the Singaporean-based Asia Pacific Spa & Wellness Coalition (APSWC) which organises the industry's annual Round Table. His Bangkok-based Spa Origins specialises in the provision of spa consultancy services (part or whole project) working from concept through to operational opening and beyond. 
Edward Wong, President, Esth'EdeS Institute International Inc
Edward Wong is president of Esth'EdeS Institute International Inc. and is a veteran in the wellness industry. Since 1986, he has been involved in the business of beauty and spa products, salon and spa operation and education. Wong serves as president of the Spa and Wellness Association Singapore, ambassador for Global Wellness Day in Singapore and is a member of the Singapore Ministry of Health Aesthetics Working Committee. He is an advocate for standards and competencies in the wellness industry. 
Dr Baskaran Kosthi, President, MAWSPA
Dr Baskaran Kosthi is the President of Malaysian Association of Wellness & Spa (MAWSPA), and the Chairman of Urutan Malaysia (Malaysian Signature Massage) Panel. An avid healer in massage therapy modality and a frequent speaker at international wellness and spa conferences, he trains staff in the field of holistic wellness and is a passionate learner of new healing methods. He has travelled to127 countries and speaks nine languages. 
Chami Jotisalikorn, Author, Journalist and Communications Consultant
Chami Jotisalikorn is a journalist and author of over 10 coffee table books on Asian spas, interiors, and luxury travel. Her blog Barefoot Luxe is Asia's top luxury travel and wellness blog. She contributes to newspapers and travel and spa guides and is a Wellness Travel Expert for Spafinder USA. She works as a communications consultant for niche clients such as boutique hotels, spa and wellness retreats, and designers. 
Karen Goudge, Owner, Spa Wellness Travel
Karen Goudge is the owner of Spa Wellness Travel, a travel company that she created in 2001 that coordinates spa resort and health retreat stays. Between 2005 and 2010 she took on the roles of board director and president at the Australian Spa Association, and was a participating judge for the AsiaSpa Awards between 2006 and 2012. A breast cancer survivor, Karen delights in researching and creating Spa Wellness Travel packages, and she encourages people to experience the amazing world of spa and travel. She resides in a coastal town in Victoria, Australia. 
Jo Foley, Author and Journalist
Jo Foley has been visiting, writing about and reviewing spas on four continents for almost 30 years for publications as diverse as the Financial Times, Vanity Fair, Departures and the Daily Telegraph. She has also consulted on spas for groups including One&Only, The Dorchester Collection as well as a number of standalones. She has enjoyed much pampering, endured many fastings and retreats and explained the need we all have for time, space and peace of mind offered in some of the best holistic healing centres across the world. 
Barry White, Founder and Director, WHITE
Spanning the globe, Barry White has over 25 years of experience developing, creating, operating spa, wellness, and fitness businesses. He provides a rare level of expertise, whether it be with new project development, executive management, product partnerships or marketing and events. He is passionate about developing authentic, unique and innovative experiences/stories, whilst ensuring sustainable commercial viability. White is a leading industry visionary and opinion maker, continually striving to redefine operational and commercial boundaries with an entrepreneurial drive. 
Kathryn Moore, Founder & Managing Director, Spa Connectors, Executive Director, Professional Beauty GCC
Known for her creativity and 'out the box' thinking when developing bespoke, high-end spa and wellness concepts, Kathryn is a sought-after collaborator, During her illustrious 15-year career, Kathryn has negotiated complex commercial arrangements, conceives and implements operating frameworks, standards and training programmes. She is the creator of Spa Connectors, a solutions platform that offers exclusive training programmes, recruitment and business support. Kathryn is also Executive Director of the GCC's leading B2B platform, Professional Beauty GCC.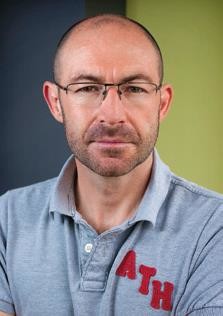 Mark Smith, Editor, The Spa Man and Contributing Editor, European Spa Magazine
One of the few male spa writers in the world, Mark aka @markthespaman has been writing about men's grooming and beauty for over 20 years. A judge for the Asia Spa Awards and Contributing Editor at European Spa magazine, he has written for Vogue, Tatler, The Daily Telegraph, Luxury Spa Edit, Planet Mindful and Men's Fitness and regularly speaks about the male spa market. Now based in London, Tasmanian Mark merges his assignments with a dual role as a media consultant for beauty brands where he offers PR, marketing and social media support. 
Samantha Foster, Director, DSM and President, IHWA
Sam has been at the leading edge of spa & wellness in Asia for over 20 years. Qualified in biohacking, cosmetic science and a host of spa and holistic therapies, the former head of development for Chiva-Som now specialises in creating bespoke wellness concepts, and has developed concepts in 15 countries for inspired individuals to large multinationals. A published author, speaker, educator and industry activist, Sam is currently forming a new trade association to unite the Australasian wellness industry and is creator of Flourish, a new platform for 'successful aging'. 
Catharine Nicol, Journalist
Following four years as editor-in-chief and another four as editor-at-large of AsiaSpa, Catharine Nicol returned to freelancing and reports on new destinations, experiences and adventures, with a focus on fitness and yoga, nutrition and skincare, mind training and spiritual experiences, and everything spa. She is the founder of Spas + Beyond and creates content for leading retreats, resorts and wellness operators. Her passion and respect for the talented people who drive the industry, their innovations and the dynamic trends that follow, make hers the quintessential dream job. 
Susie Ellis, Founder, Chairman & CEO, Global Wellness Summit, Chairman & CEO, Global Wellness Institute
Susie Ellis is the co-founder, chairman and CEO of the Global Wellness Summit, the invitation-only international conference that brings together leaders in the $4.2 trillion global wellness economy. She is also chairman and CEO of the Global Wellness Institute, a leading nonprofit for global research and educational resources. Susie is frequently quoted in major news outlets around the world and is a popular speaker at industry events. She is the former president of Spafinder, where she established the first wellness trends reports, and she sits on numerous academic and industry boards. 
Liz Clayton, Founder, LA EDIT
Liz Clayton is a trailblazer of the wellness vanguard, and has created spa/wellness initiatives for hospitality giants. Clayton's strength lies in her ability to build brand whilst curating soul-stirring experiences. She has developed award-winning international retreats; conceptualised the first 'Spa Suites' for The Academy Awards and The Golden Globes and fashioned her own sustainable season-free clothing line. Clayton is currently working on her most ambitious project to date: LA EDIT — a highly curated online magazine and ecommerce platform dedicated to conscious beauty, slow fashion and an elevated lifestyle. 
Lisa Starr, Spa and Salon Consultant, Wynne Business
Spa, wellness and salon business consultant for Wynne Business, Starr has over 30 years of experience in the beauty industry. She has spent the last 19 years as a consultant and educator, helping companies maximise their spa operations and performance for front and back of house. Starr is also the task force chair for the Global Wellness Institute Consulting Initiative, a contributing editor at Dayspa Magazine, a regular contributor to global trade publications, and a highly rated speaker at spa and beauty industry conferences. She runs spa management courses across the globe.