HELD AT SUBIC BAY in Philippines, the 9th edition of the Commodore's Cup wrapped up after some fierce races (Mar 28-Apr 1).
HELD AT SUBIC BAY in Philippines, the 9th edition of the Commodore's Cup wrapped up after some fierce races (Mar 28-Apr 1).
Australian Skipper Nick Burns aboard EFG Mandrake took line honours as well as the Racing Class title, Anthony Root's Ker 42 Black Baza settled on second overall. Ernesto Echauz's Standard Insurance Centennial III finished in third.
Local sailor Jun Avecilla's Beneteau First 36.7 Selma Star won every race in the Cruising Class and Viggo Lisson's Beneteau First 31.7 Selma followed suit with second places. Garry Kingshott's Fusion 40 catamaran Kerida came in third overall. 
In the Streaker dinghy class, Roel Batlagan came from behind to score seven wins out of 12 races and proudly took the trophy home. Early leader Boyet Magsanay finished on the podium in second overall. After a close battle, Janno Dalanon claimed third place.
Eleven Optimists went head to head and enjoyed the outing. John Pert Laud out-sailed the other sailors to post 10 wins in a row. Stringing together mostly second and third places, Dazer Balangue wound up in second place in front of his older brother Daven Balangue who took third overall.
www.subicsailing.com
www.commodorescup.rorc.org
CLIPPER ROUND THE WORLD YACHT RACE - LEG 7
CLIPPERTELEMED+ POPPED champagne after finishing Leg 7 with a victory in Race 11 and leading the fleet into New York, although the team finished second in Panama for Race 10 behind LMAX Exchange.
ClipperTelemed+crossed the finish line in New York at 14:42 UTC on June 9 after overtaking Garmin at night, followed by Visit Seattle in third recording its first podium and best result so far in the series.
"The team is ecstatic about winning the race," says ClipperTelemed+ Skipper Matt Mitchell. "We've been putting in 110% every minute of this race, coupled with good decisions along the way. We have secured victory for the first time since leaving London."
The Leg 7 races had no lack of dramas: During Race 10 the temperature went up to mid-40 degrees due to a dearth of wind. A complete reverse came later when the fast and furious tropical storm Colin blasted on the fleet. The teams survived with preparation beforehand.
LMAX Exchange is still leading the Clipper Race overall, with Derry~ Londonderry~ Doire and Great Britain competing for the final title.
The final leg of the odyssey, New York to London via Derry-Londonderry in Northern Ireland and Den Helder in the Netherlands got underway on June 20. 
www.clipperroundtheworld.com
EXTREME SAILING SERIES QINGDAO
SWISS TEAM ALINGHI notched up its first win of the 2016 Extreme Sailing Series on the final day of racing in Act 2 Qingdao (Apr 29-May 2).
Alinghi went into the finale of Act 2 with the narrowest of leads over rivals and Act 1 winner Oman Air, and all to play for as the fleet took to the stadium race course in 8 to 10 knots of wind – enough for the GC32 catamarans to fly on their hydrofoils.
The victory means Alinghi moves up the overall leaderboard into second, but Oman Air still tops the standings by two points going into Act 3 in Cardiff, UK. "The team did a fantastic job – they made it easy for me to just helm the boat and be fast," says Alinghi helmsman Psarofaghis.
Early leaders Land Rover BAR Academy finished fourth, with Sail Portugal in fifth and SAP Extreme Sailing Team in sixth. Taylor Canfield's One team, the first Chinese-backed crew to compete in a full season on the Extreme Sailing Series, finished Act 2 in seventh ahead of Team Turx.
Act 3 of the Extreme Sailing Series was taking place in Cardiff June 23-26 and results were not known at press time.
www.extremesailingseries.com
ROLEX CAPRI INTERNATIONAL REGATTA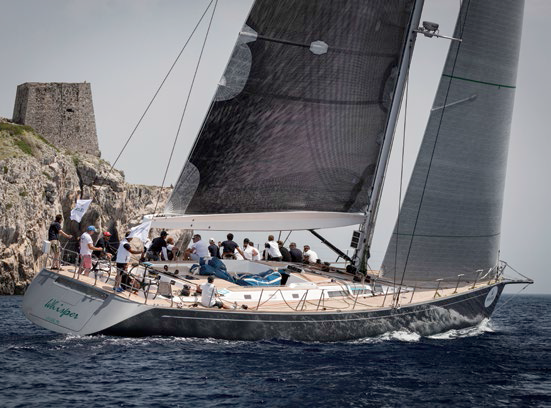 SEAWAVE SWEPT FIRST PLACE both in the Rolex Capri International Regatta and in the Southern Wind Trophy (May 24-28) in Capri, Italy.
The 19nm course took the fleet counter clockwise around Capri and past some of her most beautiful spots.
"A week ago we didn't know how Seawave would perform as a racing boat, but now I can say she has real promise in the world of superyacht regattas," says Volvo Ocean Race veteran Matt Humphries, part of the professional crew aboard SW102RS.
The team was placed first in both the ORC Superyacht Class and in the Southern Wind Trophy, followed by Grande Orazio by Pioneer Investments second in the Trophy and ORC Superyacht Class. Whisper placed third in the Southern Wind Trophy.
The 25th Anniversary Rendezvous and Trophy was a celebration held within the regatta, sponsored by Rolex and organised in collaboration with the Yacht Club Italiano, the Yacht Club Capri and the Circolo Canottieri Aniene.
www.sws-yachts.com
www.rolex.com
www.yachtclubitaliano.it
www.yachtclubcapri.net
www.ccaniene.com