Taiwanese owner plans to cruise the world and participate in the occasional superyacht regatta along the way.
Taiwanese owner plans to cruise the world and participate in the occasional superyacht regatta along the way. 
THE POWERFUL 43M ROYAL HUISMAN sloop Sea Eagle has been beautifully designed and engineered to meet her Taiwanese owner's needs. After a winter holdover in the Mediterranean, Sea Eagle is spending the 2016 summer cruising the Baltic States to include the jagged Fjords of Norway and the thousand islands of Sweden before heading westward to the Caribbean.
Taiwanese Owner Dr Samuel Yin plans to cruise the world – and participate in the occasional superyacht regatta along the way.
Following the distinctive performance of the Germán Frers-designed Unfurled and Hyperion [overall winner and second in class, respectively, at the 2016 St Barths Bucket regatta], Sea Eagle, also designed Frers, has added her mark as the first entry for the 2017 St Barths Bucket.
With her dark-blue hull and "Chevy white" superstructure, the yacht is as stylish as she is performance oriented. A high-aspect carbon-fibre mast towers some 57m (187ft) above the water and carries upwind over 1,000sqm of standing sail, while a fixed keel drawing 4.5m / 14.7ft and a displacement of just on 200 tonnes will ensure a thrilling ride under sail.
Well-positioned sightlines from the twin helm stations offer a commanding view of the uncluttered deck and sail plan. For guests an adjoining cockpit keeps everyone socially connected under sail or at anchor.
A unique awning-covered tea deck and dining area provide the perfect place for outdoor dining or shaded seating under sail or at anchor.
An added feature of Sea Eagle is the aft beach deck. Two steps lower than the main deck, the transom opens out to reveal a large swim platform and full-beam staircase where beach and platform become a water-lover's playground.
A 5.2m / 17ft Castoldi jet tender can be deployed from the transom garage by way of a hydraulically lowered ramp, providing the ideal launch pad for a day of water skiing or diving.
Easy Living
No less impressive is Sea Eagle's interior design by Rhoades Young. Subtly grained French walnut sets the backdrop for white oak floors, upholstered wall panels and birch wood accents for a calming, low-key and sophisticated ambience.
Forward of the awning-covered centre cockpit with upholstered seating, the main cockpit and entrance to the main deckhouse saloon are shaded by the generous overhanging coachroof.
Surrounded by large wrap-around windows and flooded with natural light the spacious deckhouse features a cosy conversation zone and dining for a full complement of guests as well as the interior helm position for navigation during inclement weather.
From here, a staircase turns aft and leads below to two guest cabins and an expansive aft Owner's suite with private entrance to the stern beach deck.
Another staircase forward of the main deck saloon gives way to a vestibule with three heavily insulated doorways: one leads to the day bathroom; one to the starboard side flex cabin, which can be either gym or a VIP cabin; and last, but not least to the crew area, portside engine control room and ship's office for convenient crew access to the engine room without intruding into the guest areas. A staircase from the crew quarters leads directly to the foredeck aft of the crew tender garage.
Like all Royal Huisman yachts, close attention was paid to reducing noise and vibration to hushed, library-like levels, even when the engines and/or generators are in full operation.
Eastern Horizons
Sea Eagle is the direct result of Royal Huisman's long-term commitment to developing business opportunities in Asia and particularly Southeast Asia.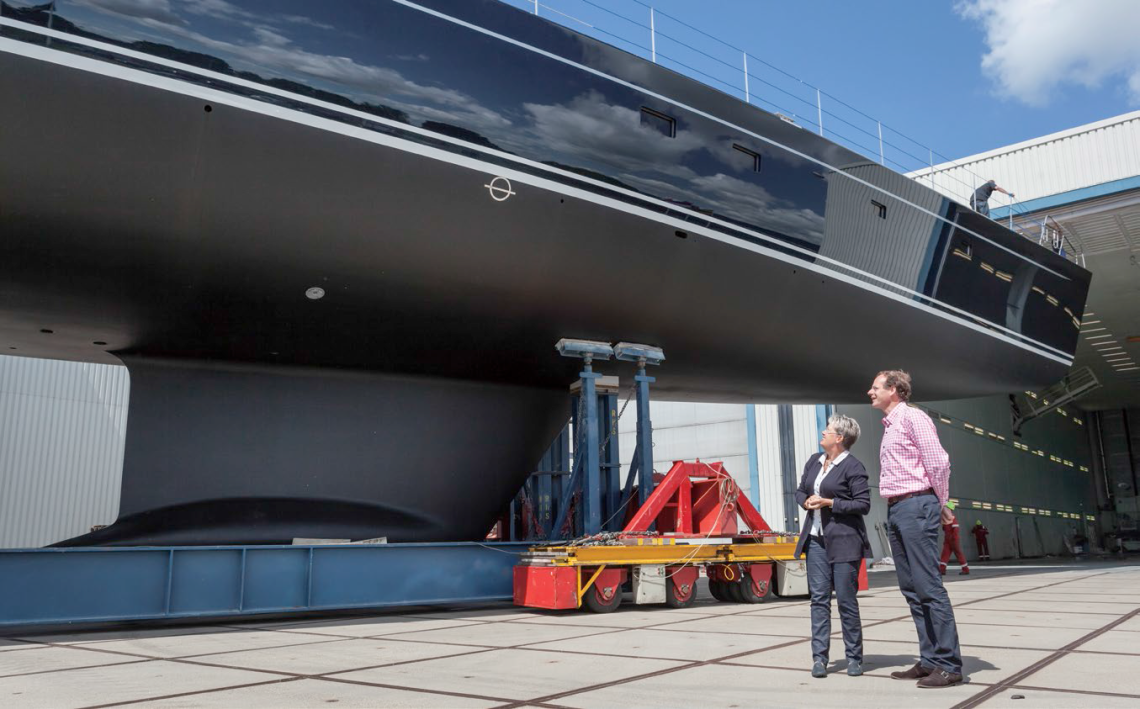 The shipyard has been a regular participant in events such as the Hainan Rendezvous, Singapore Yacht Show and Asia Superyacht Rendezvous, as well as dinners and presentations for select audiences in Beijing, Hong Kong and Singapore.
The sale negotiations were assisted by Regional Liaison Bart Kimman, Director of Northrop & Johnson Asia, who merged the interests of client and shipyard to help bring this exciting project to fruition.
With this important foothold in the region, Royal Huisman continues to build a following among well-informed and aspirational business leaders in Asia, and is optimistic there will more interest from the region in future.
Reinforcing his trust in the shipyard, Dr Yin has offered his full support by making his yacht available for presentations at various worldwide yachting events, including his home waters in Asia.
Viewed by Royal Huisman as a huge honour, this opportunity allows the yard to demonstrate around the world what the brand represents: the pinnacle of Dutch quality and the clear distinction between 'what looks good' and 'what seriously is good' in superyacht building.
Besides being an experienced offshore sailor, Dr Yin is a prominent Taiwanese businessman and philanthropist. He believes passionately that education is the driver of social progress and that we should give back to society by sharing what we know with others.
In other words, that life should not be measured by wealth, but by our contributions to others by providing them with greater access to knowledge. This philosophy extends to his appreciation of sailing.
"Sailing is a very special activity", says Dr Yin. "You can enjoy being relaxed on the sea or experience different scenery, you can be alone or witness things you've never seen before. It is the same as in life: it might not always be smooth sailing and there will be ups and downs. Nonetheless, as with life, it is very rewarding."
Sea Eagle is the second in a Limited Series of three. The last of this 43m series awaits a discerning client who is looking to take advantage of a proven design that offers a shortened delivery time and amortised cost savings, while allowing a choice of interior and exterior arrangements to personalise the design to a very high level.
www.royalhuisman.com