SOLAR-POWERED YACHTS ARE NOT JUST ABOUT SAVING THE ENVIRONMENT.
SOLAR-POWERED YACHTS ARE NOT JUST ABOUT SAVING THE ENVIRONMENT.
WHEN THE SWISS-BORN PHILIPPE Guenat proposed his concept of solar-powered yachts to shipyards around Europe 10 years ago, he was met by slammed doors and cold shoulders. Today, he's cruising on one of his initial designs, the Heliotrope 65, in Kho Chang archipelago, just south of his shipyard in the Mueang Rayong district of Thailand.
After an uphill battle, the breakthrough came one afternoon from a colleague at the end of a smoke break – Marlboro, Guenat recalled – when he found a way to maximise five kilowatts to eight kilowatts of power from the same surface area.
That sort of energy, he says, is enough to fuel the average laundry machine, dishwasher, diving compressor, water-maker and air conditioning, at least during the day.
"It was a very difficult concept to develop, but even after our breakthrough, no big-brand shipmaker wanted to be the first one with the boat, so I had to build my own yacht," says Guenat, adding that of the Heliotrope 65's 1,000-plus hours at sea, only one-tenth of the time was powered by diesel.
Though it's hard to associate depressing images of grey industrial chimneys and smoke mushrooms with the tropical skies over your head when cruising out in the big blue, a diesel or petrol-powered cruiser is still guilty of environmental damage. The already more fuel-efficient 70 Sunreef Power Jambo, for example, only uses 15 litres of fuel per hour at 10 knots yet exudes six times that weight (90 pounds) in carbon emissions. This doesn't take into consideration other toxic gases and noise pollution from the engines.
In 2015, the US government even announced that all superyachts longer than 79ft and weighing more than 500 tonnes must be fitted with gear that converts nitrogen oxides into nitrogen and water, which requires gear often as bulky as whole cabins. Existing ships have until 2021 to convert.
If the green argument and the US waters aren't enough to persuade yacht buyers to buy a solar-panelled boat, the rewards of silence, fuss-free maintenance and refuelling-free autonomy might be.
"Listen, I have a fighter jet at home. I am a pilot, I am not a 'green' guy, but I can tell you there hasn't been a single problem with the solar set-up in the four years that we've been out on the ocean. That's four years since this has been plugged into a shoreline. It gives me total independence," Guenat says.
Aside from sheets of navy solar panels stretched across the top of usually a catamaran (chosen for its size and stability), these revolutionary yachts look like any other multi-million-dollar floater. These panels harness energy from the sun to power movement and more challengingly, the cornucopia of appliances yacht owners can afford.
To avoid Castaway situations, a backup generator powered by petrol (or sometimes alcohol) is put in place. Certain boats even have a Wi-Fi system on board for remote follow-up and maintenance work.
Nonetheless, sacrifices are implied. For example, air-conditioning needs to be turned off at night or expensive and easily spoiled foods should be left on land in case there isn't enough energy to power the fridge . Otherwise "it's pretty much maintenance-free because the system isn't more complicated than a diesel-run boat," says Ed Meacock, Head of Business Development at the UK-based Silent Yachts, which recently debuted its Solarwave 54.
"Solar panels have been around for 30 to 40 years. Induction motors have been around for a decade, batteries around the same time. It's just a new way of putting them together. Having a normal crew on board is more than enough. We have a handover session explaining everything that may be different from a diesel-powered yacht, but nothing is overly complicated."
Currently in the Market
Though curious buyers from around the world are catching on, competition within the industry remains small as yet, with only home- grown models from boating enthusiasts sprouting here and there. Guenat's family owns one of the oldest shipyards in Switzerland, for instance. Silent Yachts was founded by a long-time sailor. Solar- sails manufacturer Solar Cloth System, on the other hand, is a branch under UK Sailmakers – a familiar name in both the China Cup International Regatta and America's Cup. Furniture maker Duffy London has announced plans to launch a Solaris by 2020 – its founder, Chris Duffy, has been a sailing devotee since the age of four.
"I think yachting is quite an uncompetitive industry. Nobody really tackled solar panels properly mainly because the technology wasn't there," says Meacock, who adds that a charter yacht is in the company pipeline to reach more customers. "A lot of people were put off by the failure, but in terms of the market it's not hard to sell. People just need to see that solar-powered yachts are real, that they exist and they work.
"People with that kind of money don't care about the price tag. They care about not polluting the environment. They care about a nice, noise-free experience. And I can tell you, the feeling of sailing when you have the engines off, it's amazing. You become at one with nature. It's important for when you want a relaxing holiday and you're not affected by fumes and vibrations."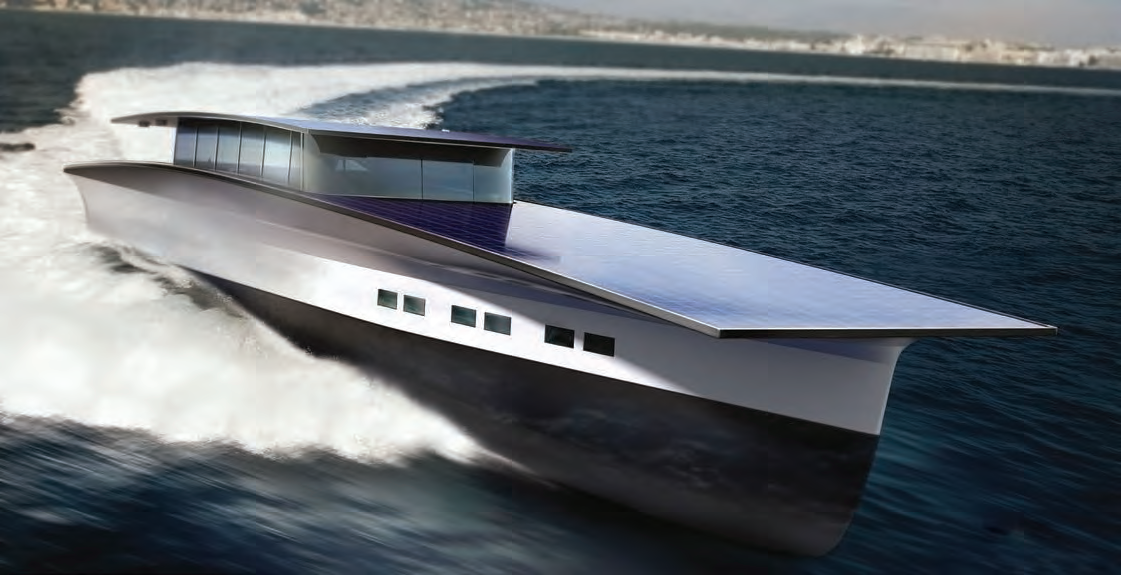 Start Small
Sceptics and conventional yacht owners can start with baby steps, like introducing solar power to their sails, which was precisely what Conrad Colman did last year with Solar Cloth System to finish the Vendée Globe "without a drop of fossil fuel on his 60-footer", says Solar Cloth System CEO Alain Janet, who admits that the real cashcow for his fabrics lie in agriculture, military and even aerospace.
Designed for both yachts with or without existing sails, Alain's solar sails and stick-and-peel solar films come with zippers and Velcro strips for easy installation and removal. They harvest light from either side of the sails meaning luminosity is enough to power the boat even on overcast days. To date, his solar films can occupy up to 30 per cent of the main sail, depending on the size, energy needs and the boat's weight capacity. And until solar panels can be custom-sized for cheap, he says business is steady.
"It's a new product, yes, but we don't need to plead that much. If the customers need it, they need it," says Janet. "There's a new tendency in Europe and somewhat in the States for sailboats with electric engines. They are quiet, they don't break, they don't generate heat and don't leak diesel so your boat is always clean. The engine is small so you have a lot more space on your boat. People with these kinds of boats want extra ways to charge their battery. They want full autonomy."
Looking Into the Future
While Guenat, Janet and Meacock are all anticipating the next solar breakthrough to advance their inventions, one boat maker who's waiting for the future to make the first move is furniture designer- cum-sailing enthusiast Chris Duffy, who has whimsically put an 'Add to Cart' button next to his US$30m Solaris set to finish three years from now.
Renderings on his website suggest his 44m yacht will be sandwiched by solar panels and an alcohol-turbine generator below as back up, boasting maximum speeds of 45 knots.
"We're still years away from production, so maybe 2020 is a bit ambitious. The 'Buy Now' button was a bit of a joke, to be honest," Duffy laughs.
"We're dealing with a manufacturer now in Italy. But with the rate of development in energy-efficient appliances and the technology moving so far with battery and solar energy, I won't be surprised to see multiple-folds in energy capacity in just a few years' time. But since these yachts aren't mass produced, we can take our time. It's a matter of finding the right client and the right builder."
http://www.yacht-heliotrope.com
http://www.solarclothsystem.com