THE AMERICA'S CUP PLACED BERMUDA UNDER THE SPOTLIGHT AND IT LOOKS SET TO STAY THERE AS THIS TINY BRITISH TERRITORY OFF THE USA'S EAST COAST HAS PLENTY MORE UP ITS SLEEVE.
THE AMERICA'S CUP PLACED BERMUDA UNDER THE SPOTLIGHT AND IT LOOKS SET TO STAY THERE AS THIS TINY BRITISH TERRITORY OFF THE USA'S EAST COAST HAS PLENTY MORE UP ITS SLEEVE.
BERMUDA MIGHT ONCE have been best known for its namesake shorts, rum swizzles and pink-sand beaches, but its turn playing host to the 35th edition of the America's Cup this year has bestowed renewed glory on this tiny island. And this was no fleeting moment in the spotlight.
The major international sailing event has acted as a catalyst for wider change and growth, prompting new hotels, restaurants and marinas to spring up across town. The adrenalin-fuelled racing might be over, but the excitement continues in this British territory.
Bermuda is often wrongly labelled as being in the Caribbean. In fact, this tiny treasure of an island – just 20 miles by two – is further north than Florida and lies 700 miles east of North Carolina in the mysterious Sargasso Sea region of the North Atlantic.
It stays relatively warm all year round due to its subtropical climate, but late summer is the best time to visit due to lower humidity levels and fewer tourists.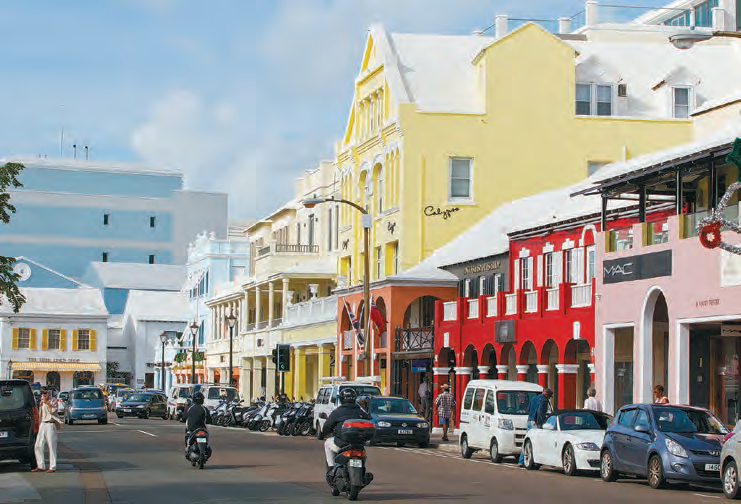 Places to Dock
For superyachts, the Hamilton Princess is ship-shape post its US$100m renovation and its marina can cater to any size of yacht. Docking here means you're already in Hamilton, the island's capital, but most importantly you can take advantage of all the hotel's superb facilities.
For art lovers, stepping into the lobby is like stepping into a world- class art gallery, with works from Andy Warhol, Damien Hirst, Banksy and more gracing the walls.
The hotel is also home to the island's only celebrity chef restaurant, Marcus, headed up by the much-lauded Marcus Samuelson. There's also a fabulous spa, new tennis courts and a private beach club, complete with semi-sunken hammocks and a beach café.
Another option is to dock at St George's, a UNESCO World Heritage Site and the first capital of Bermuda, founded in 1612. The marina, managed by Bermuda Yacht Service, caters to yachts up to 90m and is currently expanding to accommodate more.
Caroline Bay Marina, which only opened in April, is the island's newest offering and has capacity for 30 superyachts over 30m and about 80 berths for smaller vessels and superyacht tenders.
The marina is located at Morgan's Point, where a resort featuring a luxury spa, restaurants and residences will open by 2018.
Pat Phillip-Fairn, the Bermuda Tourism Authority's Chief Product and Experience Officer, says the island is readying itself for more superyacht activity.
"We're building from the momentum of having in excess of 80 superyachts here for the America's Cup. The expanded infrastructure includes Cross Island, the nine-acre site of the Cup Village, which will be used as a multi-use venue going forward," she explains.
"In addition, we're seeing new concierge services specifically catering to superyachts, handling everything from champagne deliveries to bunkering services. Yachts can also take advantage of a duty-free bunker of fuel upon leaving the island."
Arriving and leaving by air is easy, too, with private jet facilities and an improved airport terminal on the way.
Land and Sea
Bermuda's pink beaches and watersports including diving – over 300 shipwrecks dating from the 1600s onwards are among the underwater attractions – have helped to make the island a hit with visiting yachts.
Even though its secluded location makes it a stand-alone destination rather than part of a wider cruising area or a typical charter route, yachting pros know better than to see this as a mere stop-off point on the way further east or west.
Phillip-Fairn explains the appeal of a longer stay. "When yachts are cruising around the island, highlights include the idyllic Coopers Island Nature Reserve in the East End, where there are some of the most secluded beaches, wreck diving off the South Shore, and Admiralty Cove, a local favourite for adventurous cliff jumping."
Bermuda is also ideal for snorkelling, kayaking, paddleboarding and parasailing. Best of all, there are almost 200 islands, inlets and coves to choose from so yachts can rock up and rock out without seeing another soul.
On land, history buffs can fill their boots with ruins from both World Wars as well as plenty of British colonial architecture and enduring examples of British culture including red telephone boxes, the nationwide obsession with cricket and the abundance of Brit-style pubs.
The Royal Naval Dockyard, right on the island's southern tip, is packed with maritime history.
For golf lovers, it doesn't get much better, with courses dotted across the island including Turtle Hill and Port Royal Golf Course, previously home to the PGA Grand Slam of Golf contested by the winners of the four major championships.
Hamilton, the capital, is well worth a stroll and is also where you'll find some of the best restaurants on the island including the Lobster Pot, a local favourite, and the recently opened Devil's Isle Cafe.
The Railway Trail, a converted walking track that traverses the island, also offers runners, hikers and bikers a wonderful way of exploring.
Looking Ahead
Those that think Bermuda will be enjoying a well deserved break after the America's Cup can think again, as Phillip-Fairn explains.
"There are a variety of other events scheduled through the rest of 2017 including the Bermuda Triple Crown Billfish Tournament, Round the Sound Open Water Swim Race in October and the World Rugby Classic in November."
The island is also preparing this year for other new major sporting events scheduled for 2018, including the ITU World Triathlon Series event in April (the first of three consecutive annual events through to 2020) and the Moth World Championship in May.
"Overall, our year-round events calendar is growing and we're looking forward to hosting new visitors, including our superyacht guests, while they enjoy everything Bermuda has to offer," Phillip- Fairn says.
Bermuda is back on the radar – and set to stay there.
Photos Bermuda Tourism Authority