Fashion Direction Janice Pidduck. Photography Joel Lim/Calibre Pictures
1 Rajid Ahamed, 22
RAPPER/ACTOR  @YUNG.RAJA
Rajid has been acting since he was 14, and has appeared in ads for 7-Eleven and KFC, and in feature films, including Ah Boys to Men 3: Frogmen. It was only recently that he decided he wanted to do something he's equally passionate about – music.
For Rajid, the most important thing is to keep his music authentic by weaving elements of himself into it. For example, he remixed Lil Pump's trap hit "Gucci Gang" into "Poori Gang", flipping the lyrics to include references to Indian food and culture.
To date, the video has garnered over 70,000 views on YouTube, and his popularity is steadily rising. "People stop me in the streets sometimes and I always make the effort to talk to them and make them feel good about themselves." It's the attitude he takes to relationships in general. "I think it's important to be positive and motivational. It's not about what you do, but how you make people feel."
Swatch PEPPE (YES1004), $140.
Tee, $49.90, Urban Revivo. Skinny jeans, $103, Topman. Chain necklace, model's own.
2 Rayner Lim, 21
MODEL @RAYNERLIMJS
It's hard not to do a double take when you lay eyes on Rayner. And it's not just because of his boyishly good looks – you may find him familiar as he has appeared in several TV shows.
The sort to declare he's "very close" to his family, Rayner makes it a point to have dinner together every day. The model also aspires to be quite the family man (he wants to settle down by 27 and looks forward to being a cool dad someday).
Good catch? You bet. He says he's "very loyal" and ambitious. As much as he's currently enjoying his work as a part-time model and actor, he wants to go back to school after he finishes NS so he can upgrade his engineering skills and venture into the aerospace industry.
Swatch WATCH MY FABRIC (SUON129), $109. Jeans jacket, $89.90, Zara. Hooded jacket, $49.90, Bershka. 
3 Josh Yen, 25
MODEL @JOSHYEN93 Y
You're not alone if you think this full-time model reminds you of a young Jay Chou – Josh will shyly admit that he's told this pretty often. Josh also has an identical twin and, as you can imagine, they're such a head-turning duo that they have a fan base in Malaysia, where they're from.
But back to Josh: he reckons he's the type of boyfriend who's a romantic and the type to cook for his beloved. The full-time model has also got pretty big dreams: he hopes to walk the runways of Milan someday, a goal he's on his way to achieving since he's already travelled to a whole host of countries for work, including Korea, China, and Greece. He's as down-toearth as he is good looking – and you should definitely keep an eye out for him (and his career).
Slogan tee, $17.90, Bershka. Drawstring pants, $59, Flesh Imp. 
4 Arulazhakan Ayyavoo, 31
TOUR MANAGER @ARULAZHAKAN
"I love motorbikes," Arul says excitedly when asked to describe himself. He goes on to tell us that he rode his bike to the studio ("it's my girlfriend") and brought his helmet along in hopes we could shoot a photo of him with it. He started riding a decade ago and plans to tour Malaysia, India and China on his bike one day.
Apart from biking dreams, he also has set his sights on other goals. Currently a tour manager for Hi-5 (that musical group for kids), the 31-year-old has also acted in various dramas on Channel 5 and Vasantham, and aims to work in theatre in the future. He doesn't have any formal training in acting and learnt everything on the job. Pretty impressive, we say.
Swatch BIG WILL (YWS101), $135.
Checkered jacket, $860, Acne Studios from Club 21. Sleeveless tee, $26.90, Topman. 
5 Aaron Mossadeg, 26
ACTOR/MODEL @ACMOSSADEG
Aaron comes from a family of CLEO Bachelors. His cousins took part in CLEO Most Eligible Bachelors in 2013 and 2014. "They asked me to join in 2016 to complete the trifecta, but I wasn't ready," he admits.
Besides being a model, the 26-year-old also has his dream job of being an actor. Interestingly, he doesn't have plans to go to Hollywood – yet – and wants to concentrate on the local industry. He draws from the example of Malaysia's former CLEO Bachelor Henry Golding, who took the regional path before making his international debut in Crazy Rich Asians. When he's not acting, Aaron also enjoys scriptwriting and his goal is to eventually venture into directing.
Swatch GREYBOLINO (SUOM109), $109. Muscle tank, $129, palm-print trousers, $269, both from Scotch & Soda. 
6 Ng Zi Xuan, 24
STUDENT @NGZXXN
He may be in ridiculously good shape now, but Zi Xuan is the first to admit he's only had these abs of steel for the past two years. A random sighting of an overweight uncle in an army singlet after NS actually spurred him into committing to a fitter, healthier lifestyle and he has never looked back since.
The SIM marketing student is hoping to get into the fitness business one day, but for now, he enjoys hobbies like surfing, which he picked up on a trip to Phuket. He's also a movie lover (which is definitely an ideal date for him) and can't resist a good romcom, his favourite being Forgetting Sarah Marshall. He also loves a good chilled-out date on the beach, but has also once taken a girl LAN gaming, which he laughingly says offers "the perfect amount of interaction to get to know someone."
Swatch SALE (YES1005), $140. Jeans jacket, $99.90, Urban Revivo. Slim fit chino pants, $49.90, Uniqlo. Sneakers, model's own.
7 Toh Han Wei, 20
STUDENT @HANWEYY
Han Wei is one of those people who trains really hard for his sporting commitments. Like, really hard. This water polo player hits the pool every single day and has been athletic since he was a kid.
He is currently waiting to enter university and says part of the reason why he's training so hard is because he hopes to get on the school team. Aside from being an athlete, he's also a model – something which he fell into by accident (he only went to a casting because he was accompanying a friend). And while he considers himself "boring" and a "homebody", he's spontaneous enough to sometimes book impromptu flights out of the country for a short getaway.
When asked why he decided to become a CLEO Bachelor, he bashfully reveals that he wants to boost his confidence. Han Wei may be a bit shy, but there's no doubt he knows a thing or two about dedication.
Swatch BOTILLON (YCS597), $230. Knitted sweater, $49.90, Urban Revivo. 
8 Jasper Lee, 26
SYSTEMS ANALYST @JASPERLEE27
On weekdays, Jasper works at PSA Corporation Limited, putting his Computer Science degree to good use. On weekends, he's most likely to be on the field, playing football. The 26-year-old used to coach kids at private football academy JSSL Singapore, and had dreams of making a career out of it.
However, he opted for the safer route of IT. "I had to be realistic when it came to my career, especially considering the football scene is not so advanced here," he says. However, when it comes to love, he's not always as pragmatic. Last year, he flew to Norway for a week to surprise his girl, who was on an exchange programme. It was right before his mid-term exams, when he really should have been studying. "I let my heart take over my mind," he admits.
Swatch SKINSAND (SVUB101), $167. Military bomber jacket, $89, Flesh Imp. Hooded jacket, $79.90, Topman. Washed denim shorts, $229, Scotch & Soda. 
9 Nicholas Leong, 24
PERFORMER @NJLTHEAWESOME
If you think Nicholas looks familiar, maybe it's because you were at Universal Studios recently. Having just completed his NS last year, he has been performing at the theme park over the weekends, playing up to eight roles. "It's fun, but it's not easy!" he admits, adding that out of the 500 people who auditioned, only 37 were hired.
Nicholas makes sure to hit the gym every day, and has been a fitness enthusiast since he was in secondary school. This came in handy during his NS, where he was posted as a trainer for the Special Operations Command of the Singapore Police Force. While he's committed to fitness and eating clean, we love that he has one food he'll never give up – ramen. "I love travelling around Singapore to look for the best ramen," he says, listing Santouka at Clarke Quay as his current fave.
Swatch BLEU DE BIENNE (YCS115), $205. Knitted cardigan, $99.90, Urban Revivo. 
10 Kenny Lee, 22
STUDENT @KENKEYLEE
This business student is big on fitness; he used to box, practice Judo and fence on a national level, and today, he's an avid weightlifter. When he isn't studying or working out, he enjoys making travel videos, reading and watching old movies. He also likes to make people laugh, as evident in his funny Instagram stories and YouTube videos.
The type of boyfriend Kenny would be? "Loyal" and "a hopeless romantic", but also the sort who needs his space. While he used to have ADHD as a child, he says he's much mellower now. His friends may still describe him as "hyperactive", but this doesn't mean Kenny can't sit still; he says if time allows it, he'd love to learn a new language or how to paint.
Swatch X-DISTRICT GREEN (SUSB414), $167. Nylon jacket, $389, and logo tee, $129, both Calvin Klein from TANGS at Tang Plaza. Jogger pants, $89.90, Topman. 
11 Glenn Yong, 21
NSF @GLENNYQH
When Glenn first started acting in short films a few years ago, he wasn't too keen about pursuing it as a career. But after he started doing vlog-style Instastories, his friends and relatives convinced him otherwise. In fact, he's so serious about being an actor after serving his NS that he recently started a YouTube channel as a platform for him to practise. While he aims to start in Singapore, he hopes to work as an actor in Taiwan or China one day.
But he's not after fame and fortune. Glenn wants to use his influence to give back to society. "I don't want to die one day knowing I've only lived for myself. I want to make an impact on the people around me and people I may not know. To me, that adds meaning and purpose to life."
Swatch SKINSHADO (SVUM103), $167. Oversized jacket, $219, printed shirt, $34.95, and straight-cut pants, $109, all from H&M. 
12 Daryn Chan, 23
STUDENT @THEONLYCROFT
Most CLEO Bachelor nominees come to the competition through anonymous voters, but Daryn knows for a fact that his friend, 2017 CLEO Bachelor and actor Kishan J., was the one who sabo-ed him. "I get very nervous when I feel I'm being judged," he explains. "Kishan told me I should put myself out there and just try." Daryn is a campus radio DJ and was a finalist on 98.7 Radio Star. He plans to go into hosting full-time once he finishes school.
Daryn is originally from Penang, where he was an ex-state gymnast. Naturally, he misses the food, in particular Penang Laksa, Curry Mee and Char Kway Teow – which he's never eaten in Singapore. While he loves a good meal, he'd rather spend more on clothes than food because clothes "last forever".
Swatch INKWELL (YWS102), $135. Tee, $23.90, Topman. Windowpane-checked blazer and slim-fit trousers, $279, sold as a set from G2000.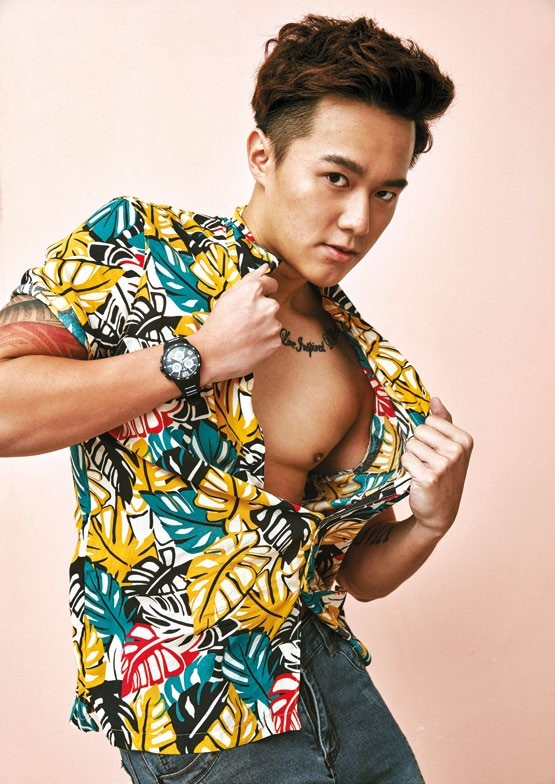 13 Leonard Heng, 22
YOGA AND DANCE INSTRUCTOR @LEODOESACRO
At six, Leonard told his parents he wanted to learn how to dance. Not just any dance, but competitive Latin dance. At 13, he enrolled into the Singapore School of the Arts, and did ballet and contemporary dance. He later took a Diploma in Fitness, and then went into personal training when he was 20. About a year later, he picked up acro-yoga, as he liked how it married elements of strength training and dance, and became a yoga instructor soon after.
Leonard, who is half-Filipino, confesses that the reason why he constantly tries out new things is because he's driven by a passion for self-improvement. In fact, he has been documenting his journey on his body in the form of tattoos. He has four, each representing a milestone. When asked what he was going to try next, he shrugs. "I think it's going to be a surprise," he says.
Swatch BLACK SPY (SUSB410), $167. Hawaiian shirt, $59.90, Zara. Skinny jeans, $55, Flesh Imp. SC0518S_EB9.indd 108 10/4/2018 5:4
14 Hadi Danial, 22
STUDENT @HADIDANIAL__
Here's a cute story about Hadi: it was his mum who nominated him to be a CLEO Bachelor. And she got really excited when he was shortlisted for the photoshoot. Here's something else about this communications student: he's always been pretty fit – he used to be active in Judo, badminton and football and now does callisthenic workouts six times a week.
Discipline is the name of this CLEO Bachelor's game, so it shouldn't be surprising that he also eats clean and is in the midst of a 30-day body transformation challenge. But that's not to say Hadi doesn't know how to have fun – he says friends will attest to his spontaneity, and while he'll make a loyal boyfriend, he's also the type to pull pranks on his girlfriend. He also says he's "pretty good" with parents and knows just how to get into their good books: "Compliment their food and tell them how nice their house is!" Hadi hopes to work in front of the camera in the future, so remember, you saw him here first.
Swatch SISTEM SOLAIRE (YIS414), $320. Bomber jacket, $159, Flesh Imp. 
15 Zaid Zac, 22
MODEL @ZAID____ZAC
Zaid has aspired to be a model since he was young, but only started modelling in January. Initially, his family had some reservations about this, "but when they saw how much I was enjoying the experience – more than engineering, which is what they wanted me to do – they started being much more supportive."
He's the youngest in a family of two older sisters and one older brother. Zaid tells CLEO that he appreciates how tight-knit his family is, which is perhaps what makes him a sensitive boyfriend who believes that chemistry is the most important thing in a relationship. "I want to date someone who is easy-going, who doesn't sweat the small stuff," he says.
Swatch BLUE DETAILS (YVS442), $245. Button-down shirt, $53.90, Topman. Windowpane- checked blazer, $398, and slim-cut trousers, $178, both from Benjamin Barker. Brogue shoes, $189, and straw fedora hat, $39, both from Aldo.
16 Jordan How, 25
ROCK CLIMBING INSTRUCTOR @HOWDYDOODY_
Believe it or not, this rock climbing instructor, who has been doing the sport for eight years, used to have a fear of heights.
How he got over his acrophobia is a story for the grandkids: the 25-year-old went on an impromptu trip with his brother to Krabi, Thailand, where they decided to try cliff-jumping after seeing banners advertising the sport. Soon after, he got "hooked on the amazing feeling of climbing", adding that it changed his life for the better. "I like the thrill that comes from it, which makes me feel alive." But he jokes that he still does "normal sports" like playing basketball and hitting the gym. The go-getter is now taking his love of heights to a new level by applying for pilot training school, which marries another interest of his – travelling!
Swatch PISTE NOIR (SUSW407), $167. Reversible coat, $269.95, Esprit. Tropical-print nylon jacket, $329, Scotch & Soda. Tee, $23.90, Topman. Drawstring joggers, $89.90, Zara. 
17 Tyler Lim, 29
DOCTOR @LOUTHEX
Tyler admits that being a doctor wasn't always his calling. In fact, he jokingly says he studied Medicine to irritate his parents, who wanted him to finish school ASAP and start working. "The Medicine course at NUS is five years, so I wanted to rebel against them slightly and spend a long time in school." But it wasn't long before he fell in love with his trade and, well, the rest is history.
Tyler is very much an adrenaline junkie (he has a skydiving license and has clocked 25 solo jumps!). He also travels a lot, citing Iceland and New Zealand's South Island as his favourite places to visit. How is he as a boyfriend?"I like a little romance when necessary, but I really like to do activities, like sailing into the sunset." That sounds pretty romantic to us!
Swatch CHARBON (YGS137), $125. Checkered shirt, $19.90, Uniqlo. Western jacket, $149, and cuffed jeans, $73.90, both from Topman. 
18 Mark Huang, 32
FOUNDER OF LEVEL UP @MARKHUANGZ
You wouldn't expect someone to go from oil trading to being the owner of a wildly popular arcade bar, but that's exactly what Mark did.
He designed Level Up – the watering hole du jour for millennials – to be a place where people can talk to each other, play arcade games and just have a good time.
The whole concept came from Mark's desire to bring his interests to life. "I thought, 'If I could do up my man cave, what would I do?'" Though these days, he has little time for the things he used to enjoy, like video games and playing football. "Running your own business, you need to be prepared to sacrifice everything," he says. But he has no regrets. "I enjoy the work and being my own boss, since I can see the results right away."
Swatch NOIR DU SOIR (YWS424), $135. Jeans jacket, $469, Calvin Klein Jeans. Checkered shirt, $169, Pras The Bandit. Distressed jeans, $69.90, Pull & Bear. 
19 Cavell Lim, 25
GRAPHIC DESIGNER @WAFFLECREAMIES
The most important thing to know about Cavell is that he's a collector. He collects prints, figurines and graphic novels, among other cool stuff. Suffice it to say, his room is "quite messy", but it doesn't bother him as he's very passionate about his interests.
He takes great pride in the fact that his life revolves around design, and as a graphic designer for Lazada, he finds himself "invigorated" whenever he gets to create brand and packaging designs for clients.
His ideal type of girl? Someone "strong and career-minded". He likes girls who can inspire him to do better, and says that as a boyfriend, he's full of patience and care. By the way, it's not hard at all to win his heart through his stomach – Cavell loves desserts (in particular cakes, chocolate, waffles and ice cream) and always finds it hard to say "no" to them.
Swatch LAST ROUND (YVS446), $245. Hawaiian shirt, $189, Scotch & Soda. Tee, model's own. Mid-wash jeans, $93.90, Topman. 
20 Mathew Chong, 27
MODEL @MATHEWCHONGKC
Mathew has been modelling since his university days and says if he hadn't gone into this profession, he'd be in banking. He's close pals with Josh, another one of our CLEO Bachelors this year. And while the full-time model says he's the shy type, we find him easy to talk to.
Mathew is also a self-professed geek. "When I'm not working or gymming, I can sit in front of the computer to read comics and play computer games for an entire day," he says. But that doesn't mean he doesn't enjoy socialising – in fact, he says that close friends would describe him as being "full of nonsense" because he loves making people laugh.
As a boyfriend, Mathew is "chill and open-minded". He maintains that he doesn't have "a type", and he's open to dating as long as "the feeling is right".
Swatch BIG WILL (YWS101), $135. Knitted sweater, $59.90, Zara. 
21 Ryan Ang, 27
DANCER/ACTOR @RRRAZH
Think you've seen Ryan somewhere before? It could have been in Wonder Boy, the Dick Lee biopic that was released last year, or in the musical A Date With Dwyane, which was staged in February. This laid-back CLEO Bachelor first discovered his passion for dancing during JC, and in the process of dabbling in the arts, also discovered a love for singing and acting. That's how he ended up where he is today – in a host of musicals and theatre productions.
When asked what kind of boyfriend he'd be, Ryan describes himself as a "hopeless romantic" and someone who's big on quality time and touch – two of the five love languages. "I think time is the best thing you can give to someone," he muses. Very boyfriend material, this one.
Swatch SISTEM RUB (YIS419), $279. Shearling-trimmed jacket, $69.90, Pull & Bear. Checkered jacket, $99.90, Topman. Tee, $49.90, Urban Revivo. Drawstring joggers, $95, Diadora from Actually. 
22 Dustin Lim, 26
CREATIVE MANAGER @DUST_LIM
Immediately after completing his NS, Dustin joined his family business, where he does design and marketing. But the family business isn't something that's particularly "male-oriented". "My sister is a distributor of maternity products, like breast pumps," says Dustin. He admits he's become pretty knowledgeable about the products.
Clearly, family is very important to Dustin, who is the youngest of six children. "The six of us make an effort to meet up during events like Chinese New Year," he says. The one thing he has yet to do, though, is bring a girlfriend home to meet the fam.
"Between my four sisters, grandmother and my mother, there's a lot of pressure," he says with a laugh. "They always ask a lot of questions, like what does she do and stuff."
Swatch B&W DEEP (SUUB102), $125. Sleeveless tee, $26.90, Topman. Biker jacket (tied around the waist), $225, Pras The Bandit. 
23 Yamin Yusof, 29
TRAINER AND ACTOR @YAMIN.YUSOF
Yamin is a trainer at the Civil Defence Academy for a range of courses, including physical training and an advancement course for firefighters. Prior to that, he worked as a lifeguard for six years. "When I was a lifeguard, I was fat. Then I became a trainer and it changed my life."
When he's not tekan-ing recruits, he acts in TV shows. Yamin reveals that he likes acting because it lets him become "someone you can never be". And the go-getter is not one to rest on his laurels. When he has some time off, he likes attending workshops or "anything that improves myself and my career". "If I get to attend a free course to be, say, a barber, why not? You never know when you'll need to act as a barber!"
Swatch PNEUMATIC (SUSB412), $167. Bowling shirt, $90, Pras The Bandit. Distressed jeans, $89.90, Zara. 
24 Nikolai Kea, 22
SINGER-SONGWRITER @NIKOLAIDAVID
If 2016 was all about realising things for Kylie Jenner, 2018 is all about redirecting things for Nikolai.
"This year, I'm changing the way people see me and my style. I'm trying to be more outspoken in terms of fashion and my personality," the musician declares.
His interest in music was first piqued when he was six. He started singing in church, and has never looked back since. Last year, he released his first single "Paperheart (Write Your Stories)" on Spotify, and earlier this year, he found himself a manager and producer to take his career to the next level.
"When you start to look at your passion as a business, you'll be more focused and disciplined," he says. Looks like we might have our own John Mayer in the making.
Swatch SISTEM SLATE (YIB400), $310. Nylon jacket, $59.90, Pull & Bear. Drawstring joggers, $39.90, Bershka. 
25 Alberto Truccolo, 22
STUDENT @ITALIANGENTLEMAN
Alberto is currently pursuing a Masters in Finance, and lists cooking as one of his hobbies.
He reveals that he can make a mean shrimp and prosecco risotto, among other Italian dishes. "It's in my DNA – I come from a culture where cooking is a very important part of our daily life." His inspiration? His grandmother. "Sometimes, I Skype with my granny and she shares secret recipes."
Alberto also loves to travel and has more than a few funny stories to share. He once went on an impromptu trip to Amsterdam after a night of partying. "I was so tired when I got there that I left the car in the middle of the city, without even checking if there was a parking spot... and forgot about it. When I went back three days later, the car was gone. The police had removed it, and the fine was more than the entire cost of the weekend!"
Swatch SISTEM SAND (YIS411), $290. Hooded leather jacket, $139, Zara. Tee, $23.90, Topman. Skinny jeans, $54.95, H&M. 
26 Kelvin Ho, 22
STUDENT @CM_NIVLEKOH
If you're feeling jaded about dating, you need to meet aspiring investment banker Kelvin.
"Chasing a girl isn't difficult. What's difficult is making the relationship last," he shares. "Also, you should never compromise on your needs. Guys tend to take things for granted, so I think women need to stand firm when they want something.
" Besides pursuing a career in finance, Kelvin also hopes to become an emcee someday. He attributes his love for public speaking to his stage experience from joining talent competitions in school. But the main takeaway is that he's a really confident Bachelor.
Swatch SISTEM DARK (YIS413), $279. Nylon windbreaker, $269, Puma from TANGS at Tang Plaza. Striped top, $59.90, Urban Revivo. 
27 Jose Hong, 27
JOURNALIST @JOSECLEO2018
You won't quickly forget Jose Hong, especially with such a unique name (pronounced "ho-say"). "My father loves the guitarist Jose Feliciano, and he wanted to alliterate my name." It also extends to his brothers – Julio and Juaquin – though, as Jose laughingly admits, "My sister got away with Heather".
Jose is quite the nature-lover and volunteers with Toddycats, a group that holds nature walks around MacRitchie Reservoir to introduce Singaporeans to the wide variety of flora and fauna around Singapore. "Many locals don't know we have deer or pangolins living here," he says.
Also, if you think Jose looks a little bit familiar, it might be because he was in the finals of Singapore's Brainiest Kid back when he was in Primary 6.
Swatch TANNAGE (YGS139), $125. Crew neck knitted tee, $44.95, H&M.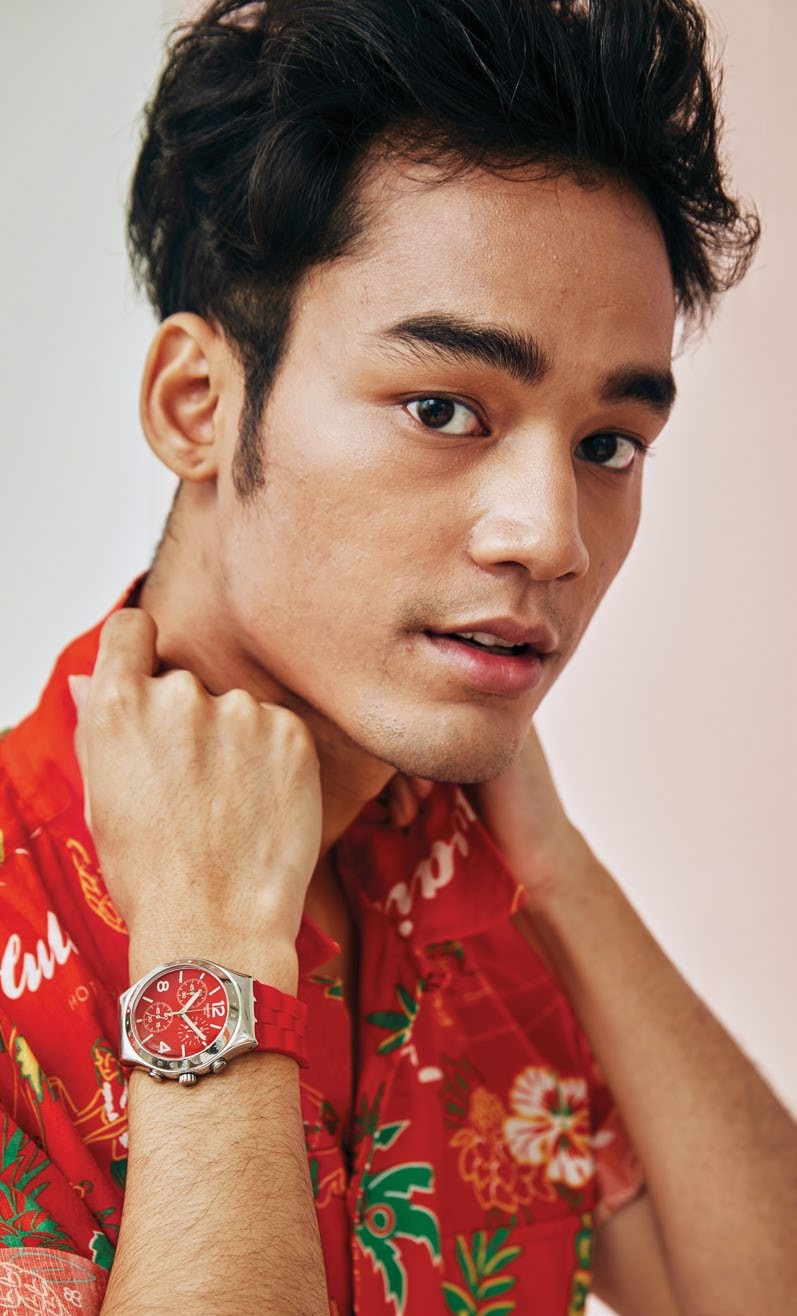 28 Juwaidi Jumanto, 26
STUDENT @JUWAIDIJUMANTO
When asked why he decided to become a CLEO Bachelor this year, Juwaidi candidly shares that he wants to break the stereotype that Bachelors have to be fit and tall, and wants to show that the "inside also counts". While he's right that the inside definitely counts, we'd like to go on record that he's pretty dreamy.
This graphic design undergraduate loves photography, and can usually be found at art exhibitions. When not busy dabbling in anything creative, Juwaidi spends time with his family, and is the youngest of five children. The animal lover (his family has four cats) describes himself as "loud, funny and honest", but admits he's a much mellower person now.
Swatch ROUGE DE BIENNE (YCS117), $205. Hawaiian shirt, $69.90, Topman. 
29 Dean Martin, 31
PROGRAMME DIRECTOR & HEAD COACH FOR THE VOLLEYBALL ASSOCIATION OF SINGAPORE @D3ANMARTIN
Dean has only been in Singapore for just over a year, but the avid volleyball player has been involved in the sport since the age of 16, playing at the local and national levels in Canada. After university, Dean went on to coach the Under-19s Girls Team in Canada.
"One of the job perks is definitely getting to know different people and different cultures," he says. "Singapore is such an easy place to live. You can meet so many people and travel easily to so many places in Southeast Asia."
Dean's aim for the Singapore team he's now coaching is to get them to the Junior Olympics, as well as to the upcoming Commonwealth Games, where he's hoping they'll go up against his home country.
Swatch SISTEM INK (SUTN404), $209. Oversized tee, $310, Juun.J from Club 21. Drawstring joggers, $59, Flesh Imp. 
Fashion Direction Janice Pidduck. Photography Joel Lim/Calibre Pictures.
Styling Sifra Vania Yulius Styling Assistants Eric Chong, Dayvin Ng Siang Lin Grooming and Hair Eric Tan, Ashley Ng, HuiMin Ng and Felicia Ng using Keune Hair Cosmetics/Palette Inc.
Producer Sophie Hong Text Karen Fong, Hidayah Idris, Adora Wong.